---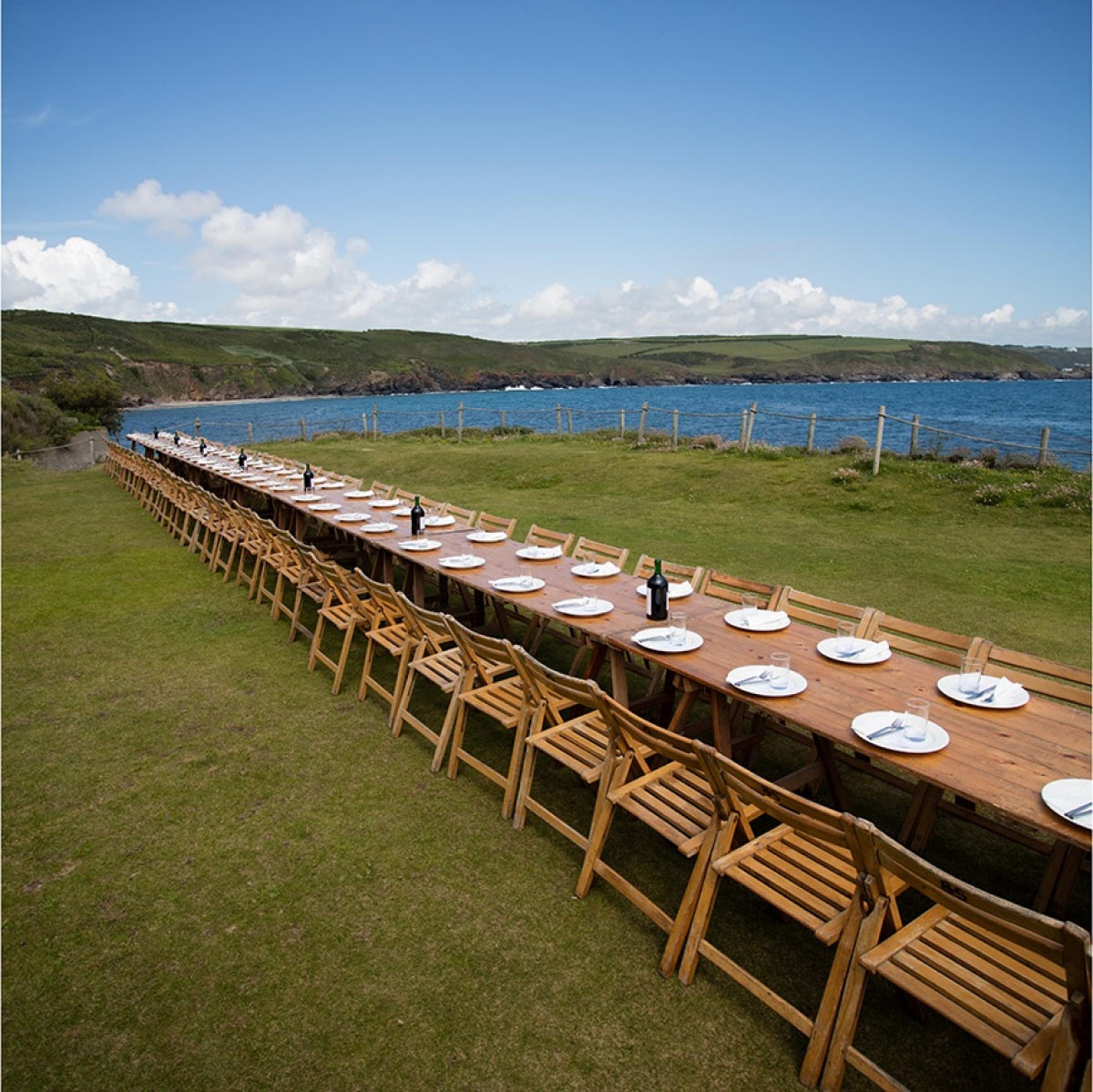 The Great Westcountry Menu
Food Glorious Food
Three couples share the stories behind their memory-making wedding feasts
For many of us, the wedding feast is the highlight of a wedding day. The vows have been exchanged, the first glasses of champagne drunk, the warm feeling of celebration almost tangible as guests settle at tables, oohing at the décor, chinking glasses and excitedly chattering in anticipation of the deliciousness to come.
As the personalisation movement gains ever more pace in wedding world, the wedding feast has become, if anything, an even more anticipated feature of the day. The overlooked wedding menus of bygone years are but a distant memory as couples increasingly seek to treat their guests to a memorable culinary experience: dishes that burst with personality as much as flavour. From the choice of produce to the way it is cooked and the way it is served, your wedding menu is a powerful way of connecting the day with your memories, heritage, foodie passions or favourite flavours.
To help inspire a perfectly 'you' wedding breakfast, three couples share the stories of their standout feasts.
Stella and Pete married their passion for food with the flavours of Cornwall to the delight of their guests
Rare roast beef with pomegranate molasses and pistachio
Raw summer rolls
Courgette and minori fritters with a kefir lime tzatziki
Smoked mushroom fritter with tomato butter
Chalk stream salmon, aioli and lavosh
Temple pastrami, dill mustard and sauerkraut
Roast Cornish chicken, salsa verde and pea shoots
Sweet herbs and lopside porchetta
Grilled hispi cabbage
Smoked potato salad
Pavlova, roasted Cornish strawberries and flowers
chrisjohnsonweddingphotography.com
Stella and Pete were clear in what qualities they were looking for in a catering company when they started planning their wedding at Launcells Barton. "We were looking for someone who cares about food as much as we do," says Stella. "Wedding menus can be such an afterthought with no real soul or connection to the couple or guests. We wanted a feast to remember, a celebration of our love for feel-good food. We wanted to find someone who felt the same and would be able to grow our ideas into a feast that would be impossible to forget."
It was a meeting of minds – and hearts – for the engaged couple and the team at Beautiful & the Feast. "Stella was an ideal client because she'd worked as a chef and with people we were inspired by so was totally on the same page as us in regards to a passion for food and expressing that through her and Pete's awesome day," explains Emily Colwill from Beautiful & the Feast.
"We tailored Stella and Pete's vision through sharing an ethos on good things, good food and connection with people," she continues. "We live and work in Cornwall and feel it's important to channel that wild and warm energy into the dishes we serve and the local ingredients we use. It's a huge part of making next-level food for people's celebrations: finding connection and talking flavours, produce and seasonal creativity."
Cornwall was the key inspiration behind their wedding menu. "We wanted to go on a journey with our family and friends celebrating the land and sea of Cornwall throughout our day," says Stella. "From local fish and organic meat to seasonal vegetables, foraged herbs and flowers. We totally trusted the team to honour and elevate their carefully chosen ingredients with vision and love."
The theme of land and sea was apparent in both the starter and main course. "We chose a plethora of big flavour canapés and decided to celebrate the land and sea in both the starter and main courses, so everyone could experience the diversity of Cornwall at its best," says Stella. "BATF showcased all their vegetable dishes as main events not just a side dish. I will never forget the colours, flavours, textures."
And the seasonal dessert choice was a showstopper – and crowd-pleaser. "For us, a pavlova is the epitome of a summer pudding and a dessert best shared," says Stella. "BATF's pavlova is like no other pavlova you will ever eat again – a mountain of golden meringue adorned with foraged berries and flowers."
Not forgetting those all-important finishing touches, the team served up some evening bites to match the flavoursome theme of the day. "Cuban sandwiches (packed with gooey local cheese and homemade pickles) and marshmallows on the fire finished off our balmy summer wedding. Everyone went home full and satisfied," reflects Stella. "We felt so grateful for the team's mad skills, love and dedication in making our day unforgettable."
Lerryn and Bash treated their guests to Italian flavours with a side serving of fresh sea air on the shores of west Cornwall
Melon cut to order
Parmesan chunks and olive oil
Lamb legs and salsa verde
Chocolate
Both Lerryn and Bash know their stuff when it comes to food – and they were looking for something very special when it came to the catering for their wedding day at Porth-en-Alls in Prussia Cove. "Bash and I are both from the hospitality industry. I used to have a community cafe and restaurant and Bash has an Italian restaurant and rooftop bar in Peckham," explains Lerryn.
For Lerryn and Bash, the menu planning was very much a collaborative experience. "We worked together with Ben on the menu with Bash focusing on the Italian influence and Ben suggesting ways of cooking certain dishes and how it would work with the rhythm of the wedding day – something he achieved so well!" says Lerryn. "I contributed with how I thought things would look and feel, such as the pink glasses of pét-nat wine served with slices of melon from the suppliers of our restaurant, Forza Win. It was an enjoyable combination."
A relaxed, sharing style feast was key to their vision. "We wanted it to all to be communal with sharing tables so as to not highlight the vegans and vegetarians," says Lerryn. "This was is in line with projects Bash has done and Ben's speciality woodfired cooking too. The sharing tables also help to make people feel comfortable, there is something a little less formal about them."
The aesthetics also played into the culinary experience for the couple. "We didn't want table decorations – just the wooden table, the plates and the cutlery – to emphasise how considered the food was visually."
Settling at tables almost within touching distance of the sea, guests tucked into big sharing dishes of lamb and salsa verde – exactly as Lerryn and Bash had imagined. "I have friends that still talk about the lamb and salsa verde, as well as the pumpkin caponata and the slabs of chocolate to toast at the end," says Lerryn.
"We were really proud of how it turned out," she says, looking back. "And, as two people that pride on hosting tables in our lives, this was probably one of the best ones."
As well as serving up some seriously special food, their chef had a key role in maintaining the perfect mood for their wedding feast. "Something Ben did so well, alongside the food, is holding the atmosphere," explains Lerryn. "He created an invisible protective bubble over that table, not letting in any bad vibes!"
Philippa and Duncan wowed their guests with a dining experience tailored entirely to their vision
Local sausages with honey, cider and mustard marinade
Pan-fried chorizo and goat's cheese mousse en croute
Devon crab and smashed green bean bruschetta
Salt and pepper squid with garlic aioli
Butternut arancini with spiced butternut purée
Home-baked breads and Devon butter served to the tables
Seared scallop with pea purée and crispy pancetta
Roasted king oyster mushroom, tahoon cress oil, toasted hazelnut and a mushroom crisp
Whole sides of chargrilled sirloin, sliced with garlic and herb butter
Celeriac steaks with red wine lentils
Potato and celeriac dauphinoise
Green bean medley
Honey and thyme heritage carrots
Red wine jus
A selection of local cheeses served with savoury crackers, homemade chutney, grapes and butter, garnished with bay leaves
Tart au citron with blackberry crème Normande and lemon crisp
A couple with extensive experience of the culinary world, Philippa and Duncan wanted to dazzle their guests with a bespoke feast to remember at their winter wedding at Pengenna Manor.
"I previously worked as an events manager for Posh Nosh while my husband Duncan was head chef at Lympstone Manor in Devon," explains Philippa. "We are massive foodies and had a really clear vision for our menu, which was almost entirely bespoke."
"We created the idea for the pan-fried chorizo and goat's cheese mousse canapé, and also the butternut arancini canapé, which was very seasonal," explains Philippa.
The team at Posh Nosh are passionate about experimenting with new and innovative ideas when it comes to vegan and special dietary menus – and Philippa and Duncan's wedding gave them the opportunity to unveil a new dish. "The vegetarian/vegan option of the celeriac steak with red wine lentils is a new dish on our menu, so we essentially gave it its debut at this wedding, and it went down a storm!" says Sophie from Posh Nosh.
The choice of drinks also added to the personality-packed character of the day. "In terms of drinks, they too were rather special! We served Prosecco with frozen blackberries alongside some warming (and again seasonal) vin chaud for the canapé reception," says Sophie.
"We have travelled extensively and done many a ski season together, so this was definitely a nod to that lovely chapter in our relationship," explains Philippa, who also offered a lovely personal touch for the close of the feast. "I also made some limoncello to be served to guests after the meal alongside the coffee."
Wed

Directory

All you need from the finest wedding suppliers in Cornwall and Devon