---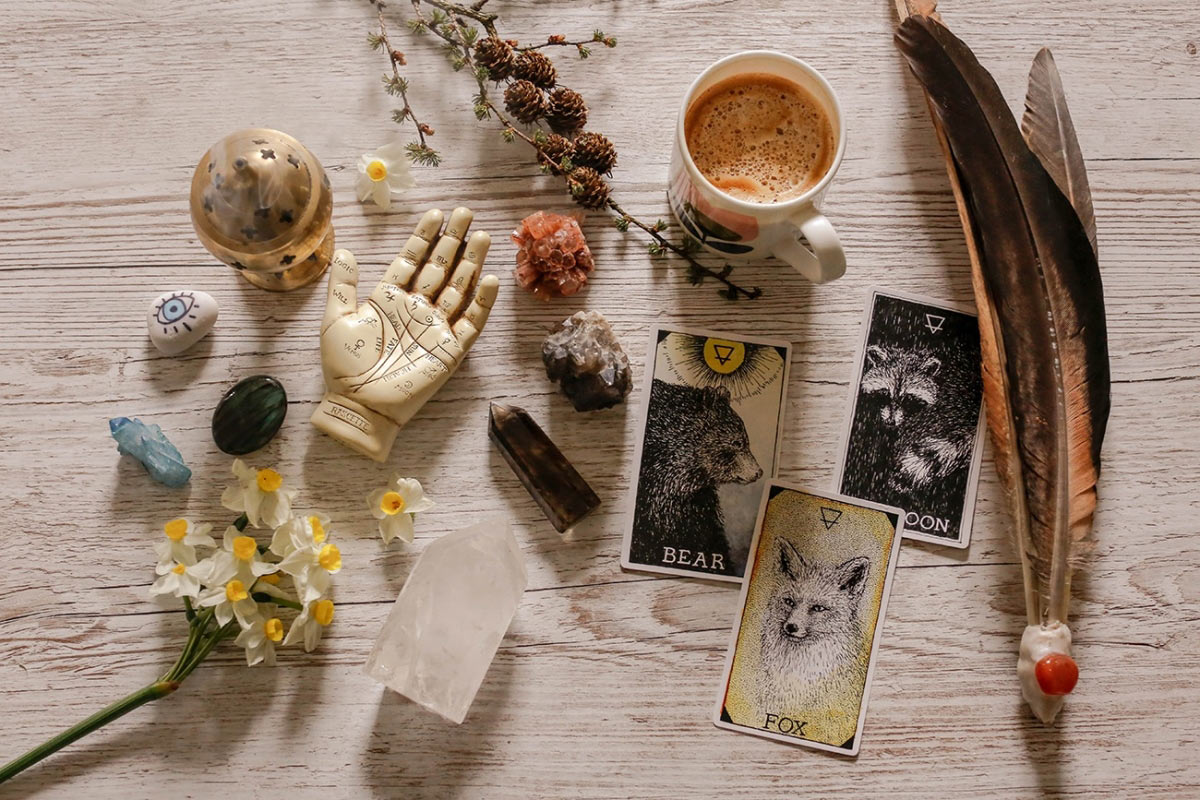 Spirituality Cornwall
How to have a modern mystical wedding
Crystals, spirituality and wellbeing: ideas for a modern mystical wedding
Ever been to a wedding that looked fabulous but was somehow lacking spirit? In a bid to plan the perfect W-day, couples can sometimes appear to lose themselves to the process and forget one of the core components of matrimony: the joining of souls. Though the big event is between a couple, a wedding also unites families and friends and is thus a celebration of self, coupledom and the wider community; of all of your relationships.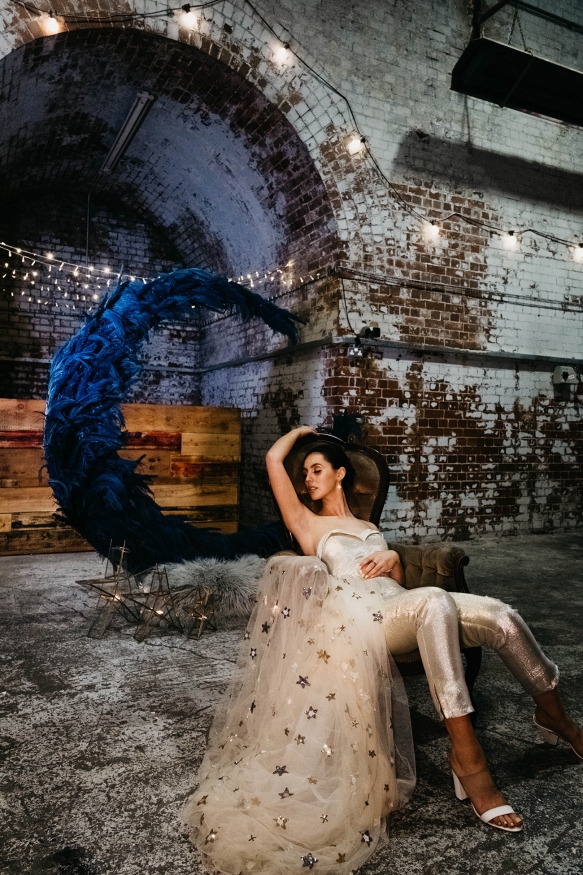 Stella Photography / Dress Dandelions & Pearls / Styling The Event Edit
As a result, an increasing number of nearly-weds are turning their attention to something more holistic, from self-care and healing to establishing a state of pre-wedding calm and centeredness, in order to experience a heightened sense of joy on the day, and beyond.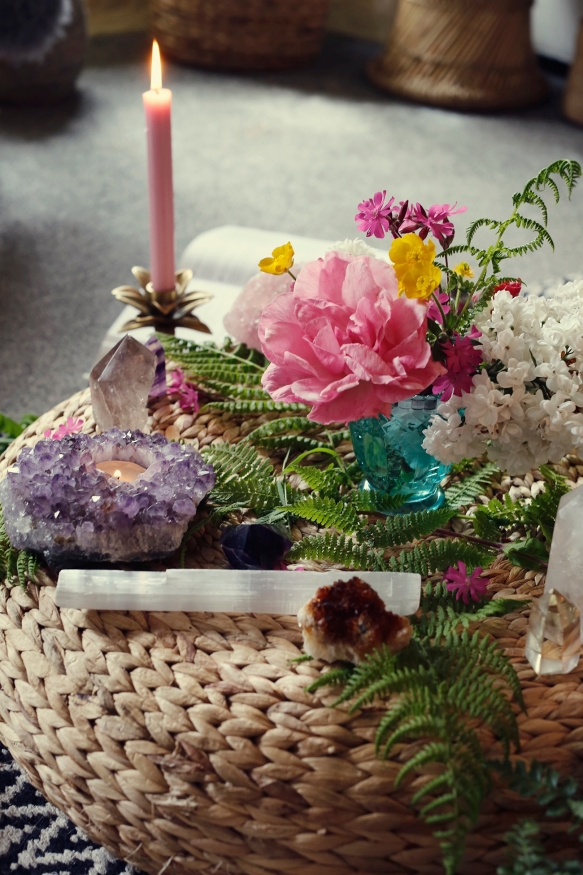 Emma Griffin Photography
"There are some lovely touches that couples can now add to bring spirituality and well-being to their special day," observes wedding planner Rebecca Green from The Unique Cornish Event Company (theuniquecornishevent.co.uk). "It makes the whole experience more inclusive and serene so they can focus on what's important: the connection of two people and those that they love surrounding them."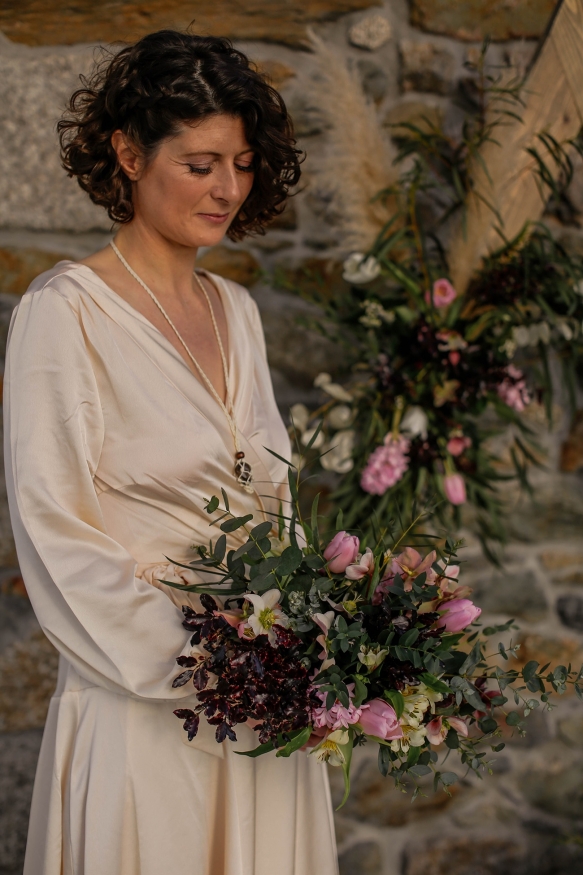 Emma Griffin Photography
If you've got the style factor down but are searching for a bit more substance, we've looked into the latest movements to ensure your celebrations feature a spiritual je ne sais quoi, from handfasting and sand pouring ceremonies to fortune telling, cleansing rituals, crystal therapy and Reiki. Pick and choose which elements suit you, or embrace them all to help you not only host a distinctive day, but embark upon marriage with a more relaxed and balanced body, soul and mindset.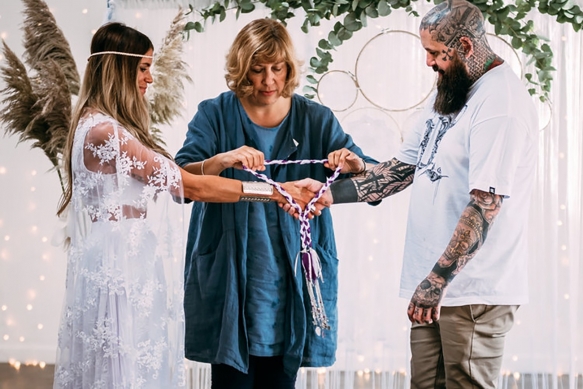 Devon Rose Photography
The planning stages
Many couples pick a date with personal meaning, but why not also choose a day to coincide with a cosmic event? From season to day and ceremonial timings, you can schedule all elements for extra significance and metaphysical impact. "The moon cycle and the cycle of year are pagan-inspired and are often used to determine the timing of the ceremony – and we can reference the gifts of the moon or Earth during the ceremony," says Nicola Le Couteur Bisson from The Guild of Cornish Celebrants (cornishcelebrants.co.uk).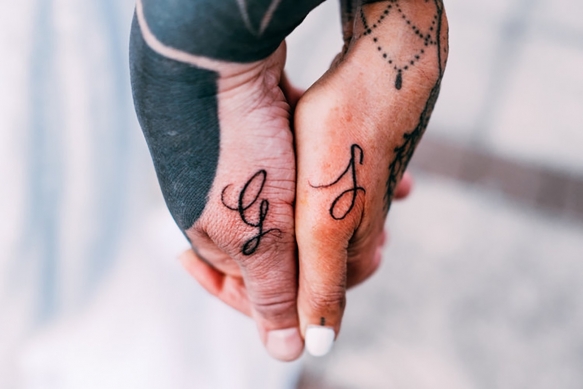 Devon Rose Photography
Before the day, fostering key relationships (including the one with yourself) will help you to banish stress and nerves while letting go of latent emotional baggage in order to approach your wedding in the most positive and open-minded way. Hen parties are also a prime opportunity, with the likes of bridal blessing circles ideal modes for matriarchal reconnecting and rebooting.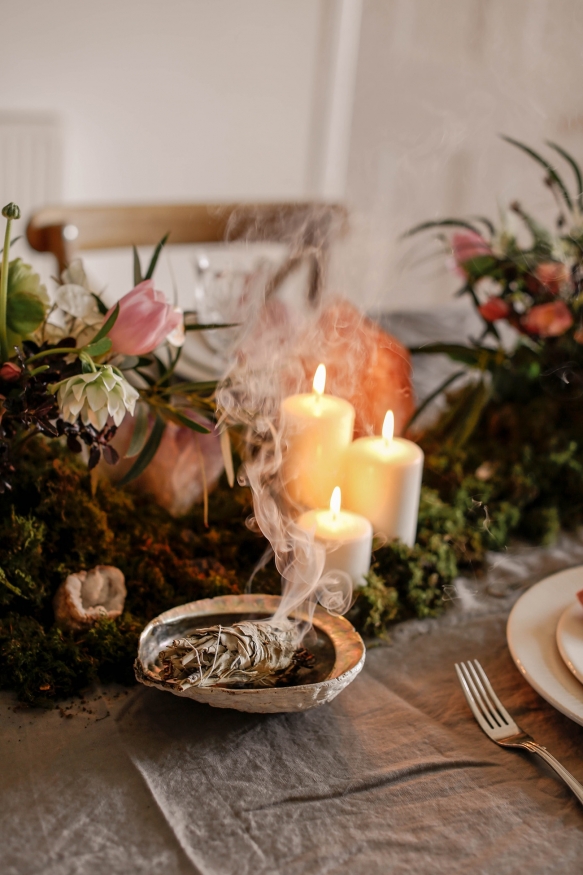 Emma Griffin Photography
The pre-wedding period
Then comes the self. "To help you regain balance, increase your sense of well-being and leave you feeling centered and calm, I'd recommend rebalancing Reiki and crystal therapy," says witch, spiritual mentor and energy medicine practitioner Emma Griffin of The Sacred Space (
sacred-spaces.co.uk
). "Enjoy an aura cleansing that will remove negativity then crystal chakra alignment, followed by Reiki healing. Reiki helps clear the energy and aura, and helps you to relax, heal and balance. It is a wonderful way to reduce stress and anxiety," she explains.
Intuitive therapist and energy healing teacher Philippa King from Cornwall Wellbeing (cornwallwellbeing.co.uk) specialises in mental and emotional well-being and adopts a similar approach. "I embrace reducing stress, clearing fears, blocks, anxieties and any thought or emotional patterns that are impacting the quality of life, so you can feel good about yourself and all areas of life," she says. "The holistic approaches I use are fast, effective and create lasting positive changes."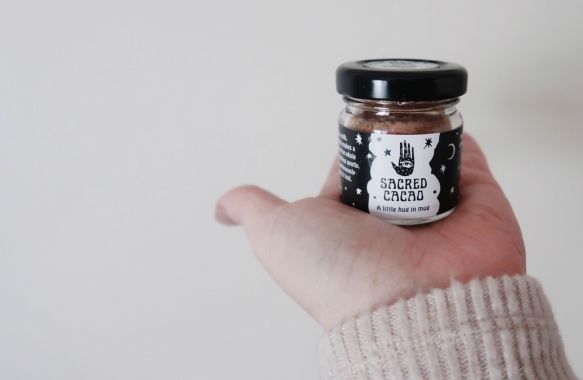 Emma Griffin Photography
Philippa recommends that before they get married, couples try Reiki and/or 'access bars', which involves gently touching the 32 points on your head that correlate to different aspects of your life "to clear your mind, body and emotions of clutter – rather like a defrag of your inner computer. You feel clearer, lighter and freer after each treatment," she says.
She also practises neuro-linguistic programming (NLP) and ThetaHealing "to clear any worries about the big day and align their intentions for happiness together", while Rahanni celestial healing aims to harness "more harmony individually and as a couple".
Alternatively, emotional freedom techniques (EFT) can help banish fears about public speaking (such as the wedding speeches) and – along with Philippa's other techniques – can be individually tailored to assist couples to "stay centred, balanced and calm, and easily release emotional or stress overwhelm so they can enjoy their big day".
Emma Griffin Photography
On the day

Most couples are so consumed with looking their best on their wedding day that their feelings can become secondary. By remembering to incorporate a sense of the spiritual into the final preparations, couples can extend and enhance their inner calm while bringing their guests into their enlightened fold.
Rebecca suggests asking the bridal party to use smudge sticks in the places where the couple are getting ready and the ceremony space itself. "Smudge sticks are bundles of herbs bound together by twine. Burning these herbs in order to prevent illness, ward off negative energy or cleanse a space, person or group is a tradition that goes back thousands of years," she explains.
"It's really important to have self-care the morning of the wedding for the bride," says Emma. "I would recommend starting with a meditation holding a crystal, journaling your thoughts while drinking my hug-in-a-mug Sacred Cacao, then smudge stick themselves and the bridesmaids with white sage".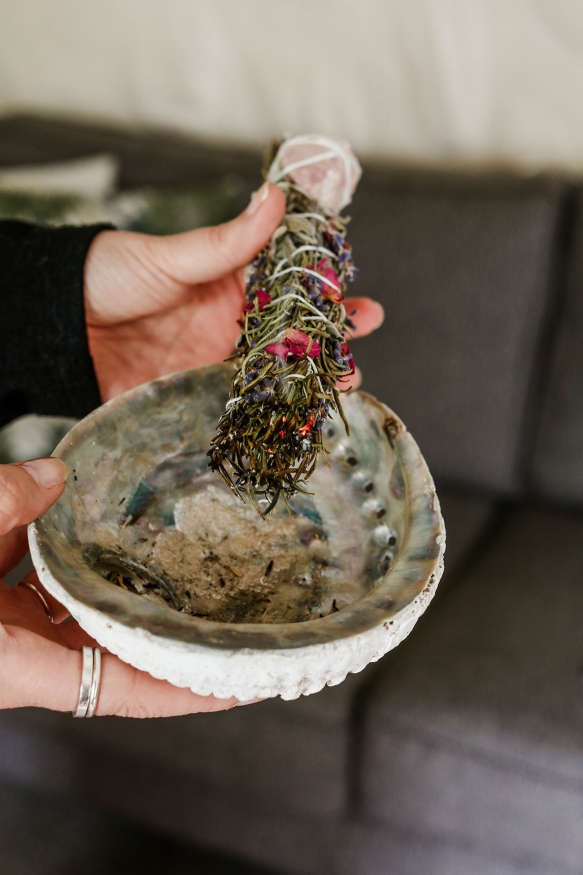 Emma Griffin Photography
Philippa agrees that energy and emotional purging is an important component of the wedding day ritual. "Create a sacred space by energy clearing the area of the ceremony and using specific crystals to create a space filled with love and joy," she encourages, which is a sentiment that Emma ardently echoes.
"Crystal energy makes a wonderful addition to your experiences as you embark on a love and joy-filled journey with your soulmate," says Emma. "Crystal can be added to your flowers, the bride can wear a crystal necklace, or they can be used in your table settings, from agate place cards to a rainbow of crystal clusters in all shapes and sizes. Tumbled crystals make great favours for your guests," she suggests.
"Rose quartz is the stone of unconditional love and all matters of the heart; celestite carries high vibrations and calming powers, making it the perfect stone to walk down the aisle with (and it could also be your something blue), and clear quartz opens the heart and mind to higher guidance and balances all of your chakras. And if you're using any other crystals in your ceremony, clear quartz will simply amplify all of those positive effects as well," she details.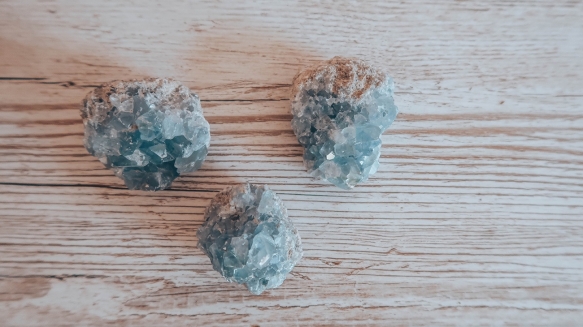 Emma Griffin Photography
During the ceremony
There are a wide variety of ways to personalise and infuse extra spirituality into the main moments of your day, especially your ceremony.
"Guests can be asked to take a blessing stone as they enter the ceremony, which they hold to stay present and connected to proceedings whilst giving their blessing of good fortune to the unity of the couple," says Rebecca. "Some couples ask for the stones to be collected after so they can be kept to create something with them. I heard of one couple using them as part of a fireplace they were building, to create a mosaic for the hearth".
Sand pouring – sometimes referred to as a 'blending of the sands' – is another poignant option. "This is where the couple pours a small amount of sand each into a vessel to symbolise their 'coming together' as a couple, which is a really nice addition in Cornwall, especially if you're getting married on or near the beach," says Rebecca, who cites a further nature-inspired idea: tree planting. "During the ceremony, the newly-weds should place soil from two separate containers on top of the planting, representing two individuals coming together as one."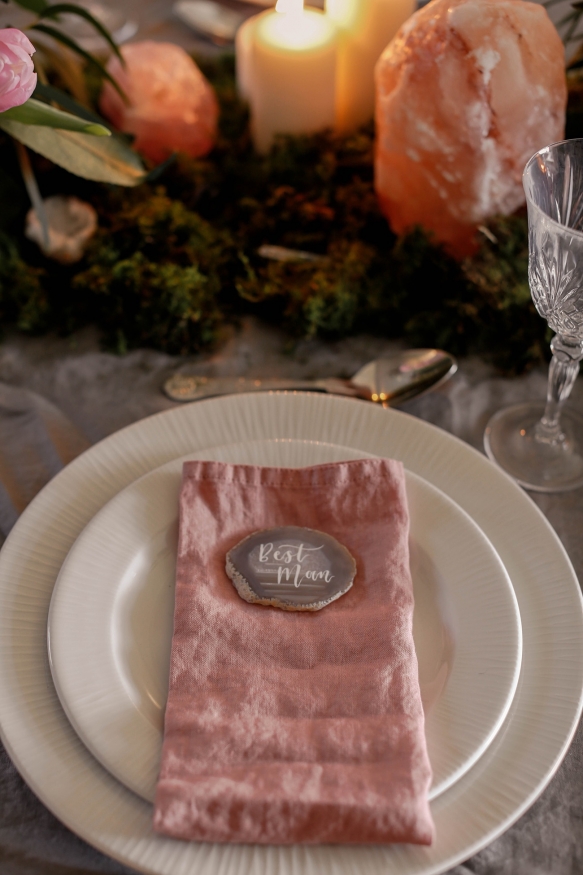 Emma Griffin Photography
Celebrant Nicola has been involved in a variety of ceremonial events that can be incorporated to suit each couple's backgrounds and beliefs, as well as the venue and season. On one occasion, a couple placed ivy in a ring to mark the ceremony area. "The ivy is symbolic – it is an evergreen plant and represents eternity, fidelity, and strong affectionate attachment, love and friendship," says Nicola, who also suggests a joining of hands – "everyone present holds hands to show unity" – and meditation at the beginning of the ceremony, to bring everyone to the present and focused.
A conscious pause for mid-ceremony reflection is an increasingly popular way to absorb the present moment and can be prompted in a number of ways, such as a Tibetan ringing bowl. "The bowl rings and commences a moment of silence for all to bring their love and thoughts to the couple," explains Nicola. "Asking for a silence is a wonderful way of bringing a sense of meaningfulness and sincerity to the ceremony, but it has to be carefully judged so that it doesn't go on too long".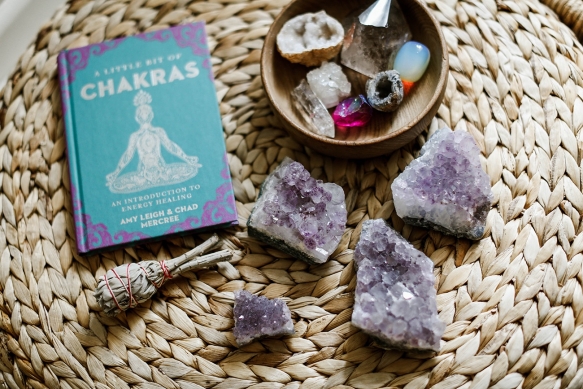 Emma Griffin Photography
And don't be afraid to incorporate all the senses for a multi-dimensional sense of spirit. "A sounding of a gong – either at the beginning or end of the ceremony – is used to bring a sense of joy and occasion to the proceedings, while a hand or feet washing ceremony shows a sense of service and love towards each other," reveals Nicola. "We also had a couple have a tattoo during a ceremony!" she divulges as another quirky example of the many ways couples can bare their souls and share their love during the ceremony.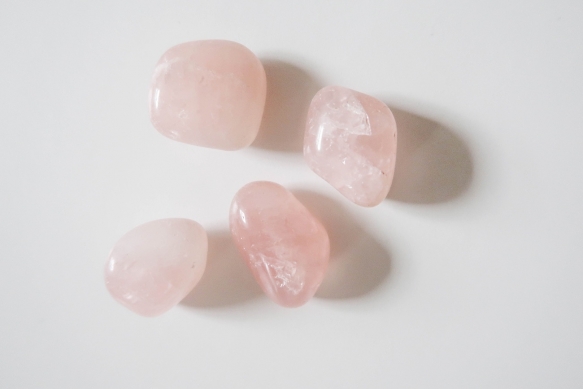 Emma Griffin Photography
At the reception
Whether you wish to spruce up your drinks reception with some interactive and spiritual-themed fun, or incorporate some novel and New Age-style entertainment to the evening's celebrations, there's plenty of inspiration to help make things more meaningful and bespoke.
"It's fun for guests to be treated to something a little bit different, with an array of well-being activities including roaming masseuses giving head or hand massages," says Rebecca. "You could offer guests a fun yet spiritual form of entertainment for the evening, like tarot, angel cards, fortune telling or even palm readings, making sure that your practitioner knows to keep it light".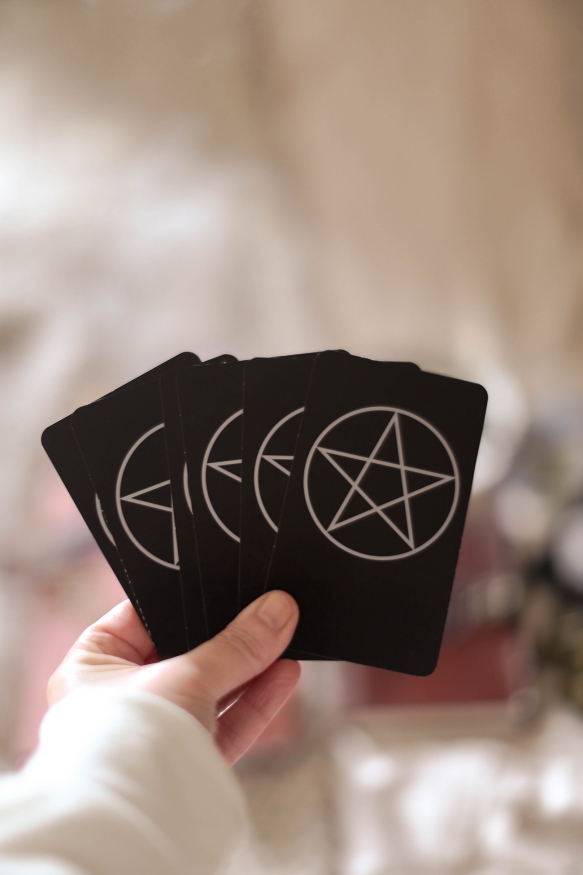 Emma Griffin Photography
Think live music and dance with a modern spiritual element like a ukulele act, African drummers, ballet or salsa, and take your personal pick from energised performances or meditative sets designed to establish and enhance mood.
From astrological-inspired décor to celestial detail in the dress, adorn yourself and your spaces with upbeat and thoughtful minutiae. This could include scenting with special incense, lighting aromatherapy candles and features such as aura paintings and wishing bowls. Request that your guests send a 'good vibration' wish back with their RSVP card and then place them in a large bowl at the reception entrance or in smaller bowls on each table for guests to take a wish each – and watch as the love and feel-good factor spreads with one simple gesture.
Emma Griffin Photography
Words Hannah May
Wed

Directory

All you need from the finest wedding suppliers in Cornwall and Devon