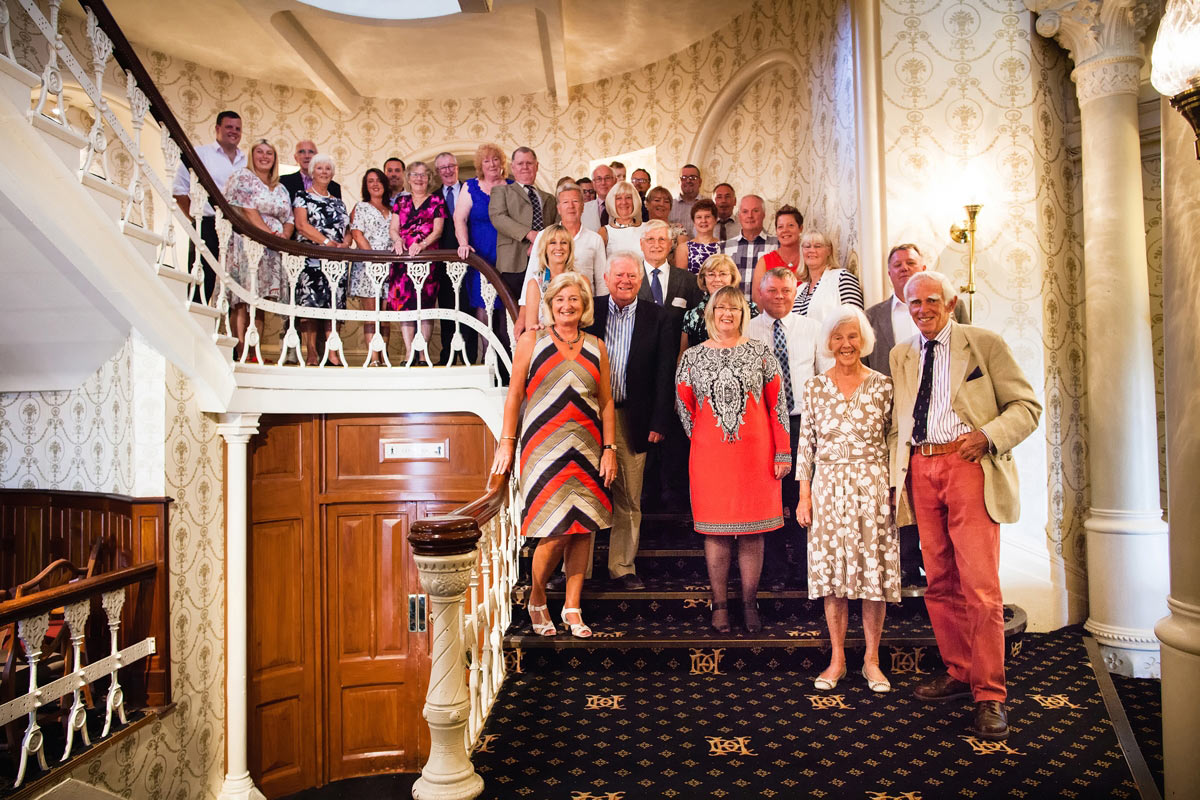 A special gathering at The Duke of Cornwall Hotel
Article Published: Thursday 8th September, 2016 - 7:21pm
---
A recent gathering at The Duke of Cornwall Hotel in Plymouth saw a number of couples return to the grand wedding venue to reminisce about their day. Here, Laura Joint of The Duke of Cornwall describes the momentous occasion...
"On Thursday 1st September another chapter in the history of the hotel was written as we invited past couples who were wed at the Duke to share their stories. Much like hosting a party, you always have that moment of trepidation wondering if anyone will arrive, thankfully, no such moment occurred as at 3.40pm couples, dressed in their finest and armed with wedding albums, walked the red carpet and climbed the grand staircase to our Hayward Room ready for an afternoon of reminiscing.
The atmosphere was incredible as the room quickly became full of laughter, chatter of days-gone-by and discussions around how much the fashion and the hotel had changed.
It was a privilege to share such a special occasion and we could not have done it without our amazing photographer, Toby Lowe, who captured the moment and recreated some incredible shots and the wonderful freelance writer and journalist, Laura Joint. Laura took the time to sit with our couples to find out more about their big days... so grab a cup of tea and join us for a story or two!
Floating hats, 'bespoke' dockyard confetti and a mad dash to the hospital - just a few of the tales of wedding days past...
When the Duke of Cornwall Hotel contacted couples who'd celebrated their weddings at the venue and asked if they wanted to attend a very special gathering, literally dozens of them replied to say: "We do".
Of course, setting a date and a time for everyone proved tricky (a bit like organising a wedding!), but approaching 20 couples made it to the event on 1st September when, over a Devon cream tea, memories were shared and photo albums flicked through.
The event, in the hotel's Hayward Room, brought together couples who'd held their wedding receptions at The Duke of Cornwall over a period of almost 60 years. And wow, did they have some stories to tell! Here are just a few of them ...
Colin and Jill May tied the knot on 17th January, 1959: "We were married in a Nissen Hut because after the war, that's where the register office was in Plymouth," said Colin, who served in the Royal Navy. "It was blowing a gale that day and we'd decided to start our honeymoon with a night at the Edgcumbe Arms. We got on the Cremyll Ferry and Jill's hat - the one she'd worn at the wedding and the reception - flew off and headed off down the river. The boatman managed to hook it out but it was obviously ruined. It was very funny and I burst out laughing ... but the marriage nearly ended there and then!" No such worries ... 57 years later and Colin and Jill are still happily married and living in Plymouth.
Michael and Christine Eascott and John and Carole Eascott: brothers Michael (retired fireman) and John (retired police officer) both held their receptions at the Duke, in 1966 and 1969. Christine brought their reception invoice to the event: "There were 49 people and we had a roast dinner, the wedding cake, flowers and a 3-piece band and the bill came to £92 pounds, eight shillings and sixpence!"
Carole recalled that after her wedding, they went straight up to the hospital to visit one of her friends who should have been a bridesmaid but missed it because she needed an emergency thyroid operation: "I went into the hospital with my wedding dress on!" John, meanwhile, has a different memory: "Argyle won that day. We got on the train to go to London, where we were starting our honeymoon, and the supporters were on the train, together with a load of toilet roll which supporters used to throw in those days!"
Anthony and Marion Banbury were married in 1965, so last year celebrated their 50th anniversary. Marion worked at Devonport Dockyard at the time - which was great when it came to having ready-made confetti: "I worked on the punch card machines to calculate the men's wages and these tiny pieces of paper would drop into the bin. We'd save them up for whenever anyone got married and it was used as confetti."
Mike and Val Hutchinson were married in March 1968 - despite her parents' reservations about the match: "I was 16 when I met Mike and he was 18. We got engaged when I turned 18 but my parents wanted me to wait until I was 21 before we got married. In fact, they weren't happy with me getting married at all, they said that we were too young and it wouldn't last. I was 20 when we got married ... and here we are, 48 years later!"
There was an amazing coincidence when two of the couples got chatting - and it emerged that they'd both tried to book the same wedding day! Leila Nottage, from the Duke of Cornwall, explained: "One couple wanted to get married on the bride's birthday but when they rang the hotel they were told 'unfortunately that date is already booked' so they had to re-arrange for the week before. This couple ended up sitting on a table with the couple who took their wedding date! What are the chances of that?!"
The full list of couples who attended the event were: Colin and Jill, 1959; Anthony and Marion, 1965; Mike and Christine, 1966; Mike and Val, 1968; John and Carole, 1969; Shirley and Richard, 1969; David and Anne, 1975; Mike and Jacci, 1975; Dave and Donna, 1988; Mark and Dawn, 1990; Tony and Sandra, 1997; Henry and Michelle, 1998; Martin and Lisa, 2004; Ben and Tammy, 2005; Dominic and Laura, 2006; Rob and Nikki, 2009.
"It was such a lovely afternoon," said Leila. "We have a unique history here and our wedding couples and their stories are a big part of that."
As for the couples, well, the event brought back memories of the happiest day of their lives: "In our day the Duke of Cornwall was THE place to get married; it is iconic," said Christine Eascott, while Carole added: "It was the place to come for a reception and regarded as the best in Plymouth... and it still is!"
We'll raise a glass to that!"
For a glimpse into the events of the day, watch the video here:


words Laura Joint
images Toby Lowe Photography
---