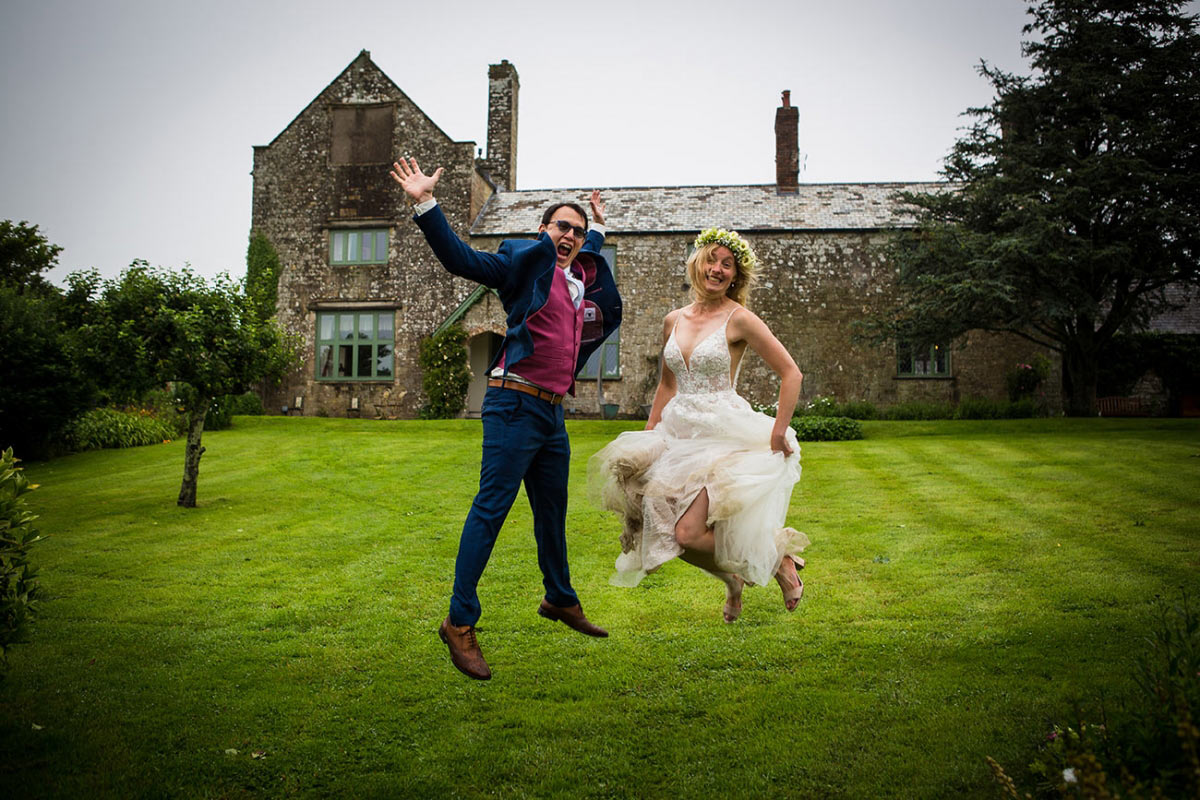 Love in the time of Covid-19
Article Published: Thursday 17th September, 2020 - 2:34pm
---
From the heartache of postponed weddings to the heart-warming joy of engagements & the first vows exchanged after lockdown
From the heartache of postponed weddings to the heart-warming joy of engagements and the first vows exchanged after lockdown, couples share their stories of love in the age of a global pandemic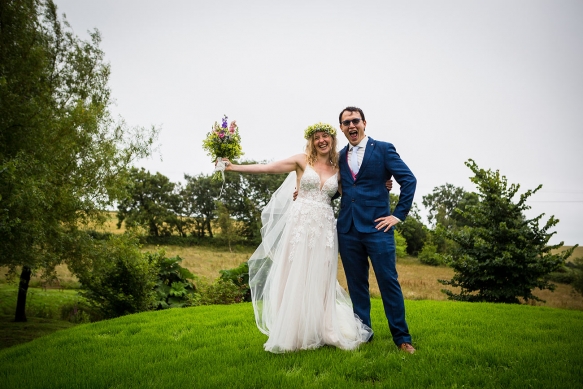 "WE HAD A SOCIALLY DISTANT WEDDING
"
"Our wedding weekend of 2nd-6th July marked our six-year anniversary which is why the date meant so much to Ben and I," says Emily. "Originally we planned to have a four-day party at Ash Barton Estate with around 100 guests.
When the pandemic first began to escalate we had just begun to think about the smaller details of the wedding. We put all planning on hold and just waited to see what would happen. We remained optimistic and kept an eye on the government updates in the hope that our wedding could go ahead in some form. Both of us were sure that if there was any way that the ceremony could go ahead then we would go for it. It made us really strip back and think about what was important to us, and that was that we wanted to get married to one another. We didn't want to delay that part of our lives.
We didn't find out the wedding could go ahead until 23rd June – less than two weeks before the wedding day! We received the go-ahead nod from the registrar on Monday 29th, so everything was a bit last minute! Our families and friends were a huge support in those two weeks, all chipping in to help sort out decorations, flowers and food and drink for a socially distanced picnic. There was still quite a lot of uncertainty on the day itself as to what rules we might have to follow, but everyone was ready to take it as it came and we were just all so excited that it could go ahead.
The day before, I made cream teas and Ben made bagels so we could give everyone an individual lunch. This way we wouldn't share cutlery and could comply with the distancing rules on the day. We also told everyone to bring hand gel and masks with them.
It was drizzling on the wedding day but we knew that, whatever the weather, we would still like to get married outside if we could beneath an oak tree. There were 20 of us in total for the ceremony, including the registrars, so being under the tree made it feel really intimate. One of Ben's brothers was in charge of the music and we asked Ben's other brother and my brother and sister-in-law to write some light-hearted poems for the ceremony. They were absolutely perfect! Later, we all sat at our different tables in the old chapel for the picnic, and chatted with other family and friends who were meant to come to the original ceremony via Zoom.
The day itself was absolutely perfect. We were just so grateful that we were able to go ahead, especially on our original date, and after so long being separated from friends and family it was lovely to be able to see them and celebrate together.
I think COVID-19 made us realise the important part for us was being able to make that commitment to one another, and we felt very fortunate to be able to do that in front of our immediate family and friends. We were both buzzing all day and the best bit is that we get to look forward to the larger celebration in 2021."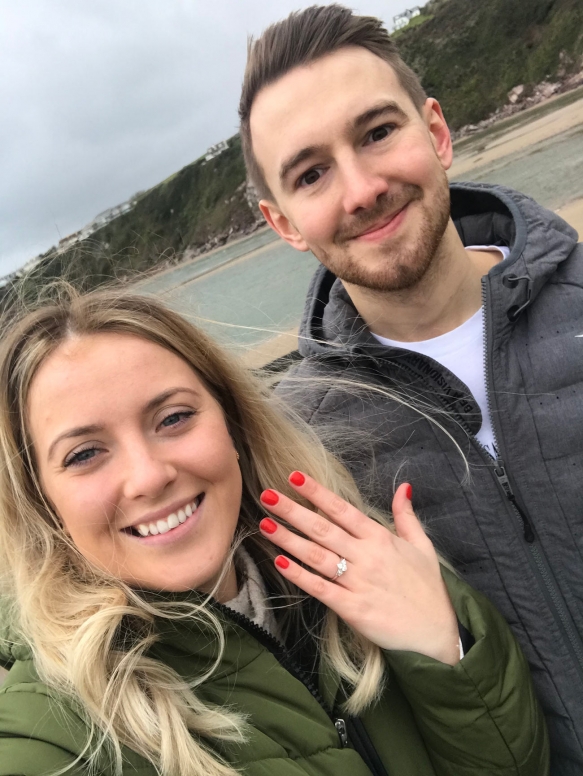 "WE GOT ENGAGED JUST BEFORE LOCKDOWN"
"We both met at work," says Katie. "We'd become really good friends and then realised maybe we weren't 'just friends' and had to have the awkward chat with our manager and tell him we were together.
I would have said yes to Ben if he asked me to marry him after six months of being together; he would have too but didn't want to ask me too early on. In fact, I'd asked him a couple of times with a Haribo ring but got shot down! So when he asked two years later, I was over the moon. Ben popped the question the day before my birthday on 15/03/2020 on Bantham beach. We spent my birthday celebrating to then shortly go into lockdown. That put a bit of pause on our celebrations with family and friends (we still ended up having drinks and giggles over Zoom).
Lockdown for us was great! We're very positive people and although we don't work together now we are used to being in each other's space 24/7. To pass the time, we viewed different wedding venues through virtual tours. We've also been renovating our house ready for our first baby (due in December). Having a baby has made getting married so much more important – I can't wait to celebrate as a family and bring everyone together.
Coming out of lockdown, we viewed a couple of venues which we'd shortlisted from the virtual tours and have recently put a deposit down for our wedding at Deer Park Country House in June 2022! Next steps are sending invitations and breaking it to Ben that I'm planning on having seven bridesmaids!"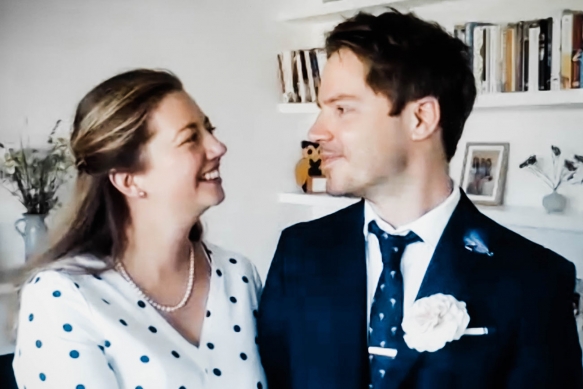 "WE HAD A VIRTUAL CEREMONY"
"We have been together for a decade and were planning a wedding at Colehayes Park near Dartmoor over the weekend of 30th May," says Laura. "We had planned everything, including ordering napkins and practising hair dos.
The wedding is going to be quite DIY with family and friends making the cake, growing the flowers, providing music, and drying flowers for confetti; I have also been making my wedding dress. This has meant that most things have been moved to a new date next year and the venue has been amazingly accommodating! We are considering getting the legal bit done in a registry office in the autumn. Our friends and family will hopefully be even more excited to celebrate with us once we are through lockdown and it will be something to look forward to next year.
As we are both frontline workers (an oncologist and an anaesthetist), the first few weeks of lockdown were tough but it helped to put things into perspective; the experience has brought us closer in that we've been able to focus on what was really important to us both regarding the ceremony but also our lives together. We have had more time together at home to relax, cook, eat and plan for our rearranged wedding and our future married life. We have fairly busy work schedules so having more time off at home together has been a surprising bonus.
We decided to do an online ceremony after I won the chance to have a Zoom ceremony with Get Wed Online (getwedonline.com). We were initially reluctant as we thought it would be embarrassing but, on reflection, we felt it might be a nice way to mark what should have been a significant day in our lives, and to give the day some structure so we didn't mope about thinking of where we would have been at any given moment on that day had COVID-19 not made an appearance.
We chose a ceremony for the two of us with a celebrant and photographer. The 20-minute humanist ceremony included a reading that will be included in our legal ceremony; we wrote vows and exchanged tin foil rings (the jewellers was closed during the pandemic so we couldn't collect the rings we have already ordered). Despite standing in front of our bookcase and talking to the laptop, we both agreed it was a surprisingly romantic and heartfelt ceremony and felt very meaningful. It was really great to be able to share the story with friends and family and provide some entertainment for them during these bleak times. We then enjoyed some champagne and a four-course dinner from a local restaurant (delivered to the flat) which rounded off an excellent would-be wedding day! Bring on 2021 for the real thing."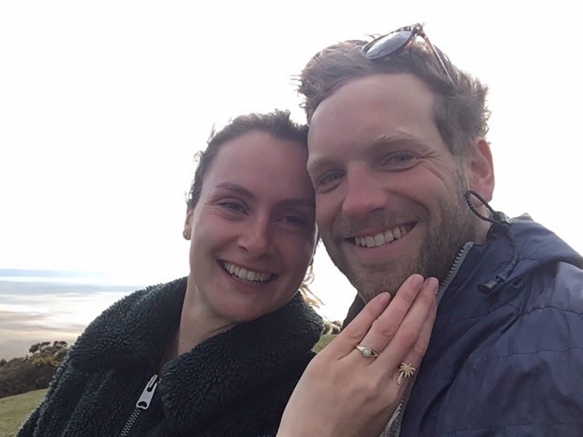 "WE GOT ENGAGED DURING LOCKDOWN"
"I have always loved the idea of getting married and so for as long as I can remember I have been hinting at the idea," says Rosie. "However, Tim always shrugged the idea off until January this year when he also started talking about it.
Before lockdown was announced we decided to go and stay in the house where I grew up in Croyde. Tim left our home in Newquay an hour before me, but I got to Croyde an hour before him. I remember feeling confused and felt that he had been sneaking around. He told me that he went to see his parents in Exeter (which he did) as he didn't know when he would next see them, but he didn't tell me that he also went to collect my beautiful engagement ring.
During the first Saturday of lockdown we went on a beautiful walk which I used to do as a teenager, up and over a hill to Saunton. Once we were over the brow of the hill, I turned to Tim who was all of a sudden on one knee holding a little box! My first thought was 'This is a practical joke!', but he started saying something along the lines of 'In these uncertain times I want to give you some certainty', and then went on to jumble up his words and accidentally said something about us having nothing in common with each other! He then corrected himself and revealed the gorgeous custom ring and I said yes. We walked back with so much adrenaline whizzing around our bodies and laughing about how surreal it all felt.
Back at the house we told my family the news. The only alcohol we had was a couple of cans of beer, so we stood on the driveway slurping Stella whilst social distancing from them. It was all very weird but wonderful. In such a strange and worrying time, our engagement has been a silver lining, and I think our news was a really good way to bring some joy into our families' lives.
The next few weeks were blissful; the sun shone every day and we spent lots of time together walking to the beach, talking about what kind of wedding we would like to have. We're aware that we might have to be adaptable in how we marry depending on the circumstances at the time. But we know that when we do get married, and however we do, it will be amazing."
---