---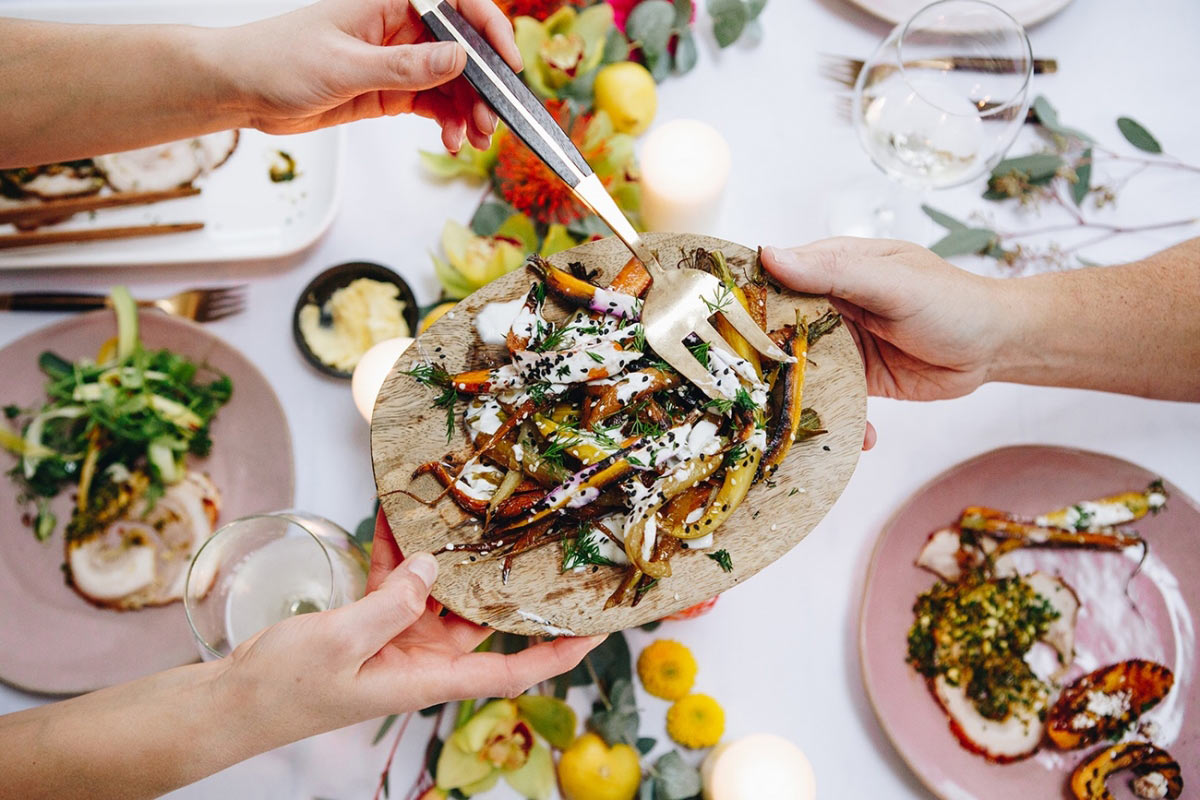 Immersive wedding day dining
Mood Food
Take a modern approach to wedding catering with an interactive experience
From private dinners the night before the big day to breakfast banquets, weddings provide the perfect excuse to treat your guests to a gastronomy that extends beyond the traditional sit-down meal, with the likes of sharing platters, mobile catering, cook your own, themed dining and a creative smattering of sweet treats designed to sate appetites, tickle taste buds and promote a fun, intermingling vibe throughout.
Here are some of our favourite interactive dining trends and how to deliver them on your wedding day with palate-pleasing aplomb.
There's endless scope for personalisation, with couples working alongside caterers to create unique and eclectic menus. Pick a theme (world tour, Cornish cuisine, your favourite book/film), dish (curries, roasts, pies) or personal preference (plant-based, locally sourced) and a select a series of supersized plates to match.
Mobile catering is one of wedding world's hottest trends, providing flexibility and versatility with regards to space and dining, along with adding a showstopping centrepiece and entertaining eating/drinking intermission.
"Aside from the drinks, we also offer our large customised firepits, festoon lighting, fairy light canopy and festival flags to create an awesome outdoor bar/chill-out area that allows couples and guests to take five away from the dance floor, watch the sun go down and catch up with friends and family," she says.
Transform dinnertime into a spot of fun role play by appointing one person per table to act as head chef.
"We've been doing a 'guest chef's table' where one guest is nominated on each table to serve the rest of the table – usually a roast – and they carve wearing a chef hat," says Louisa. "It's fun and creates interaction and conversations."
Take it a step further with a chef's theatre, live cooking, or involve your guests with a 'DIY dining experience' with design/make your own options such as pizzas, cooking with hot stones or Korean-style table barbecue grills, and themed buffets or banquets.
Locally sourced produce is a top trend in wedding catering, and you could invite your guests to sample some Cornish flavours while making memories in a number of ways, from strawberry picking to incorporating a vineyard tour and wine tasting into your wedding weekend itinerary.
"Our brownie bites are always a talking point while our pavlova, served as sharing dishes with roasted strawberries and flowers are a real showstopper!" says Emily.
Wed

Directory

All you need from the finest wedding suppliers in Cornwall and Devon