---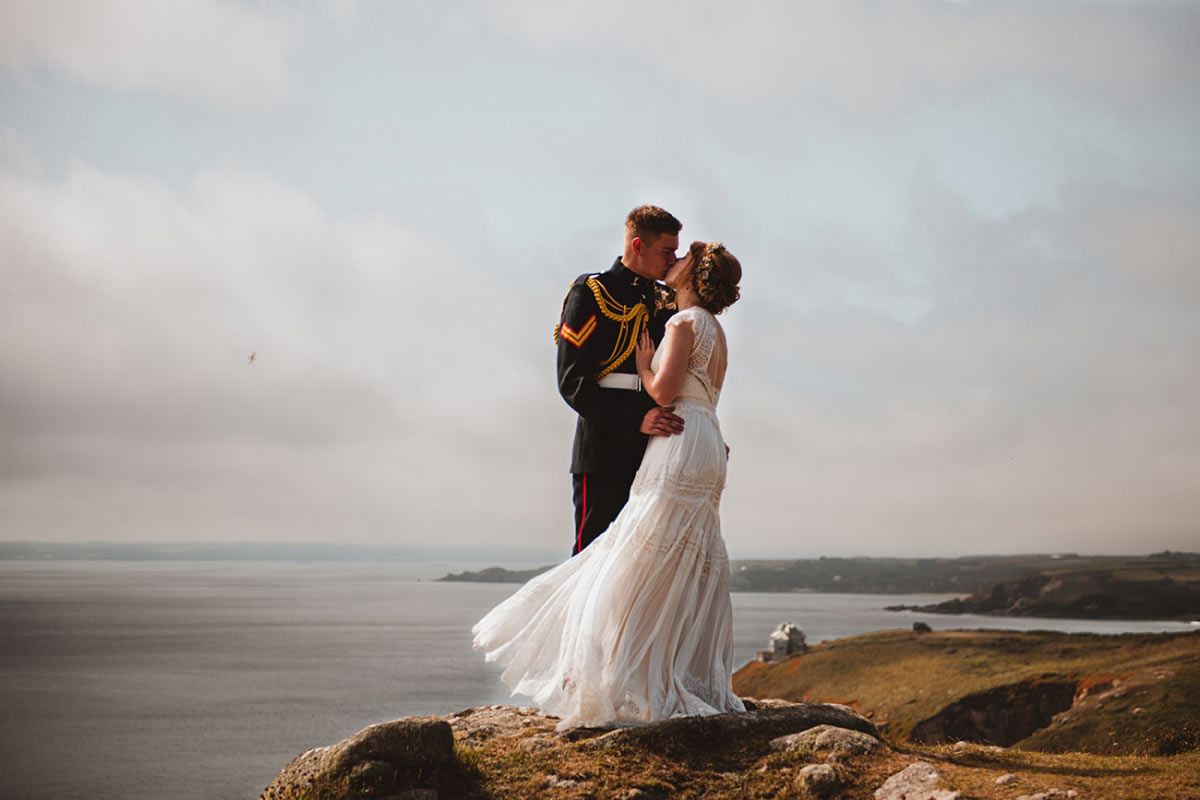 Four couples share their stories of the heart
Love wins!
There have been uplifting moments amidst the heartache of Covid-19. Here, four couples share their love stories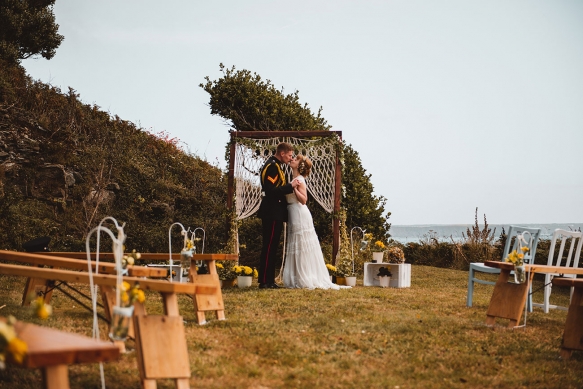 "I DON'T THINK EITHER OF US HAVE FELT SO LOVED AND VALUED."

"Joe and I have been together for four years and got engaged in July 2018," says Leanne. "We always knew where we wanted to get married. Not only did Joe propose on the rocks not too far from Beacon Crag in Porthleven, but he dropped the hint there years before. One New Year's Eve, a few months after we'd got together, we took a walk on the cliff path. Looking over towards Beacon Crag, he gave me a hug and told me he would marry me one day. Turns out he was right!

We wanted a DIY garden party with a clifftop marquee overlooking the sea. Originally, we had planned something smaller with a provisional guest list of 40-50 people. As often happens, the guest list nearly doubled in a short time!
The pandemic actually gave us a chance to scale things back to what we'd originally planned. There were some trade-offs though. There were friends that it would have meant the world to have there who couldn't make it. One of my bridesmaids lives in Australia so she couldn't come. We had a life-size cardboard cut-out of her, and she Skyped in for the ceremony, so it did feel like she could be there in some way. Then there were older family members who didn't feel safe. People were dropping out right up until the days before the wedding.
We had spent over a year handmaking the decorations, so we decided even if we didn't need them, they were still getting used! We decorated the marquee as if the original plans were going ahead so at least we had the photos. It looked amazing and we were so happy with it even though the circumstances were so wildly different.
Planning a wedding during lockdown was stressful but both of us balanced each other out, the other always coming to the rescue with humour. We like to joke that it was a baptism of fire and if we can handle the weekly 'will it go ahead? Will it not?' uncertainty, the fall-out of guests dropping out, the mad scramble to cancel vendors, and the general emotional rollercoaster of it all without exchanging a harsh word then we don't have an excuse to fall out about anything. If anything, the 'Covid vs. us' mindset brought us even closer together and proved that we have in each other an incredible support system.
The wedding day itself was perfect. We were blessed with great weather, a relaxed atmosphere and good spirited guests. Everyone was outside for the ceremony which ended up being great due to the weather. Post-ceremony we had a small celebration with our nearest and dearest.
A walk along the coastal path for photos gave us some time as a newly-wed couple to acclimatise to the fact that it was finally happening, the wedding had gone ahead despite all the ups and downs, and we could focus on all the positives rather than what we had theoretically lost by going ahead with the day under restrictions.
Although the day was drastically different than we had originally planned, it was still perfect. There were so few people there that the time spent with them felt so intimate. The thing about the Covid situation is that we knew beyond a shadow of a doubt that everyone there on the day was there because they wouldn't miss it for the world. There were no worries about obligation invites or awkward plus-ones. Instead, we had a wonderful support bubble comprised of people who were willing to brave this strange and scary world just to be there to celebrate with us on our day. It was small and it was quiet, but I don't think either of us have felt so loved and valued."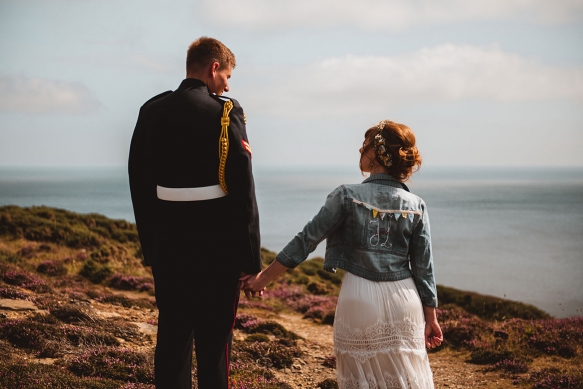 Suzanne Johnson Photography
"I'D WAITED NINE YEARS TO MARRY HIM AND I REFUSED TO WAIT ANOTHER YEAR!"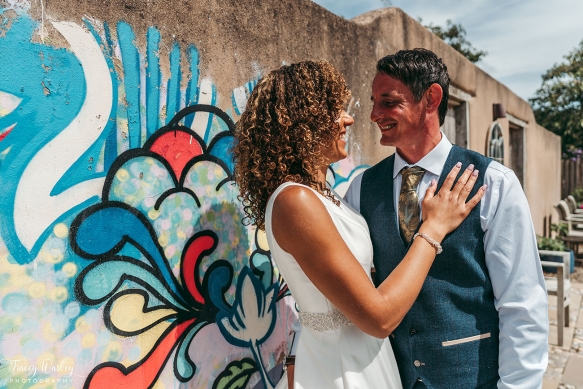 "We've been together for nine years and Robert finally proposed in February 2019," says Natasha. "I always said that I wanted to get married in Cornwall, as it's what I call my 'happy place', so we booked a wedding at Lower Barns for 21 people over three days.
When the country went into lockdown, we weren't too worried about the wedding at first, as it felt such a long time away. But, as time went on, we did start to worry. Robert wanted to reschedule it, but I'd waited nine years to marry him and I refused to wait another year! Obviously, if the government wouldn't allow it, there would be nothing we could do – but if lockdown was eased, I wanted the wedding to happen, so Robert reluctantly agreed!
Once we heard the news that weddings could go ahead from 4th July, we were so happy but also apprehensive concerning what the wedding would be like with the restrictions in place. Having to reduce the number of guests was the hardest part, as it meant our best friends and partners couldn't be there. We also thought it would be strange not having music or a wedding reception. So we had to look at how to rearrange our plans to make a good time possible in line with government guidance.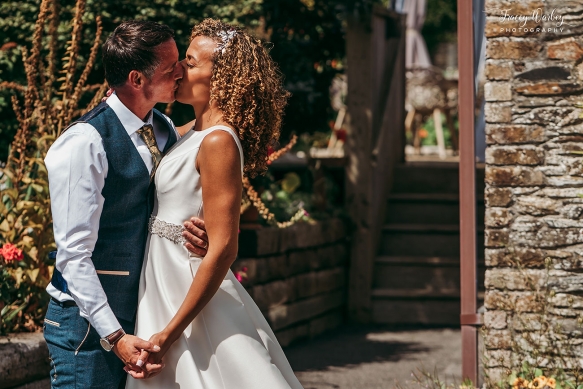 Although it poured with rain on the wedding morning, the sun soon came out and it was lovely and warm all day. We got married in the beautiful garden ceremony area, played garden games, and enjoyed a barbecue and amazing desserts. The adults relaxed in the sun, while the children played. It was like a big family get-together in a beautiful place.
2020 has been such a worrying time for everyone and the wedding brought the family together to celebrate a 'normal activity' in the strangest of times. Everyone was happy to be away from home and enjoyed everything more than they probably would have. Every supplier was so amazing and helpful in making our day as normal and safe as they could for us.
We feel very lucky to have had such a lovely wedding. If anything, being made to strip all the frills and fuss down to the basics, with limited guests, made no difference. What's important is that we started our marriage happy, having fun and with our family."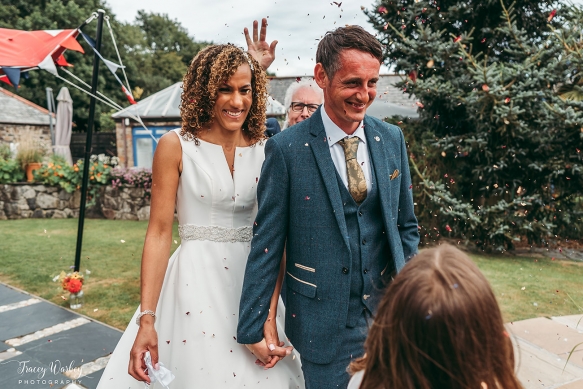 Tracey Warbey Photography
"WE JUST WANTED TO GET MARRIED, EVEN IF IT MEANT NOT HAVING THE PARTY."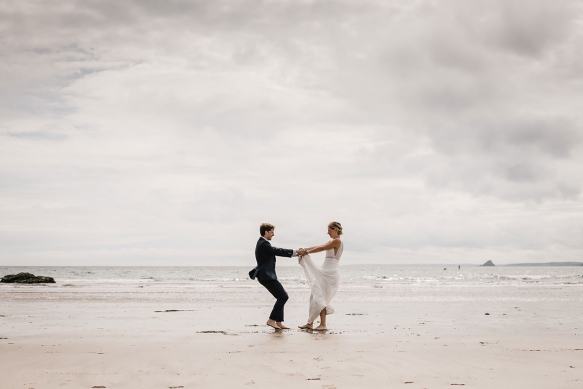 "Carwyn and I met in summer 2011 and got engaged in November 2018, whilst on holiday in Chile," says Sarah. "We had always planned a small wedding – we had invited 16 of our closest friends and family to spend a long weekend with us at The Vean on the Caerhays Estate. We'd planned a kayaking trip on the Friday and the wedding on the Saturday with the ceremony in the Coastguards Lookout.
When the pandemic first hit, we assumed our original wedding wouldn't be affected as it was fairly small and planned for June. As time passed, we were initially worried that guests travelling from other countries might not be able to make it, and then it became more obvious that the whole wedding wouldn't be able to go ahead, so we had to decide when to postpone until and what to do.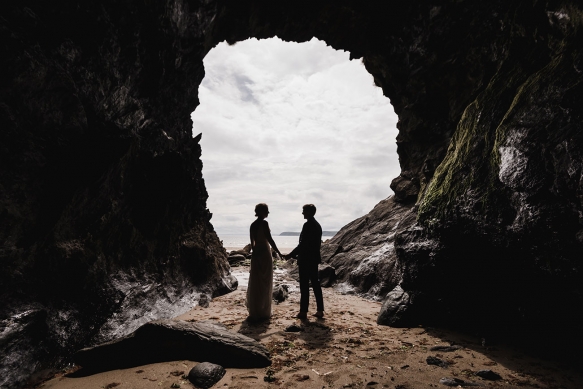 After discussing it for a while, it became clearer to us that we just really wanted to get married, even if it meant not having the party! You can put so much time and stress into planning the wedding of your dreams, but this help put that into perspective. We knew we couldn't go ahead with the full plan – the Coastguards Lookout was too small for social distancing with all our guests, plus we wouldn't all be able to stay together in one house – but we decided to book the Lookout and registrar for July. We crossed our fingers that we would be able to get married, and that our parents would be allowed to be there with us. It definitely meant that we couldn't get too excited beforehand, as we were always slightly on edge that something would go wrong – and we were careful to keep ourselves isolated for two weeks before to minimise our chances of having to quarantine.
We had a lovely wedding day. We just had our parents as guests, so the ceremony was really intimate, and we were able to spend a lot of quality time with each other and our parents. After the ceremony we had champagne, cake and scones on the cliff, then we had fun with our photographer Nick on the beach. For the evening we had a barbecue – all very relaxed which suited us just fine! Obviously, we were sad that our close friends weren't there, and also our brothers – but they were able to be part of the ceremony via Zoom, which was great. The day was over really quickly, which I think is true of all weddings! So it was really nice at the end of the day to think "we get to do this all again next year!" as we are planning on coming back to Caerhays and having the original wedding weekend we had planned.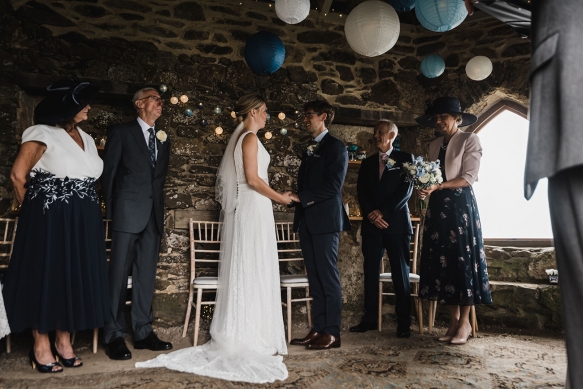 Nick Bailey Photography
"IT WAS, BY FAR, THE GREATEST NIGHT OF MY LIFE."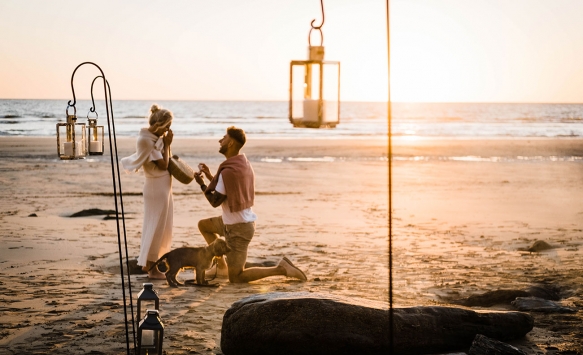 "Tam was working at the gym that I went to," Tom recalls locking eyes on Tam for the first time. "I would find ways of chatting to her. Giving her a cheeky smile. Asking for a guest pass. Any excuse! acclimatize She batted me off for a while, but my persistence paid off, as she ended up asking me out on a first date. We've been inseparable ever since.
We started trying on engagement rings about a year ago as I knew it would be difficult finding a ring that was 'her'. Every time we'd go on holiday, all of her friends would be convinced it would be 'the' time. I'd known that I wanted to marry her for quite some time, it was just about finding the right moment.
I'd actually planned on proposing in Thailand at the start of 2020, however we had to cancel due to Covid-19. We then booked Mauritius, and Covid foiled our plans again. After months of thinking what to do and where to do it, it clicked: Cornwall. We had our first ever holiday in Cornwall and it was just perfect; we've always said we'll live there one day too. I started looking online and saw a video of a beach proposal at sunset, it just looked magical. I found Rebecca from Rebel + Anchor and we put it into motion. She was amazing! She took my idea and blew it out of the water, the set-up was faultless.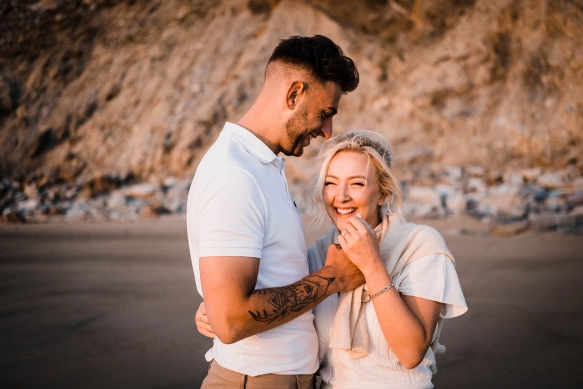 On the day, Tam and I spent the afternoon walking through waterfalls with our puppy. We went out for some food and made our way to Watergate Bay to watch the sunset. I actually don't think I've ever been so nervous. We had this whole stretch of beautiful beach to sit on and there I was marching down it at 100mph. It was then we saw the most incredible set-up, I think we both burst into tears and I just about mumbled 'Will you marry me?' The rest of the evening was spent drinking Cornish fizz, listening to the amazing James Dixon, having our photos taken and enjoying the beautiful sunset. It was, by far, the greatest night of my life.
Although lockdown and coronavirus has been dreadful, this whole situation has taught us to slow down and appreciate the little things in life. It has definitely made marriage a greater priority for us. We want to share it all with the most important people around us and take no time for granted with them. Coronavirus cast a big 'what if?' over our lives for so many months – we know what we want, so why wait?"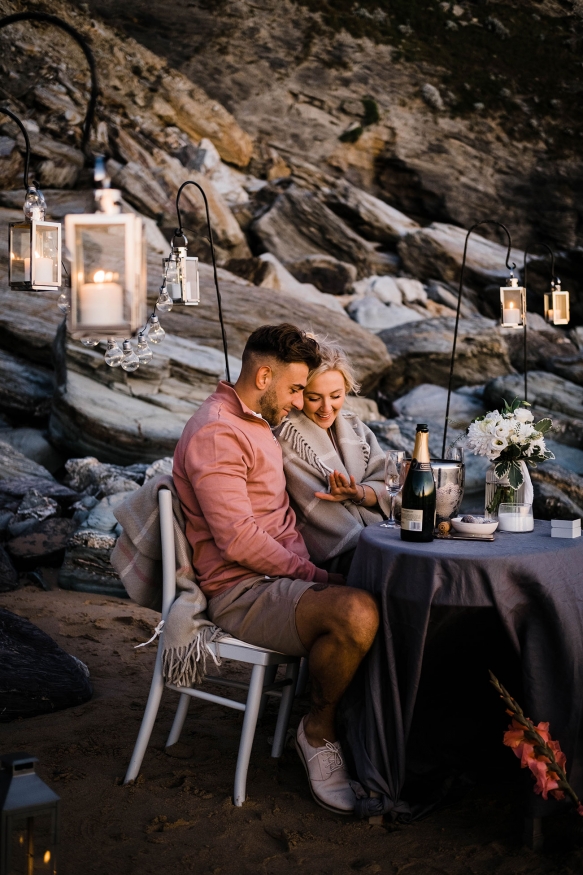 Wed

Directory

All you need from the finest wedding suppliers in Cornwall and Devon