---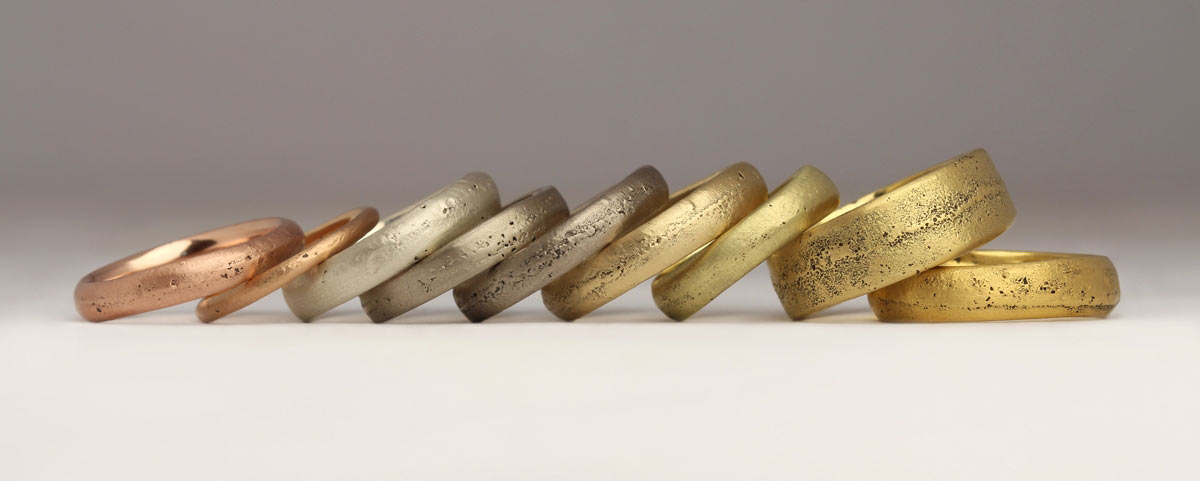 Choosing your engagement and wedding rings
Choosing your engagement and wedding rings
From metals to customising inspiration, here's expert advice for choosing rings you'll love for life
It might be a symbol of eternal love but, for some, choosing an engagement or wedding ring can be a source of anxiety. How much should I spend? Which metal should I choose? How can I make it really special?
Fret not. We've enlisted some of the region's top jewellery experts and designer-makers to offer their advice to help you find something that speaks of your love.
Justin Duance (Hannah Larkin Photography)

What are the three most important things to think about when buying engagement and wedding rings?
Justin Duance:
Comfort, style and budget. You want your rings to suit you and your lifestyle – you'll be wearing them everyday, after all!
Erin Cox:
First of all, budget. If you start the process of buying rings with a budget in mind, the rest of the process should be more enjoyable – rather than find a ring, fall in love with it and then panic about price! Next, practicality – try to match your style of ring to your lifestyle. A huge claw set stone is not going to work if you are a horse rider or landscape gardener! And quality of material. At Erin Cox we believe in smaller but better quality diamonds. Pure gold is 24ct; this is very soft so most jewellery is made with 22ct, 18ct or 9ct, which is yellow gold mixed with other metals. Our 18ct white gold is a mix of yellow gold and palladium. This means it keeps its colour and does not need plating (which wears over time).
Michael Spiers:
Lifestyle – are the chosen rings suitable for the life the person leads? Budget – how much would you really want to spend? Taste – is the person you're buying for more likely to want a vintage design (such as art deco), are they more contemporary (a fancy shape) or would they prefer something more classic or traditional (like a brilliant cut solitaire diamond)?
Drakes: Choose something you love. These are your special rings that you'll have forever so, above everything else, it's important that you enjoy wearing them. Make sure they are your choice and you're not swayed by someone else's opinion.

Stephanie Stevens: I believe the three most important things to think about are the style, the personal meaning and the budget.

If I buy my fiancée a ring to propose with, what do I do if it's the wrong size or they don't like it?
JD: All our rings, with the exception of eternity bands, can be resized. If you are totally unsure of the ring size or style, we can lend a sample piece to propose with. Once you are engaged, you can start the process of choosing a ring together, or having a version of the stand-in made especially for you!
EC: On the whole, jewellery stores are absolutely happy to exchange and resize. We offer 'groom-to-be' the opportunity of buying a 'proposal ring' and then once their fiancée has said yes they can come in and choose something or design a ring together. We will size them and ensure the ring is the perfect fit.
Is there a big difference between the type of metals I could choose?
JD: Silver is the weakest, platinum is the strongest. All carats of gold are different colours and also different strengths. White gold contains palladium, making it stronger than its counterparts, but any carat of gold is recommended for wedding rings. The most important thing is that if you intend to wear two rings together that their strength matches so one doesn't wear the other down. Ultimately we recommend choosing the metal colour that best suits you and your budget!
EC: Platinum is very-hard wearing, so if you have a hands-on job it's a good choice. 9ct is a little harder than 18ct, but it can be a little more brittle. We would recommend that the same weight of metal is used for the engagement ring and wedding ring, because of wear. It doesn't matter if they are different colours – so you could wear a 9ct rose gold ring with a 9ct yellow gold ring.

SS: Different metals have different properties. When buying a ring for yourself, make sure the metal is perfect for your lifestyle and hobbies. If you have a manual job or trade, metals like platinum and palladium are stronger, ensuring the ring doesn't wear down over time as quickly.

I want to design my own wedding ring but have no idea where to start!
EC: Make an appointment with a designer. They can chat to you and get to know you and your fiancée. They will talk through various ideas until you agree on a design together.
MS: Look through magazines or online for some initial inspiration to help us make a start. When you have some ideas, pop into one of our showrooms where our trained staff will be more than happy to help you come to a decision on what your dream ring would look like. From there, the experts in our workshops can provide you with a quote and timescale to make your bespoke item.
D: We're delighted to offer our own bespoke service so we can bring your design to life! We'd recommend gathering some ideas together and then booking an appointment with our resident goldsmith Kim, who will discuss your ideas with you and together you can create the perfect wedding ring.
SS: This is the fun part of the process, working out a design vision that is personal to you and will be brought to life in a ring. Start by picking out different design ideas that catch your eye and get you excited. Once you have talked through design ideas like shape and thickness, we can then start looking into different stone settings and designs that will make the ring personal to you.

Emily Nixon (Debs Alexander)

Is it possible to have matching his and hers rings?
JD: Absolutely, his and hers rings can be exactly the same, or have a matching characteristic, such as the same precious metal, wood inlay, engraving or a little gemstone, for example.
EC: Yes of course – but sometimes the same ring can look very different on different people. Our Molten Wedding Rings all have a similar feel so you can have a similar look of ring, but in the right proportion to your hand.
SS: It's an extra special touch to know that when you look at your ring your partner will be looking down at the same ring. There are many different ways to make them match - you could even have the same stones set in the same way.

I want a ring that's really 'now' – what do you suggest?
JD: We don't follow trends; our jewellery is designed to be timeless, worn every day and become a family heirloom. There is certainly a move towards the ethically sourced and handmade. People don't want something that looks like it has been stamped out of a machine in a factory, they want something with meaning, with a story. Pick something that is you.
EC: Fashions change really quickly and ideally you want to wear your engagement and wedding rings for a lifetime. With our Molten Wedding Rings, there is an opportunity to add to them as time goes on. Different coloured diamonds can be added as and when, which gives you the opportunity to personalise it and reflect the fashion at that time.
MS: A popular engagement ring choice currently is the 'Tiffany' style ring with a brilliant or fancy cut central diamond with diamond set shoulders. It would look fabulous with a matching diamond set wedding band and would complement each other really well.
D: Lots of sparkle! Engagement rings with diamond set shoulders seem to be a favourite amongst our customers.

Carole Allen: Simple rings with mixed metals, such as a white gold ring with a yellow gold setting, are very popular and will stand the test of time. Salt and pepper diamonds are also very popular.
SS: Metal choices go in and out of fashion each year so my suggestion would be to go with a white coloured metal so your ring will always be timeless. Rose gold is currently a popular metal and you could always add a subtle pop of colour into your ring design.

I'd love to add some colour into my ring design but like to keep things simple and timeless, what's the best way to do this?
JD: Small colourful sapphires can add a lovely pop of colour without being too over the top. Consider some flush or pavé set either side of a white diamond as a twist on a classic engagement ring. Our misty eternity ring is a lovely example of a subtle yet colourful ring. You can also mix colours of metal, such as a rose gold inlay in a white gold ring.
EC: It may be a good idea to go for a timeless design but then have a single coloured stone within it. A trilogy ring is a good style for this; a coloured central stone with diamonds set either side – classic, timeless and elegant.
MS: You could introduce colour by featuring a gemstone rather than just diamonds – perhaps a stone that means something to you, or even a birthstone. The other option is to use two or even three different coloured metals, which can really bring an individual look and design.
D: Three stone trilogy rings are a good way to add colour with a coloured central stone and a diamond either side. A trilogy ring is often chosen to represent the past, the present and the future, a loving representation of your relationship. Other options would include a mixed metal wedding band or a wedding ring with a resin colour running through.

CA: Stones with a hardness of over seven on the Mohs scale of mineral hardness are best for an engagement ring as they will be more durable. Depending on your budget, coloured diamonds are popular, as are morganite, alexandrite, rubies, emerald and sapphire. These are all available in a myriad of colours. from subtle to vibrant.


How can I make my ring more symbolic and meaningful?
JD: Through our unique sand casting technique, you are invited to be a part of the making process by collecting your own beach sand for your rings to be cast in. We can also cast from heirloom gold, which adds unmatchable sentimental value and results in a truly unique piece. You may want to add gemstones to represent family members or an engraving, from a date to a drawings and fingerprints.
EC: Engraving is a really lovely touch, whether it's a special message or key date. We've had customers have a secret diamond set into the back of the ring or diamonds set into the front for anniversaries. Using sentimental gold passed down from a family member is also lovely. We often remodel vintage engagement rings into new so that they can be worn and enjoyed for many years to come without the fear of it breaking or not being the right style.
MS: We can engrave inside one or both of your rings. This could be the special date, each other's names or any words that mean something to you.
D: You could have a message engraved on the inside of the ring; perhaps a secret message or your first dance song title. Many of our wedding rings come with free engraving.

CA: You can choose birthstones or have your ring designed to reflect your interests; for example, you could incorporate a wave design if you love the coastline. You can also have your ring engraved on the inside with a message that has meaning for you.
SS: Maybe you have an heirloom piece that has been handed down to you that you can use some of the stones from. Another very personal touch is to have your fingerprints engraved on your rings.


I don't have a huge budget – how can I find an affordable ring without compromising on design or quality?
JD: Material choice makes a big difference on price. Choosing sapphires over diamonds will also make a favourable price difference. If you have your own heirloom precious metal, we can cast it into a ring with your own sand for £200.
EC: At Erin Cox we offer Own Art, which is a 10-month interest-free loan offered by the Arts Council that enables people to buy unique or bespoke items on the day, rather than have to save for it or feel it is out of budget. Also, if you like a particular style ring you could opt for a 9ct version rather than an 18ct as it would be cheaper.
MS: No matter what your budget is, we are able to supply something that is special for the both of you, always listening to your requirements and needs for this special occasion.
D: We have rings to suit all budgets. Our starlight or illusion rings are a great way to maximise your budget. These rings have cleverly set diamonds or patterned metal to give ultimate sparkle and the idea that the stones are larger than they are.

CA: You can have a very simple ring designed with a bezel setting, which will look timeless and classic, for a relatively small budget if you choose an independent goldsmith.

How do I pair my engagement and wedding rings?
MS: Depending on the style of your engagement ring we can complement it with a similar design of wedding band and ensure it is shaped to fit.
D: We'd recommend popping into the store and trying lots on! You'll find the best fit simply by trial and error. If you have an unusual-shaped engagement ring, our team can help to find a beautifully shaped ring for a perfect match. If this isn't something we have in stock, our goldsmith can create a shaped wedding ring to complement your engagement ring perfectly.

CA: This is where it can get difficult if you have chosen an engagement ring with a large setting which will not sit next to a straight wedding ring. Here at Carole Allen Jewellery, we specialise in forming wedding rings to fit around such rings. You can even book a workshop and come and make your own.

SS: Ensure they're both the same metal as the stronger metal will rub down on the softer metal over time. If your wedding ring needs a curve to fit around your engagement ring this can be specially designed to ensure they sit flush together. You could also add the same style of diamonds to the ones in your engagement ring to make them look like they were made as a pair.

What's the easiest way to customise my rings?
JD: Send us your own sand! It's a beautiful and subtle way of customising your rings. Small grains of sand are captured in the metal, allowing the wearer to carry their special place with them, wherever they go.
MS: There are multiple ways to customise your rings so they are bespoke to you. We can help you find the perfect ring by looking at designs, ideas and images you might already have, and work with our talented workshop team to create something one of a kind. The other option is we can remodel and revive an older ring that is perhaps a family heirloom, or personalise it with an engraving.
D: There are many ways to customise your rings. Visit our wonderful store in Plymouth to discuss your ideas with our team. The options really are endless, from bespoke, to patterns, to remodelling gold.

SS: The easiest way to customise your rings is to have them engraved with your wedding date or personal message.


Anything else I should consider when choosing rings?
EC: If you want a custom-made piece, make sure you allow plenty of time. There is a lot of heart, soul and hard work that goes into each piece. We want it to be exactly what you are after so things cannot be rushed.
D: Don't be scared to try rings on and lots of them! Many of the items you see can be ordered in a different metal or with a variety of diamonds or other gemstones so enjoy looking at everything. And our top tip is to look at the ring you are currently trying on in a mirror instead of directly at your hand.

SS: When deciding on your wedding rings ask yourself whether they represent you. This is a ring you will wear every day for the rest of your life and you want to make sure it makes you feel happy and brings a rush of lovely memories whenever you look at it.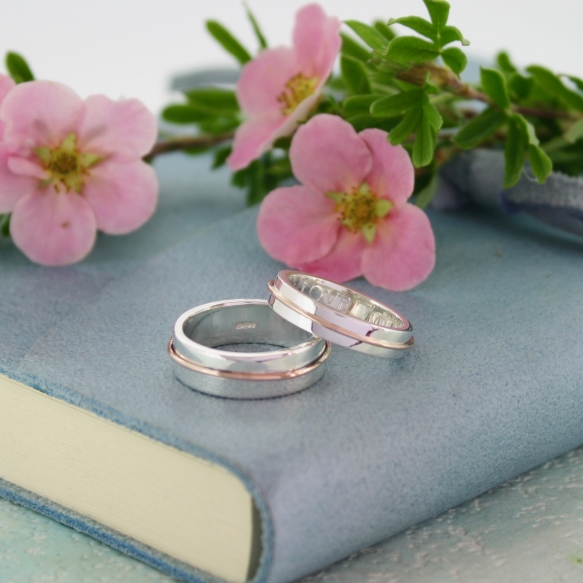 Carole Allen

words Hannah May
Copyright Wed magazine 2019
Wed

Directory

All you need from the finest wedding suppliers in Cornwall and Devon