---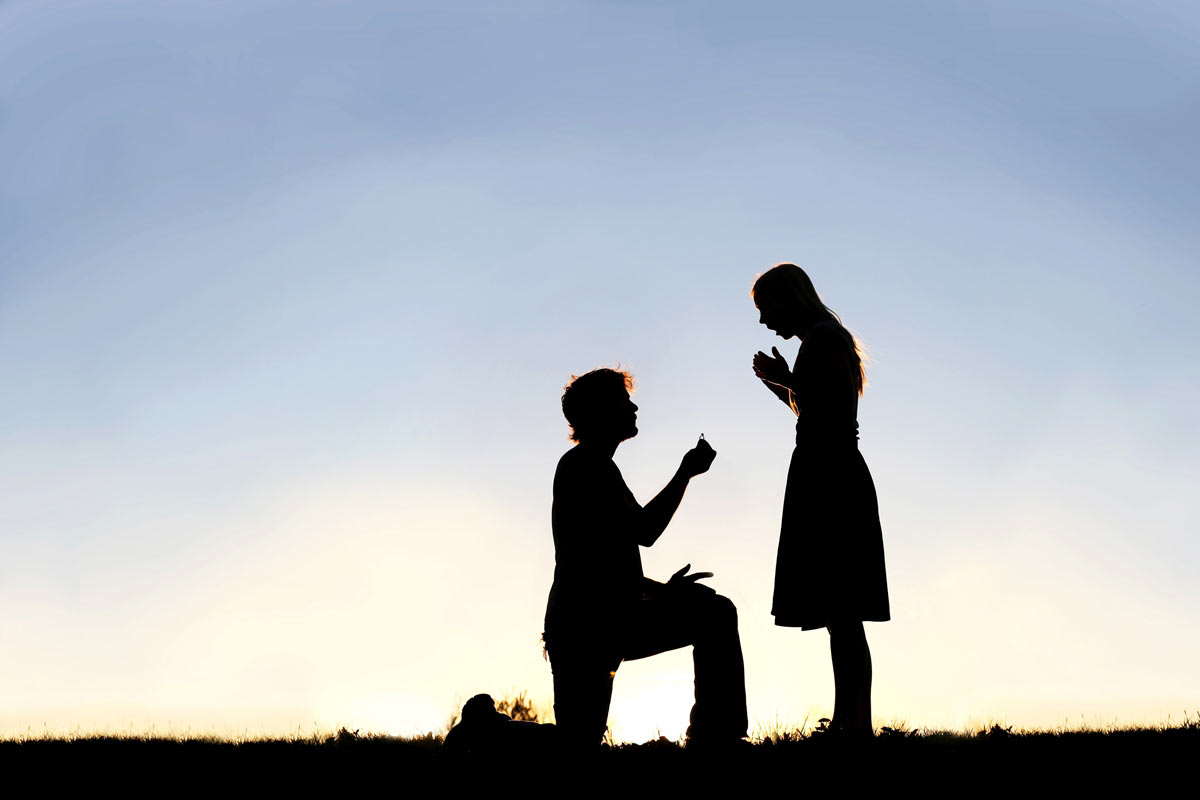 Engagament Announcement Ideas
Creative ways to announce your engagement
10 wow factor ways to announce your exciting news
You're engaged, congratulations! It's a wonderful feeling to be in the first flushes of an engagement, and you'll probably be wanting to shout it from the rooftops. Here are some fun (and slightly less dangerous!) ideas for spreading the word to your friends and family…
Two become one
If you'd love to announce your news to your loved ones face to face, why not book in a birthday/ Christmas/ Easter/ Halloween celebration – with a twist! Organise a party for whatever celebration you like, and something that fits in with the time of year, and gather everyone together in style. Only when everyone is enjoying your Easter hunt/ toffee apples/ mince pies, you can pop the bubbly, shout "surprise!," show off that sparkler and turn your do into an official engagement party.
Snap decision
Photographs can be the most creative ways to announce your news. From selfies and close-ups of your ring to bunting spelling out your news or a simple ring box placed at your favourite location, there are so many ways to snap your moment. Recipients will love the feeling of intimacy and sharing the raw emotion of the big moment with you. A secret engagement shoot is also a lovely and more formal way to announce your news. Sneak off for a day with a professional photographer and then organise an evening where you display the pictures at home or project them on to a big screen for all to see.

Put it in the post
Engagement cards can act as save-the-dates too. Create an engagement card that suits you as a couple and let your guests receive your news, and wedding date, all together when it lands on their door mat. You can personalise cards with sketches of you both, or a cute idea we love is to loosely tie a knot and thread each end of the string through each side of a card. Once the recipient opens the card, the knot in the middle will tighten and literally tie the knot.
Motion picture
Shoot a short video or make an Instagram story to deliver your news. Duets can work if you both have the vocals to carry off a love song, whether it's serious or silly, or you can get creative with dressing up as your favourite characters from love stories of films. Recreating the moment you or your partner popped the question could work well too or how about devising a ring hunt with clues that your video viewers can watch and try to solve?
Got the T-shirt
Arrange a quiet drink with your best friends and turn up in the most fabulous outfit, which just so happens to have your new status emblazoned on the front. We love 'Mrs-to-be', 'Fiancée', 'I said yes' or just a simple picture of a solitaire ring. See who's paying attention and notices your sartorial secret first and then let the celebrations commence.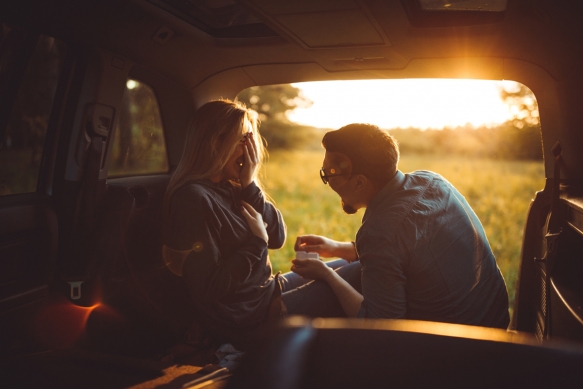 Breaking news
While a text or email is the instant way to update your besties, add some humour too to make your message really stand out. How about having fun with the heading in an email, texting a silly rhyme or pressing send on a witty GIF to deliver your news… or just subtly showing off your sparkler with a shot of you both hand in hand?

In a bubble
Balloons that spell out E.N.G.A.G.E.D can be attached to gate posts, fences or front doors, so invite friends and family over for a garden party and watch their faces as they read your news as they are walking up the drive. Similarly you can chalk your news onto driveways or front steps to really make a statement to your guests – and the whole neighbourhood!

Read all about it
This may seem frightfully old-fashioned in the techno-instant world we live in, but hey, weddings are steeped in tradition, so why not put an announcement in the local or national paper – whichever you know your family read. Or if they don't, just take a copy to them on the day you know it will be printed. Wait for squeals of excitement when they realise the romantic announcement they are reading about relates to you!

Sweet surprise
If you want to let your work colleagues know your exciting news but don't want it to filter through the ranks via the water cooler, what sweeter way to break the news than with homemade biscuits iced with 'yes' or 'bride-to-be'. Simply take them in to the office for Friday afternoons. Admittedly this is a low-key, alcohol-free celebration – you will be at work after all – but hopefully the boss will suggest this should be followed by champagne in the pub later on…
Facebook frenzy
And lastly, if you want a very low effort idea, simply change your Facebook status to 'engaged'. And watch the messages flood in!

words Elizabeth Chester
Copyright Wed magazine 2019
Wed

Directory

All you need from the finest wedding suppliers in Cornwall and Devon