---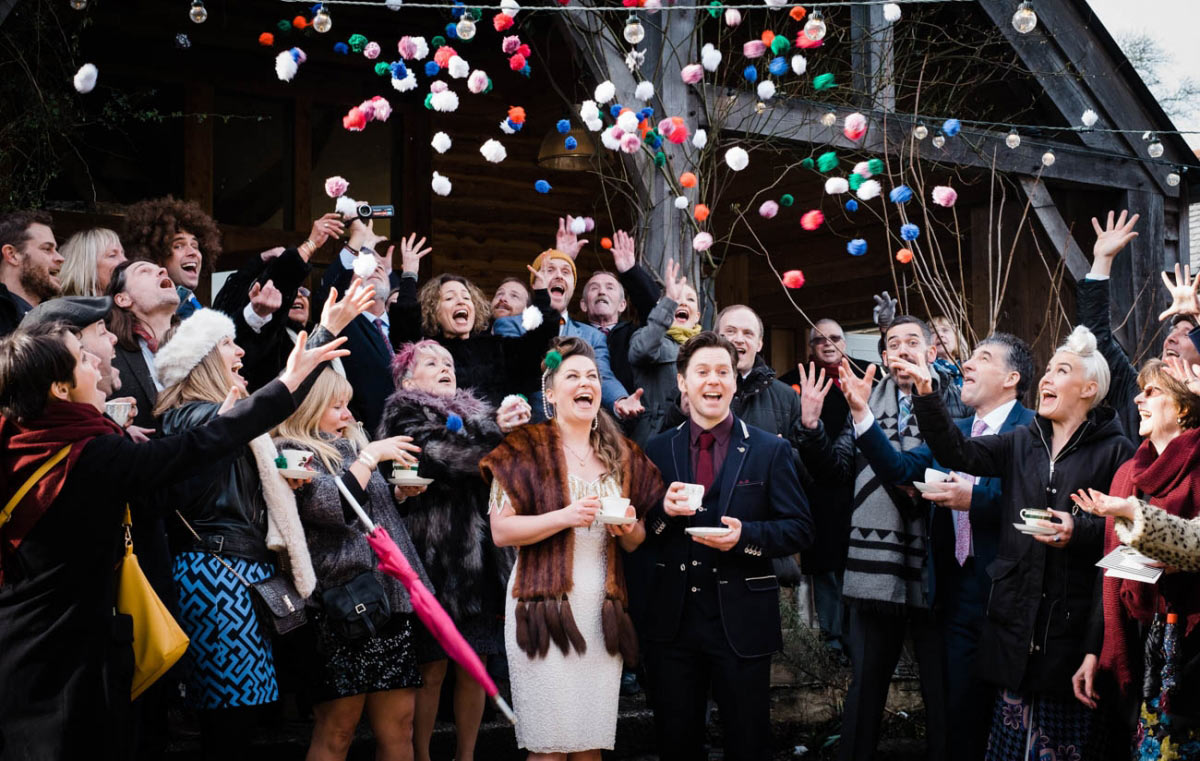 Wedding at Nancarrow Farm, Cornwall
The Show Must Go On
---
Alana and Mike's fun party at Nancarrow Farm
Meeting through friends, performers Alana and Mike formed a contemporary circus and outdoor theatre company, Dizzy O'Dare, and 10 years later, Alana shunned tradition and proposed while the couple were holiday in Egypt - then wedding planning began!

They decorated their venue, Nancarrow Farm, with foraged ivy, daffodils, primroses and violets, alongside spider plants, shells and candles. "The inspiration for the styling was the venue, and the people around me are brilliant and can make amazing things happen," says Alana of their decision not to have a particular theme or colour scheme.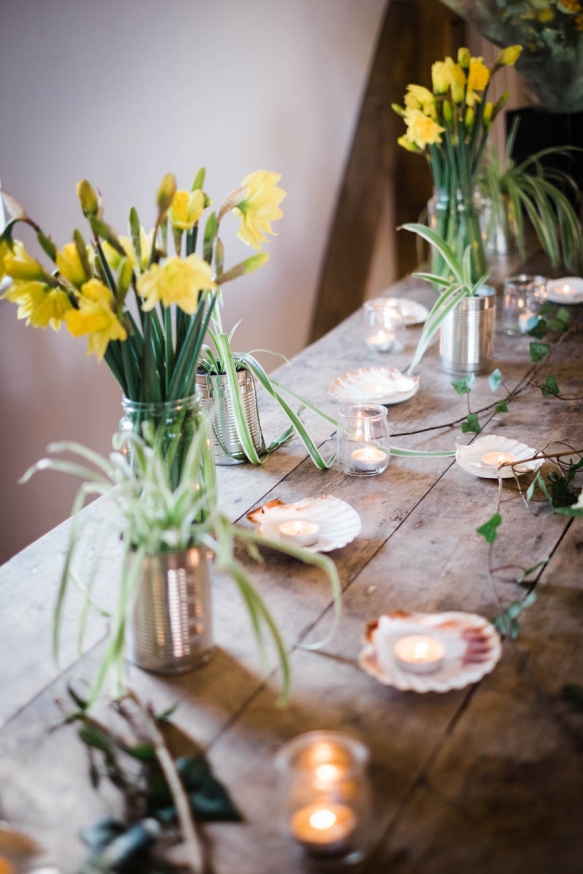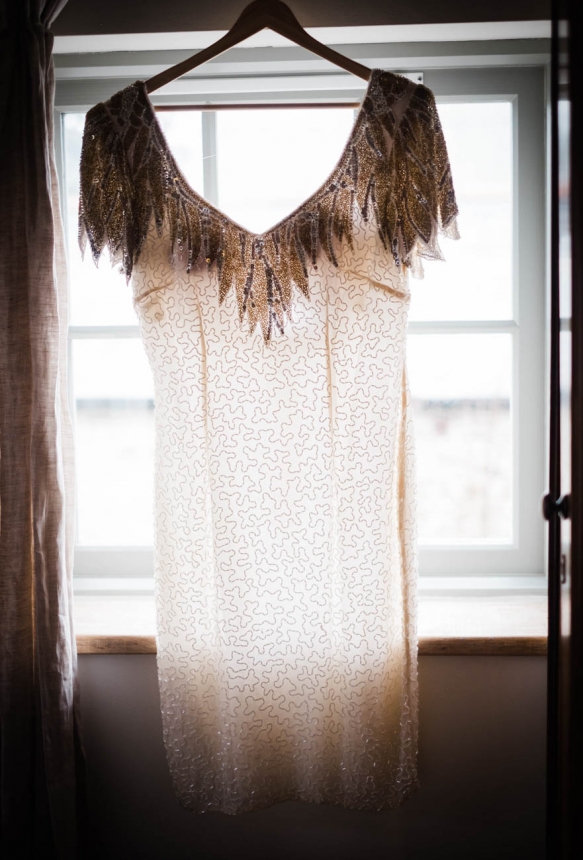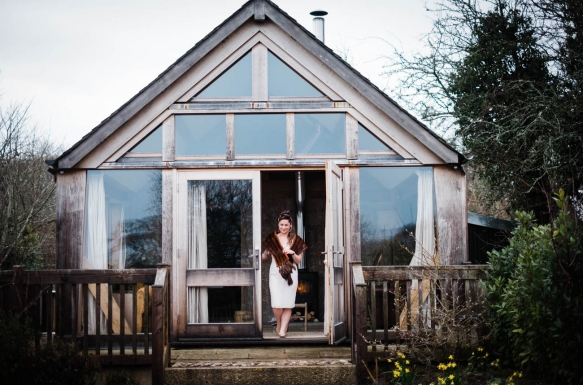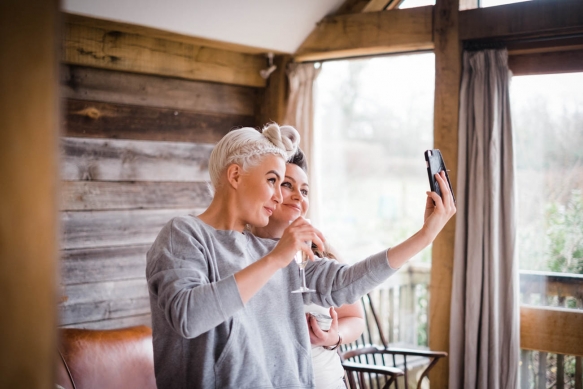 After a "bleary-eyed legal ceremony at the registry office", Alana and Mike's focus was on their celebrations with all their family and friends - but the weather had other ideas! "Our wedding fell on the week of the storms and only 30 out of our 70 guests could make it, which was not so great but we made the best of it!" Determined not to let anything rain on their parade, Alana and Mike embraced all the fun of their big day. And with so many creative people in their friendship circle, the couple's talented pals pitched in to do everything from the hair and make-up to flowers and even act as celebrant at their fun-filled ceremony.
"The blessing was a kind of show with a good friend, Niall Costigan, taking our ceremony who entered on a Segway," laughs Alana. "We entered to AC/DC's 'Back in Black', exchanged beef Hula Hoop rings and exited to Arcade Fire's 'Rebellion'.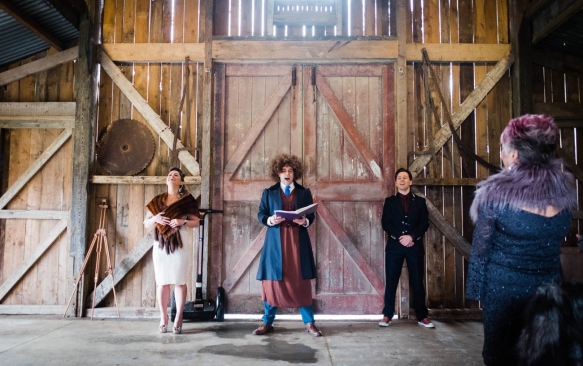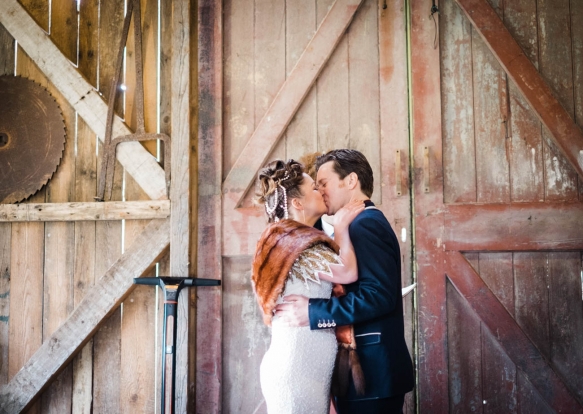 Fashion played a huge part in Alana and Mike's wedding, with the bride showcasing a haute couture two-piece suit with bespoke feather crown and blue heels for the morning's registry office nuptials, before changing into a vintage cocktail dress and fur for the afternoon and evening. Mike sported a suit and Converse trainers throughout the day and evening, not to mention a black eye from the snowball fight the night before!
Canapes and teacups of bubbly were enjoyed out in the sunshine, followed by a feast comprising organic slow-roasted beef with seasonal vegetables, and pork trenchers, s'mores and a cake of cheese for the evening.
"During the meal, we had a pub quiz with questions about the bride and groom plus picture rounds and balloon modelling. Unbeknownst to us, we had our own challenge set to create a speech in the style of a rap. We also made the guests do speeches in table groups - some were performance-based so that was pretty entertaining," says Alana.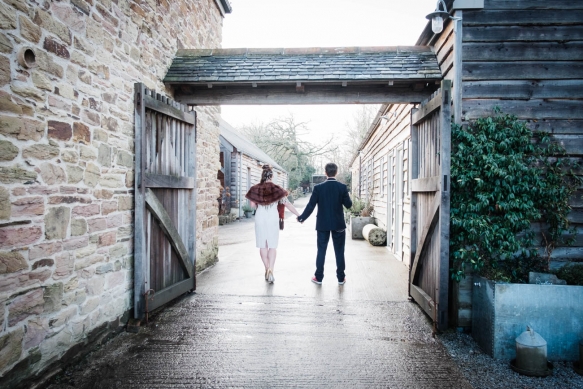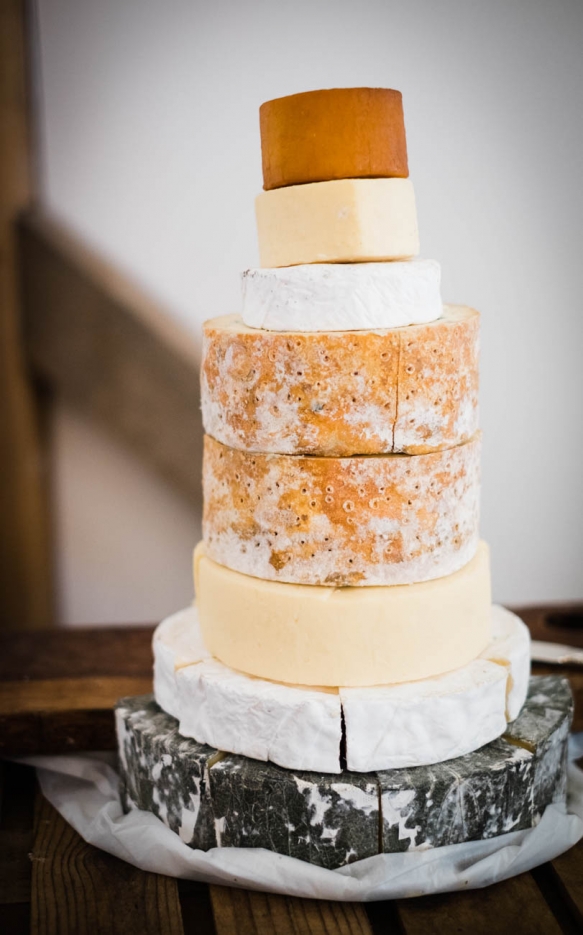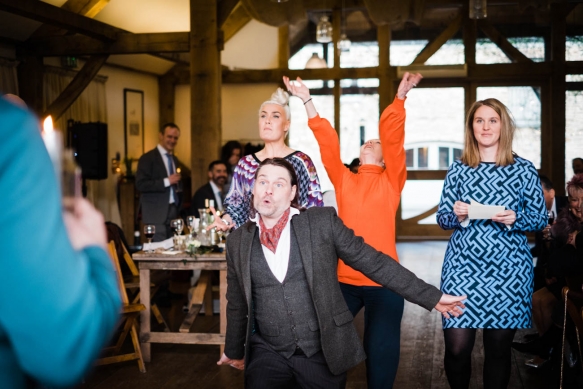 And continuing the performances into the evening, entertainment came in the form of a cabaret with giraffe unicycle show, and a comedy magic act. Looking back on such a personality-packed wedding, what are Alana's top tips for busily planning couples? "Don't let it stress you out, enjoy it and try to share the tasks," she says. "Also, ignore any politics - seriously, the ones who love you will go with your plans and have fun."
And when it comes to her standout moment from the joy-filled day, it's easy for Alana. "Seeing my 95-year-old grandma on a Segway with the biggest smile on her face."
Photography Verity Westcott Photography
Venue Nancarrow Farm
nancarrowfarm.co.uk
Hair & make-up Hanna Moisala hannamoisala.com
Music Jonathon Glew jonathanglew.com Tom Whitney, Buffy Rowe
Entertainment Frumpid Stumplestone frumpidstumplestone.co.uk The Stupendous Crapini grevillematthews.co.uk/the-stupendous-crapini
Wed

Directory

All you need from the finest wedding suppliers in Cornwall and Devon