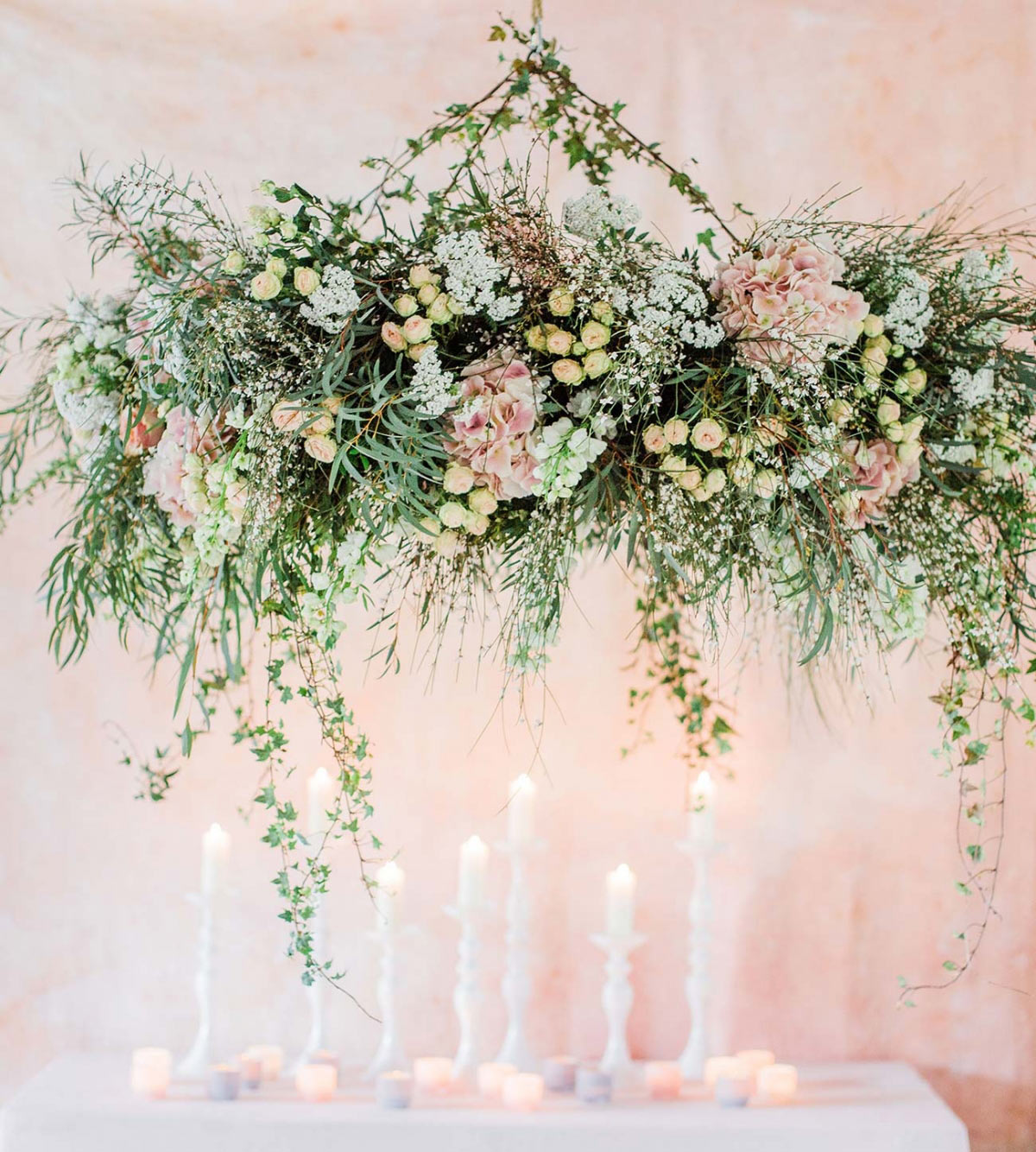 Wow-worthy flowers
Article Published: Friday 11th June, 2021 - 10:53am
---
Showstopping wedding flower ideas for all budgets and wedding styles
Using a tree as a centrepiece will really make a statement. Blossom in particular, with its soft, romantic look, makes for whimsical and romantic table décor, and you can create a fairy-tale vibe with ivory or pink cherry blossom trees. Depending on the size of your displays and reception space, the branches could reach high above your guests, creating a petal canopy for your guests to dine beneath.
Emma suggests that pampas grass is another to consider. "Due to its height, it can create a real statement in designs," she says. "I've also seen a move into a slightly more tropical feel with the use of palms." We love the idea of weaving different locations around the globe into your day, by using tropical flowers as a nod towards your travels.
Steeped in tradition, we have seen arches go from moderate to super-sized in recent years. We adore the idea of a bulbous arch bursting with your favourite florals to welcome your guests to your ceremony or venue, and a focal point under which to capture your first moments as a happy couple.
If you're having a smaller wedding, says Lisa "you may be able to use some of your budget to create a floral installation or archway to frame your day. Current trends include a free-standing structure, a classic pagoda or using suspended hoops or floral clouds".
For extra oomph, don't stop at your ceremony or venue's steps – consider arches that cascade down steps or continue along pathways or alongside outdoor aisles. "Move over standard floral arch, and maybe think geometric shapes or metal structures," adds Emma.
Look up! As wedding décor gets ever more creative and awe-inspiring, every inch of ceremony and reception spaces are filled with wonderful ideas and creations. And nothing says wowing your crowd like mid-air creations. Suspended flowers can work in many different ways, but we love the idea of swathes of tumbling flowers above the bride and groom as they say their vows. Talk to your florist about ideas that will work with your venue, perhaps exploring oversized floral clouds suspended over top tables, over the aisle or above the couple during the ceremony. These not only look incredible but smell divine, too! Similarly, a pergola-style frame bedecked with hanging flowers that creates an indoor canopy for guests to dine underneath is nothing short of floral-fabulous.
The nature of marquees, tipis and yurts mean they have huge, cavernous ceilings just waiting to be filled. And filling them with flowers and plants is the perfect way to personalise your wedding under canvas.
Flowers can tumble from hoops, wind their way around marquee poles or fall from chandeliers. We've seen ceiling spaces filled with ferns and teaming with hydrangeas or an assortment of beautifully coloured seasonal flowers.
Floral arrangements don't have to be confined to flowers. Willow is a beautiful, natural element that can be weaved into stunning sculptures for garden parties, or used as an archway, either in the traditional rounded shape or even made into an angular frame.
Branches are budget-stretching so consider using them in rustic celebrations and hang or weave them, or simply enjoy them with other dried foliage scattered around your venue in mismatched vases.
If you're wavering about what the weather might be doing on your big day and you just don't want to plan an outside do, how about bringing the outdoors in? We love the idea of an outdoor scene created indoors using a tumbling wisteria tree that the happy couple can say their vows beneath. With benches covered in roses and a myriad of faux flowers, this outdoor garden idea can create a truly magical vista.
If that sounds like too big a project, a simple addition to your ceremony can still have an enormous impact. "You might consider meadow-style arrangements lining your aisle,' suggests Lisa.
Gardens and outdoor spaces are easy to illuminate with fairy lights of all shapes and descriptions. But why keep it just to lights? Deck trees with hanging flowers – particularly if it's not during the summer months – and create a magical garden wonderland where you don't have to wait for Mother Nature to dictate what grows and when.
And don't forget, floral décor doesn't just have to be about the location itself. Get creative with your waiting staff and bedeck their outfits, or any trays they may be serving food and drink from, in flowers to match your theme.
But if florals aren't your thing, or your budget has had to go elsewhere, it's important to remember you can still wow with a small number of flowers.
"In terms of the wow factor, it doesn't matter how many flowers are required," says Helen. "You can still create impact by using bold, stronger colours, and tones. A simple bouquet full of assorted peonies, without foliage, can create a bold entrance for any beautiful bride."
---