---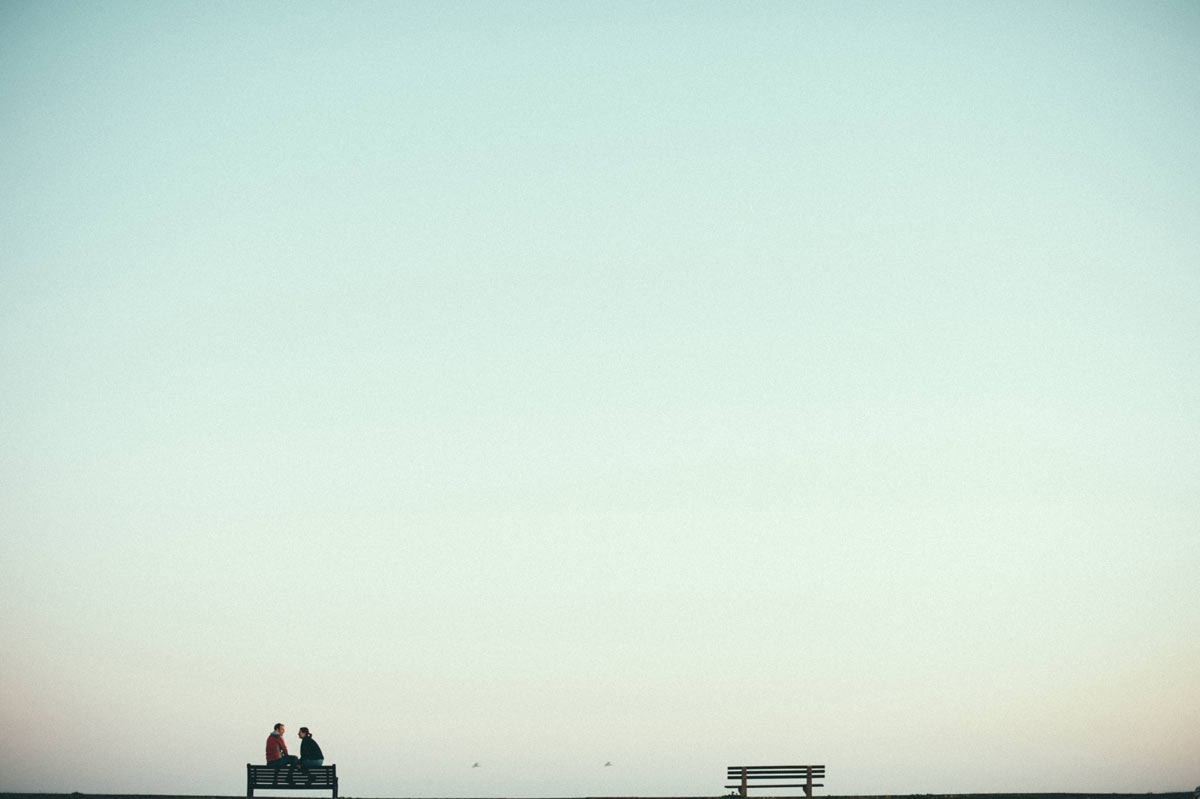 Wedding Planning during Covid-19 pandemic
Love in the time of Covid-19
Couples share their stories of love in the age of a global pandemic
From the heartache of postponed weddings to the heart-warming joy of engagements and virtual ceremonies, couples share their stories of love in the age of a global pandemic
"We postponed our wedding"
"Elliot and I met online in April 2016," says Lauren. "We have been pretty inseparable since our first date and moved in together after a few months. We bought our first house together in June 2018, and in September I visited Elliot in the South of France where he'd been working on a superyacht. We spent a week in the sun travelling between ports on the French Riviera and, on the most stunning day, Elliot popped the question! And, of course, I said yes!
We planned our wedding for 5th September 2020. We haven't planned anything over the top, keeping it all local to our home in Falmouth. The main thing we really wanted for our day, however, is a good party!
When the Covid-19 situation first started, we were both very relaxed about it. However, it was when Boris Johnson announced the firm lockdown that I had a little cry. We had a lot of family asking us what our plans were going to be if the wedding couldn't go ahead and, with my mum travelling from Cyprus, she was concerned that she wouldn't be able to get here or get home. It was not knowing that was really stressful.
After about five weeks of full lockdown and burying our heads in the sand, Elliot and I decided that it would be a good idea to get a 'plan B' ready. One thing that has really helped us has been talking openly with each other. Elliot is very matter of fact and practical, whereas I can be a bit more emotional, but because of this, we work well as a team and I found that adopting Elliot's 'it is what it is' approach helped me not to get too upset over potentially having to change our date.
We picked a new date on the morning after the announcement that lockdown was going to be slightly lifted. We went for our five-year anniversary on 8th May – and at 7.30 that morning I began emailing suppliers. By 10.30 nearly everyone had confirmed they could do it! However, then our photographers emailed to say they were fully booked. We love our photographers, so I went back to everyone and suggested the week after. It took about three hours to get everyone lined up with the new date of 15th May as our back-up plan. Just having a back-up made a huge difference to the stress that I was feeling and, after chatting with our florist, I had got so excited about May flowers that Elliot and I decided that we may just postpone altogether!
With our closest family in agreement, we sent a few confirmation emails and we had a new wedding date! I can't put into words how much relief we both felt knowing that we had a new date booked. The little grey cloud of worry lifted instantly, and I am so excited for our May wedding!
I am very aware that our postponement is a positive one and my heart really does go out to couples who have not had the same experience. The fact that we had used many small, local suppliers really helped and, above all, communicating, sharing and being honest with each other and our family members has been what has made this process so easy. That, and not being precious over a date. At the end of the day, it is just a date and our love for each other won't be any less just because we aren't getting married this year. It just means we have a bit more time to plan and save."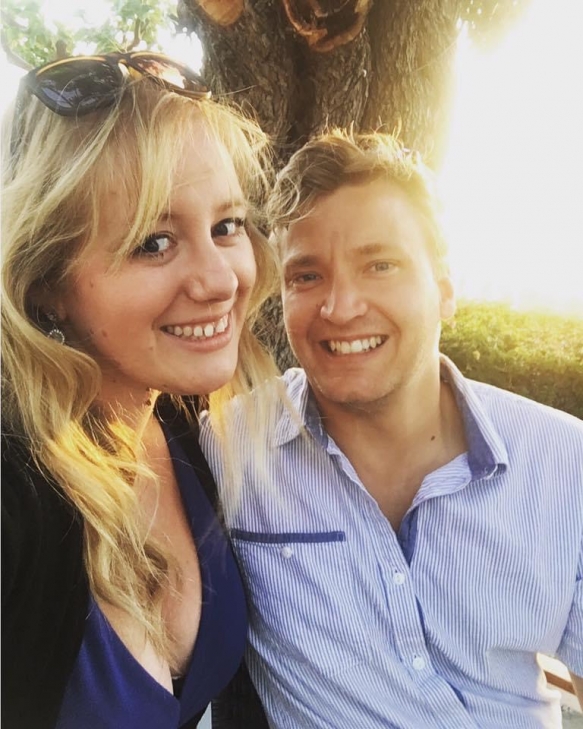 "We held a virtual ceremony"
"Dave and I have been together for 25 years, and our silver wedding anniversary was in April," says Alison. "We had booked a Mediterranean cruise and our vow renewal ceremony was meant to be on May 8th during a day at sea travelling from Italy to Croatia.
We had heard about a few online ceremonies taking place during the pandemic, and decided to see if we could find a celebrant who would do something similar. I am a wedding harpist and have attended wedding fairs run by Out of the Ordinary Weddings. We contacted them to see if they could recommend a celebrant, and they told us about Get Wed Online (getwedonline.com). We loved the idea of having friends and family join in 'virtually', and so we opted for the full friends and family package.
Get Wed Online took care of all the arrangements, and Rebecca kept in touch with us regularly. We also had a preliminary chat with the celebrant, Nicola of the Cornish Celebrants (cornishcelebrants.co.uk), via Zoom, to discuss and plan details of the ceremony. We bought various decorations online such as ribbon and garlands of silk roses, as we had recently completed a new garden project (a summer house) and wanted to have the ceremony there in our garden if weather permitted. We already had our outfits, and we ordered a silk bouquet and buttonhole.
We had 14 households joining us for the ceremony, including our son in London, Dave's mum and sister in Hampshire, and his brother and family in Cornwall. We also had various friends join us, both from the local area and from further away.
We had a really wonderful afternoon. We enjoyed preparing and decorating the garden and the ceremony itself was beautiful, including readings by our son and a local friend. Although it was not what we originally planned, on reflection we felt it was a more meaningful and memorable event, made even more unique by the circumstances."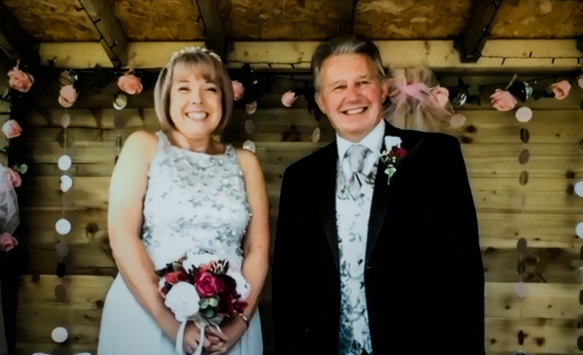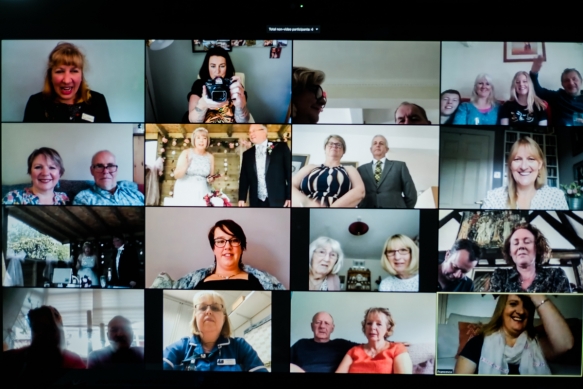 "We got engaged during lockdown"
"I first met Tim when we both got a job at The Wave Project," says Rosie. "At the time we both had different partners and so we became good friends, and eventually became a couple in August 2017.
I have always loved the idea of getting married and so for as long as I can remember I have been hinting at the idea. However, Tim always shrugged the idea off, until around January this year when he also started talking about it. We went on an amazing two-week Europe trip at the end of January and it turns out that Tim was hoping that the ring might have been ready before the trip so that he could propose then, but it wasn't quite ready. I was clueless!
Before lockdown was announced we decided to go and stay in the house where I grew up in Croyde in north Devon. The day we left Newquay we were packing up our separate vehicles and Tim left an hour before me, but I got to Croyde an hour before him. I remember feeling confused and felt that he had been sneaking around. He told me that he went to see his parents in Exeter (which he did) as he didn't know when he would next see them, but he didn't tell me that he also went to collect my beautiful engagement ring.
During the first Saturday of lockdown we went on a beautiful walk up and over a hill to Saunton. Once we were over the brow of the hill, I turned to Tim who was all of a sudden on one knee holding a little box! My first thought was 'This is a practical joke!', but he started saying something along the lines of 'In these uncertain times I want to give you some certainty', and then went on to jumble up his words and accidentally said something about us having nothing in common with each other! He then corrected himself and revealed the gorgeous custom ring and I said yes. We walked back with so much adrenaline whizzing around our bodies and laughing about how surreal it all felt.
Back at the house we told my mum, her husband Andy, and my sister the news. The only alcohol we had was a couple of cans of beer, so we stood on the driveway slurping Stella whilst social distancing from Mum and Andy. It was all very weird but wonderful. In such a strange and worrying time, our engagement has been a silver lining, and I think our news was a really good way to bring some joy into our family's lives.
The next few weeks were blissful; the sun shone every day and we spent lots of time together walking to the beach for our daily exercise, talking about what kind of wedding we would like to have. We normally lead really busy lives, so having more time on our hands to spend together has been great. However, with lockdown going on it is very difficult and a bit stressful trying to get anything set in stone, and we feel we might have to be adaptable in how we marry depending on the circumstances at the time. We have come up with some really lovely ideas but haven't planned anything yet because we just don't know when we will be able to actually get married – but we know that when we do, and however we do, it will be amazing."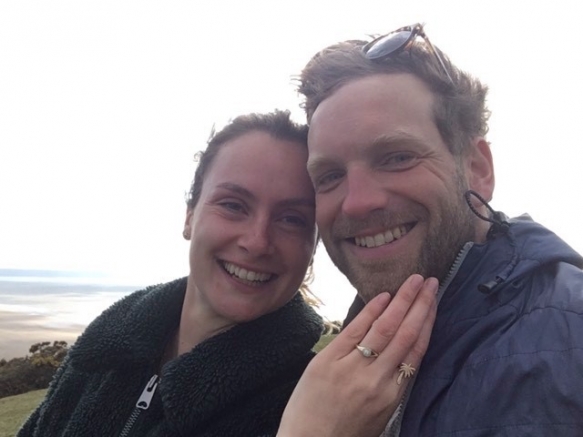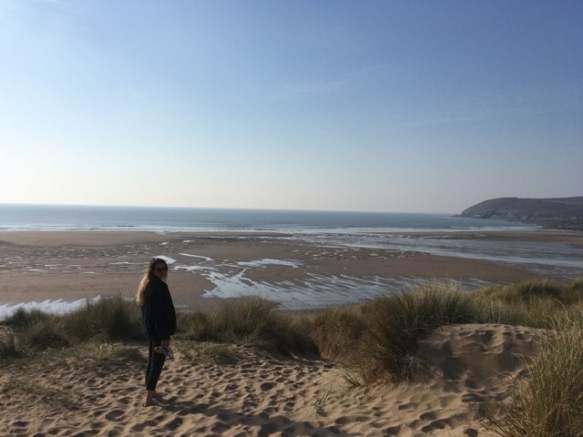 POSTPONE LIKE A PRO
Wedding planner Jenny Wren shares her top tips for couples having to change their wedding date

-Contact venue and suppliers ASAP
If you have a wedding planner, they will do this for you. Many couples will be postponing resulting in 2021 and 2022 dates filing up fast, so make this a priority.
-Send a message to your guests
Your invitations may have gone out already so email to save time informing them of the new date. Your stationer could design something pretty and in keeping with your theme, which you can email out. Some guests who could not make it previously may now be able to come, so factor that into your plans and ask everyone to RSVP again if their status has changed with the new date. Remind them to rearrange their accommodation if they booked direct.
-Contact your church or registrar
If you're having a church wedding, find out whether you are required to do your residency period again.
-Check your insurance
If you took out wedding insurance, contact your insurers and re-read the terms of your policy. If any of your suppliers cannot transfer to the new date and you need to cancel them, your insurance may cover their deposit charge. The insurers may need copies of invoices so ensure you have these ready.
-Pay suppliers
Some suppliers may ask for another payment instalment before your wedding date to help with their cash flow. It's nice to help them out if you can, as after all you want their business to be in a healthy position by the time your wedding comes.
-Check in on childcare
If you are having children at the wedding and had organised childcare, ensure you update the childcare team of the ages of the children for your new date.
-Keep communication up
Stay in touch with your venue and suppliers, but do keep in mind they are probably dealing with lots of couples at the moment so try not to get frustrated if there is a delay in their response.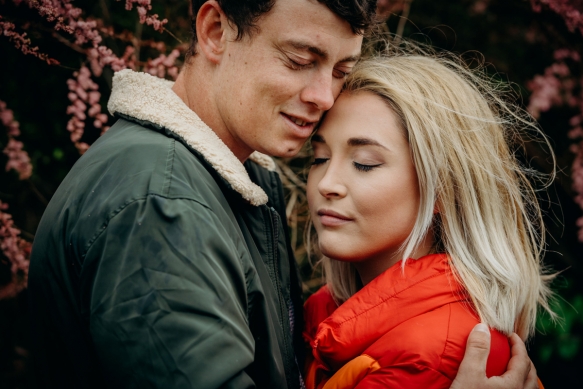 Clare Kinchin Photography
USE YOUR TIME WISELY
You now have extra time for any finishing touches that you may not have had the time or budget for previously, although be careful not to get carried away and just add things for the sake of it. Remember your wedding budget and the vision you had for your day and stay true to that. Here are a few things Jenny suggests you could be working on…
•
Creating playlists
.
These always take much longer than you think! You may want to consider them for:
– The morning when you are getting ready
– The drinks reception (between sets if you have a live musician)
– During dinner for background music
– The evening (between the bands sets and after they end).
•
Drafting your table plan
. 
One of the hardest tasks, my couples often say! Add in dietary information for your caterers.
•
Making a photography list

. Think about any particular shots you want your photographer to capture. This list does not need to be extensive (we encourage it not to be) – half a dozen or so important shots is ideal.
• Thinking about favours
. Perhaps you planned to make your own? Now is a good time to get crafty and prepare them (you will thank yourself later on when the wedding draws near and you have lots of other things to think about!). It's also a nice time to do something creative while at home.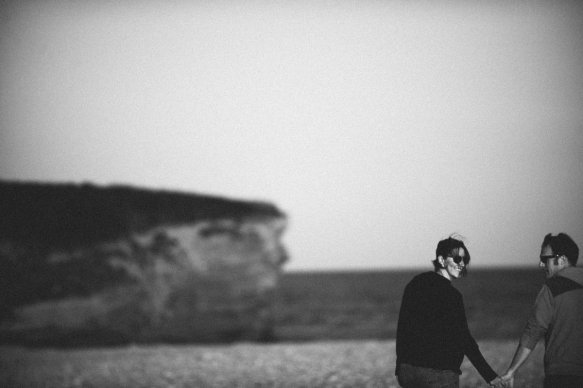 Harrera Images

PLANNING A WEDDING DURING LOCKDOWN
If you got engaged during the Covid-19 pandemic (congratulations!), Jenny can help you with looking ahead, planning, what to book (or not), and how to keep those excitement levels high!
If you want to set a date in 2021 or 2022, start researching your venues now, as they are likely to be extremely busy with postponements over the next two years. Although viewings in person are not currently available, many venues are offering virtual tours online, either live if the owners are based on-site, or as pre-recorded films. You could book a planner to help you, many planners offer a venue sourcing service. They should know an abundance of venues in the county and often have had experience working at them previously, so their advice is priceless. Keep in mind that venues are likely to want to ensure all their postponed weddings from this year have a new date secured with them before taking new bookings, so you may need to wait to hear back after they have looked after their existing couples.
With regards to suppliers, again a planner can help, but if you don't have one then really do your research. Look at reviews (not just on their website but on Facebook and Google too), join wedding planning forums to ask advice, look at magazines, and 'attend' online wedding fairs. You could even ask the supplier if they could put you in touch with one of their previous couples to speak to them directly. Ask the supplier for a video call – you need to like them as a person as well as the product or service they offer, and an informal chat can help you get to know them a little.

Ask your suppliers about their Covid-19 policy if you were to book them now and need to postpone later down the line. Some may be happy to agree to take the booking then change the date if needed. Ask them to put this in writing and include on their contract so you are covered. And take out wedding insurance too.
Make the most of any extra time you have now to get those checklist tasks ticked off and make a list of the things you need to do once lockdown has eased.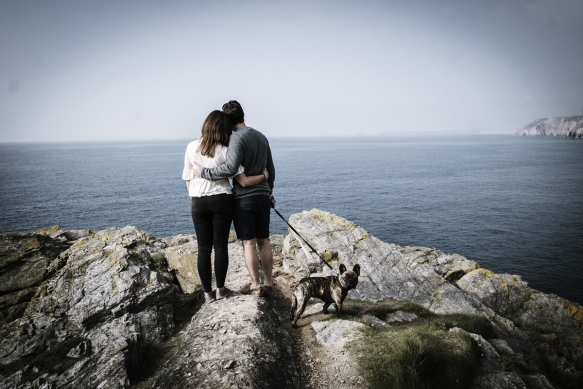 Verity Westcott Photography

Main image Harrera Images

Copyright Wed magazine 2020
Wed

Directory

All you need from the finest wedding suppliers in Cornwall and Devon