---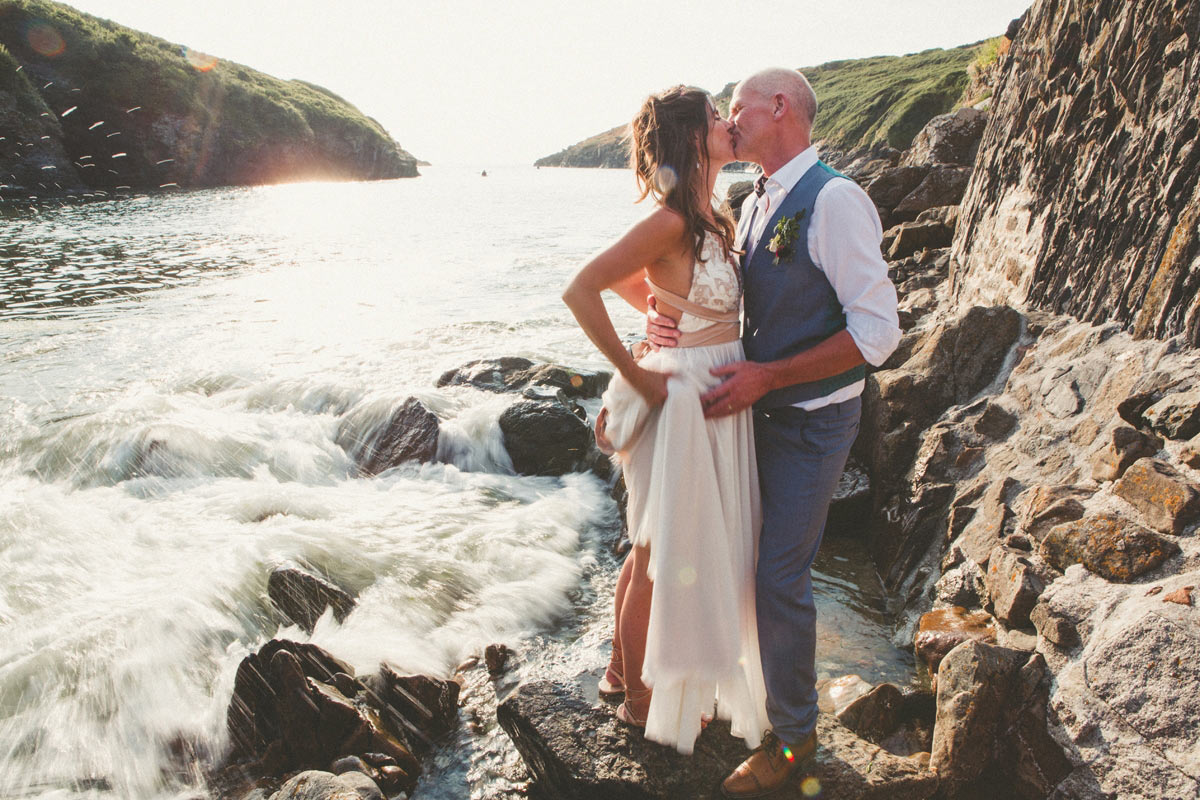 Wedding at Roscarrock, Cornwall
Sea of Joy
Lynsey and Dirk's poetic and maritime-themed wedding at Roscarrock
Lynsey first met Dirk at a friend's birthday party and was instantly bowled over. "One of my friends fell over and he gallantly leaned forward to ask if we needed help. I said to her: 'He is the man of my dreams,'" recalls Lynsey. "Turns out he was!"
The couple's engagement took place after another mishap – this time at sea. "Things got a little hairy at sea on a sailing boat we were chartering and we found out how good we were at pulling together and how much we loved each other," explains Lynsey. "After returning the boat to shore, we went to a romantic restaurant overlooking the sea and it all just happened in a totally unplanned beautiful way."
Taking their shared passion for the ocean and sailing as stylistic muse for their wedding at Roscarrock on Cornwall's north coast, a palette of ocean blues and greens were spliced with dusky pink, gold sparkle and teal. "It just ended up being sea-inspired things we loved, found or hired in the end," says Lynsey. "We grabbed a boat wheel and chains from a friend's lock up, driftwood from our house, nets and glass buoys inspired from a photo I saw, and our amazing sailcloth marquee was also one of our main inspirations."
The stationery echoed the theme, with the invitations, signage and boat table planner designed around Edward Lear's 'The Owl and the Pussy-Cat' poem: a poignant tale of a pair of lovers at sea.
The flowers were another focal point, with gorgeous arrangements dotted throughout the celebration space, including an array of small blooms in bottles arranged by friends. "We also had a ceremonial dressing of the arch as everyone arrived with flowers and we collected ivy for the poles in the marquee," adds Lynsey.
"Fabulous" gypsy jazz band Skedaddle provided the perfect soundtrack, playing as a two-piece during the day before transforming into a five-piece group for the lively evening entertainment.

"A top tip that worked super well for us was that we hired a lot of things for children, such as games and an entertainer. I also did kids bags for the tables – we had 25 children there and this meant the adults could have an amazing time as their kids weren't bored. People commented on how well that worked."
Slow-cooked pork in black treacle crackling, mackerel escabeche, and fennel and feta with pomegranate seeds and sumac rounded off by a classic Eton Mess gave guests plenty of flavour, while pizza and ice cream kept energy levels up for an evening full of dancing by the light of the moon.
"There were so many but probably seeing Dirk at the aisle with all my friends and family and a view of the sea," cites Lynsey when asked about her favourite moment from the day. "He had written our wedding ceremony and I felt super excited to share these special vows."
And when it comes to advice, she says organisation and time away from the wedmin are key to successfully planning a wedding. "Make time each week to plan so it's not always on the table," says Lynsey. "Do a weekly planner to be finished two weeks before the wedding, not the wedding day. Then you can have some breathing space."
Photography Emma Stoner Photography
emmastonerweddings.com
Venue Roscarrock roscarrock.co.uk
Marquee Sperry Tents sperrytentssw.co.uk
Wedding planning Netha Islam at Boutique Events
Dress Truvelle truvelle.com
Groom Ted Baker tedbaker.com
Flowers Marta Matson Flowers martamatsonflowers.co.uk
Stationery Georgie Letters georgieletters.co.uk
Entertainment Skedaddle skedaddlejazz.com
Copyright Wed magazine 2019