---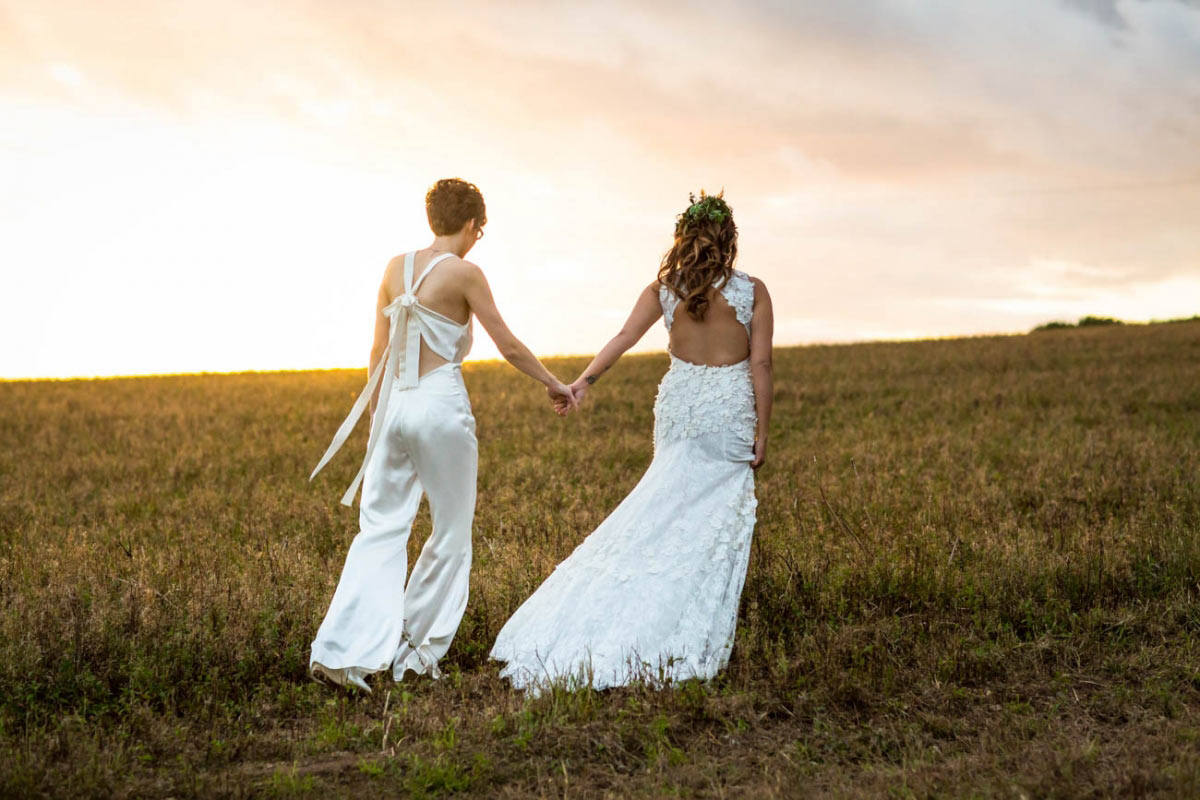 Wedding at Hendra Barns, Cornwall
Woodland Wonder
Jessie and Tamsin's woodland wedding at Hendra Barns
Tamsin first met Jessie in Vancouver "on a beach in our neighbourhood" reveals Tamsin. "We discovered we lived only a few blocks from each other and went for a dog walk around the city together. A third date turned into a relationship, which turned into our big move to England together a couple of years later."
Two years after their cross-Atlantic relocation, Tamsin set the scene for a surprise proposal at the couple's home. "Jessie arrived home to the flat transformed into a relationship memory box: candles lit, photos of us hanging everywhere and wine, confetti and fairy lights. I got down on one knee and she said yes right away, then we sat back to reminisce, cuddle and form big dreams for the wedding day."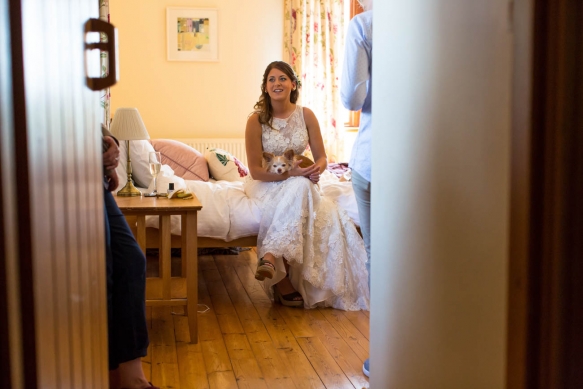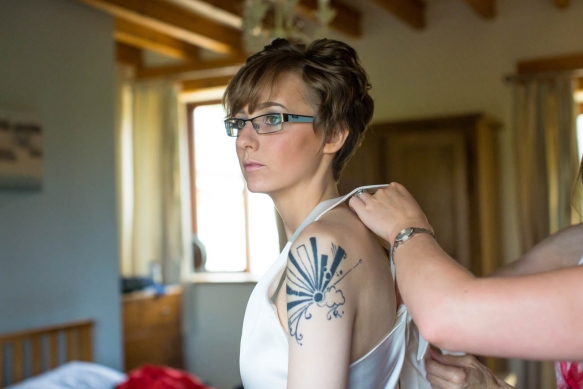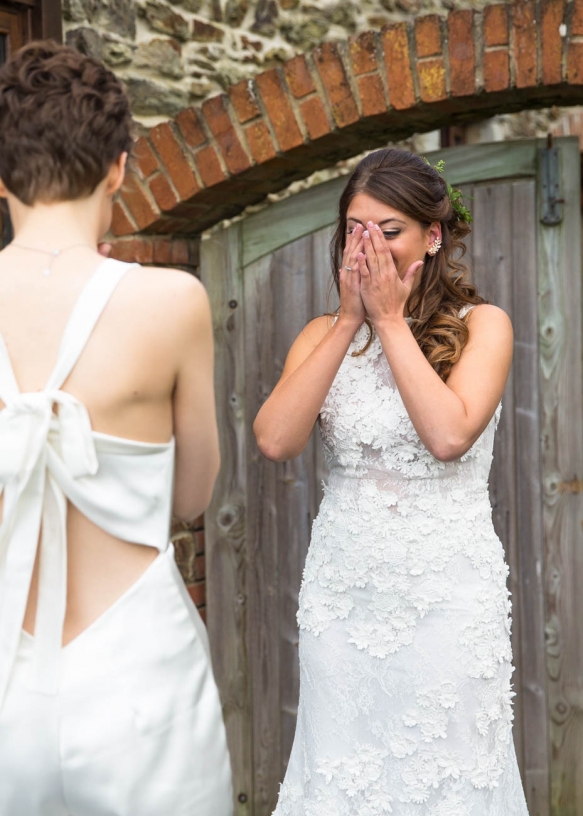 Their search for a venue to suit their vision culminated in the south-west. "We have both always loved Cornwall and we wanted a woodland wedding that reflected where I grew up (in rural Wiltshire) as well as the forests of British Columbia still in Jessie's heart," explains Tamsin.
Hendra Barns provided the perfect setting, with tipis styled in a natural colour scheme of greens and whites with a "magical edge" achieved by gold accents. Moss, bell jars, fairy lights and framed photos from their engagement night featured alongside accessories such as skulls, dreamcatchers and antlers to make for spellbinding decor.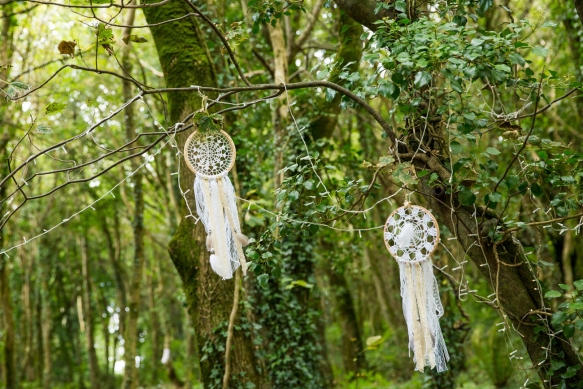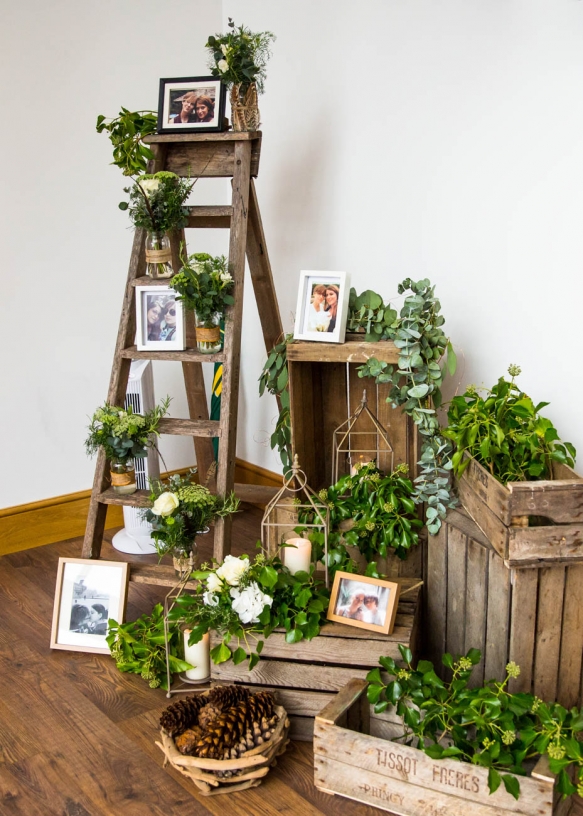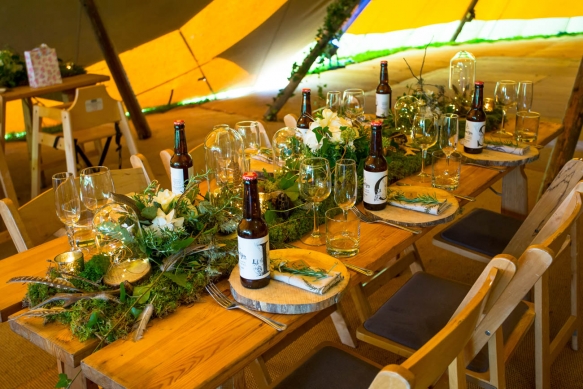 Jessie and Tamsin enjoyed a private reveal ahead of the ambient woodland ceremony, which was followed by drinks and canapes in the barns before the newly-weds briefly disappeared for photos in the tipis and by the lake. The Round Kitchen served up a sumptuous vegan, gluten-free feast, which also featured fish and vegetarian options. "All the guests remembered the home-cured salmon sushi rice ball canapes, and the foil-baked butterflied mackerel went down a storm. Plus, meateaters and vegans alike enjoyed the hearty baked butternut squash," says Tamsin. All the drinks, including several tasty craft beers, were provided by Welsh microbrewery Tiny Rebel.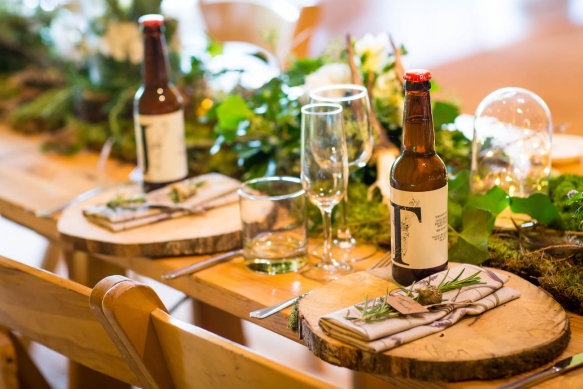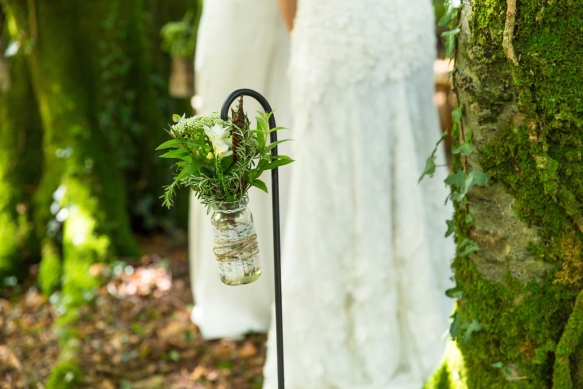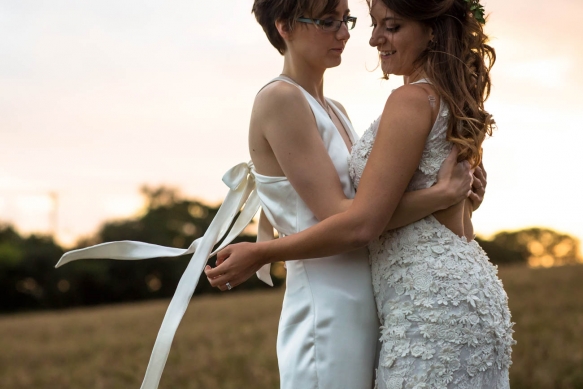 The speeches took place just before one of Jessie and Tamsin's personal highlights - "roasting the first marshmallows with all our friends and family! Everybody got involved and the firepits were big enough for loads of people to join in at one time."
At dusk, a magical sparkler send-off saw guests line up along a beautiful aisle of light before the disco kept the party in full and fabulous swing until the stroke of midnight.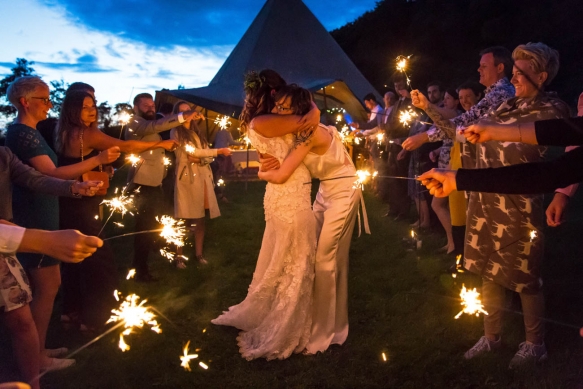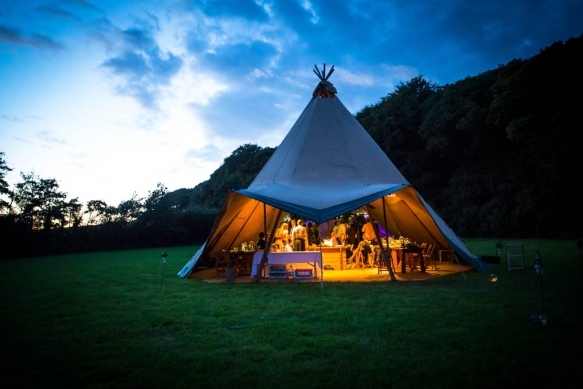 "Identify and contact a very trusted friend to see if they would be willing to take your mobile phone around with them for the day, then give it back at the end for you to look through the photos and videos they took," suggests Tamsin. "We didn't have a videographer, but we have the whole speech recorded, as well as photos and messages from friends - almost like a guestbook!"
Photography Samantha Gilraine Photography
samanthagilrainephotography.com
Venue Hendra Barns
hendrabarns.co.uk
Tipis World Inspired Tents
worldinspiredtents.co.uk

Catering The Round Kitchen
theroundkitchen.com
Drinks Tiny Rebel tinyrebel.co.uk
Tamsin's jumpsuit Emma Dee emmadee.co.uk
Celebrant Carol Smith somersetcelebrant.com
Hair & make-up Tamsyn Siddiqui
cornwallweddingmake-up.co.uk

Decor hire Keeping it Vintage
keepingitvintage.co.uk
Flowers Wedding Flowers in Cornwall
Entertainment Katya Herman katyaherman.com
Kelly's Hero kellyshero.co.uk
Wed

Directory

All you need from the finest wedding suppliers in Cornwall and Devon