---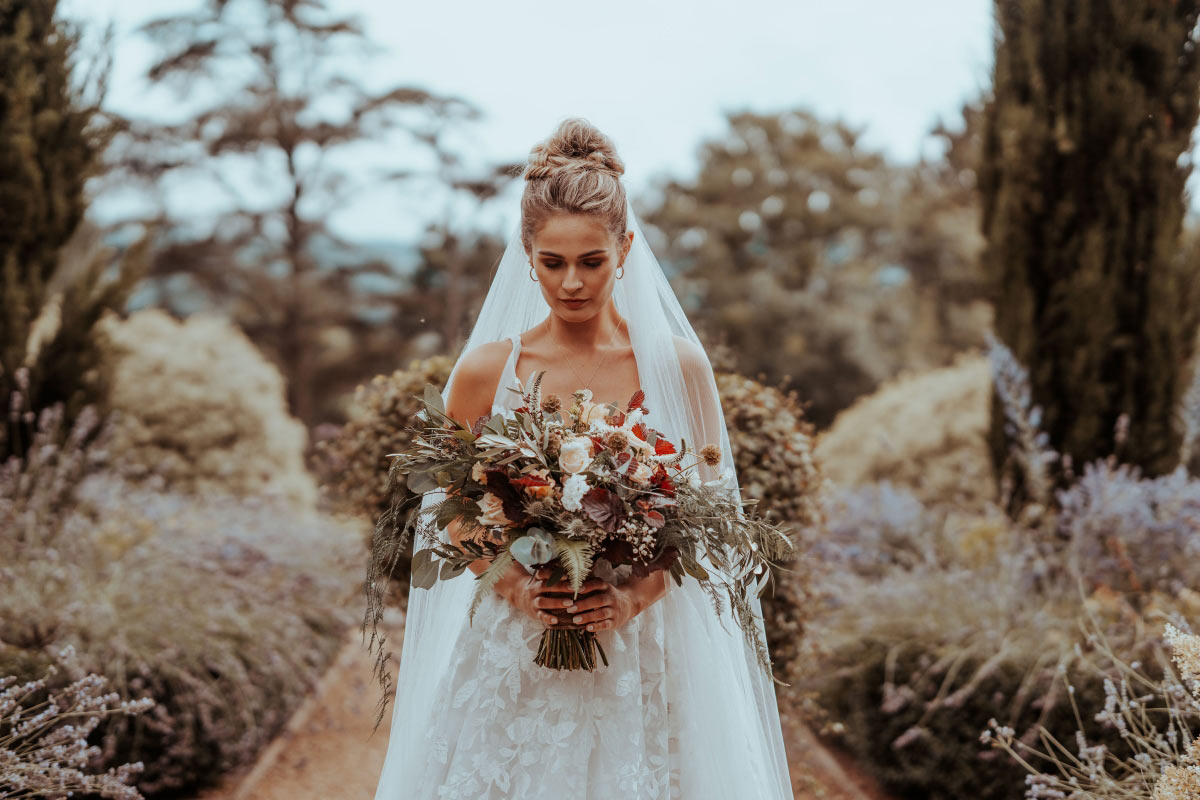 Modern bridal wear and Devon-made jewels
Dreamy bridal looks, flowers & botanical jewellery at Deer Park Country House
A bridal look should be individual. It should incorporate personality, and feel comfortable and relatable, with its own story to tell. And, while the bridal gown is the ultimate focus for almost every bride, bespoke jewellery can enhance a romantic look, pulling it together in the subtlest manner. This stunning shoot, captured against the sublime backdrop of Deer Park Country House, celebrates that notion, with beautifully handcrafted pieces from Devon-based jewellery brand Cabinet's bridal collection, The Signature of Flowers, enhancing the selection of gowns in an understated and elegant way.
Using a fusion of old and new, a tonal colour palette, unique detailing and soft floral hand-ties, combined with delicately hand-engraved keepsakes and golden-layers, a look is created in keeping for your special day, yet designed to be worn forever. The layering of the jewellery helps to build a custom look that can be worn in endless ways, depending on your individual style.
Throughout Cabinet's decade-long journey, this ethos of creating a vision that is personal, a celebration of something meaningful and evoking this sentiment through the bridal jewellery has been key. The special touches and personal details are designed to make the pieces truly unique – and the end result is something with a much deeper emotional connection.
"As a designer, I feel privileged and often humbled to hear the shared stories from clients, in order to create a piece of jewellery or ring that symbolises their love. We offer comfortable and relatable pieces that have their own little stories to tell," says Gemma Critchley, founder of Cabinet.
Deer Park Country House made a breathtaking backdrop for the shoot, set amongst rolling Devon countryside with a wild and thriving kitchen garden, landscaped just enough to look perfectly considered, yet gentle and natural. Scattered with mature trees casting dappled light and shadows across the ground, the main lawn, the soft sound of birdsong and the scent of the nearby lavender borders combined to create something of a dreamlike quality.
Incorporating classic elements that stand the test of time, the shoot uses a combination of fabrics, layers and an abundance of texture. There is a strong focus on wild flowers and foliage, with a nod towards foraged. The lush greenery is offset with soft cosmetic tones, adding a relaxed and refined vibe.
Brocade cotton dresses, fine lace detailed gowns and faded silks, with light tulle veils blowing gently in the breeze, are complemented by oversized subtropical bouquets, setting the tone of an old plantation house with their foliage details.
A botanically inspired tropical garden collection with notes from past eras, The Signature of Flowers in inspired by the symbolic language of flowers and their associations with generosity of love. The delicate golden layers of jewellery feature a beautiful mix of floral jewelled tones, textures and precious materials, inspired by natural silhouettes.
Soft and tonal, the collection also marries together an individual sense of style and the modern heirloom, designed to be worn, treasured and passed down for generations to come.
Styling Gemma Critchley
Wed

Directory

All you need from the finest wedding suppliers in Cornwall and Devon