---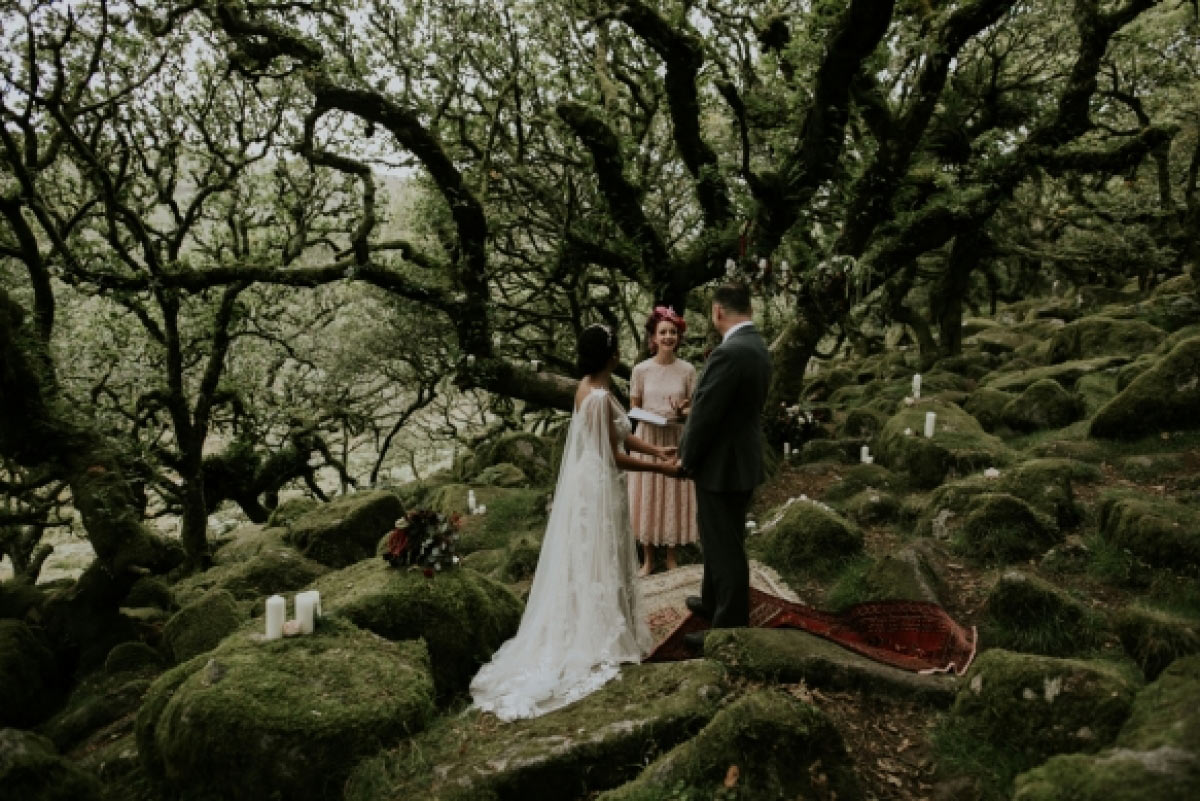 Elopement Wedding Cornwall Devon
An elopement wedding in Dartmoor
Chiola and Eric travelled from the US for their dreamlike elopement on Dartmoor
Large-scale weddings - from festival weekenders to luxe country house extravaganzas - are big news in wedding world right now. But, at the other end of the scale, the intimate do is having a quiet moment of its own.

While poring over Pinterest, ticking off tasks on the to-do list and making paper pom-poms into the night are part of the whole wonderful wedding experience for many couples, there's a rising movement amongst others to simplify the process and steal away to exchange vows in privacy. Here, Chiola and Eric share the story of their small - yet oh-so special - wedding...

"The reasons we chose to elope had nothing to do with sneaking away, or getting overwhelmed with traditional wedding planning. We knew after attending plenty of friends' weddings that it just wasn't our style to do a big, or even medium-sized traditional wedding. We both lean toward introvertism and being the centre of attention makes us feel quite uncomfortable.
Another reason that influenced our choice is that neither of us has a large family, and our family members were very supportive of our decision to go to a faraway place and marry. We did have an 'After Wedding Celebration' party for 30 of our closest family and friends two months later. We were able to share our photos and wedding movie trailer with everyone - and I got to wear my gown again!
We knew that we wanted to get married somewhere we've never been. We've always enjoyed exploring new places, and knew we wanted to get married outside in nature. Eventually we agreed that a forest would be our venue. Eric had a very specific feeling about this forest he had in mind. I pulled up hundreds of images and showed them to him for approval. I searched for 'moss covered forest' and lo and behold, Wistman's Wood was the image that stood out to us. "Yes! Just like that forest!" was Eric's response.

Eric has been intrigued and has been a fan of folklore and mythology since he was a child. He has been a fan of fairytales, druids, the supernatural and all things creepy and haunting. So when we found out it was in Devon, along with the history and folklore linked to it, it was a no brainer, we've found our venue.
As for my excitement, it was initially the haunting beauty of the images that drew me in. I quickly sent a screen shot to a friend of mine stating that we were getting married there. Her response was, "Wow! Looks very Alice in Wonderland-like!" Another serendipitous moment. I have been a huge fan of Lewis Carroll's Alice in Wonderland since I was a little girl.
Eric's love of folklore, mythology, supernatural history, and fairytales paired with my love of Alice in Wonderland were the reasons that validated that Wistmans Wood was our perfect venue.
Our day was perfect. We did not expect it to go perfectly. In fact we surrendered to the possibility of some hiccups especially since we planned everything via, emails, Skype sessions, and Whatsapp calls. We figured logistically there was a high probability of something not working quite right, but it would be OK regardless. Even if it rained we had no plan B, we going to go through with it regardless. Rain or shine, we were determined that it would be the best day of our lives.

The day before our elopement, we met with our suppliers to discuss logistics and, that evening, Eric and I slept in different rooms at Glazebrook House Hotel. On our wedding day, we had breakfast together then exchanged gifts while we were getting ready separately. Eric wore a custom tailored tweed three-piece suit and I wore an Australian designer gown and custom-made cape.
Then came the first look. I walked down a driveway under a canopy of trees where Eric waited with his back towards me. He turned around to see me dressed to be his wife. It brought tears to his eyes. I was smiling so much my cheeks were hurting. We then headed to Dartmoor, making photo stops along the way - one of our favourites being with the wild Dartmoor ponies. The scenery was amazing and the ponies were so close to us, it was such a fairytale scene.
I had envisioned for years walking down the aisle towards Eric to 'Wedding Song' by Yeah Yeah Yeahs. It was playing while I carefully navigated the rocky terrain towards him. That moment was beautiful. It was uncanny that the song played in its entirety and ended exactly at the moment I stepped in front of him. It gave me chills seeing him standing there so handsome. It was extremely romantic.
We proceeded with our ceremony, which included readings, our own vows, exchanging of our rings and a handfasting ceremony, then had the pleasant surprise of a pack of foxhounds running through the woods just above us. Props-wise, we kept it simple with two vintage rugs and a small white wooden chandelier.
We then headed back to Glazebrook House Hotel where we enjoyed a delicious eight-course tasting menu and a small slice of wedding cake in a private dining room.
It was such a magical day. We were fortunate in that we were able to express our love and commitment in such an intimate, honest and beautiful way without the influences of others that can sometimes go hand in hand with a larger wedding. We got to soak up every minute and truly be present without any distractions. We'd advise couples who are considering eloping to really figure out what's most important to them as a couple. If it's sharing the moment with a lot of family and friends it may not be the right choice. If they find that they are sacrificing their own desires for what they envision as a couple to appease others, eloping might be the better option.
Our elopement was the best decision for us and it exceeded our expectations. We wish the exact same for those who consciously choose to elope."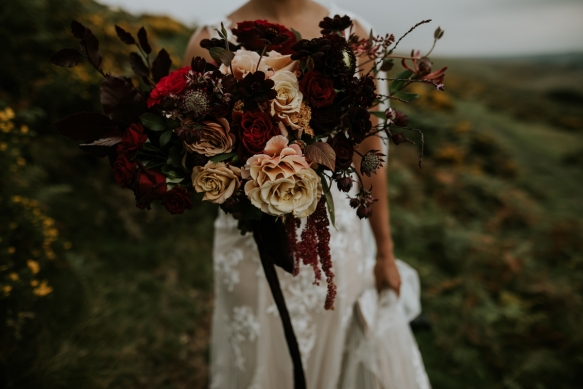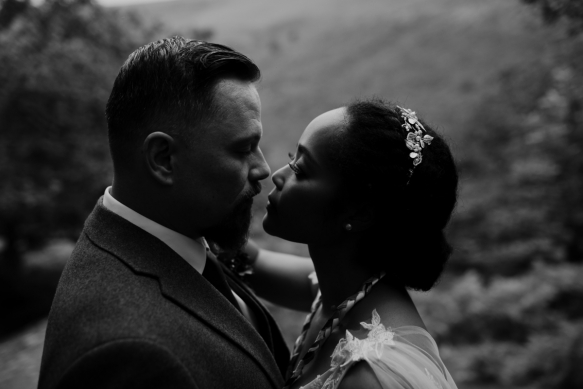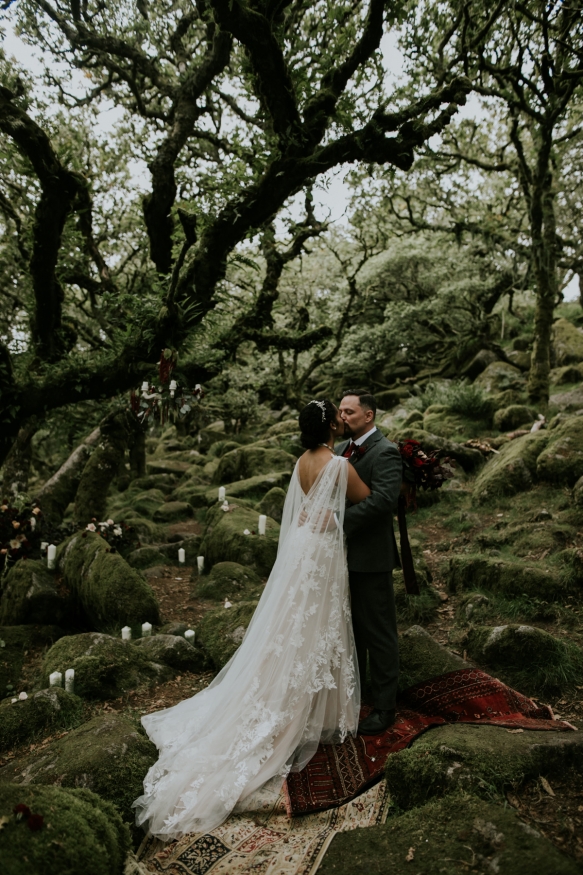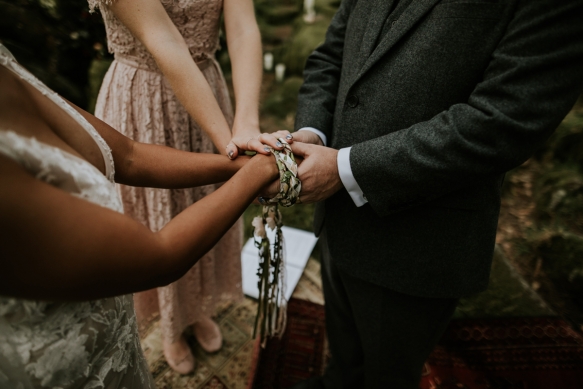 Photography Enchanted Brides
enchantedbrides.photography
Videography Max Cutrone
maxcutrone.com
Celebrant Samatha Kelsie
ukcelebrant.co.uk
Dress Madi Lane from LUV Bridal Boutique
luvbridal.com
Accessories En Vogue Bridal Accessories
envogueaccessories.com
Groom's outfit Zeglio Custom Clothiers
zeglio.com
Flowers Laura Hingston
theflowersessions.co.uk
Rings Diamonds Forever
diamondsforeversandiego.com
LashBrook, Allison Neumann Fine Jewellers
allisonneumann.com
Cape Primo Alterations & Dry Cleaning
primoalterationsanddrycleaning.com
Handfasting cord Toadstool Garden
etsy.com
Handfasting keepsake certificate Printing on 5th Avenue
printingon5th.com
Chandelier The Prop Factory
propfactory.co.uk
Hotel Glazebrook House Hotel
glazebrookhouse.com
Copyright Wed magazine 2020
Wed

Directory

All you need from the finest wedding suppliers in Cornwall and Devon