---
Combatting shyness on your wedding day
How to tackle shyness on your wedding day
How do you deal with all eyes on you when you're an introvert? We've enlisted some expert advice for each element of your wedding, so you can enjoy your day
It's a day you've been looking forward to for months, even years, so why do you feel nervous about your wedding day? First off, it's important to remember that everyone feels nervous in the run-up, but if you're a naturally shy person, that feeling of anxiety can skyrocket. Don't worry - not only is it perfectly natural but there are also ways to help you cope with your shyness come W-day. "Given that shyness has to do with self-conscious concerns (worrying about what others might think of us), any situation in which a person is exposed to the scrutiny of others can be challenging for someone who is shy or socially anxious," says Robert Edelmann, a Chartered Psychologist and author of 'Coping With Blushing' and 'The Psychology of Embarrassment'. "As the bride or groom at a wedding, you are truly on public display - but remember it's with friends and family, which is easier than strangers."
The general feeling for shy and for socially anxious people is often one of fear others will judge them in a negative way. But as we often don't know what others are thinking, this fear is based on guesses, such as 'I'm not doing this right' or 'They can see I'm trembling'.
"Remind yourself, these are only guesses," says Gillian Butler, fellow of the British Psychological Society and author of 'Overcoming Social Anxiety and Shyness' and 'Manage Your Mind'. "Guesses are often wrong, and at a wedding people are on your side. Many people will know what it means to be anxious at your own wedding, and will sympathise not criticise."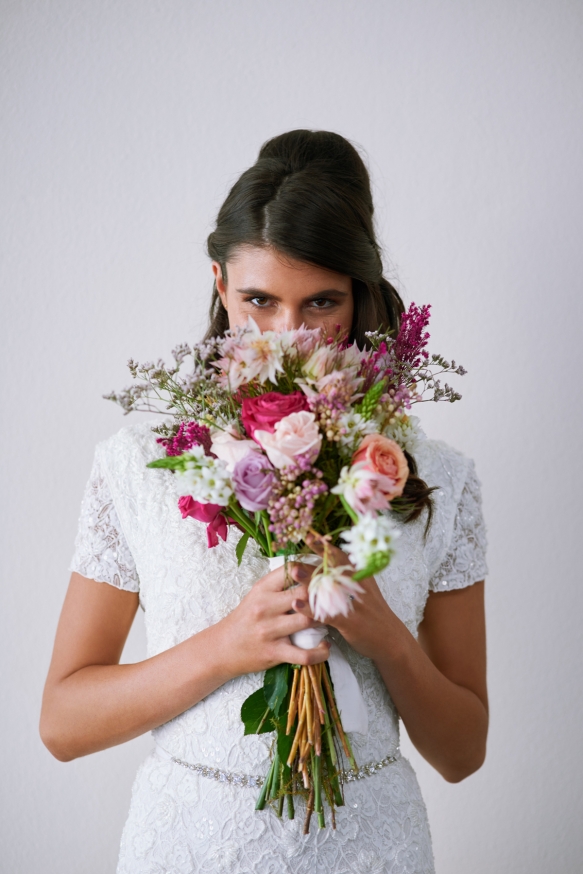 THE LEAD-UP
While worrying in advance is common, try to nip this in the bud. "It tends to lead to horrible predictions that make you feel worse, and that are based not on reality but on what you fear might happen - on guesses," says Gillian. "Turn your attention instead towards something more calming, peaceful or trouble-free. Imagine being in a beautiful place, or that you are looking back on this event from many years later."
It's also easy to imagine you're alone in your feelings, but anxiety in social situations is equally common in men and women, so some aspects of a wedding may be difficult for both of you, and some harder for one or the other. "Talk about this ahead of time with your partner," says Gillian. "It is likely both of you will have some degree of nervousness, but that these will not overlap completely."
Rachael, who married Dan last summer, found talking things through useful. "I was worried about the first dance as I hated the idea of everyone watching, but I knew Dan was excited about that part," she says. "But when I told him, he shared the bits he was anxious about - the vows, which I wasn't nervous about at all - and it made me realise there were parts I was really excited for. It helped me focus on the parts of the day I was confident about, instead of the scary bits, and give him a helping hand where needed. On the wedding day, I was having too much fun to be too nervous!"
Another piece of advice in the run-up to the day is to stay organised - make lists and delegate. Let your suppliers do what you have hired them to do; you'll find the day will run to plan, which will help prevent any unforeseen situations arise that you don't know how to react to.
THE MORNING OF...
You've done all the hard work, now it's time to enjoy it! Have a timeline for the day so you know what you need to do and when, and task someone else with keeping you on track.
"Having the support of close friends and family is so important at times like this, but keep the numbers around you in the last few hours to a small trusted number - no drama queens or big jokers!" says Nicola from The Guild of Cornish Celebrants (
cornishcelebrants.co.uk
). There are no rules about who to spend the morning with, so have a think about who's your biggest supporter. "Perhaps a sibling, parent, cousin, friend or godparent - keep them in sight, sitting close to you," says Gillian. "Get them to help you in tricky moments. Tell them what you might worry about, and put your heads together to work out how best they can be a good support."
And one more sage piece of advice from Nicola. "A little glass of champagne is fine but don't go overboard on the alcohol before the ceremony!"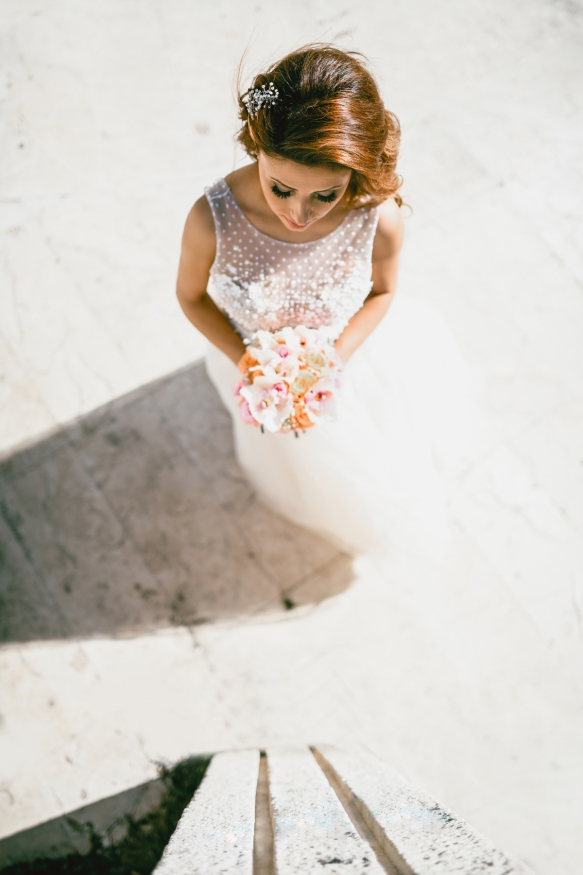 WALKING DOWN THE AISLE
When it comes to the ceremony, it's not just the bride who's nervous. "Grooms can feel quite self-conscious when waiting for their bride to arrive," says Nicola. "We advise that they make their way to the front with their groomsmen just before the bride's entrance, as this cuts down the time they are centre of attention."
If you're nervous about the walk down the aisle, remember you don't have to do it. You could already be at the front of the venue with your fiance when everyone arrives, or you could do what one bride, Serena, did, and have every single guest follow you down the aisle! Or, if you do want to walk down the aisle in a traditional way, take Nicola's advice. "Send your bridesmaids down the aisle first then follow fairly closely after - that way you feel more of a group," she says. "And as celebrants we always make sure there is a glass of water for both bride and groom at the front as well as lots of tissues! Sometimes just showing the couple that we are equipped is enough to stop them worrying."
VOWS
Keep your vows short if you are nervous. "We never expect our couples to remember their vows; we provide them on card for them to read or they can repeat them after us," says Nicola. "We can also make the vows into questions so they have less to say, and another way of lessening the amount they have to say is to amalgamate the vows and ring exchange wording."
"If we know our couples are nervous, we talk about it beforehand with them, and suggest they stand so they're looking at each other or at the celebrant rather than facing their guests," says Nicola. You could also have chairs set up so you can sit down, which will lessen the feeling that you're being stared at!
SPEECHES
This is one element of a wedding that's almost guaranteed to make every speech-giver nervous... and even more so if you're prone to shyness. But does this mean you should skip it?
"Given that it is the bride and groom's 'big day', they will no doubt want to fully engage in all the elements and not miss out because they are shy," says Robert. "Preparation is everything and this is doubly true for the shy and socially anxious. Have at least one rehearsal, and go through everything with a friend or family member," he says. "Write out every aspect of any speeches, and rehearse them."
Being able to stand in front of a mirror and practise your speech means that, come the big day, it won't feel so nerve-wracking. And feel free to look at your spouse, parent, bridesmaid - any particular person - rather than feeling everyone's eyes on you.
"I wanted to do a speech at our wedding, but was so nervous," says Penny, who suffers from extreme shyness. "I decided to pre-record my speech instead. I went to the beach, recorded it on my phone, than asked a friend to edit it for me. At our wedding, when it played I went to the bar and got a drink for my new husband and myself. I could still hear people enjoying the speech, but I didn't have the fear of all eyes on me, or tripping over my words. It was great!"
YOUR CHOICE
Here's the crux of it: even though there are handy techniques to help you overcome shyness on your wedding day, you don't have to do anything you don't feel comfortable with.
"The most important aspect is that it is your day," says Robert. "You are doing this for you and your partner, and you are the only ones you need to please. The worry starts with thoughts about others - have we missed inviting anyone? Will they like the food? What will they think of my dress? Focus on you and your partner and not those around you - if you enjoy yourself everyone else will too. Take a deep breath and relax."
The modern wedding is a highly personal event and there's no reason to do something because you 'should' rather than because you want to. And try to keep in mind what it's all about. "In the end, this is about a commitment to another person. It's not about anybody's appearance, or saying the right thing at the right moment," says Gillian. "There are more options nowadays for doing things in your own way, from writing your own vows to standing on a beach or boat when you make them. Find a way of making the wedding your own, and of smoothing away as many problem moments as you can."
TOP TIPS TO CALM YOURSELF
Practise makes perfect. Anything you're nervous about (saying "I do", dancing, cutting a cake), do it at home first. Don't wait until the wedding day to do it for the first time.
Quiet time. Plan some time out on the day for just the two of you to relax, recharge and enjoy what is going on.
Shift your focus. When you notice your heart thumping or the sweat on your brow, turn your attention away from yourself and your reactions. Focus on the words you are saying, the people you can see, the conversations around you, the flowers or table settings, or someone you are pleased to see.
To have and to hold. If you need a bit of extra support at your ceremony, hold hands with your partner - it will give you a surprising amount of emotional strength.
Make mantra magic. Come up with a mantra that works for you, for you to say to yourself if it gets tough. Some suggestions from Gillian include:
"It's OK to do things my way."
"There's nothing wrong with my feelings."
"The more I interact with people, the easier it will become."
"I'm not here alone - I have a loving supporter beside me."
Feel the love. Remind yourself your guests are there because they love and care about you and want you to enjoy the day.
And breathe! When you are in a panic, your breathing alters, so try to breathe deeply and slowly to help you get control back.

words Lucy Higgins
Copyright Wed magazine 2019
Wed

Directory

All you need from the finest wedding suppliers in Cornwall and Devon