---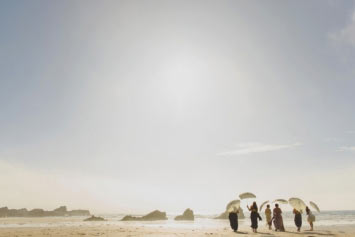 Choosing your Bridesmaids
How to choose your bridesmaids
Bridesmaids and guysmaids; best men and girl squads - throw out the rule book when it comes to choosing your bridal party
It's the morning of the wedding, and you're starting to feel happy little butterflies whirring, a nervous excitement as you prepare to put on your wedding dress and walk down the aisle. It's a really special moment, and one that is lovely to share with your best friends, family, or whoever makes up your bridal party.
One bride, Anna, says spending the morning of her wedding with her bridesmaids is one of her happiest memories from the day. "Having that precious time with my two sisters and best friend was so special," she says. "We had the best morning getting ready together, toasting with a glass of bubbles and listening to our favourite songs from when we were our teenagers. Even though I was so excited to go on and marry the man of my dreams, being able to share that morning with them will always be one of my favourite parts of the day."
However, with everything from who to choose as your bridesmaid or best man to the etiquette of who pays for various elements, selecting your bridal party can be a touch stressful. Here's our advice, so it stays cool, calm and catastrophe-free...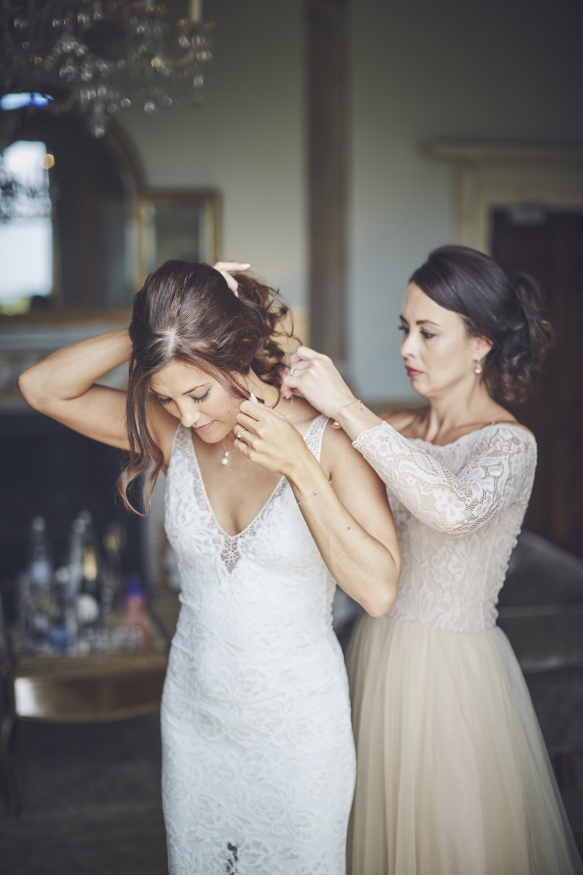 Nova Wedding Photography
HOW TO CHOOSE
Traditionally, the bridal party will comprise of any or all of: a maid or matron of honour, bridesmaids, a best man, groomsmen, ushers, flower girls, page boys and a ring bearer. Some of these can double up (for example, the best man is often also the ring bearer), but there are definitely no rules when it comes to who you have in your wedding party.
If you're struggling to decide on who to include in your party, one piece of advice that's proved helpful over the years is to write down some of the roles or tasks you may ask of them, and consider who would be best suited (or not at all suited!). For example, avoid asking someone disorganised to arrange your hen and stag dos, or asking one of your most shy friends to perform a speech, knowing they'd hate it!
So what does make a good member of the bridal party? "Patience, listening skills and great organisation," says Nicole, who was recently voted Red7's Britain's Best Bridesmaid. And the most important thing to remember here is that it's the 21st century - you don't have to be bound by tradition, custom or gender roles. You don't have to have any bridal party at all if you don't want to. Perhaps you want just one close friend, or you could do what one bride, Serena, did, and have every single guest follow you down the aisle!
Francesca and Matt didn't feel that the terms 'bridesmaids and groomsmen' really fit, so chose a group of their nearest and dearest, and did away with traditional names. "We called them our 'Matrimony Homies' as we have an eclectic mix of close friends from all genders," says Francesca.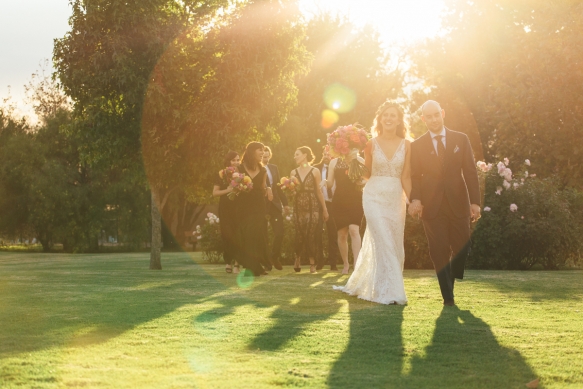 South Weds Wedding Photography

WHO TO CHOOSE
It can be tempting to pick your best mates and, really, there's no reason not to do that! You want to be surrounded by your A team, and if that's a clearly defined few people, you're all set. But if you've got a wide circle of friends, or are struggling to choose, heed this word of warning from Nicole.
"Choose wisely. Avoid the drama queens and those who are very self-absorbed," says Nicole. "Think about the qualities that will contribute towards your big day - it's about you so don't pick the girls who like to be the centre of attention. I've known a few brides who've had to ditch a difficult bridesmaid, and the friendship has ended there and then!"
Cat - who has been a bridesmaid eight times - agrees, and says what makes a good bridesmaid is "really really liking the bride, wanting them above all to have the best time and knowing what makes them have a good time".
And don't forget that they'll likely be organising your hen and stag dos too. "Pick at least a couple of people who are organised and will get on," Cat recommends. "It will make the whole process more fun for them and you'll likely get a better and more thoughtful hen do as a result."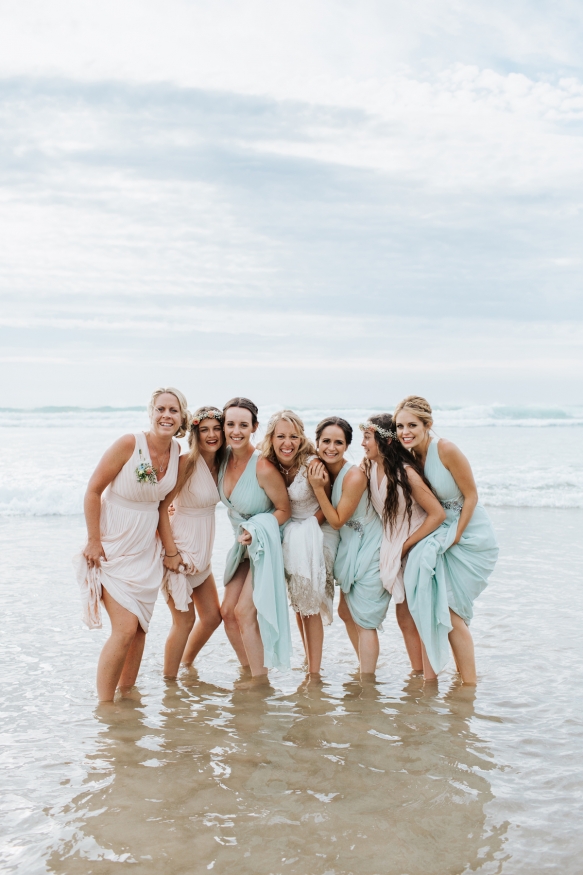 Sarah Lauren Photography
WHAT'S THE ETIQUETTE?
You've chosen your nearest and dearest to be by your side, they've all agreed (and hopefully, jumped at the chance!) and everything is going to plan. But even then, there can still be some tricky elements to navigate; the most awkward being, who pays? With outfits, shoes, hair, make-up and accessories all potentially needing to be paid for, the best advice we can give here is, as the bride or groom, be honest and upfront as early as you can about your expectations. If you'd like them to buy their own dresses, for example, then tell them straight away, to give your bridal party time to save, budget or look for a bargain if needed. And be prepared that if they're paying for their own outfits, you may need to be a little more flexible than if you were paying for it yourself.
Cat says there's no expected etiquette these days. "Generally I've only been asked to pay for shoes, and I think that's fair enough as long as they don't mind a bit of variation, which no one has so far! It means you can choose something you'll wear again, which is something every bride always says matters to them!"
A nice gesture is to pay for something as a treat for your bridal party, as a gesture of thanks for all their hard work, support and friendship. One bride, Edie, told us she organised for her bridal party to have their nails done the night before the wedding. "We were all together at the hotel, and I arranged for a beautician to come to our room for manicures and pedicures. The girls didn't know it was happening, so it was a nice surprise for them, and a thank you for everything they'd done so far." If you're going to do this, however - a word of warning. Ask your bridesmaids not to have their nails done before the wedding, or they'll have wasted their money!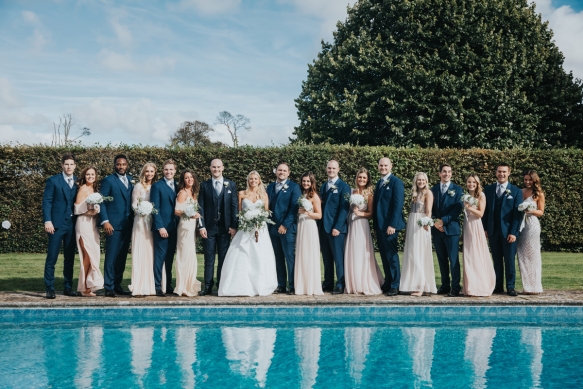 Kirstin Prisk Photography
WHAT ARE THEIR ROLES?
Again, this is up to you but usually, your bridal party will help a lot in the lead-up to the day, in everything from assisting you with any DIY elements such as making invitations or decor to helping with logistics. They'll usually also organise your hen and stag parties, as well as helping you get ready on the day, ironing out any issues that may arise as your wedding day unfolds, and generally being a support system to you.
While you might think asking them is just a formality, be aware that being in the bridal party can be a big responsibility that requires a lot of time (and potentially money), and they might say no! In fact, Nicole's advice for bridesmaids is to do just that, if they don't feel they can dedicate themselves fully to your wedding.
"If they've got a hectic life and aren't going to have time to be fully involved then they should politely decline - it's better to be honest and upfront about it," she says.
Of course, it's also an absolute privilege to be considered, and most likely is that your chosen few will be honoured to have been asked.
"Getting to be close to all the beautiful and sweet moments that happen in a wedding and really going through it with them is so, so special," says Cat. "Also, I really like knowing that I get a good spot in the group photo!"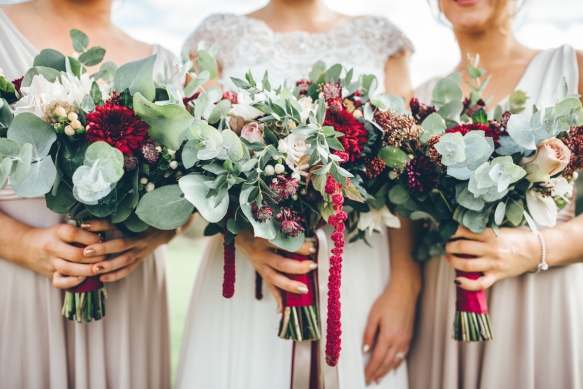 Toby Lowe Photography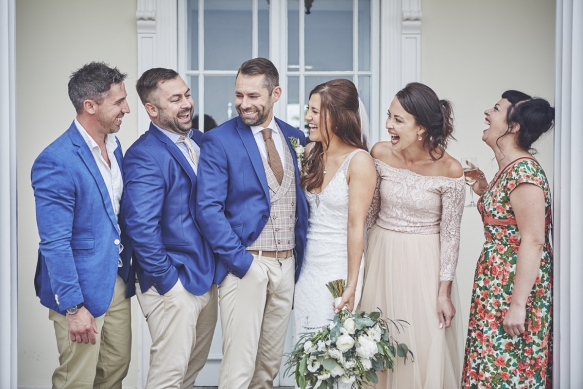 Nova Wedding Photography


words Lucy Higgins
main image Keith Riley Photography

Copyright Wed magazine 2018
Wed

Directory

All you need from the finest wedding suppliers in Cornwall and Devon