---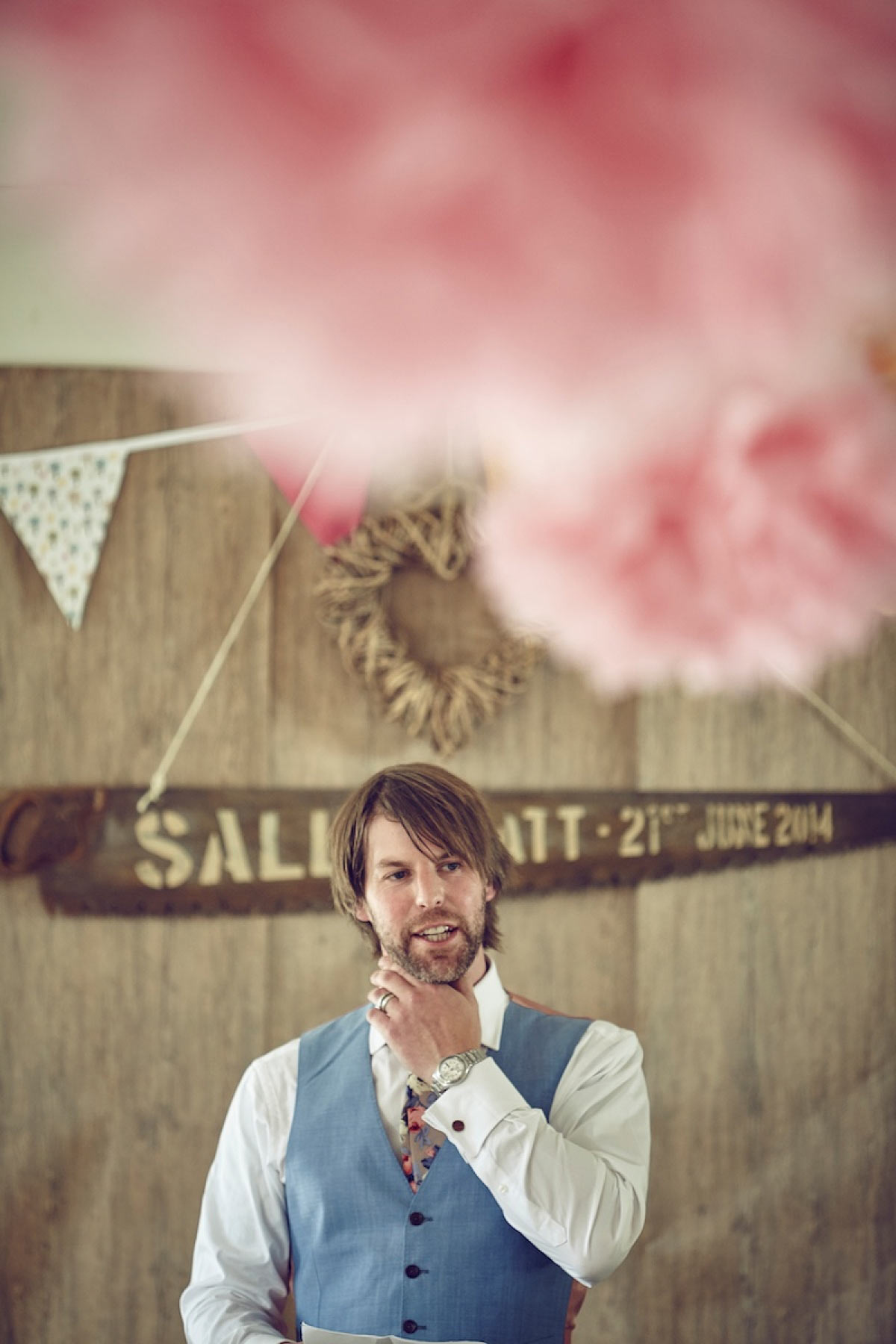 Wedding Speeches
---
Scared senseless at the prospect of making a speech? Follow Wed's guide and you'll be armed to charm
This is it. All those years together, all the shared memories, all the months of planning - all leading to this crucial moment... It's time to give your speech.

Yes, for a lot of gents, the nerves don't stem from marrying their best friend in the world (that's the easy part), but from the obligation to deliver a pitch-perfect presentation of public speaking that comes with it. Unless you're a high-powered CEO or a media trained politician, chances are you won't be comfortable under the eager gaze of perhaps 100 people, anxiously anticipating your opening line.

So we're here to offer our wisdom: everything from the basic fundamentals of calming the nerves to tips for planning a speech worthy of entering the chronicles of nuptial history.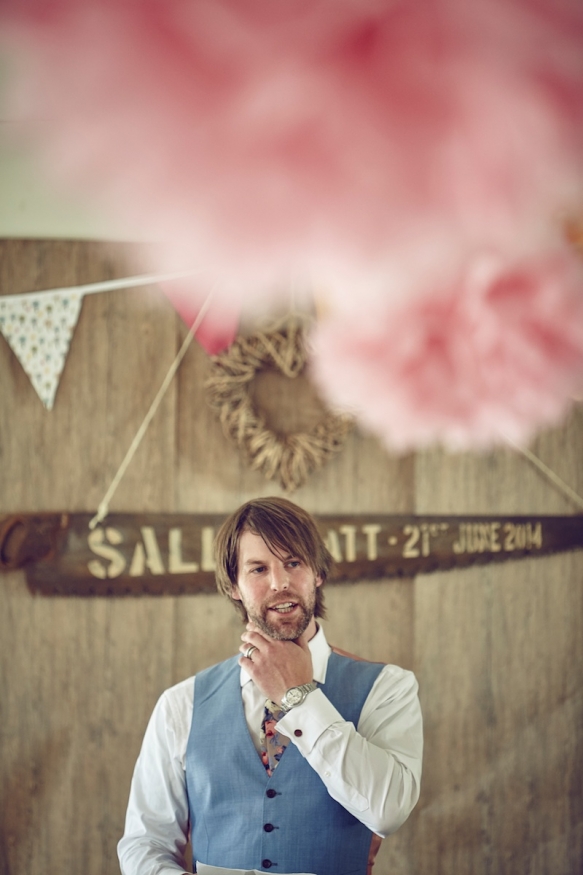 Nova Wedding Photography

THE BIG THREE
Father of the bride, groom, best man: these are the usual performers on any given wedding day, and their roles are long enshrined in wedding etiquette. As with everything else here, feel free to mix it up a bit and have fun, but before you start bending the rules, it's at least worth knowing what they are.

Father of the bride
With the inauspicious task of going first, you can take comfort in the fact that your speech, in comparison with those of your fellow orators, harbours the least crowd expectation. Everyone knows how proud and emotional you may be so allow the goodwill of the audience to carry each sentiment and revel in the role that exudes authority, benevolence and a little smattering of Brando-esque Godfatherliness!

It is customary to talk about your daughter as a child (but keep the potty training stories to a minimum). In addition, share your first impressions: the crowd will be keen to hear how un/impressed you were when you first met the groom. Finally, without jeopardising your own marriage, share what marital wisdom you may have and remember that in-between the jokes and thinly veiled 'threats' (empty ones only please), you are speaking on behalf of all the people that know and love your little girl. No mean feat.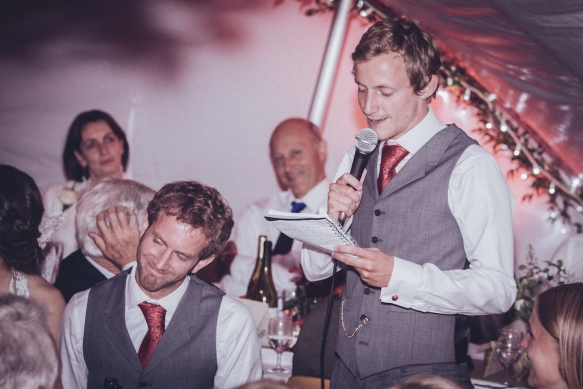 Maxi Photography

Groom
For a quick appeasement of nerves, you should get an easy cheer for your first "my wife and I." The stories you share should be easy-listening for your audience - you can talk about how you met, outline what life was like before your bride arrived, and imagine what it would be were she not there. Never underestimate the insatiable appetite of the crowd for a little romance; they want to know when exactly you knew she was the one, even if they've heard it before.

Technically, you don't have to be funny, but it helps. Try to find a balance between sincere and a little silly, just make sure you talk for at least a few minutes about your new bride (and be sure to mention the dress). Officially, it's also your job to offer 'thanks' where necessary, just keep this bit as short as possible - it can get pretty boring after the first few! And finally, finish with a toast...

Best man
Here marks the slow turn of the day, from 'life-changing' rite of passage to 'let the hair down' celebration. Anyone who has seen 'Sherlock', 'Gavin and Stacey' or 'Him and Her' will know it's also fraught with danger.

There's a fine line to be walked here; it's acceptable, even expected, to mock the groom - not the bride, never the bride - but do this with genuine affection. People want to hear anecdotes (keep these certificated 12A); perhaps offer the 'alternative view' of how the happy couple met, recall some teenage hairstyles, or wax lyrical on the groom's most irritating habits. Ports of call could include the heritage of school nicknames, family anecdotes and favourite tall stories.

The best man's speech should move smoothly from ridicule to affection to contemplation. Merciless you may be, but consider the bride - she may not want to know the finer details of the stag do and previous relationships are perhaps better left alone. Just be sure to end on a note of warmth - you're kicking off the reception after all.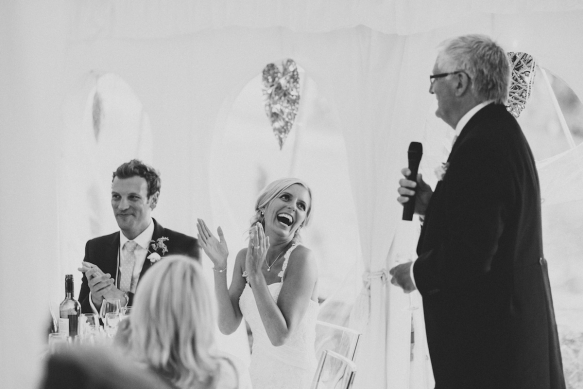 Ben Selway

HERE COME THE GIRLS
At most weddings, the gents are (quietly) envious of the seemingly carefree bride experience. But these days, it's not just the boys that get to have their say. Increasingly ladies are choosing to get in on the action.

Brides, chief bridesmaids, mother of the bride (even mother of the groom)... there are far more leading ladies taking to the stage. The best part of this turn of events is that, at least for the girls, there are no rules at all.

"My sister always hated all the soppy stuff," explains Rachel, a chief bridesmaid who recently performed her wedding duties in style. "I hit upon using our favourite karaoke song, 'Earthquake' by Labyrinth and Tiny Tempah! I kept the beat, but changed the lyrics to make it about her and the hubby."

Rapping may not be everybody's idea of easing into the limelight, but Rachel is convinced it was worth the effort: "The reaction was better than I could have imagined. I was so nervous, but when people got up and started clapping and dancing along, it felt great!"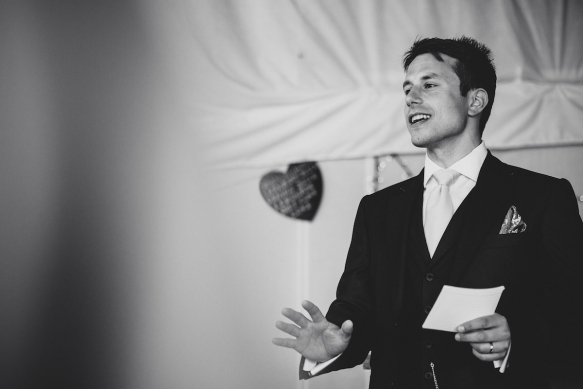 Sam Gibson

TWO'S COMPANY
They say a problem shared is a problem halved. Why should you have to stand under the spotlight alone when there's so much talent in the room? Maybe two best men is the option.

You might need to coax the groom into realising that you aren't really his only best mate, but in most cases he'll be excited by the idea that two of his friends want to support him by giving a speech (and planning the stag do!). Meanwhile, the father of the bride, if he requires a little back-up, can turn to the groom's parents, who will likely cherish the opportunity to be involved.

PROP-ER JOB
The easiest and most cost-effective way of reducing stress (and adding a bit of dynamism to any speech) is to involve some high quality props. There are big benefits here: as well as being memorable, you can use the props as a giant note system to help you remember your train of thought. And, even better, props help to draw attention away from you!

Photo albums
Contact parents and trawl Facebook for embarrassing photos of the bride and groom, then print them out as large as possible (the bigger the better; the jokes only work if people can see the images). You can hide mini albums of shame underneath tables with accomplices ready to present pictures on cue, or have a large one printed for you to hold.

Video montage
Collect as much home movie and 'embarrassing night out' footage as you can get your hands on, then cut it all together and ask the venue to hook up a screen. The bonus here is that after the initial introduction, you won't need to speak at all - just let the movie play and soak up the laughs from all your hard work.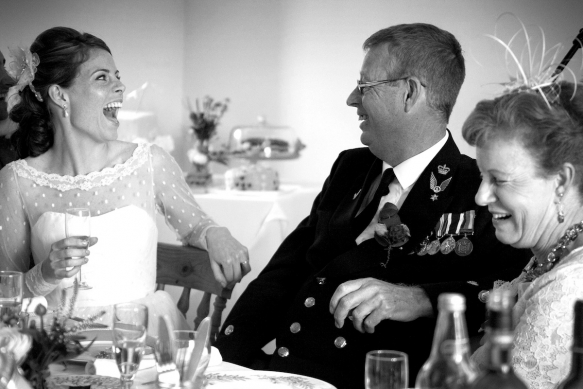 Simon Burt

GAME ON
This one involves props as well, but ups the ante considerably by requiring some audience participation and introducing an element of chance. Games themes could include madcap marital advice, bad habits bingo and perfect pair pop quiz.

Sweepstakes
This is a classic that you can make yourself or download in template form from the web. Simply ask guests to place bets on how long the speeches will last. It adds a bit of light-hearted tension and can give you some good material. You can also spice up the evening by including forfeits for the guests who got it really wrong.

Mr and Mrs
Forget Phillip Schofield - you just need two table tennis paddles (wrapped in sparkly blue and pink paper) and a long strip of card to divide the contestants. Then ask a handful of light-hearted questions ('who is the better singer?', 'who spends the longest getting ready?', 'who has the best sense of direction?'). The couple hold up their answer paddles simultaneously. This is a fun game that gets big laughs from the guests. For more audience participation, consider planting question cards around the tables and invite questions from the floor.



Ross Talling

BE TIP-TOP WITH OUR TOP TIPS!
If our tips haven't put you at ease, fear not - there's more support out there. Cheryl Brandish (find-your-voice.co.uk) offers speech writing and coaching services for anyone who needs a final boost before tackling the big event.

"More often than not, I'm asked to write the speech and do some delivery training," explains Cheryl. "We'll talk on Skype, then I'll spend five or six hours writing before passing it on for final changes. But my job doesn't stop there. I get them to actually give the speech, so I can see the rhythm and pace of how they speak. Then we work on the delivery - pausing for laughs, changing pace and inflection to build up a punchline. We don't stop until they think they're ready!"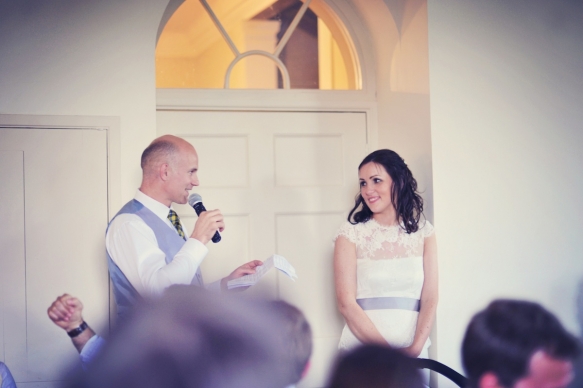 Liberty Pearl Photography

Cheryl's dos and don'ts
- Keep it short - a wedding speech is not a eulogy! Around two pages of typed A4, font size 14 should do it. I encourage a 'five minute rule' where possible.
- Don't use cookie cutter speeches. It may be tempting to let a quick Google search do all the work for you, but guests will spot the lack of authenticity and the generic jokes may get a chuckle, but never a big belly laugh.
- Practise, practise, practise! You need to have read something around 200 times to be able to say it without thinking. And that's the trick: to deliver the speech with an easy confidence, ad-libbing and responding to the audience as though it were for the first time.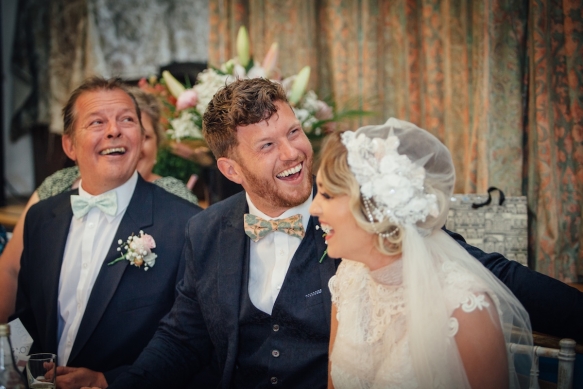 Freckle Photography

TAKE A DEEP BREATH
Giving a speech is going to be nerve-wracking, no matter how big the room and no matter what you have planned! Keep foremost in your mind the reason you're there: to celebrate the love of the two people getting married. The stark reality is that this is their day, not yours and you owe it to them to do your very best.

Or, to look with a warmer perspective, always remember that (barring a bit of heckling from a tipsy uncle) wedding crowds are the kindest audience you could possibly hope for; they want you to give a great speech. They'll laugh along with anything resembling a good joke, they love the bride and groom as much as you do, and they've probably already enjoyed several free drinks. If you're going to have to give a speech, you couldn't ask for a better place.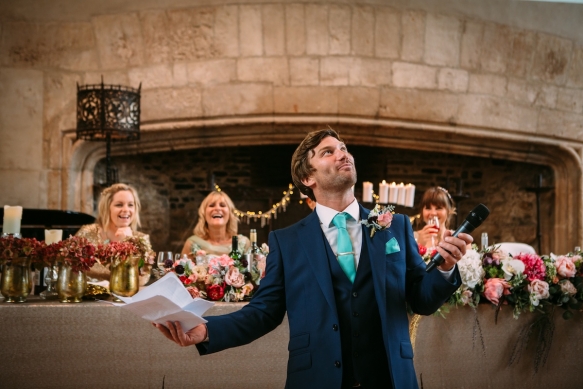 Freckle Photography

words Chris Wasey

Copyright Wed magazine 2015
Wed

Directory

All you need from the finest wedding suppliers in Cornwall and Devon