---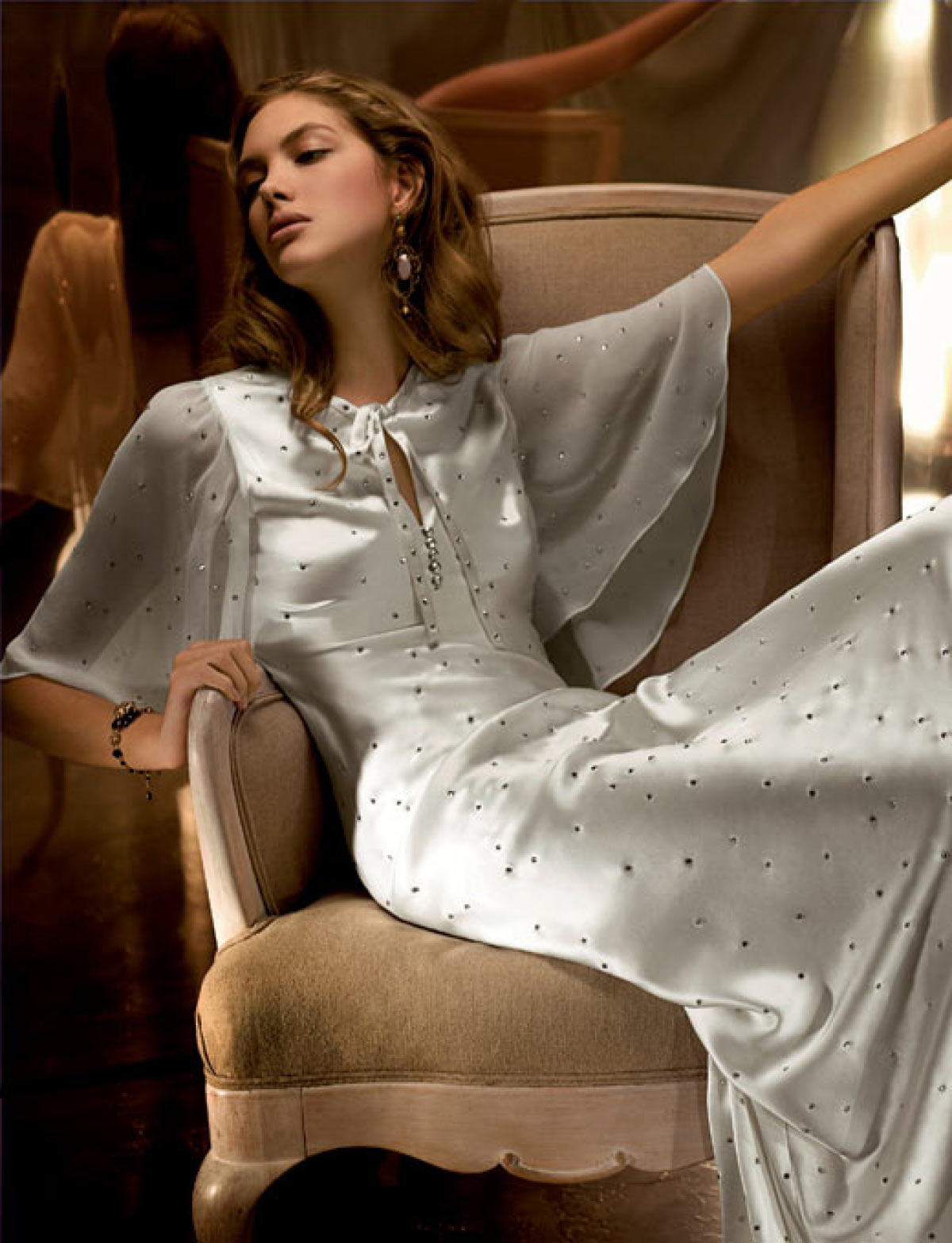 Wedding Dresses Cornwall - Vintage Style
Fuse the cream of past and present for a look which oozes individuality. Let this story of three dresses be your inspiration...
Vintage is not as easy as it may sound. It is a single word that encapsulates a number of times and styles, which can be mixed, adapted and altered to suit specific tastes. Within a single decade, there may be dozens of looks to inspire and borrow from, whether you choose to wear your grandmother's gown or simply wish to recreate your aunt's hairstyle.
To help you get started, we've asked three Cornish ladies, married across half a century, to share their stories and wisdom on the ultimate of wedding banes and triumphs: the dress.
So go dig out those old family photos and get set to become seriously stylised: the past has never been so coolly presentable.
'40s/'50s
Date
-
26th June 1954
Venue
-
Madron Church
Couple
-
Dorothy (nee Jordan) and Jimmy Lockett

With the country still in post-war disarray, marriage was not the grandiose affair as it often is today. Dorothy had to source the material for her dress from Falmouth; with rationing, it was difficult to find anything locally - items were scarce and priorities had shifted elsewhere. In short, as Dorothy comments, "you had to have what you could get."
There were "no bridal boutiques or anything like that," and Dorothy is matter of fact in remembering the build up to the day. She worked until 7pm the evening before so that her colleague could have the time off the next day to attend the ceremony.
Dorothy's was a simple, fuss free event reflective of the time, but this didn't mean that it wasn't executed in the classiest style available. Starting from scratch and with severely limited resources, Dorothy had to use her imagination to specify to the seamstress exactly what she wanted from her dress. With eight yards of ivory, grain grow watermarked style fabric, Dorothy was certain of how the end result should appear.
The final creation was a classic made to measure, cover up gown whose understated simplicity showcased both individual style and fashionable savoir-faire.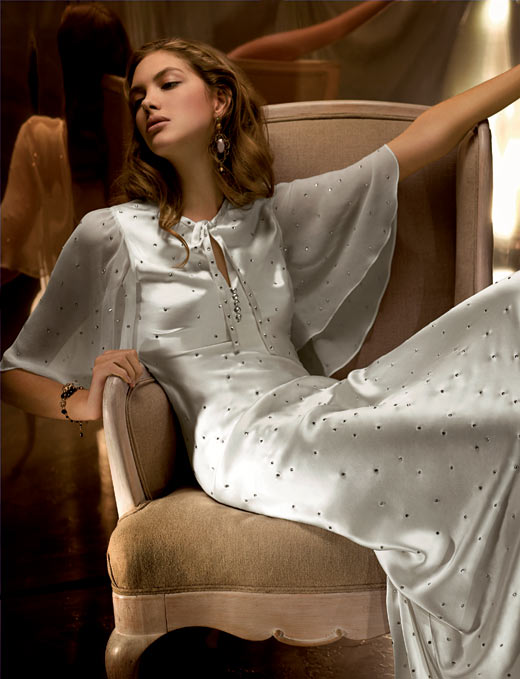 Jenny Packham
Long sleeved with a point, floor-skirting and fitted, Dorothy was "very pleased" with the end design. A slight train and buttoned up, horseshoe high neck added a little detail to the gown without engulfing it in unnecessary ado.
The look was completed with a pearly flowered headdress and light veil, simple fabric court shoes and a pearl necklace bought for her 21st birthday. A family orientated occasion, Dorothy borrowed her sister Joyce's petticoat from her wedding day and carried a horseshoe for luck given to her by two-year-old niece, Elizabeth. Dorothy fondly recalls that although "plain, it was very elegant", ensuring that for her and all involved, it was a "lovely day."
Clamouring to replicate such minimalist and graceful style, modern designers' takes on post-war make-do chic are similar in their simplicity, with particular regard to long lengths and sleek lines.
If yours is a no faff, highly personal and classy do, a made to measure original such as this should be high on the tick list. A modestly sassy frock will appeal, oozing charm and sophisticated style not only on the day, but for decades long after.
'60s/'70s
Date
-
9th May 1970
Venue
-
St John's Church, Newport
Couple
-
Polly (nee Parry) and Andrew Wilson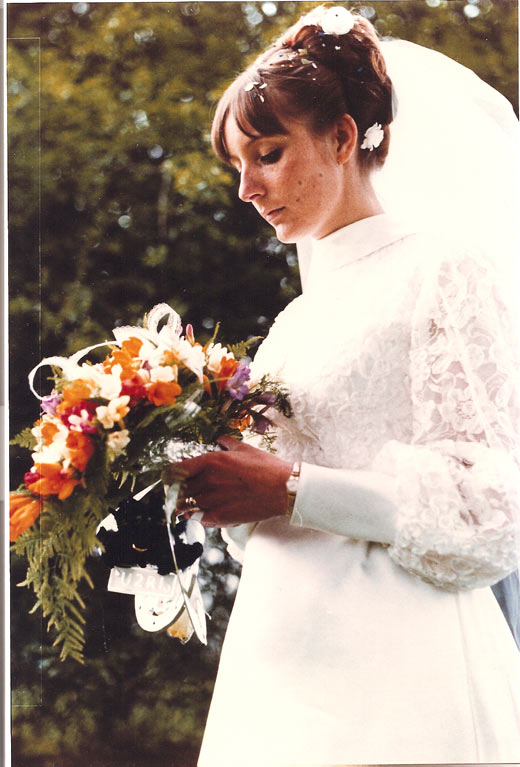 Amidst the free-spiritedness of the times, there's always a hippy, earth mother vibe associated not only with the culture, but also with '60s/'70s fashion.
In the realms of marriage material and style, it largely found form in a mixture of textures and flowery, whimsical detail. Some favoured basic anti-statement, but trends generally prevailed with the former.
Polly's pure white dress was made of slub satin, incorporating a bodice of Nottingham lace with a flower design. "The design was quite popular at the time, and I just fell in love with this one," Polly recollects. A high, satin-collared neck gave a buttoned up, dressed up look that was a trendsetter at the time. The long sleeves had long satin cuffs (echoing a bridal version of John Travolta's Saturday Night Fever chic coolness) with tiny pearl buttons - an intricate detail that continued down the back of the dress, which was one of Polly's favourite features.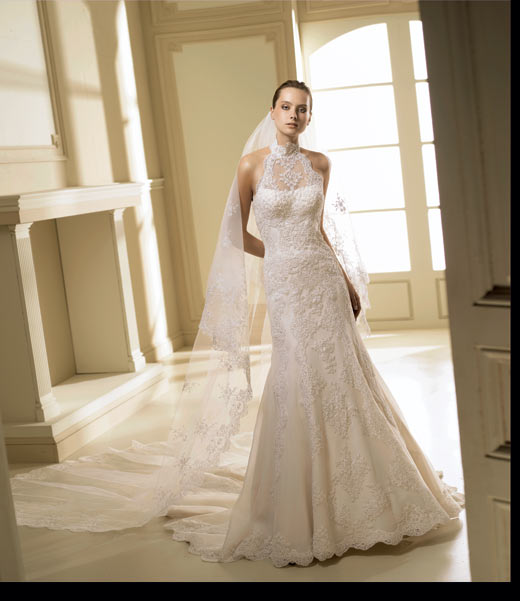 Pronovias
"I wanted a skirt that had a train behind, not too long, nothing ostentatious, just simple and elegant," which completed the overall modish image that Polly achieved with beautiful ease.
Under Polly's net veil, she wore her long hair worn up in curls with tiny satin flowers pinned in, continuing the subtle design whilst elaborating detail.
Tradition and correlation was maintained in a number of ways, "My something old were my satin slippers that I'd worn to a ball; I borrowed my mother's gold watch; my something new was the dress itself; and my something blue was part of my lingerie."
Polly admits that, "on the day I got married, like any bride, I felt really special." With a fantasy element combined with individual and naturally inspired elegance, it's no wonder why the look is so identifiable but also personable.
If you're keen to merge the unembellished effortless look with added intricacy, then search for similar dresses inspired by this era that are being romantically replicated by fashionistas. Think whimsical yet distinct, and wallow in the style that defined an age and fuelled feminine clout.
'80s/'90s
Date
-
9th May 1993
Venue
-
Gulval Church
Couple
-
Andrea (nee Rowling) and Chayne Smith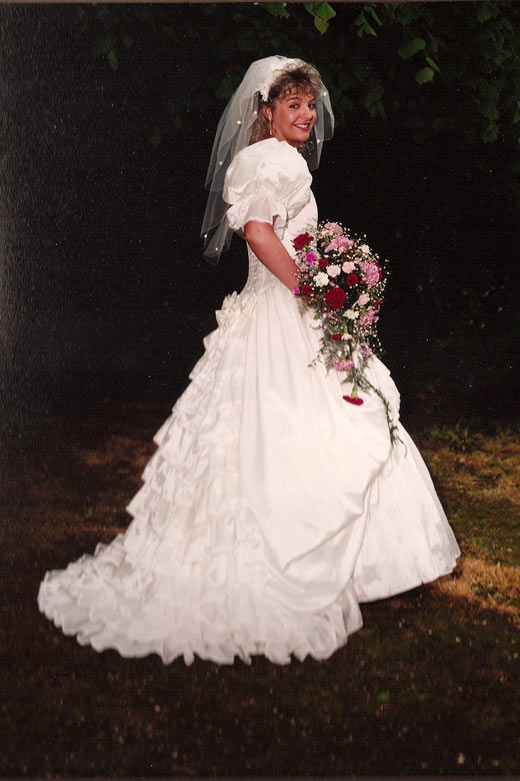 Scoffing convention and getting down on one knee, Andrea proposed to Chayne in February 1992 - a leap year, so the role reversal was traditionally allowed.
The post-Christmas slump was the perfect pick-me-up time to shop for the wedding, and Ange stumbled into 'the one' following months of hunting.
"I had tried lots on and was with my mum and Gran at the time," she recalls with renewed excitement. Having spotted it, she "fell in love with it straight away," and despite it not initially fitting, was determined to make it hers.
Her dream dress was duly customised. But it wasn't until three days before the wedding that she noticed her flawlessly fitting dress had been ripped in the process.
A last minute fix two days before the event ensured that it was restored to its ideal best - a self-flaunting runched number hotly typical and hip at the time. Ange had swapped her every day tube skirts and backcombs for a dress she fondly describes as, "puffy sleeves, big frills, fairytale style - what I imagined it would be." With a real stand out, million dollar feel, she "felt beautiful" on the day, having achieved the fairytale look that she had always desired.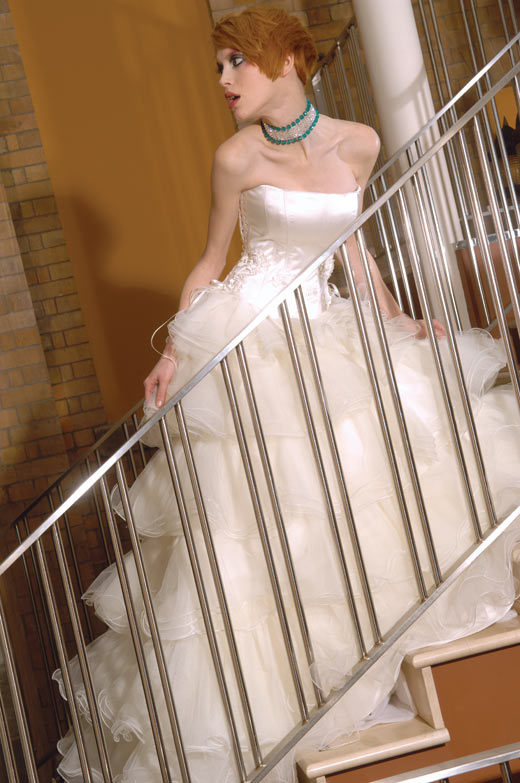 Posh Frocks
A big, hooped underskirt with netting over the hoop and the ivory dress flung over the top, Ange didn't feel weighted by layers of puffed underskirt, recalling instead that it was a "lovely feeling to walk in - really floaty."
Ange says that jewellery and accessories were simple and minimalist - a plain gold cross necklace and blue garter, because "it was all about the dress." Her prince charming style satin shoes were flat, and her perm was tamed by being clipped back at the sides. The only overkill was the make-up, which Ange reapplied when she got home from having it professionally done as it wasn't heavy enough. In full '80s/'90s crossover style, she layered on the blusher and eye shadow in the iridescent name of "the works."
The result? A fantasy, attention grabbing gown whose ruffles and airy style aptly reflects the era's trends as well as materialising the bride's personal fancies and image. If looking like a princess is your aim, something akin to this blooming beauty will be a guaranteed hit, impressing all with your flounced allure and retro-rooted charisma.
words
Hannah May
Copyright WED Magazine 2010
Wed

Directory

All you need from the finest wedding suppliers in Cornwall and Devon
Planning your wedding? use our directory to find: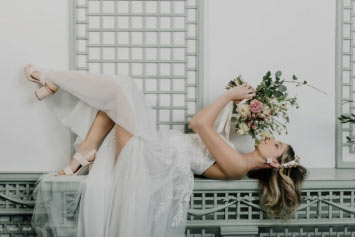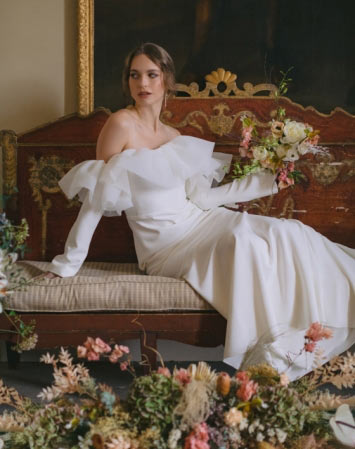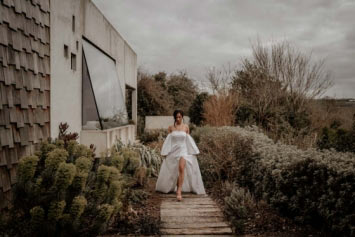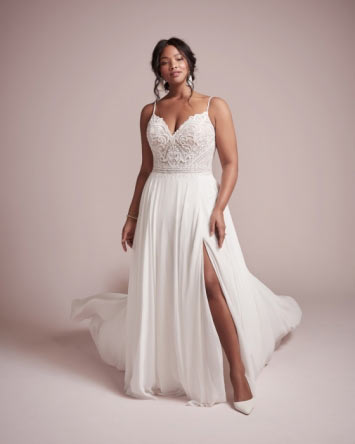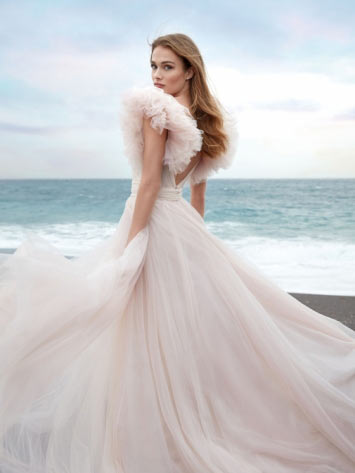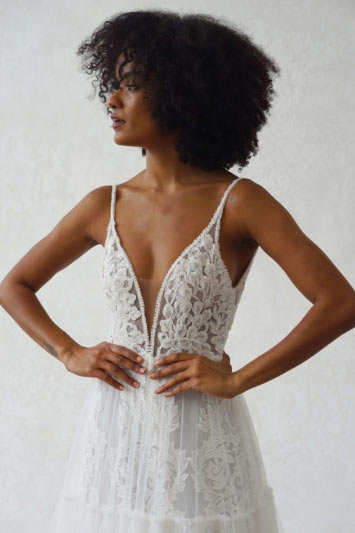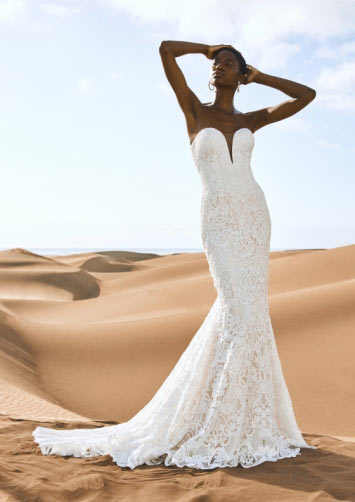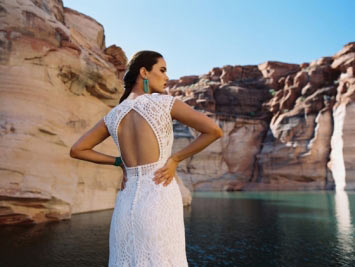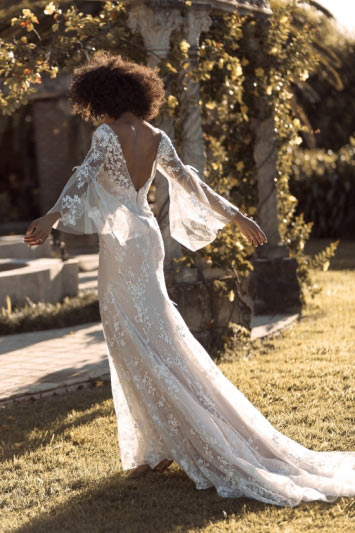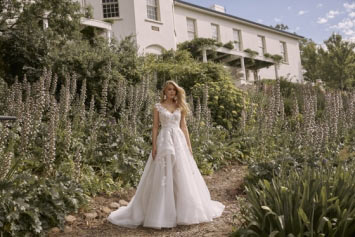 See the full bridal fashion archive