How to choose a wedding ring from home
Article Published: Tuesday 19th January, 2021 - 12:21pm
---
Looking for the perfect ring? With weddings a little unpredictable at the moment, wedding rings are one of the elements that have some certainty, so it's the ideal time to look at inspiration or planning for your wedding jewellery. Cornish ring designers, Justin Duance Jewellery, have put together this handy guide on how to choose a wedding ring from home, from the basics of choosing the right width of ring, to the details of including your own beach sand, wood or heirloom materials in the making process.

Whilst visiting a jewellery workshop is wonderful, choosing a wedding ring from home is absolutely possible. In fact, most of Justin Duance's customers do so, and so they make the process just as fun and informative.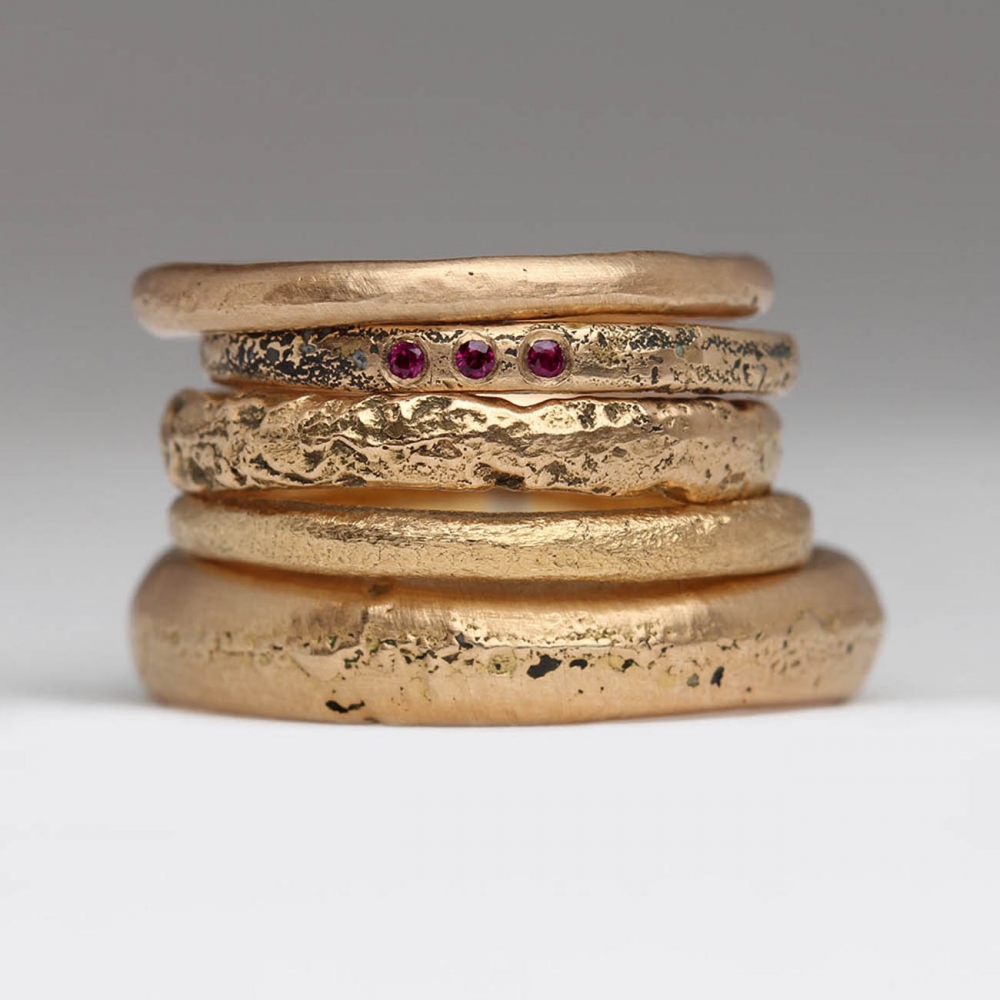 Getting started
It may seem a little overwhelming, but lots of these steps do come quite naturally. Especially in the 'basics' section. You may find you don't need to even contact Justin Duance before simply placing an order online to your specifications (but of course, they're only a phone call or email away if you want to get in touch). As all their rings are made to order, your ring will be being made especially for you, even if you haven't spoken with them.
Begin by getting an idea of what you would like. "We know this can be easier said than done; normally we would say visit a local jewellers or gallery where you can see and try a wide range of designs. But for most of us during the Pandemic, that isn't an option," says Jamila at Justin Duance, "So, do your best with mood boards, browse the web, Pinterest, our commissions page, independent gallery websites… Collect pictures of rings you like. Make notes of things you don't. Pick out common themes between your favourites." Once you have a rough idea of the style of ring you would like, things to think about are metal, profile, width, shape, stones and budget.
The Basics: Metal
What's your favourite colour? Different metals are different colours, weight and strength, and almost all Justin Duance's rings can be made in any precious metal. Silver is the most budget-friendly precious metal, but it is also the softest making it less durable and therefore not ideal as a wedding ring. Gold comes in different carats and colours (the higher the carat, the heavier and also more expensive it is).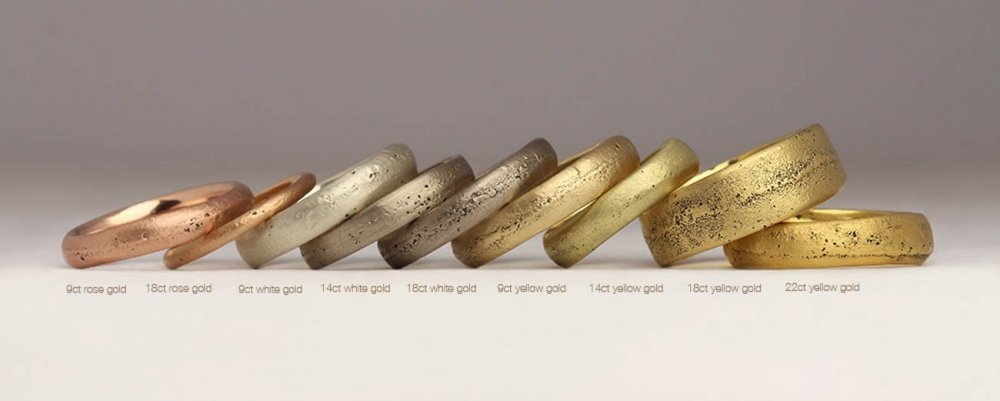 Consider alternative metals, such as titanium. Titanium is super strong and super lightweight. Because it's not considered a precious metal, it's not as expensive. However, you may find yourself a little limited with design as it's such a difficult metal to work with due to its strength. Titanium is a great choice for wood rings, as it offers the wood inlay maximum protection.

Profile
"Our rings fall mostly into two categories: Flat or Comfort," explains Jamila. :You may have seen variations and combinations of these profiles, which we can certainly do if that is preferable to you."
Choosing the shape of your ring is based on look and feel – a comfort profile can also be referred to as a court profile, and it is curved inside and out. The rounded edges make the ring more comfortable to wear. A flat profile ring is as the name suggests, flat inside and outside. It doesn't necessarily mean it's not comfortable, there aren't any sharp corners, and plenty of people choose this profile.
If you like the look of a flat ring, but the feel of a comfort profile – just ask us for a flat-comfort ring (rounded on the inside, and flat appearance on the outside).

Shape
Your ring can be any shape you like. From classic shapes such as straight or wishbone, to the more organic curves and varying widths of sandcast rings. If you are fitting your ring around your engagement ring, that may inspire the shape of the final design. There's really no rule book you have to stick to, particularly because all their rings are handmade from scratch.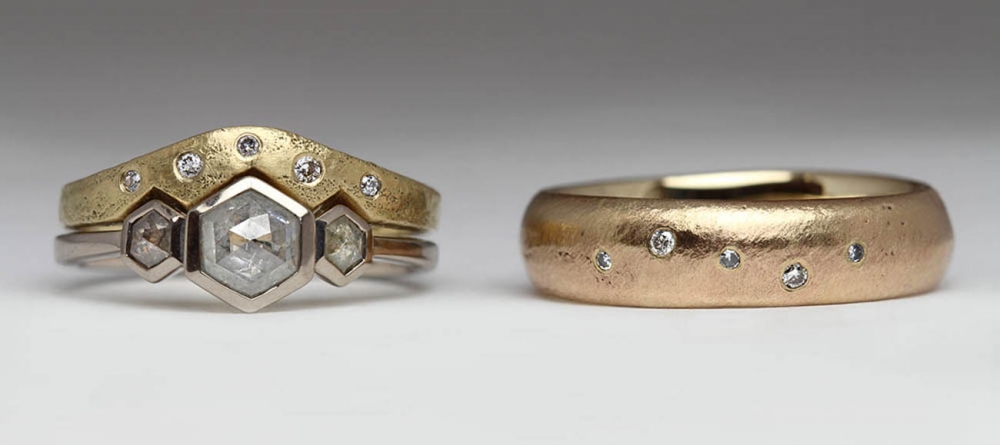 Width
You may already have a preference for chunky or dainty jewellery, which is a good place to start. If trying a selection of rings on isn't an option, a good exercise can be done with paper. Cut a few strips of paper in different widths and see how they look on your hand. It is very rudimentary but actually quite effective!
Budget
It's good practice to have guide prices for the pieces that are catching your eye and if you have a set budget, mention it to the jeweller you are speaking to. "We always strive to work within our customer's budget and can often offer suggestions on variations to reduce costs," explains Jamila. "We'll never take a hard sell angle, it's not in our ethos. Ultimately we want you to end up with a ring that suits you, your lifestyle and your wallet."
As a rule of thumb, the higher the carat of gold and the more intricate the design is, the more expensive your piece will be. "There is no additional cost for using your own wood or beach sand, and using your own heirloom materials can reduce the cost," she says. "It completely depends on the design though."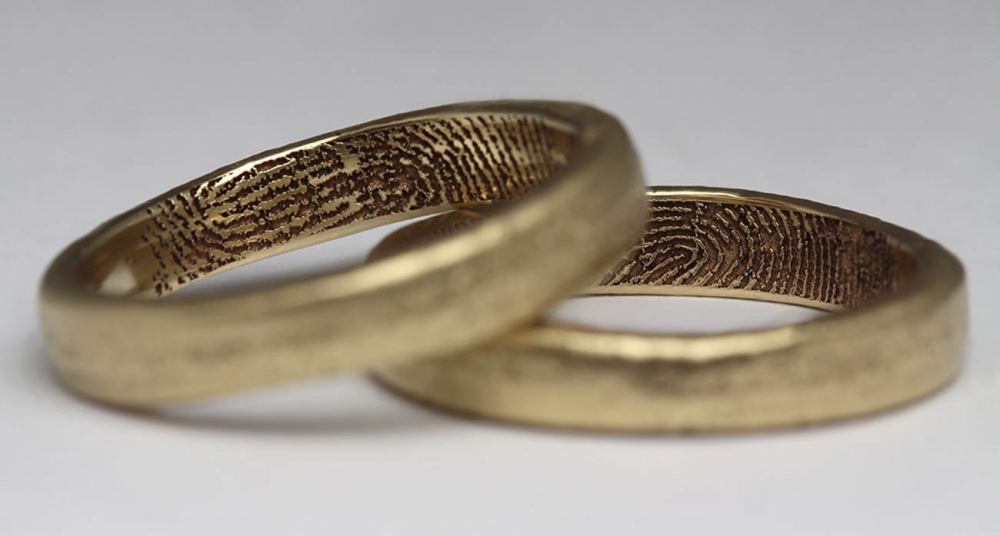 Ring size
Ring sizing is tricky. Most fingers change shape and fluctuate in size throughout the day and different temperatures. "If you have a ring that fits – that is perfect! We can take the size from it," says Jamila. If you have never worn a ring and have no clue on your size, you can order a set of ring sizers online. Choose a set that is made from a hard material, as anything flexible won't give you an accurate size. Also try to choose sizers that are a similar width to the ring you would like.
Unusual Personalisation
Beach sand and own wood
"Because our ring designs are cast in beach sand or inlaid with wood you can actually send us your own!" explains Jamila. "It's a lovely way of adding a unique and personal touch. Have you been holding on to a chunk of the cherry tree from your childhood home? Here's your chance to use it! Or perhaps your partner proposed to you on a beach? Your wedding rings could be cast in that very sand (from that very day if you're super organised!)."
The lovely thing about sandcasting is that at a glance your ring may look like a wedding band but, when you look closely, you can make out the subtle texture and the odd specks of sand captured on the surface of the gold.
"We do have an extensive collections of both wood and sand at the workshop that you can choose from," says Jamila. "Simply add a note to your order at checkout, or get in touch. We're always happy to help and there is no additional charge."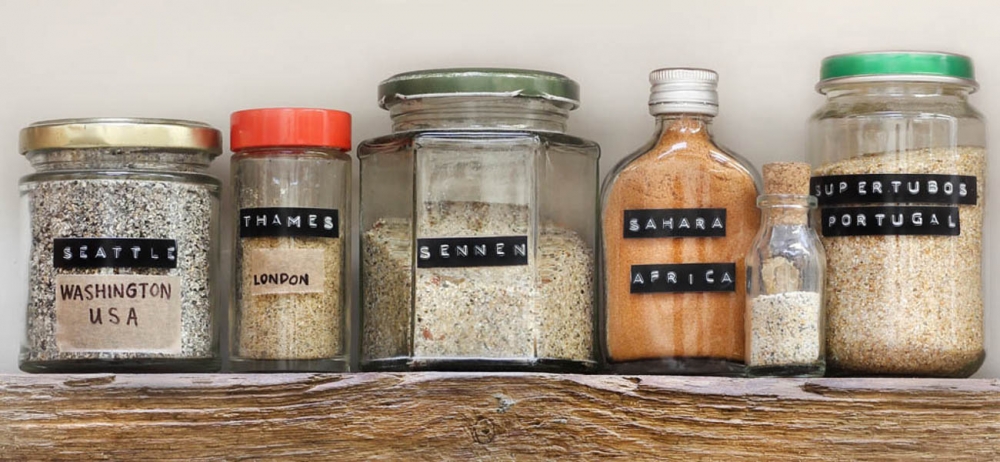 Stones
Stones are a great way of adding a bit of sparkle or a pop of colour to your ring. They can also be very symbolic – add birthstones to represent each other or loved ones, or if you have children it's a lovely way of including them in your wedding ring design.
Stones can be added to your ring design is a variety of styles, from a simple flush setting to a full eternity ring. Other options include a starry scatter of stones around the ring or little bead set diamonds in the crevices of a textured band.
Engravings
An engraving is a great way of personalising a wedding ring, from classic dates and names to more intricate laser engraving. "We have laser engraved fingerprints, doodles, contact details, parts of the coastline, elvish, you name it!" says Jamila. "All we need is a clear monochrome picture – or an idea and we can help you with the design, going so far as to create bespoke hand-drawn imagery."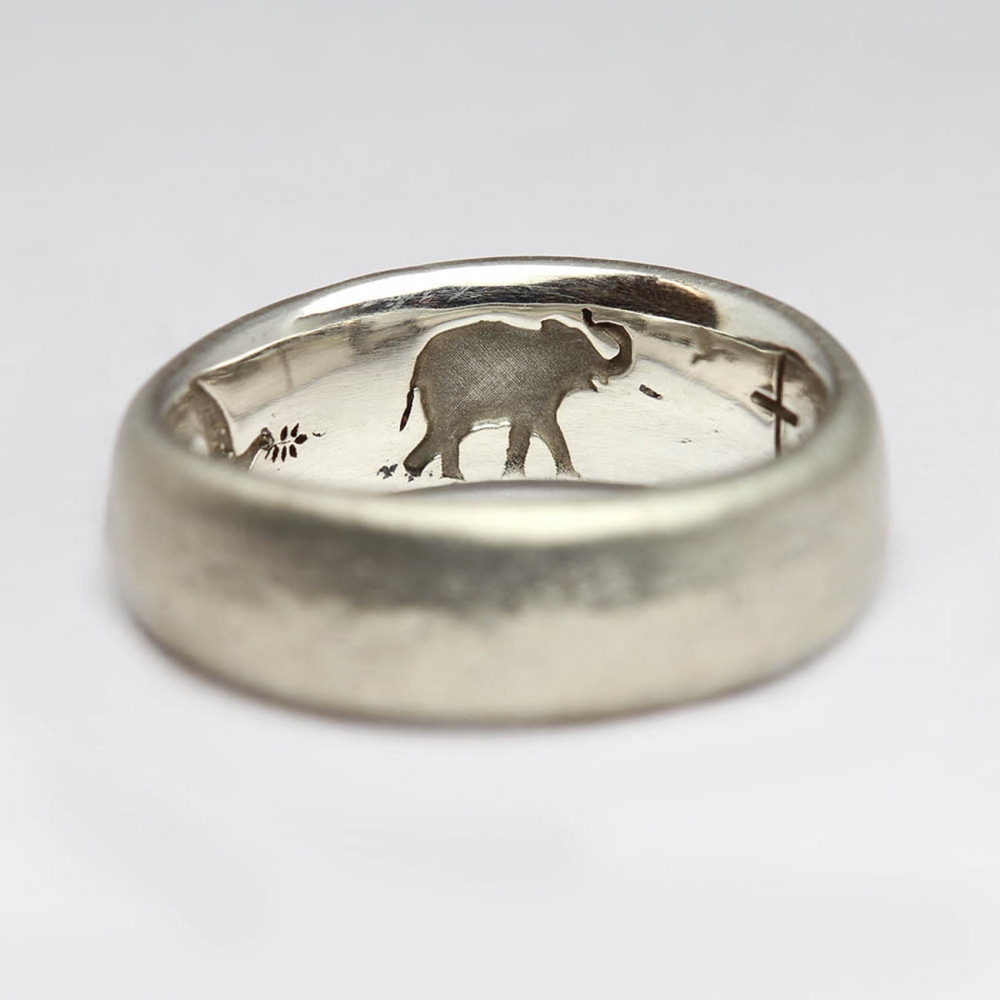 Using own heirloom metal
Nothing adds sentimental value like using your own materials, and if you have heirloom gold, Justin Duance can cast your ring from it. This also extends to including heirloom diamonds or gemstones in your piece.
Find out more about
using your own gold here.
And finally...
If you're looking for inspiration, Justin Duance Jewellery is always adding new projects to its
commissions gallery
, which is a great place to browse for ideas and inspiration for your wedding ring!
"We're always happy to chat through any ideas you have and answer any questions (there really aren't any silly ones!)," says Jamila. "Just get in touch, and we can guide you through how to choose a wedding ring from home."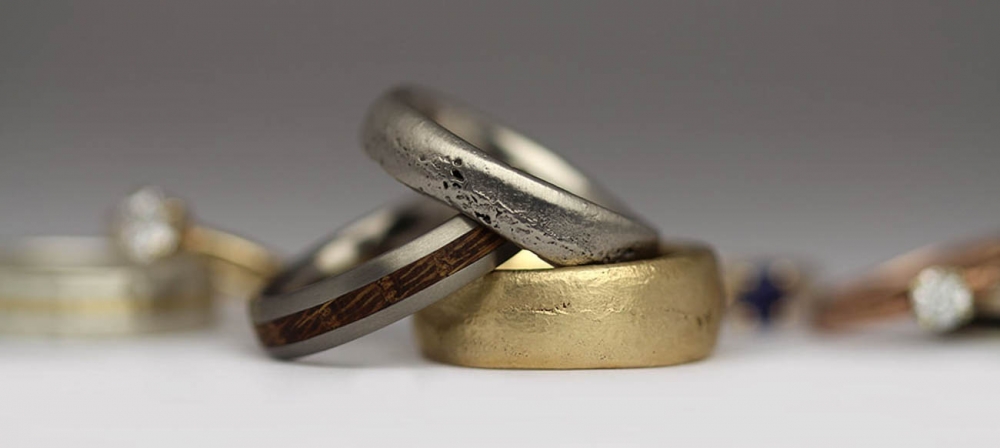 ---