The Latest Cornwall Issue of Wed Magazine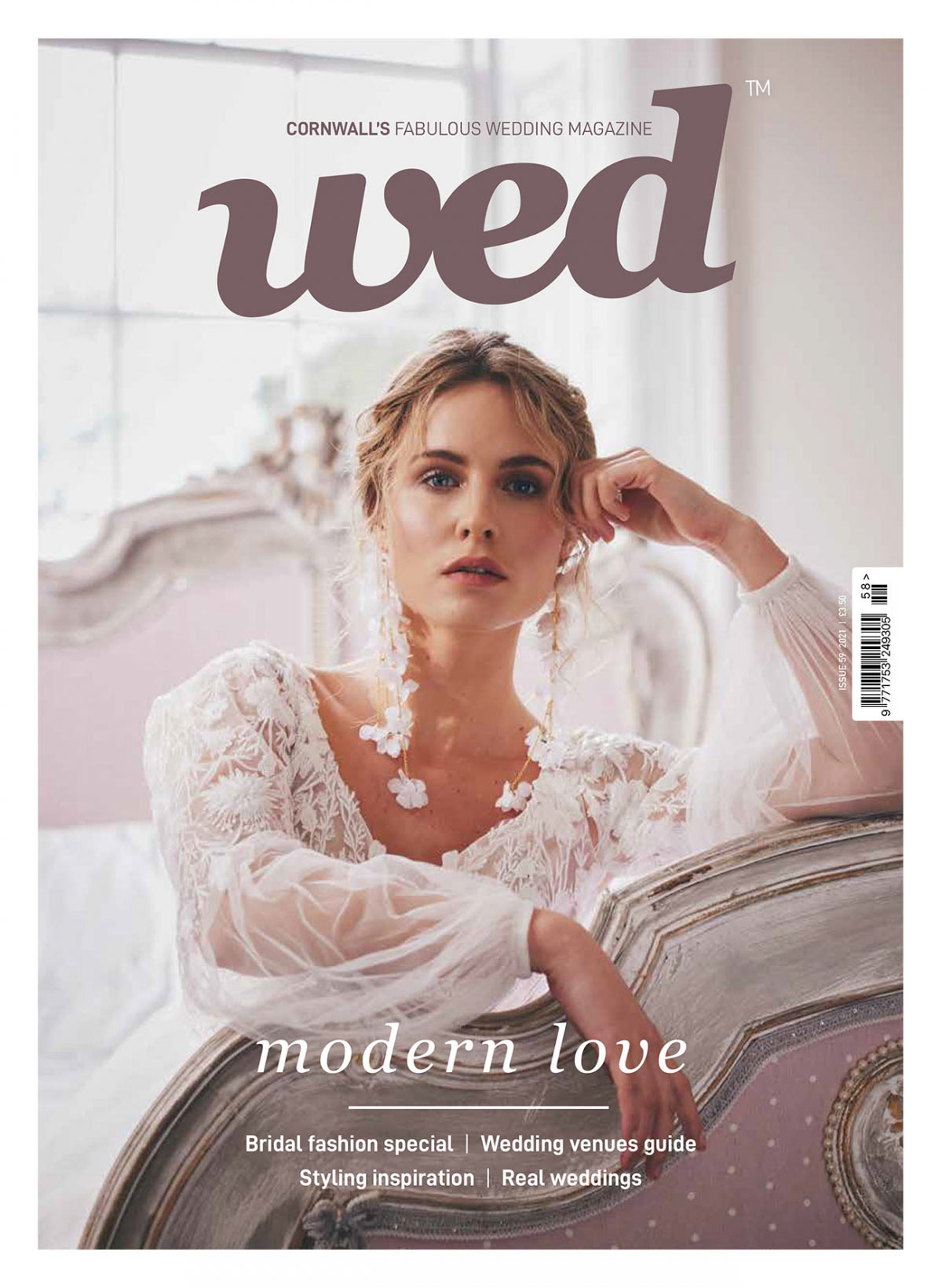 Cornwall Wed Magazine - Issue 59
HAPPY DAYS
Whether you're newly engaged and still swooning at the sparkler on your finger (congratulations!) or a seasoned Wed reader winging your way to the aisle, welcome to the new issue of Wed Magazine! Run by a tiny team in the far west of Cornwall, we like to see Wed as your constant companion on this incredibly exciting journey. From the glossy pages of the magazine to our information-packed website and social media platforms, we look forward to informing, inspiring and stirring butterflies of anticipation for the joy-filled times ahead.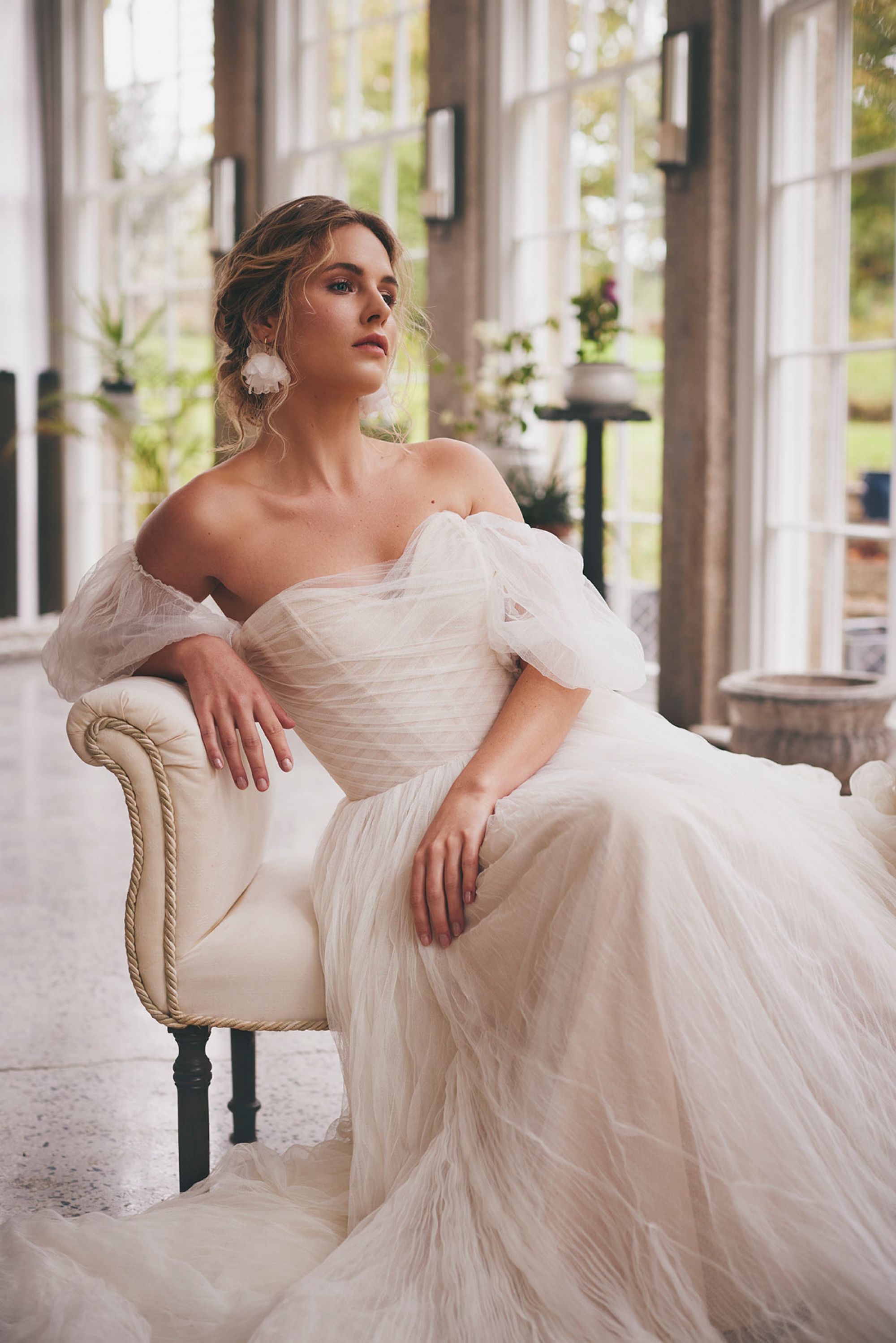 Liam Arthur
This issue is all about romance. This extraordinary county never ceases to amaze me when it comes to hidden treasures and breathtaking settings to wed – and arriving at new venue Roswarne offered one of those 'wow' moments. Tucked away in the historic mining heart of the county, the lovingly restored Regency house offers elegant, light-filled spaces for a wedding – and made a perfect setting to showcase the romantic silhouettes currently taking the bridal world by storm. You'll find light, airy skirts, statement sleeves and acres of chiffon and tulle in 'New Romantics'.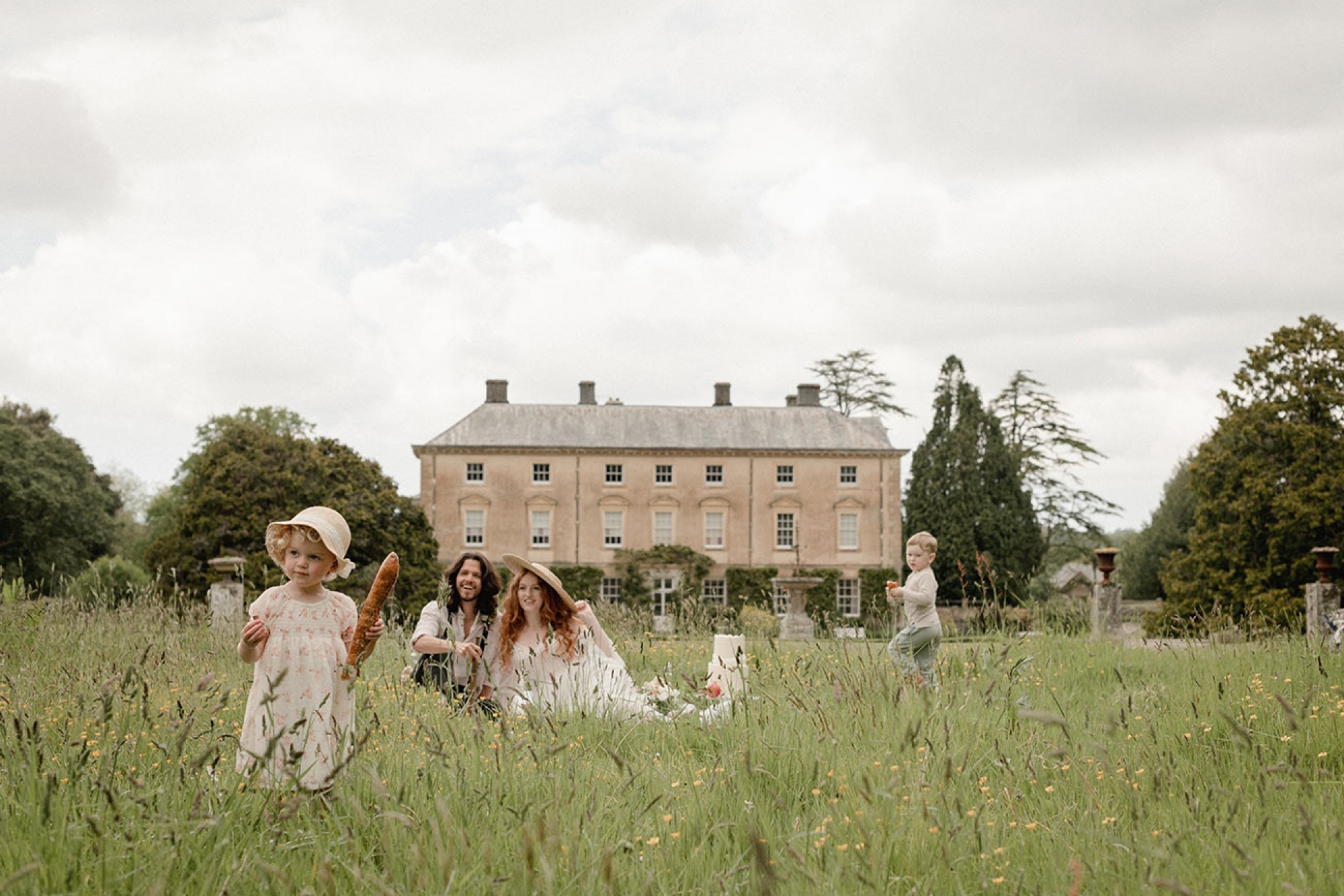 Lyra & Moth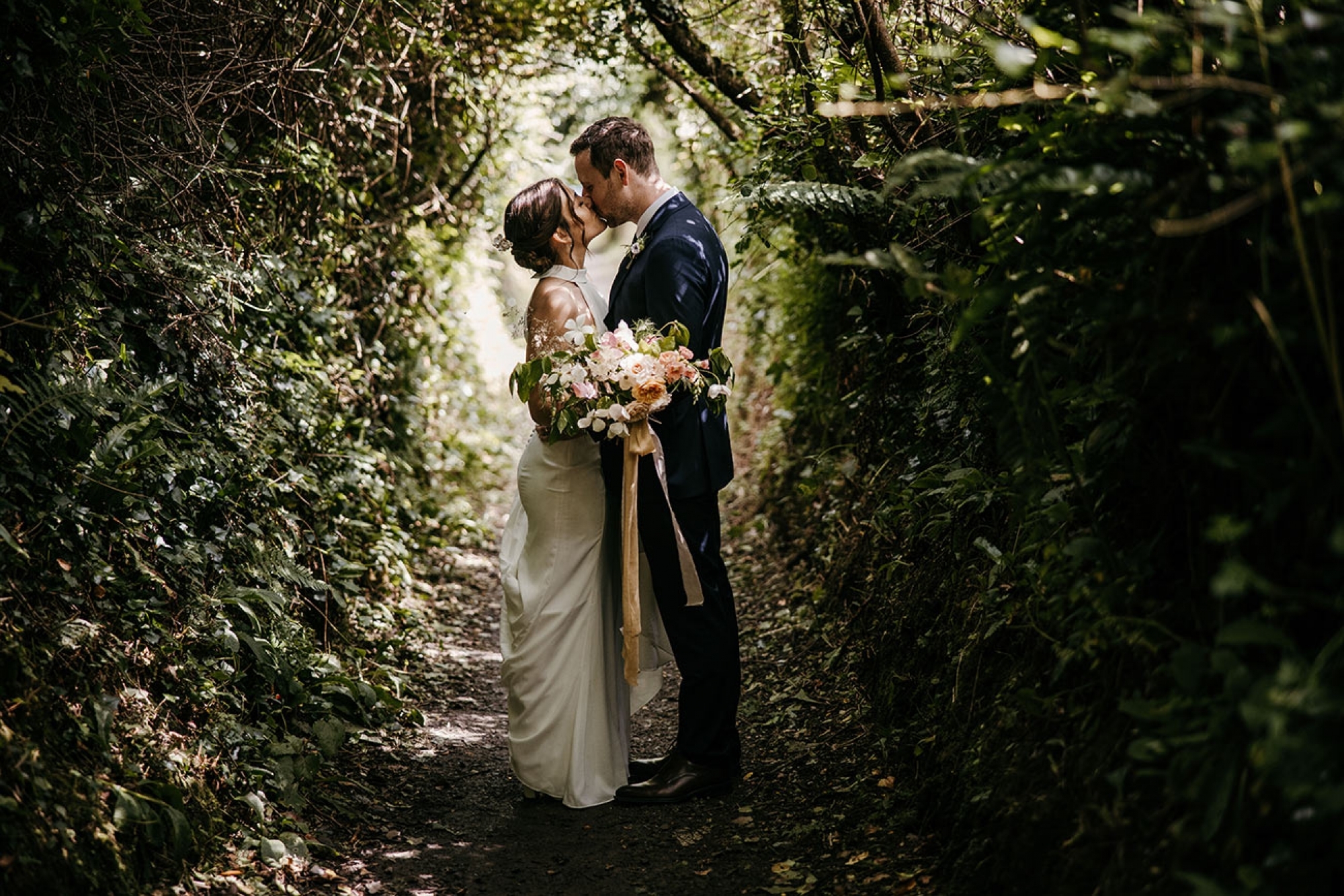 Nick Walker
Period influences and a palpable sense of timeless romance continues in 'A Family Affair', a dreamy styled shoot featuring ethereal blooms, the most beautiful gown and cherished moments amongst the meadow flowers of Pencarrow. 'In Her Element' showcases more out-of-this-world gowns against a canvas of lakes, woodland and abandoned engine houses at Kudhva on the edge of the north coast.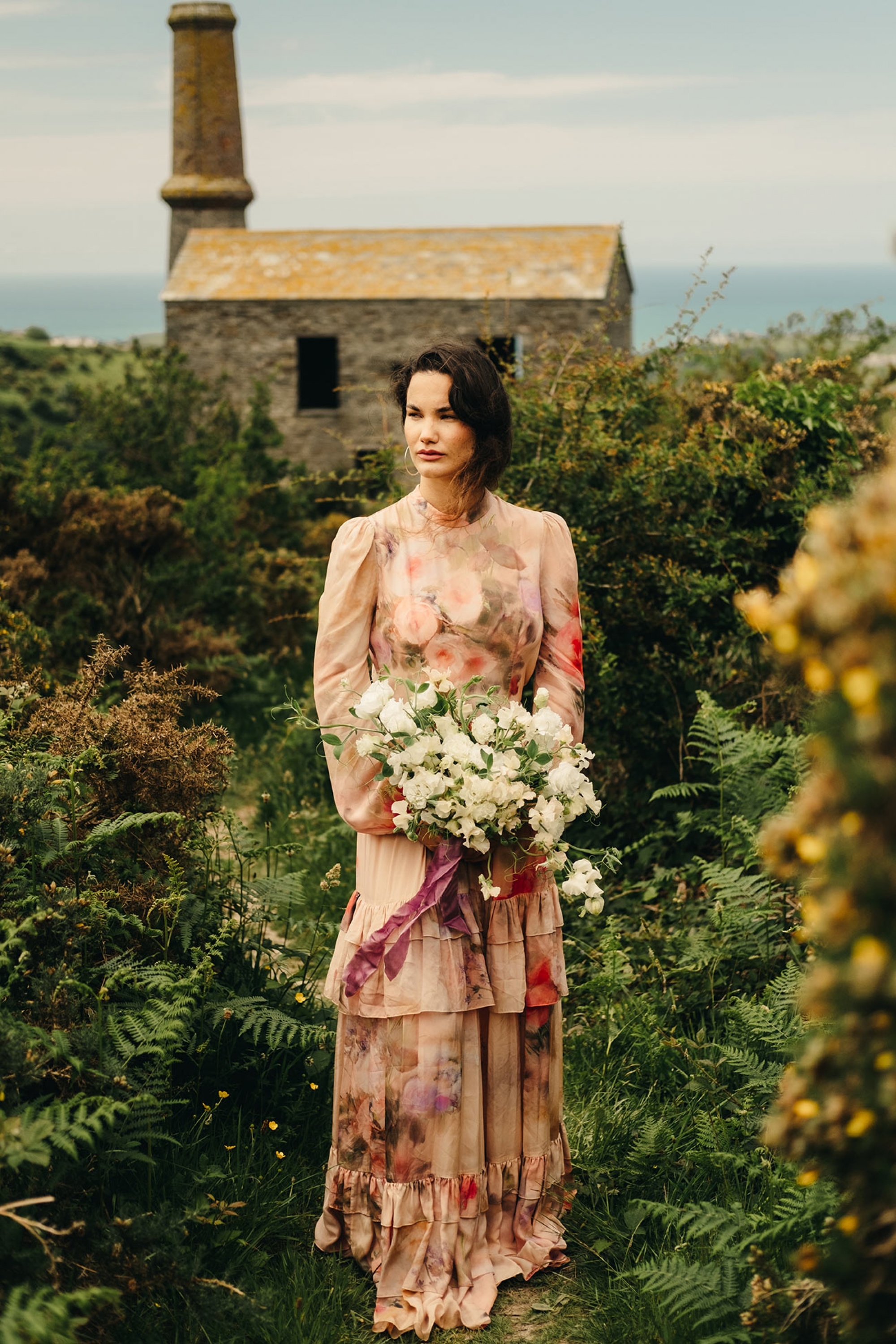 Verity Westcott
Verity Westcott
And you'll find soul-stirring stories of love in our 'Got Wed' section. After the heartache and endless postponements of the past 18 months, it's been wonderful to receive so many incredible weddings. We love them all, from the sun-drenched, laidback vibes of Lucy and Toby's bohemian celebrations at Stennack Farm to the colour and laughter of Leanne and Ricky's two-part wedding at Pengenna Manor. There were al fresco vows, dancing on a Cornish clifftop and the warm hues of the Californian desert at Sivan and Jamie's gorgeous wedding on the Lizard Peninsula. And Megan and Jake chose their special place – Port Isaac – to throw a gorgeous festival themed wedding overlooking the coast. Each wedding draws on the beauty of this epic county – together with the passions and personalities of the happy couple – to create the most heart-warming celebrations of love and togetherness… something we all prize more highly than ever.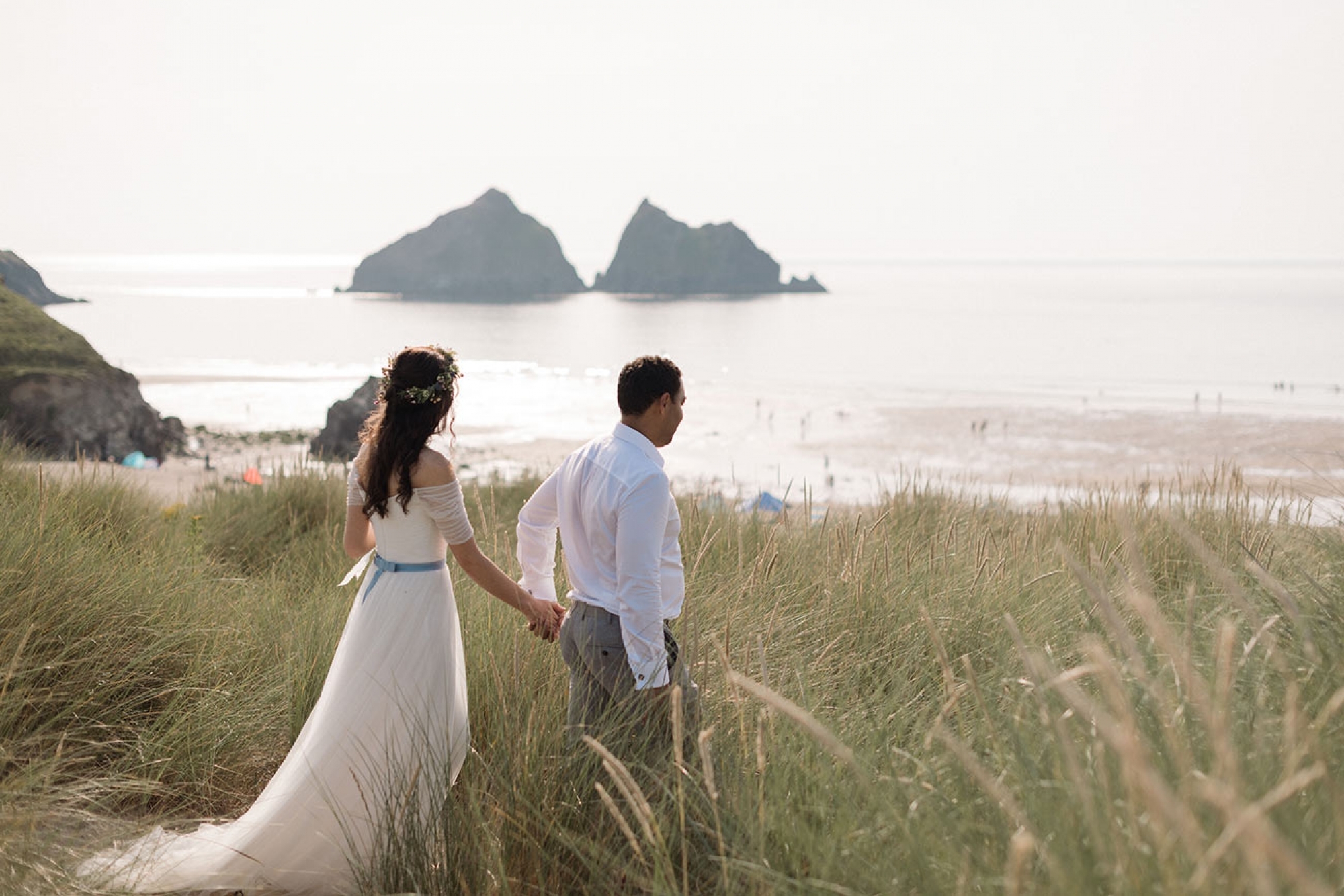 Lyra & Moth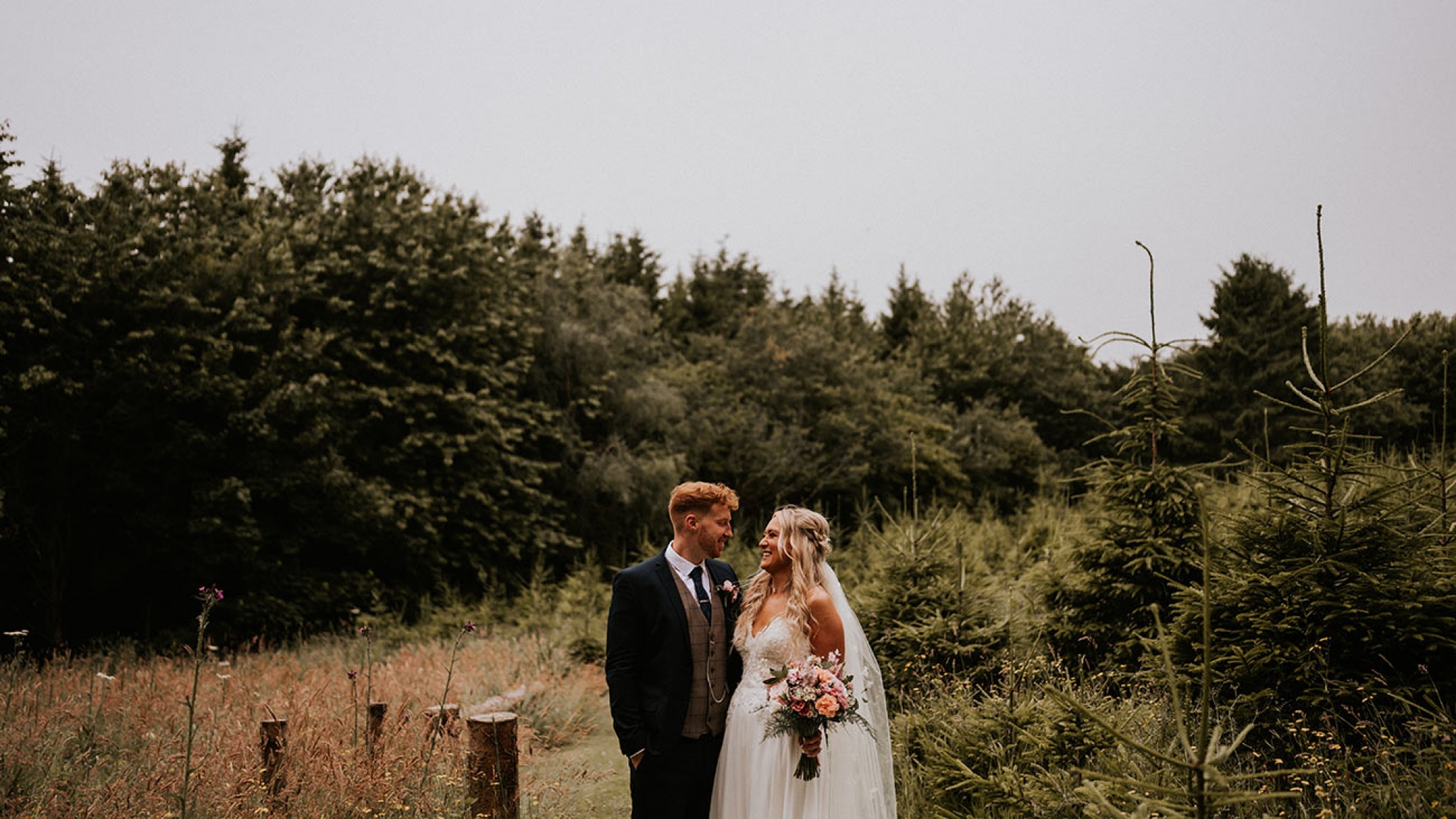 Hannah Barnes
So here's to love – and the party of your life as you celebrate your union with those you hold dear. We look forward to being there every step of the way to the happiest of days.
Rebecca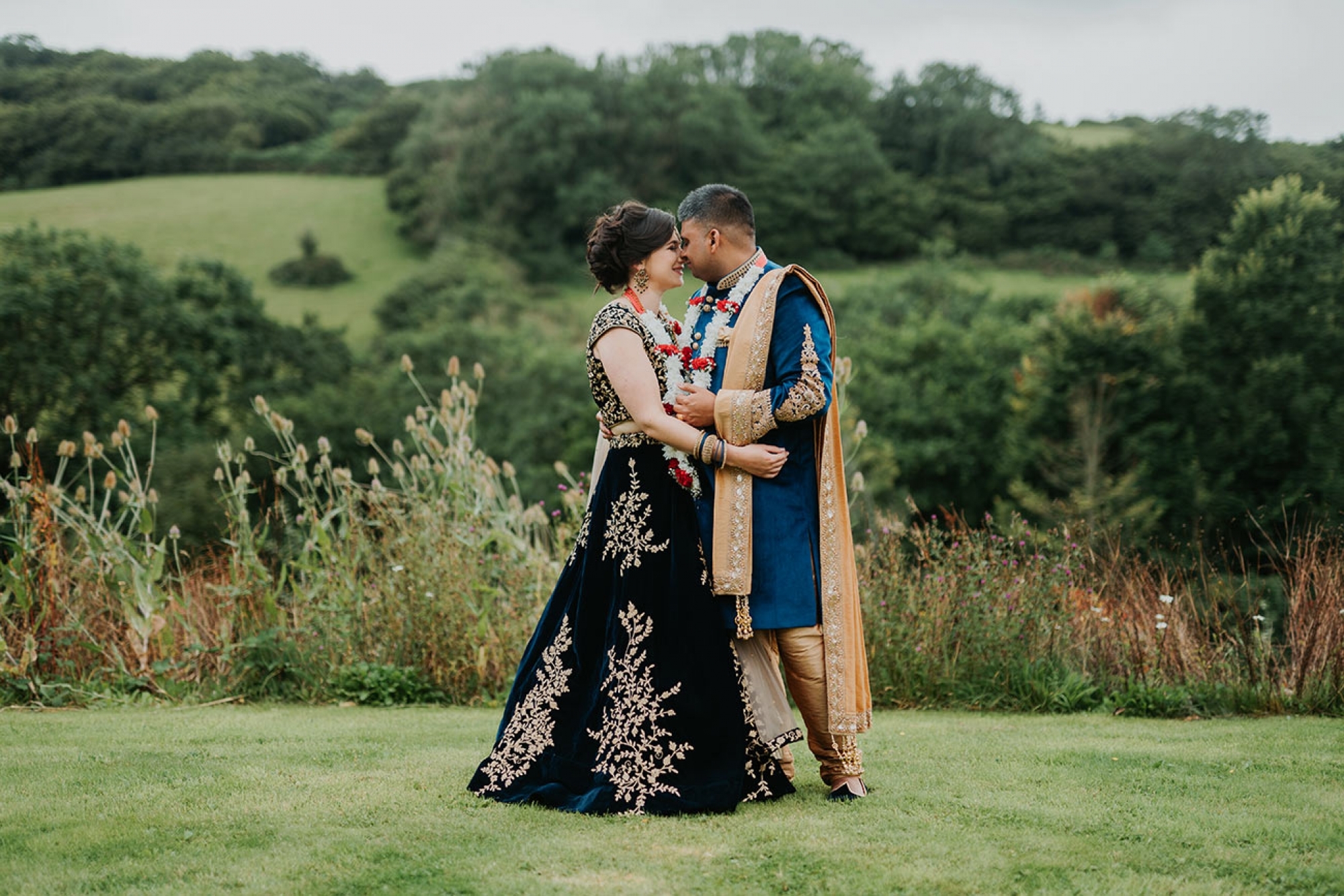 Steven Prebble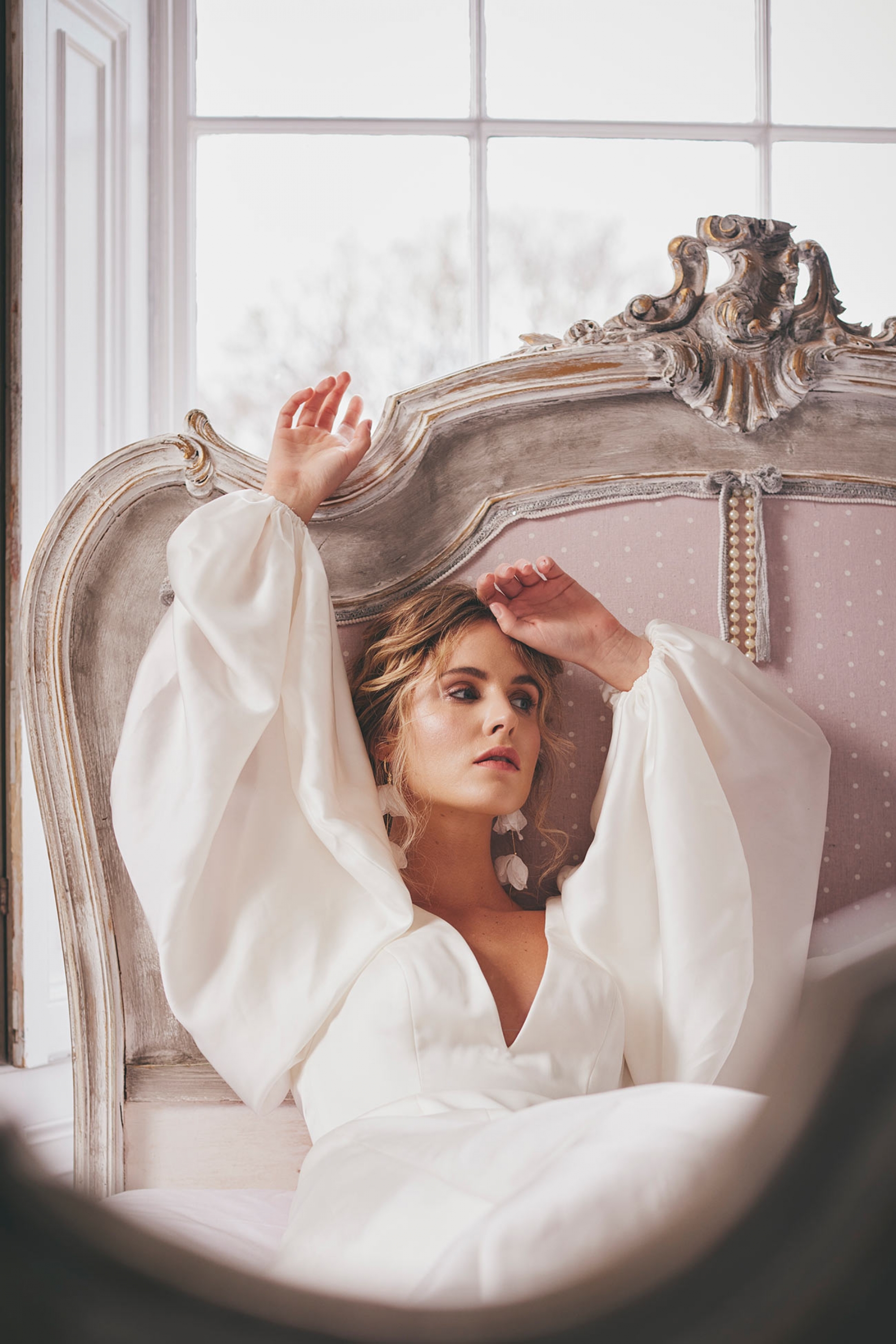 Liam Arthur
STYLE
16. AMAZING GRACE
Literary inspired touches for a timelessly beautiful wedding
20. NEW ROMANTICS
Airy, dreamlike gowns and billowing sleeves
30. IN HER ELEMENT
Extraordinary gowns captured in the wild Cornish landscape
38. WED'S WISH LIST
Dream dresses and head-turning accessories
46. SHE'S THE ONE
Expert advice for choosing your dress of dreams
50. SHAPE OF YOU
Swoon-worthy silhouettes, from airy ball gowns to uber glam mermaids
62. WED'S BOUDOIR
Bridal beauty tips and trends
78. THE BRIDESMAID DRESS EDIT
These frocks are serious bridal party goals
85. MAKING THE CUT
Top silhouettes and seasonal styling for the man of the moment…
89. WED'S HIP LIST
Fresh, fun and fabulous ways to add a unique touch to your day
92. A FAMILY AFFAIR
Bountiful blooms and a dreamlike dress for a French inspired picnic elopement
98. TRULY MADLY DEEPLY
Pastel petals and easy-breezy fashions weave a romantic lakeside wedding
FEATURES
6. I'M ENGAGED, NOW WHAT?
How to start planning your day of dreams with wedding planner Jenny Wren
8. CEREMONIALLY SPEAKING
A rundown on the various options for formalising your union
58. HEAVEN SCENT
Aromatic ideas for your wedding and fragrances to fall in love with
64. CHILL OUT
Wedmin-frazzled? Recharge with one of these sublime experiences
70. RING AWAKENING
How to find a forever-worthy ring
74. THE ZERO-DRAMA GUIDE TO BRIDESMAIDS
Look forward to bridesmaid bliss with these top tips
81. GOOD MORNING SUNSHINE!
From brunching to beautifying, here's how to bring the joy to your bridal preparations
104. IT'S ALL ABOUT YOU
Fashions, feasting and how to do your day your way
109. NEW ORDER
Reimagine your wedding day with these personality-packed ideas
113. WED'S VENUES GUIDE
The ultimate guide to Cornwall's finest wedding venues
143. CORNISH CHARM
Romantic retreats for a honeymoon in Cornwall
REGULARS
10. BRIDAL BUZZ
What's new, what's hot, what's on
153. GOT WED
Newly-weds share a glimpse of their day
194. NOTES ON A WEDDING
Top tips for your planning pleasure
Editor
Rebecca Matthews
Deputy editor
Lucy Higgins
Chief features writer
Hannah May
Contributors
Elizabeth Chester, Rebecca Green, Jessica Kearney
Design
Matt Sanwell, Design UNLTD
Advertising and Management
Brendan Sleeman
Distribution
Jenna Matthews
Finance
Morwenna Matthews
Publisher
Wed Magazine
28 Reens Crescent
Heamoor
Penzance
Cornwall
TR18 3HW
01736 331456
wed@wedmagazine.co.uk
wedmagazine.co.uk
Print
Deltor Communications Ltd
Cover image
Photography Liam Arthur liamarthur.com
Dress Lillian West, Elaine Rawlings Bridal Boutique elainerawlings.co.uk
Styling & make-up Suzi Winter suziwinter.co.uk
Hair Hattie Searle Hair harrietsearlehair.com
Earrings Victoria Louise Accessories victoria-louise.co.uk
Model Lydia Cooke lydia-cooke.com
Wed

Directory

All you need from the finest wedding suppliers in Cornwall and Devon