The Latest Cornwall Issue of Wed Magazine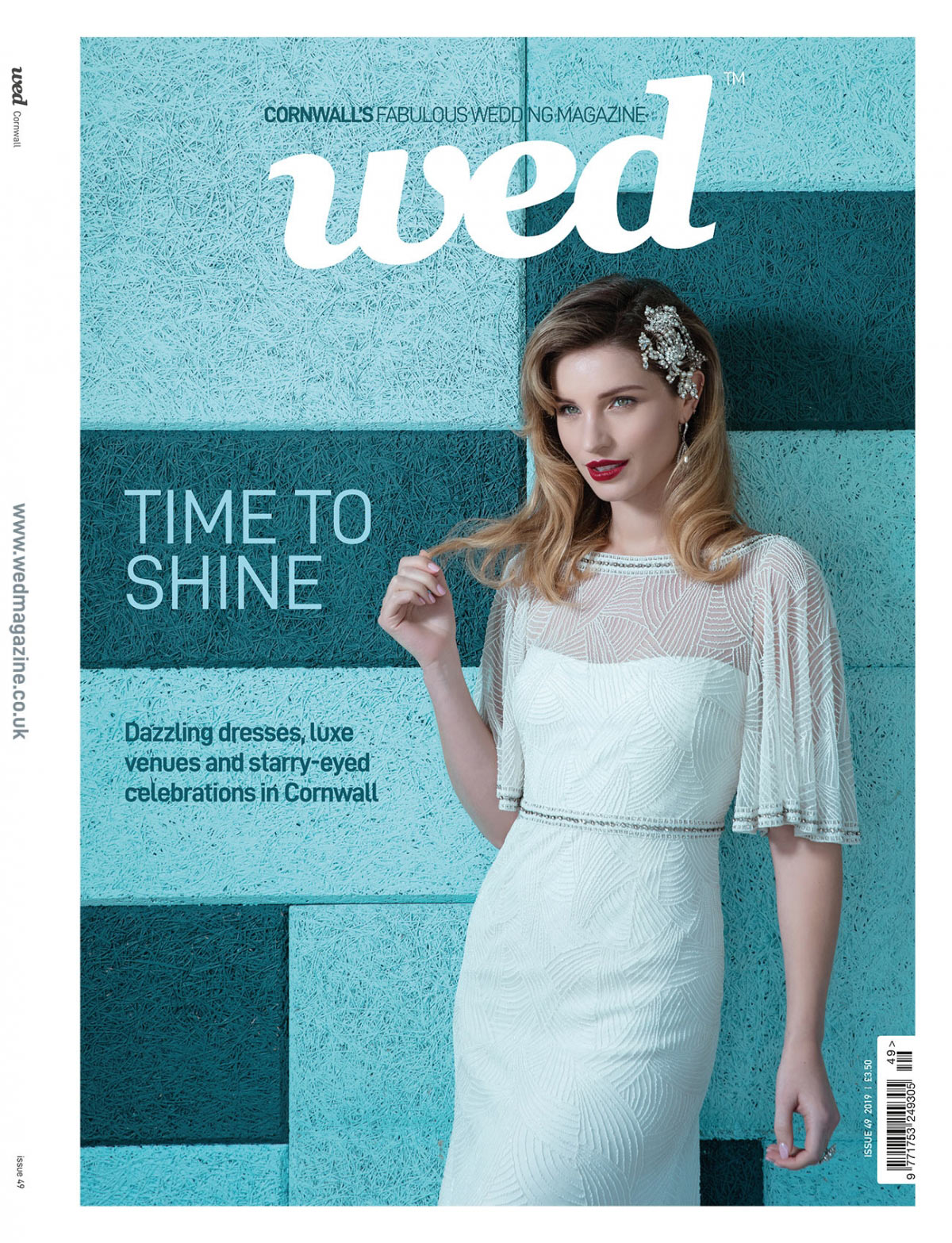 Cornwall Wed Magazine - Issue 49
Order Cornwall Wed Magazine - Issue 49 online - £4.99
SHINE ON!
Looking over our gorgeous cover while writing this, one word really jumps out at me: 'shine' - for this issue is all about shining bright. Beyond the glamorous dresses and twinkling jewels of our bridal fashion story 'Time to Shine,' which glinted so beautifully in the spring sunshine at St Moritz Hotel, there's the array of features, style showcases and real weddings which illustrate how your personalities can really shine through on your wedding day.
Taking an individual approach to your wedding has always been at the centre of our ethos here at Wed - after all, if you can't celebrate your likes, loves and uniqueness as individuals and a couple on your wedding day, when can you? I got married in 2012 and, taking a loose theme of 'things we love', my husband Brendan and I endeavoured to pour our personalities into our day. The Cornish-Irish themed wedding breakfast and Cornish tartan donned by the groom's party were a nod to our Celtic roots. Having bonded over a love of music, Pink Floyd, Mousehole Male Voice Choir (of which Brendan and my dad are members) and a rock guitar exit made for a ceremony full of our favourite sounds. We even had a skiffle band performing Elton John's 'Benny and the Jets' during the drinks reception (the song that was stuck on the car stereo during the proposal!), while a Captain Jack Sparrow lookalike acted as MC in homage to my love of Johnny Depp! Despite all of this, I've had so many 'I wish we did that' moments as we've put together this issue. There's just so many wonderful things you can do and wear today to make your day brilliantly 'you'.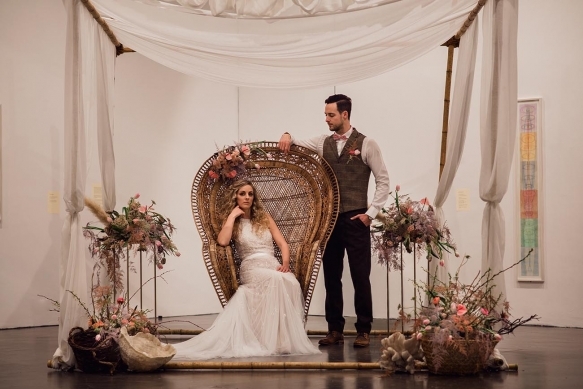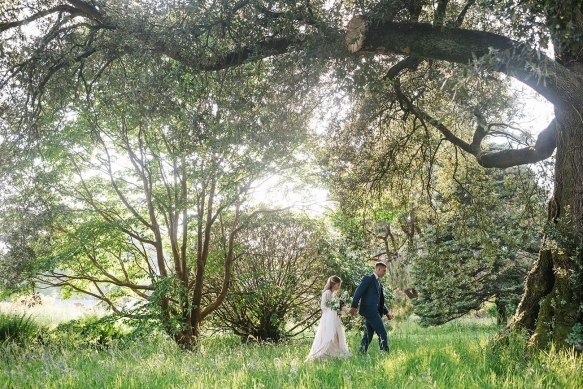 Modern wedding dresses, for example, offer so much scope for a bespoke twist, whether you create your own look from separates, add a pop of colour or don a customised cape. Head to 'All About You' on p.34 for more inspiration. Veils are another option for a so-you statement; in 'What's Your Veil Vibe?' on p.50 you'll find everything from feathered to floral designs. And then there's the shoes: whether you fall for rainbow heels or bespoke bridal trainers - anything goes! See 'Stepping Out' on p.56 for some lust-have looks.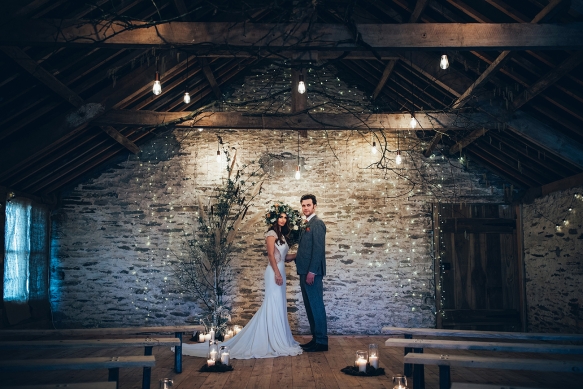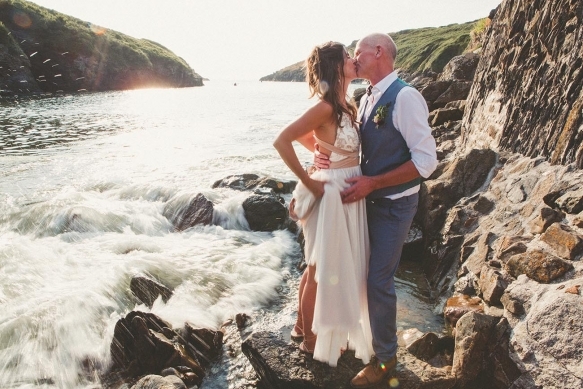 As for your venue, the astronomic rise of weddings being celebrated under canvas is in no small part thanks to the draw of making your reception space your own - and in the location of your choice. Turn to 'Cool Canvas' on p.90 for inspiration, from stunningly styled traditional marquees to magical tipis in jaw-dropping locations.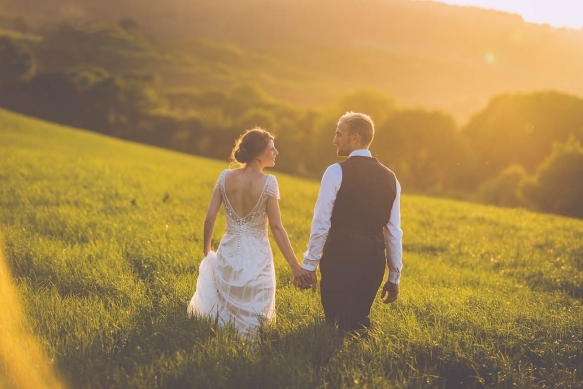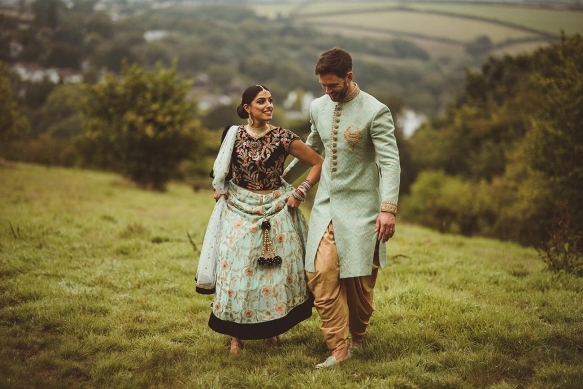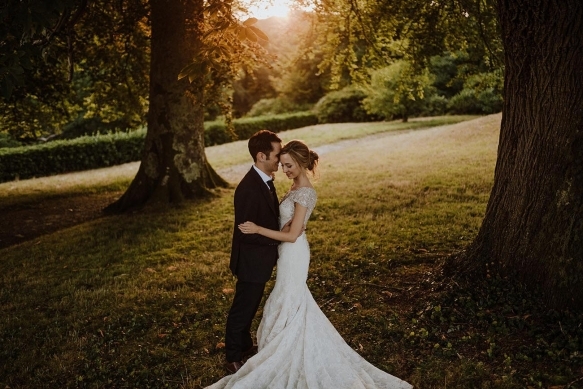 The wonderful couples who share their wedding stories in this issue's 'Got Wed' infused their shared loves and experiences into their days in rather brilliant ways. Rosie and Liam, for example, treated their guests to a menu full of flavours from their European travels on tables named after a celebrity food name game they play. Brydė and Chris took their shared passion for nature and saving bees as their theme for a tipi wedding full of handmade and honeycomb inspired details. And Kejal and Matt made their cultures front and centre of a two-part fusion wedding brimming with Indian colours and personal touches.
I hope this issue inspires you to shine on your wedding day, whatever the weather decides to do!
Rebecca
STYLE
20. LADY LUXE
Dazzling ideas for a wedding where modern glamour meets a dash of deco
22. LET IT SHINE
Savour the spotlight in a glamorous gown lavished with decadent detail
34. ALL ABOUT YOU
Add a so-you twist to your wedding dress with these top trends
42. LOVE STRUCK
Dreamily romantic gowns adorned with intricate lace and statement florals
50. WHAT'S YOUR VEIL VIBE?
Funky, feathered or floral? There's a veil for every bride in this showcase
56. STEPPING OUT
Our pick of the hottest bridal shoes, from towering heels to tailor-made trainers
60. WED'S BOUDOIR
Bridal beauty tips and trends
70. WORKING THE GROOM
Style tips for the man of the moment
74. WHERE THE WILD FLOWERS GROW
Timelessly elegant wedding inspiration in a secret Cornish garden
103. ART AND SOUL
A modern art gallery sets the scene for a Cornish Malibu inspired wedding
116. NATURAL BEAUTY
Savour the rustic romance of winter wedding in the Cornish countryside
FEATURES
58. YOURS TRULY
Inspiration for beautifully bespoke wedding rings
62. SOUL SISTER
The latest wellness ideas for achieving a W-day glow from the inside
67. STRESS LESS
Take some timeout from the wedmin with these stress-busting finds
73. WED'S HIP LIST
Fresh, fun and fabulous ways to style your day
80. PARTY SCENE
The latest styling ideas rocking the wedding scene
86. AFTER DINNER DELIGHTS
Delectable coffee-based cocktails and perfectly paired sweet treats
90. COOL CANVAS
Inspiration for a marvellously modern wedding under canvas
97. FAST LOVE
How to plan a wedding in a short timeframe from those in the know
107. PUPPY LOVE
Top tips for throwing a dog-friendly do
112. GUEST WHO?
How to navigate awkward guests, from fussy friends to rival relations
122. LITTLE TREASURES
Themed treasure hunt ideas to delight your little guests
124. CHILD'S PLAY
Keep the kids smiling with these fun-filled finds
126. TRULY MADY DEEPLY
Stylish sea-edge venues for a dreamy waterside wedding
141. GREAT EXPECTATIONS
How to navigate the misconceptions of marriage
REGULARS
6. BRIDAL BUZZ
What's new, what's hot, what's on
134. THE VENUE
Licensed venues for civil ceremonies in Cornwall
153. GOT WED
Newly-weds share a glimpse of their day
186. NOTES ON A WEDDING
Top tips for your planning pleasure
Editor
Rebecca Matthews
Deputy editor
Lucy Higgins
Chief features writer
Hannah May
Contributors
Elizabeth Chester, Abby Driver, Kate Fierek, Jennifer Granlund, Rebecca Green, Chris Wasey
Design
Matt Sanwell, Design UNLTD
Advertising and Management
Brendan Sleeman
Distribution
Jenna Matthews
Finance
Morwenna Matthews
Publisher
Wed Magazine
28 Reens Crescent
Heamoor
Penzance
Cornwall
TR18 3HW
01736 331456
wed@wedmagazine.co.uk
wedmagazine.co.uk
Print
Deltor Communications Ltd
Cover image
Location St Moritz Hotel stmoritzhotel.co.uk
Dress Eliza Jane Howell, The Bridal Room St Ives
thebridalroomstives.co.uk
Hairpieces Glitzy Secrets glitzysecrets.com
Blushing Flamingos blushingflamingos.co.uk
Earrings & ring Glitzy Secrets glitzysecrets.com
Photography Kirstin Prisk kirstinprisk.co.uk
Hair Ro Hair rohair.co.uk
Make-up & styling Suzi Winter suziwinter.co.uk
Model Tessa Maye
Wed

Directory

All you need from the finest wedding suppliers in Cornwall and Devon