The Cornwall Edition of Wed Magazine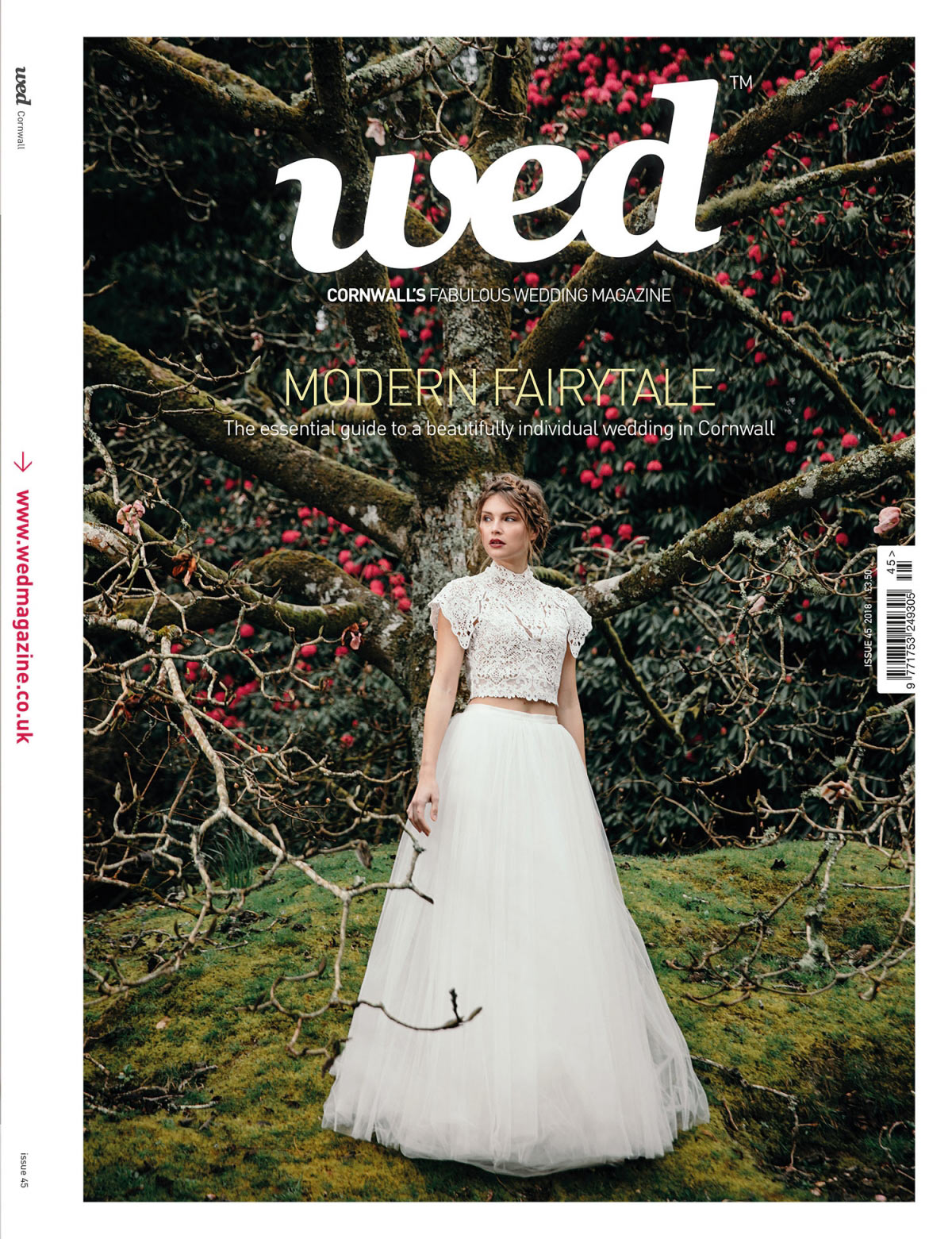 Cornwall Wed Magazine - Issue 45
Order Cornwall Wed Magazine - Issue 45 online - £4.99
ONE FINE DAY
Tucked away on Cornwall's south coast, Caerhays Estate is a fresh-from-a-storybook setting: the lofty turrets of Caerhays Castle sit amidst pretty gardens that slip down to the sands of Porthluney Beach. Particularly spectacular in spring, we chose this enchanting setting for our bridal fashion story, 'Ever After': a showcase of romantic fashions for the modern fairytale bride, all light, swooshy skirts and unfeasibly dreamy detail.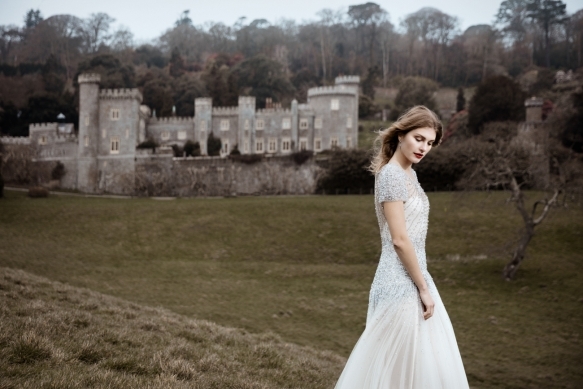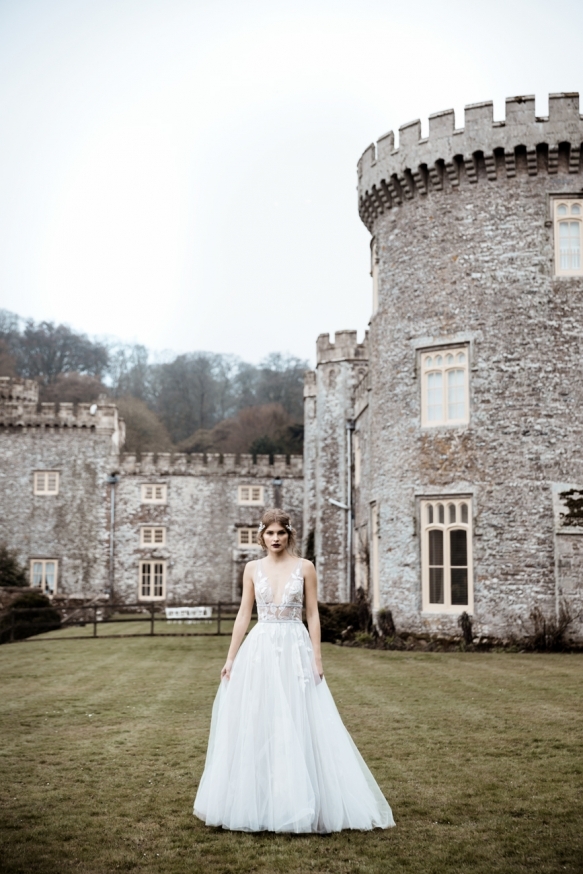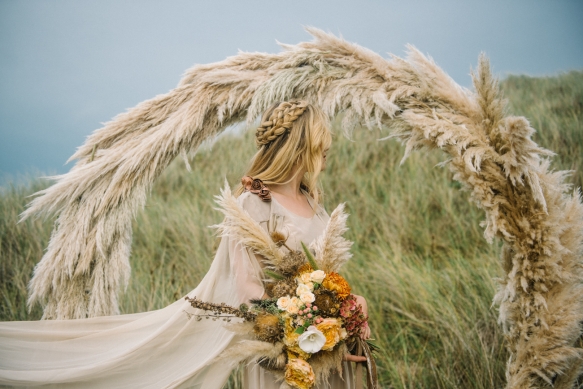 On the day, however, our visions of blue skies and blossom-cloaked trees were dashed by the rain that trickled down our windscreen as we wound our way along the lanes of the south coast. That, and the lingering impact of the 'Beast from the East,' which meant the gardens were yet to bloom into their usual spring carnival of colour. After watching the clouds scudding across the sky and willing the sunlight to burn through, we decided to venture outside regardless, dressing our lovely model in a series of exquisite gowns in a campervan, which came in handy for sheltering from the rain showers!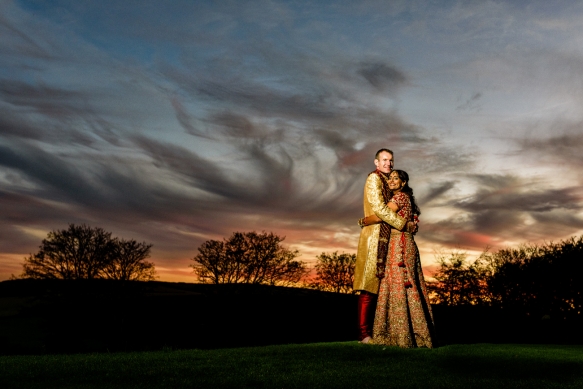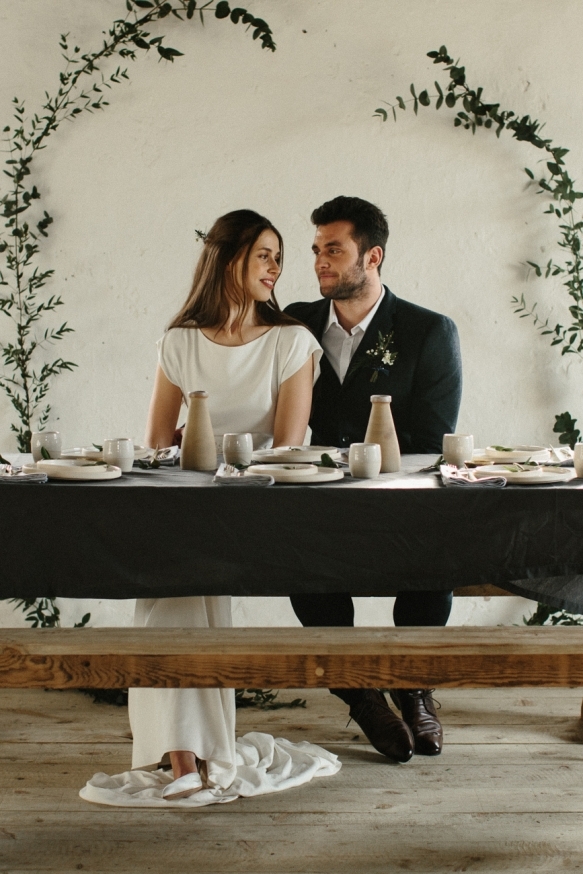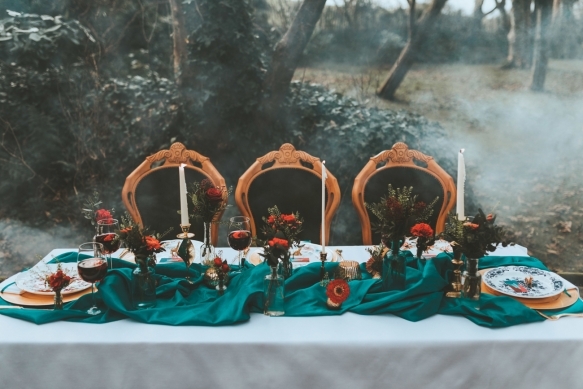 Looking at the images now - the stark trees on the tip of bursting into flower, the sea mist shrouding the castle walls, the moody cloud-strewn skies - there's a magic to the shoot that we never could have planned for. The fairytale might not have been the one we intended - but the results are entrancing, atmospheric and arguably more beautiful than if we'd arrived to blossom and blue skies.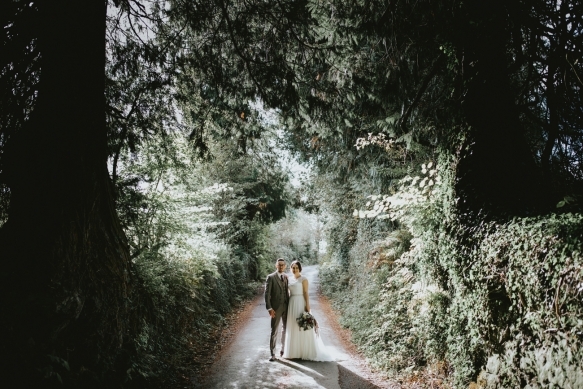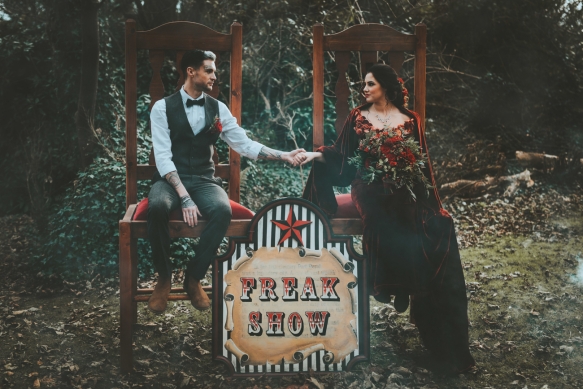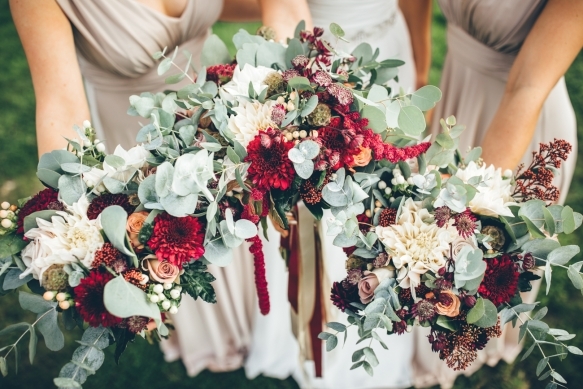 And this is something to bear in mind on your wedding day. Things may not go according to your fine-tuned plans - but that, so often, is when the magic happens. Whether it's wild winds, heavy snow, torrential downpours or stubborn sea mist, take a breath, focus on what matters - and embrace whatever the elements throw at you.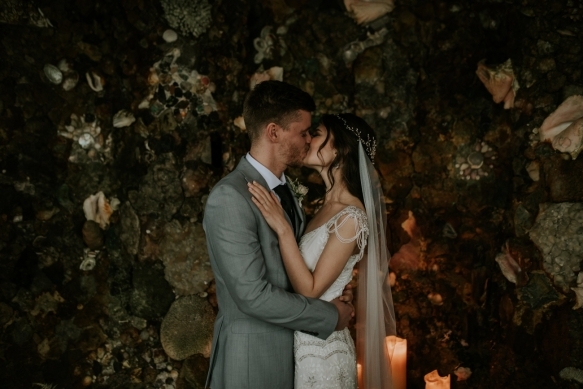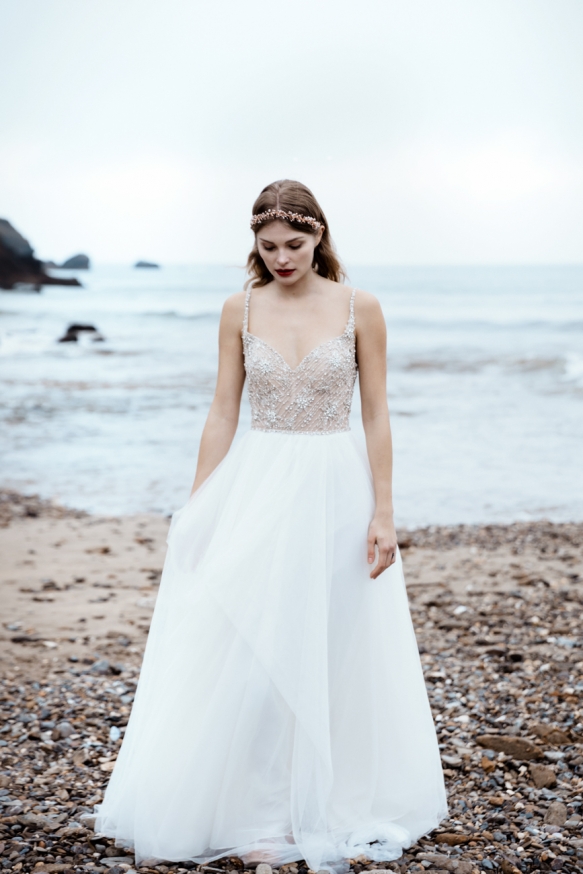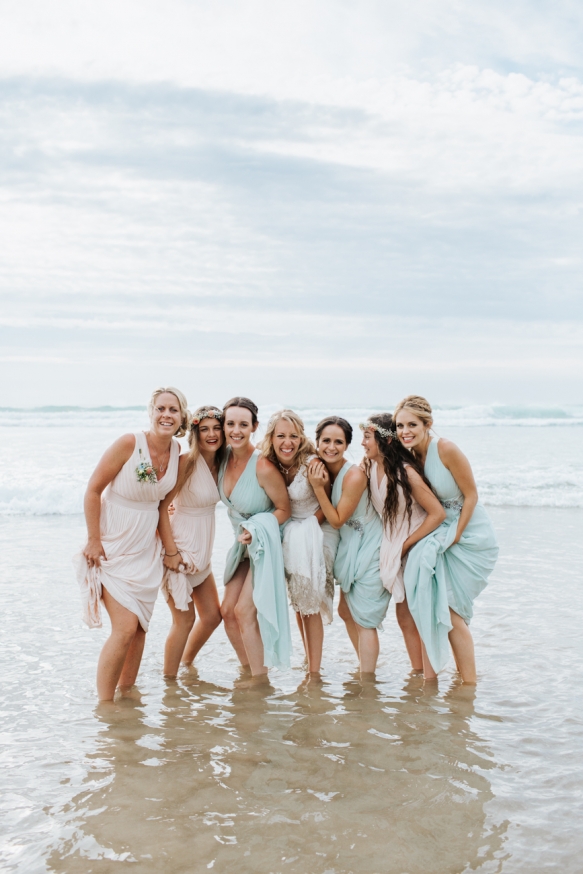 For Ashley and Keith, whose wedding is featured on p.164, bracing the strong winter winds on Rame Head and finding themselves surrounded by wild ponies - a moment that Ashley describes as "one of the most incredible of my life. It was just so unexpected and so utterly romantic" - created the most wonderful wedding day memories.
Alana and Mike's wedding, which features on p.168, took place during the dramatic week of storms back in March, which meant that only 30 of their 70 guests could attend. "Everything that could possibly go wrong probably did, but it didn't matter - I wouldn't change any of it!" she says. After all: you're marrying the love of your life. So your fairytale might run differently from the script - I say, savour every moment of your day in all its spontaneous, memorable and oh-so romantic glory!
Rebecca
Contents:
STYLE
18. UNDER THE SEA
Soft blues and mermaid jewels for a wedding inspired by the ocean
20. EVER AFTER
Channel the modern fairytale bride in light skirts and romantic embellishment
32. THE TEST OF TIME
Classic style meets modern fashion in these top-trending gowns
40. INTO THE SHADOWS
Whimsical bridal wear beautifully juxtaposed with shades of rich copper
48. WED'S BOUDOIR
Bridal beauty tips and trends
68. WORKING THE GROOM
Style tips for the man of the moment
71. BATHED IN GOLDEN LIGHT
Warm colours and pampas grass inspire an autumnal celebration by the sea
92. SIMPLE PLEASURES
A modern, minimalist aesthetic meets rustic and romantic Cornish character
106. SOME KIND OF WONDERFUL
Vintage carnival vibes with a twist of modern-day glamour
FEATURES
46. BRIGHT AND BEAUTIFUL
Add colour to your wedding ring for a standout symbol of your love
50. SOMETHING BLUE
How to incorporate your 'something blue' into your wedding day
55. HERE COME THE GIRLS
Enjoy top times with your besties in these heavenly hen houses
63. KEEP CALM AND CARRY ON
How to handle the things that might go wrong on W-day
78. PLANNED TO PERFECTION
Expert planning advice on those often overlooked W-day details
84. AND THE FEAST GOES ON
Menu ideas for the night before and morning after the main event
88. EAT. SPEAK. LOVE
Top tips on scheduling those all-important speeches
98. BLANK CANVAS
Make marquee magic in a personality-packed party space
112. THE ECO BRIDE GUIDE
How to plan a planet-friendly wedding day
118. THE GREAT OUTDOORS
Marry amidst the seclusion and scenery of these romantic rural venues
133. PHOTO FINISH
How to look your very best in your wedding photos
141. THE GIFT OF GIVING
Gift inspiration for your spouse-to-be
REGULARS
6. BRIDAL BUZZ
What's new, what's hot, what's on
126. THE VENUE
Licensed venues for civil ceremonies in Cornwall
156. GOT WED
Newly-weds share a glimpse of their day
186. NOTES ON A WEDDING
Top tips for your planning pleasure
Editor
Rebecca Matthews
Deputy editor
Lucy Higgins
Chief features writer
Hannah May
Contributors
Abby Driver, Tracy Edwards, Lester Gethings, Jennifer Granlund, Christoper Wasey, Elle Winsor Grime
Design
Matt Sanwell, Design UNLTD
Advertising and Management
Brendan Sleeman
Distribution
Jenna Matthews
Finance
Morwenna Matthews
Publisher
Wed Magazine
28 Reens Crescent
Heamoor
Penzance
Cornwall
TR18 3HW
01736 331456
wed@wedmagazine.co.uk
wedmagazine.co.uk
Print
Four Way Print
Cover image
Dress
Catherine Deane, The Bridal House of Cornwall
thebridalhouseofcornwall.co.uk
Photography Kirstin Prisk
kirstinprisk.co.uk
Hair Helen Simons, Hello Gorgeous
hellogorgeoustruro.com
Make-up & styling Suzi Winter makeupartistcornwall.co.uk
Model Monika Rohanova
Wed

Directory

All you need from the finest wedding suppliers in Cornwall and Devon