Weddings: Money Matters
Amidst trying on dresses, choosing flowers and tasting cakes, you'll face the not-so-happy task of working out who pays for what.
Wed investigates the matter of money...


Weddings are, by nature, expensive. There are so many components to consider: the ceremony, food, entertainment, outfits, photography - the list goes on. Even the cheapest do will incur some costs. But in this day and age, who should pick up the tab? And is it ever ok to ask guests for money? We decided to dig into the politics of paying and try and untangle this contentious topic.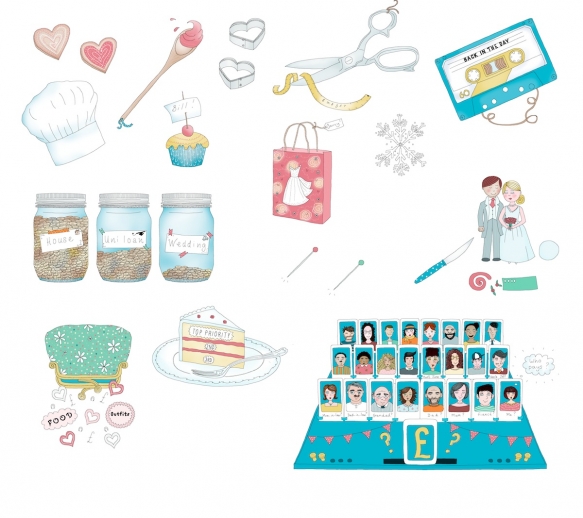 BACK IN THE DAY
The old rule of thumb was that the bride's family would pay for the majority of the wedding. But as times have changed - and wedding costs have escalated - this is no longer always the case.
The average wedding now costs £21,000, rising £7,000 in just one decade. According to UK Alliance of Wedding Planners, a whopping £9,500 of that goes on the venue, with a hefty £1,200 going on flowers alone (you'd definitely want to preserve them)!
Many families are unlikely to be able to fork out £21,000 and, as a result, it is much more common to see both families financially pitch in, or for the whole cost to be footed by the couple.
Why? Well women, on average, tie the knot at 30 and men at 32. So in many cases, they will be financially secure enough to pay for the wedding themselves.

MORE TO PAY FOR
Despite the older average age of people getting hitched, it seems life in general has gotten a little more expensive lately.
More people go to university and are saddled with the consequential debts, house prices have sky rocketed (and the required deposits too) and the general cost of living has steadily crept up over the years. The result? Less money in the pot for weddings.
And, while weddings have always been expensive, there seems more opportunity to splash your cash than ever before. We're talking designer custom-made dresses, state-of-the-art party palaces - even a machine to guarantee sunshine on your wedding day! Yes, really.

WHO ACTUALLY PAYS?
So considering the increasing costs and average age of couples, who actually ends up paying for the big day? According to a study by Saga, one third of parents pay for their daughter's wedding, and a fifth also for their sons.
So while a lot of couples are going it alone, a hefty percentage of parents are still shelling out for their children's wedding. Interestingly, the survey also found that parents are more likely to cover the entire bill if their own parents paid for their wedding.

REAL LIFE VIEWS
Those are the cold hard facts, but what do real people think? We asked a few brides and grooms their opinion on who should pay.
From the other side of the pond, Martin told us: "I live in New York, and more often than not the parents pay. A few of my friends paid for their wedding, yes, but I would say 80% of parents pay."
Maria admits that she is fairly traditional when it comes to weddings. "The bride's family pays for the wedding; I don't know anyone who does it any differently," she says. "The groom's family pays for the rehearsal dinner, typically at a nice restaurant." But what about situations where parents can't be tapped up for cash? Andy told us: "I think that it really depends on where you are in your life and what you want."
And whilst having your wedding costs covered by your parents might be nice (hello honeymoon fund, you're looking significantly plumper!), could there be a downside? Harley told us she has found: "the more someone contributes to a wedding, the more say they seem to have in the decision-making process."
It might sound fair, but when stipulations begin to encroach on decor, food and inviting your great aunt Mildred who you last met when you were in nappies, it may start to quickly lose its appeal.
Sharon agrees: "Unless someone is demanding that certain things be included, then I think the couple should pay. If you are living together, you are considered an independent adult and should not expect anything from parents."
MONEY FROM GUESTS
Whether to help cover wedding costs or go towards another big purchase, asking guests for money has become more popular in recent years. But money is always a tricky issue.
"I am in my early 30s and I am at a point in my life where I already have all the dishes, pots and pans that I need," explains Andy - a common conundrum for many couples. "So I don't expect anyone to get gifts for us for the wedding. If they would like to get us gifts, we will ask them for cash for our honeymoon."
It seems reasonable, but bear in mind the way in which you ask could be crucial in whether it is considered appropriate or impolite. Ella told us: "I think outright asking for money is incredibly rude." So what is the alternative? "Register for a honeymoon fund. Or have close friends and family know you want money so when they're asked they can slyly say you want cash." Sneaky, we like it!
OUR TOP TIPS
If you're paying for your wedding on your own, some of the costs can seem overwhelming. But you don't have to spend £21,000 to have a blast. There are plenty of ways you can save cash while still having a beautiful, memorable day. Here are a few of our favourite budget tips:
Call in favours
: Is your uncle an expert baker? Ask him to make your cake. Got a crafty group of friends and family? Get them together to make your decor, favours and anything else that's stretching your budget. Not everything has to be outsourced; in fact, keeping things personal is a great way to make sure your wedding feels intimate. And your close friends and family will probably feel incredibly honoured to be included.
Go out of season
: Don't be scared of winter! You can save big bucks by booking a venue out of peak season. And some of our favourite weddings have been winter wonderlands. You might not get snow down here, but winter still lends itself to fabulously dramatic photos. You can also make some considerable savings by avoiding a Saturday and marrying mid-week.
Be a savvy shopper
: Yes, Vera Wang's gowns look like nothing short of creations from up above, but coughing up thousands for one dress is probably not the best bet on a tight budget. Most bridal shops stock lower cost collections or you might snap up a sample dress or off-the-peg bargain. However, no matter how cash strapped you are, don't be tempted to buy your dress off the internet - you'll often end up forking out a whole lot more than you expect for your 'dream dress' to look and fit as you envisage.
Keep it personal
: Unfortunately, guests are expensive! So if you need to shave off some costs, consider having a more intimate do and only inviting your absolutely nearest and dearest. Remember, if you are paying, the guest list is your business.
Prioritise:
Think about the non-negotiables. Perhaps you're a diehard foodie, so ring-fence a big portion of your budget to serving up delicious nosh. Perhaps having your favourite band play would make your day? Whack it to the top of your list. But remember, if you are splashing out in one or two key areas, the budget in other areas will have to be reduced.
If you're on a tight budget, or struggling to create the big white wedding of your dreams, Ella suggests: "Remember why you are doing this: to get married to the person you love. Weddings are lovely and so much fun, but keeping the end goal in mind, especially if you are panicking about budgets, is always a good idea."
Hear hear!
words Abby Driver
illustrations Maria Taylor Illustration www.mariataylorillustration.com
Copyright Wed magazine 2015