Wedding Rings in Cornwall and Devon
Seeking your dream wedding and engagement rings? Or the perfect bridal jewellery? Here are a hand-picked selection of the finest jewellers and designers-makers across Cornwall and Devon.
Don't forget to mention Wed Magazine when you contact a company from our free directory service!
---
You searched for: Wedding Rings in Cornwall and Devon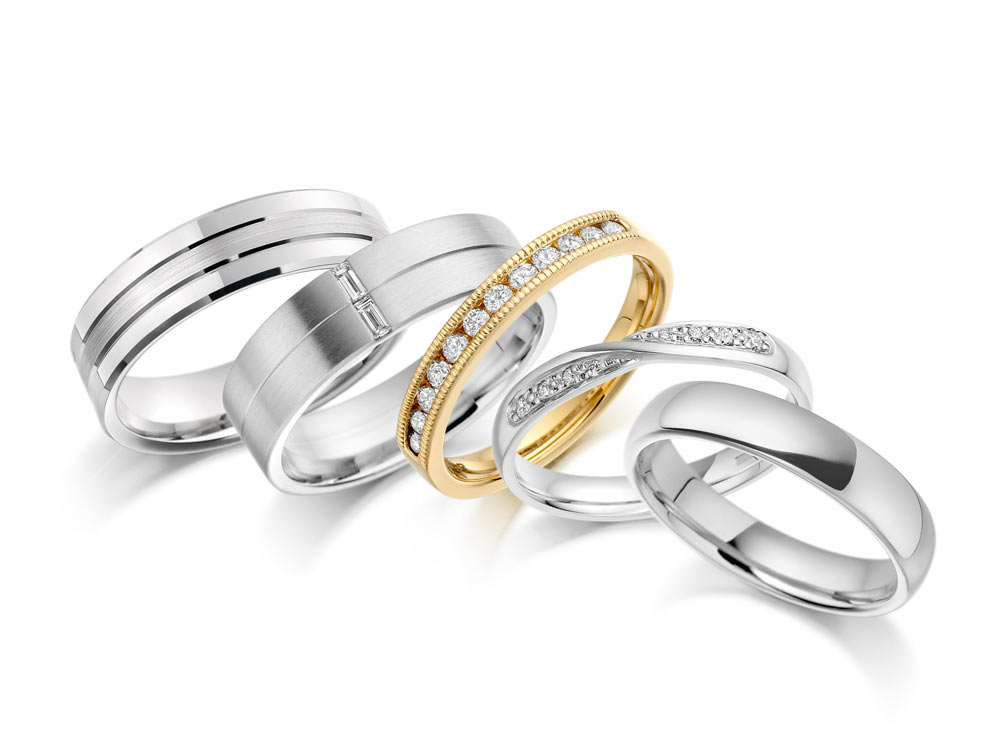 Drakes
Choosing your wedding ring is always a special event at Drakes. For over 70 years we've been helping couples find their dream wedding jewellery, from their rings and bridal jewellery to gifts for the wedding party. Our passionate and knowledgeable team are on hand to help you find something you'll love and cherish.

Your wedding rings will forever symbolise the love and commitment you made to one another when you said 'I do'. Long gone are the days when all you had to choose from was a plain yellow gold wedding band; the choices are now endless! Pop in store to see our full collection or read Drakes Bridal for some wedding jewellery inspiration.

Good luck with the wedding planning and we hope to see you soon x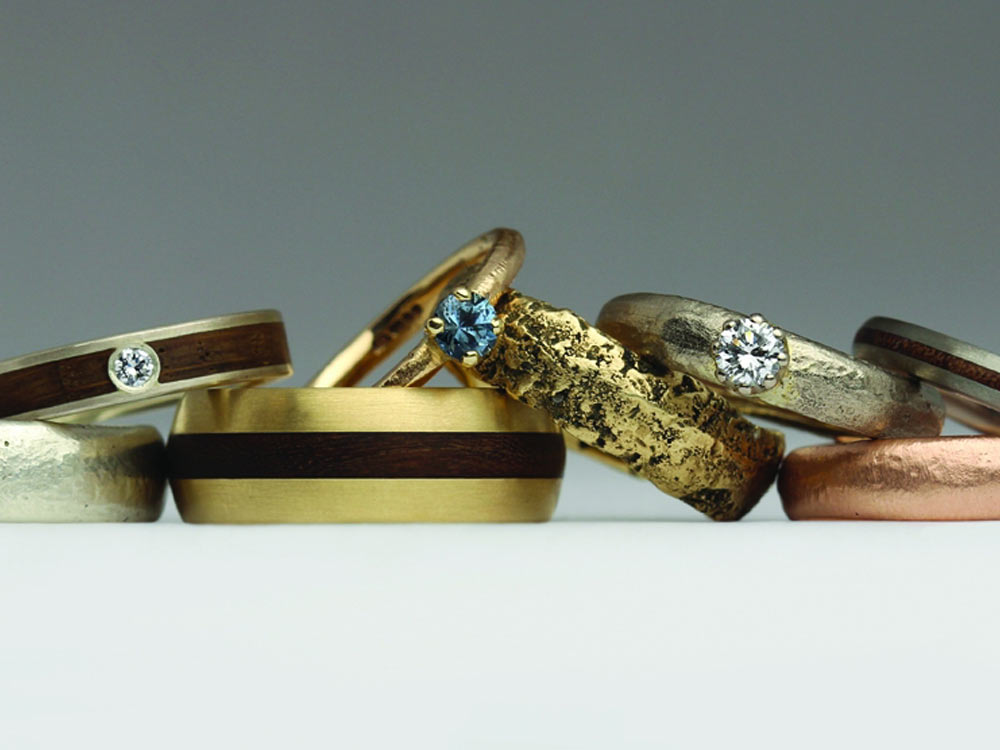 Justin Duance Contemporary Jewellery
Justin's designs evoke an elemental feel by casting precious metals in beach sand or combining them with salvaged woods. Deeply influenced by our natural surroundings, his rings are often creative, rustic twists on classic designs - ranging from sandcast eternity rings to chunky rock rings inlaid with wood. Customers are welcome to visit the workshop by appointment and be a part of the design process including using their own heirloom metal, sand or wood.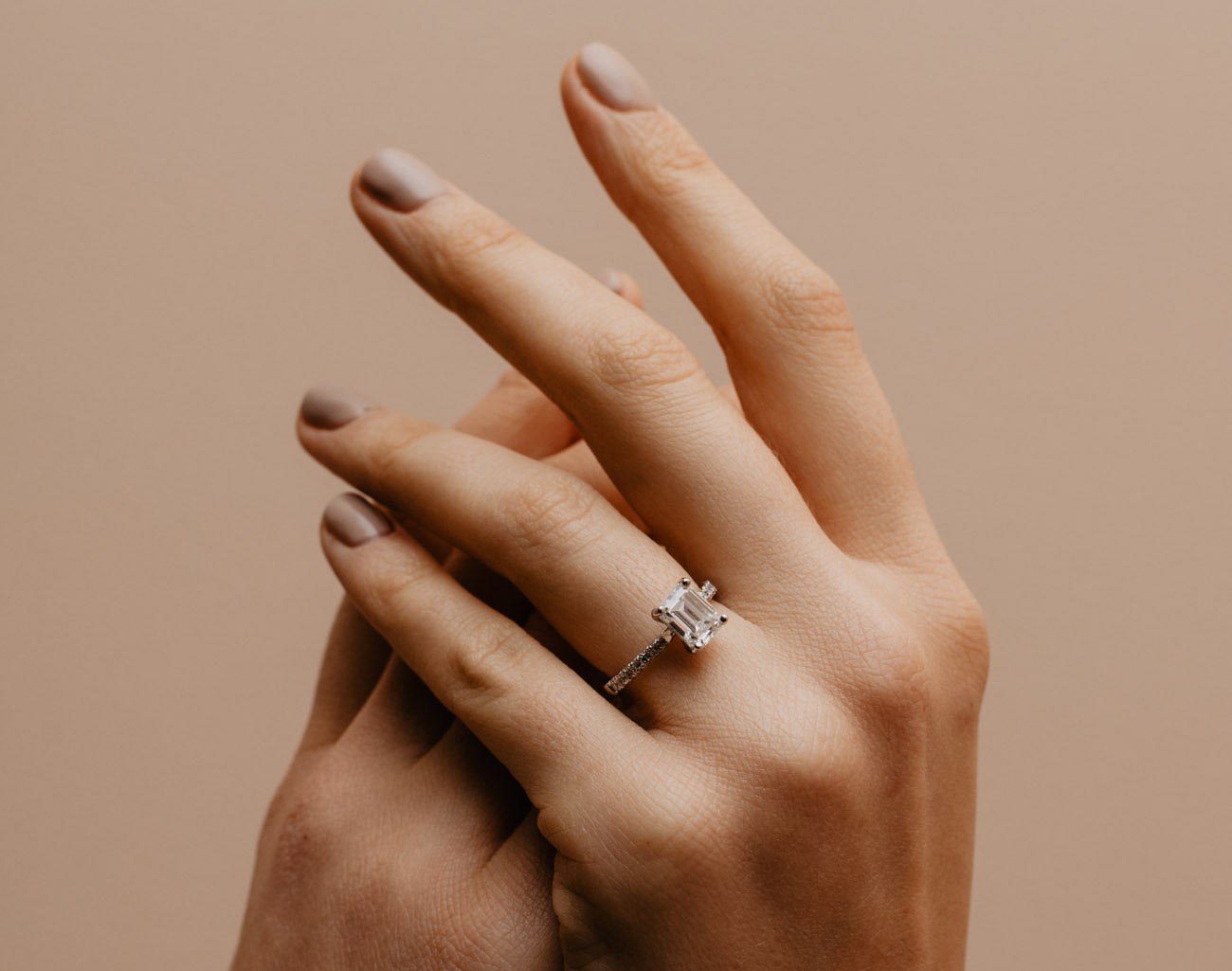 Ethica Diamonds
Handcrafting exceptional and individually designed jewellery to treasure in Cornwall, Ethica Diamonds is a family-run jewellery company that works under the promise of 'unparalleled beauty and uncompromised ethics.' The range of engagement rings, wedding bands and bridal jewellery are cast using fair trade or recycled precious metals and the finest grade lab-made diamonds and gemstones, so you can wear your cherished creation safe in the knowledge it is ethically sourced and free from environmental harm. As well as the array of jewellery available to buy from their boutique in Truro, you can work with the team to create your very own bespoke piece.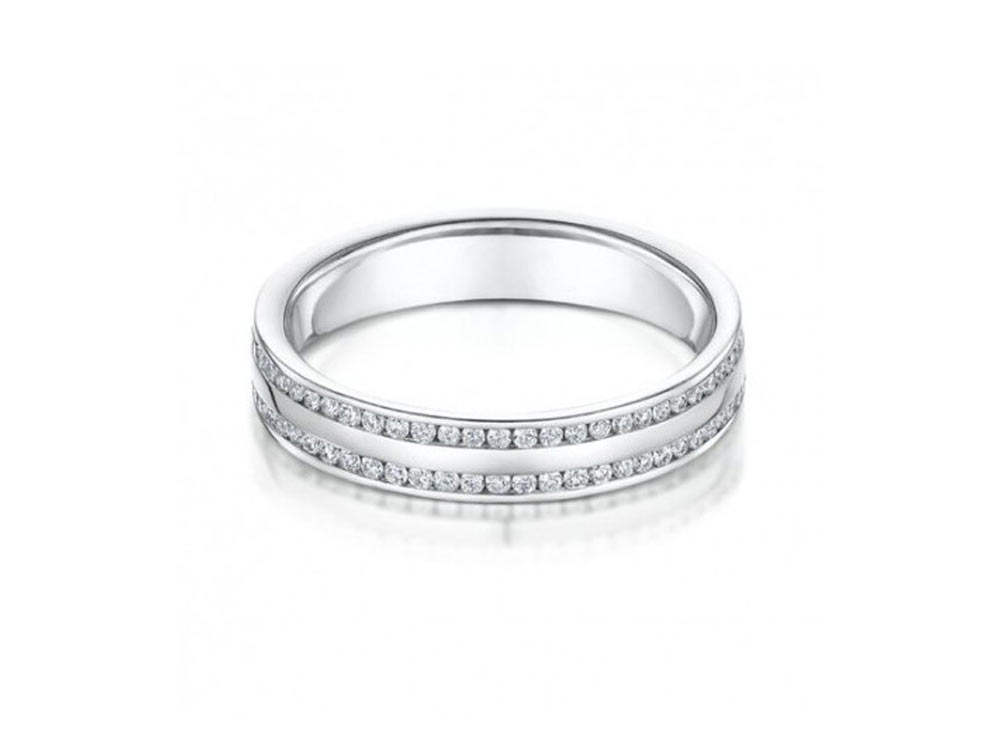 Michael Spiers
01872 272264 | Exeter, Plymouth, Truro
Choosing Wedding jewellery should be enjoyable and we do everything possible to ensure a memorable experience.When you step into one of our quiet and contemporary showrooms, you leave the hustle and bustle of everyday life behind and enter a relaxed and luxurious setting. Our friendly and experienced staff will focus solely on listening to your requirements and guide you to a piece of jewellery that is appropriate to you - with service reminiscent of another era. If it is wedding rings or engagement rings we have what your looking for.
Emily Nixon
Distinctive wedding and engagement rings inspired by Cornwall, from this celebrated jewellery designer. Sparkling gemstones set in folds of gold define Emily's engagement collection whilst textures from the shoreline characterise wedding bands for the bride and groom. These are exquisite one-off creations, with an artistry to every piece. Emily's fabulous warehouse studio in Hayle provides a special setting for a wedding consultation, you can try on pieces in the collection to take away or have a bespoke piece designed specially for you.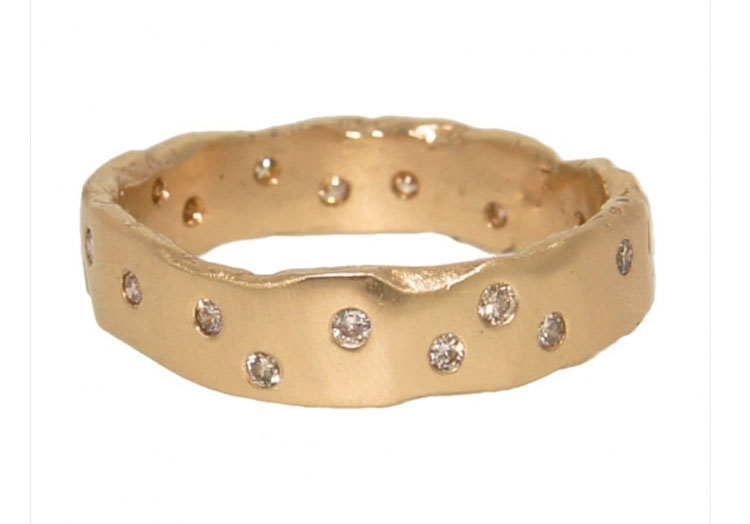 Erin Cox Jewellery
Erin Cox creates beautiful handmade jewellery in platinum, gold and silver. As a jeweller, Erin is proud to offer bespoke pieces to people wanting quality and individuality jewellery which is lovingly crafted by hand but that doesn't have to cost a fortune. A beautiful piece of jewellery becomes a part of a person's life story. It will be passed down through generations to become a part of the family's story and a piece of history. I love that I can be a part of that process.

Molten Wedding Ring Co
At the Molten Wedding Ring Company. You will find stunning molten textured wedding rings in platinum, 9ct yellow, white & red / rose gold, 18ct yellow & white gold as well as fair trade gold; for both men and women. There are 8 different ranges in our collection ensuring you'll find one suited to you.
All our rings can be personalised with diamond setting, shaping and engraving. Browse our collection & shop online or order a complementary catalogue. Do feel free to drop us a line should you have any questions.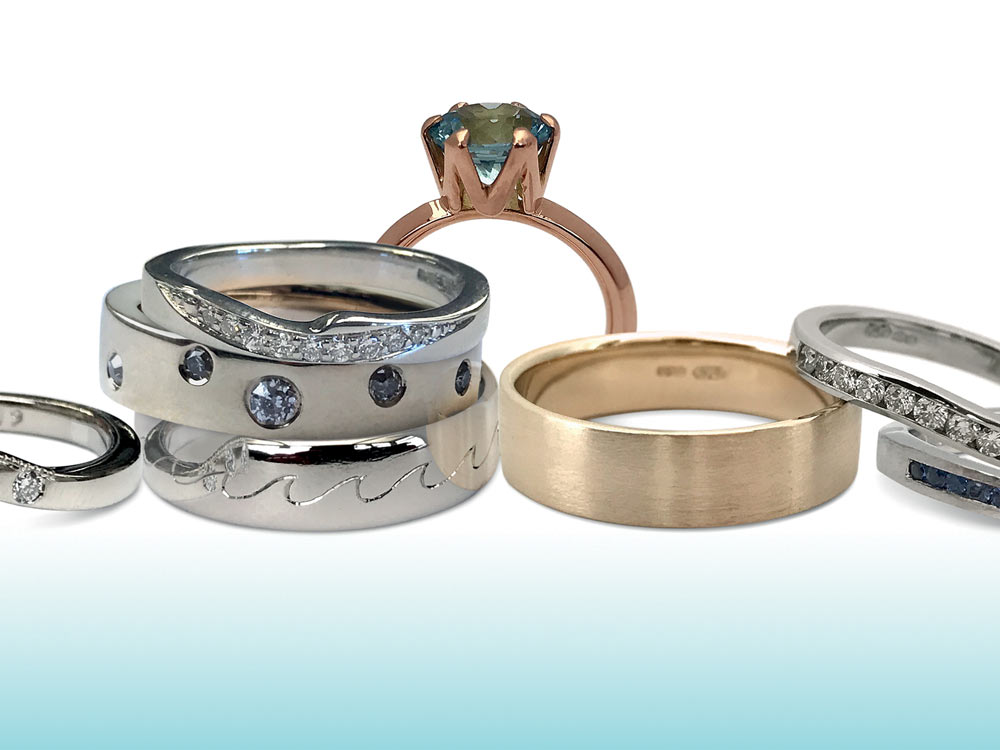 Stephanie Stevens Jewellery
Stephanie Stevens is passionate about crafting jewellery enriched with meaning, relishing her role in offering couples the opportunity to be part of the design process of their engagement and wedding rings. Acting as your personal jeweller, Stephanie's dazzlingly distinctive designs can be tailored entirely to your vision. Offering curved bands to fit perfectly around engagement rings, a choice of precious metals and finishes, and personal engravings enshrining your wedding date, names, meaningful words or fingerprints, every element can be customised to create a symbolic piece to forever serve as a reminder of your love.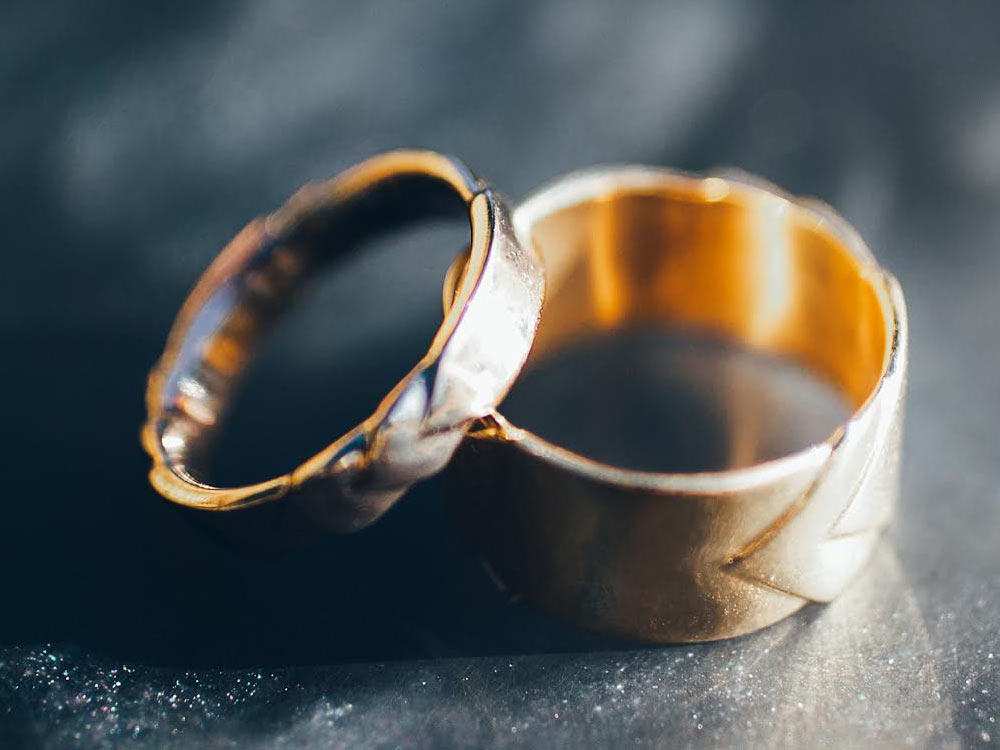 Corrinne Eira Evans Contemporary Jewellery
Corrinne Eira Evans creates bespoke handmade contemporary jewellery at her gallery shop, Moon & Moor in Okehampton. Working in platinum, palladium, recycled silver and gold and has been registered as a Fair Trade Jeweller in 2019. A passion for fine detail and high finish ensures each piece is made with a 'hand-me-down' attitude to longevity. With over 15 years industry experience, Corrinne can help you create your perfect wedding jewellery. Fancy making your own wedding bands? Corrinne hosts 'Make your Own Wedding Band' Workshops, for you to come and create your own wedding bands, no experience in jewellery making is necessary.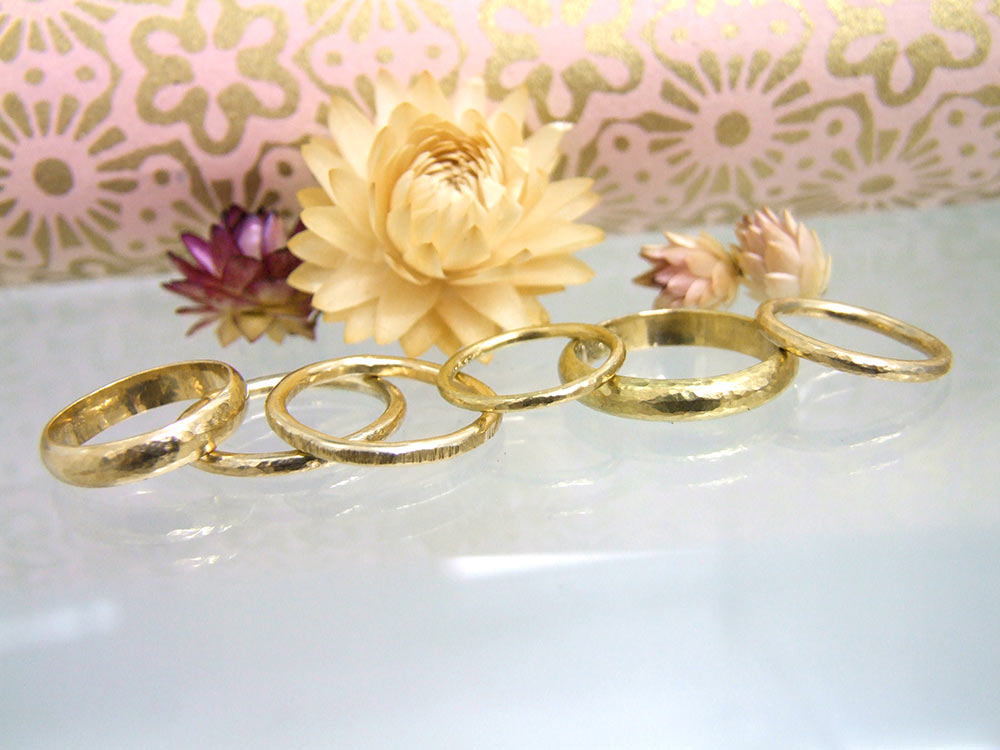 Francesca Stella Rings
Each bespoke jewellery piece that Francesca Stella creates is skilfully crafted exclusively for you, making your wedding ring a truly special piece of art. The hammered texture of each ring created by the artist gives the piece an exclusive hand-crafted feel. Only certified Fairtrade gold and Recycled gold are used to make the jewellery. Knowing that each piece of jewellery is ethically sourced and crafted with a respect for the environment and the communities that mine the gold, means that you can wear it with confidence for the rest of your life. Each ring is a magic piece that can lead its wearer into the conscious moment.

To claim a 10% discount on your wedding rings please quote code: "WMVoucher10%"