---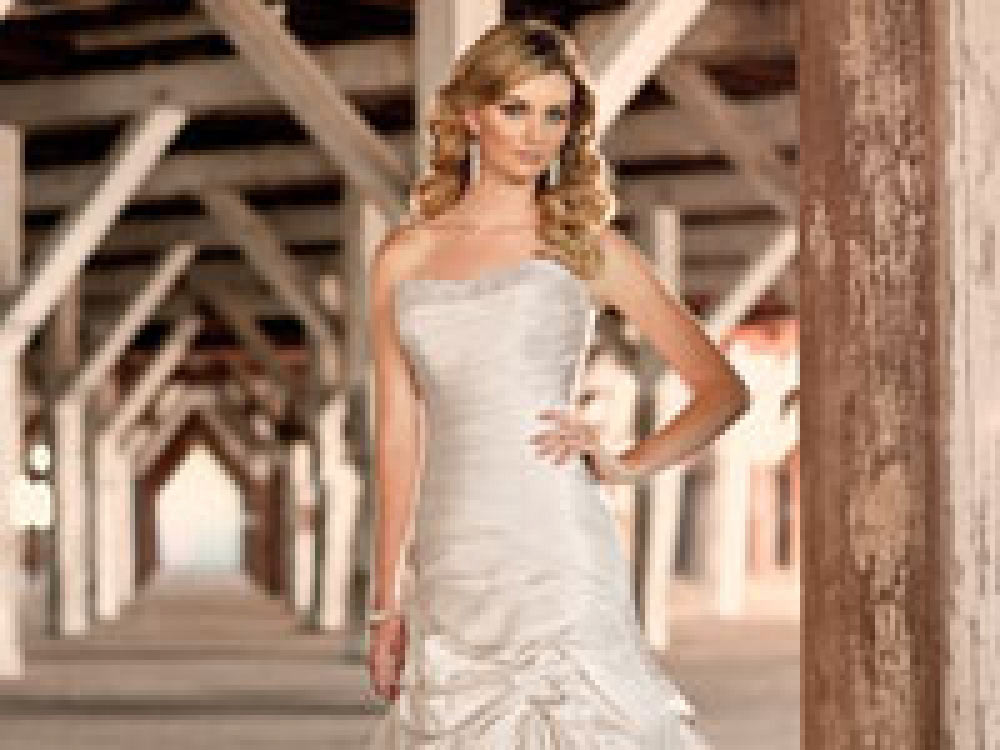 Wedding Dresses in Cornwall
The Dress Factor
Light up the aisle in style with Wed's guide to finding, buying and accessorising your dream wedding dress...
It's all about the dress. As a bona fide bride-to-be, you simply cannot escape the agony and ecstasy of 'the search'. Indeed, your previous quest for 'the one' being the successful ensnaring of your soon-to-be husband pales in comparison when it comes to finding your 'other one'.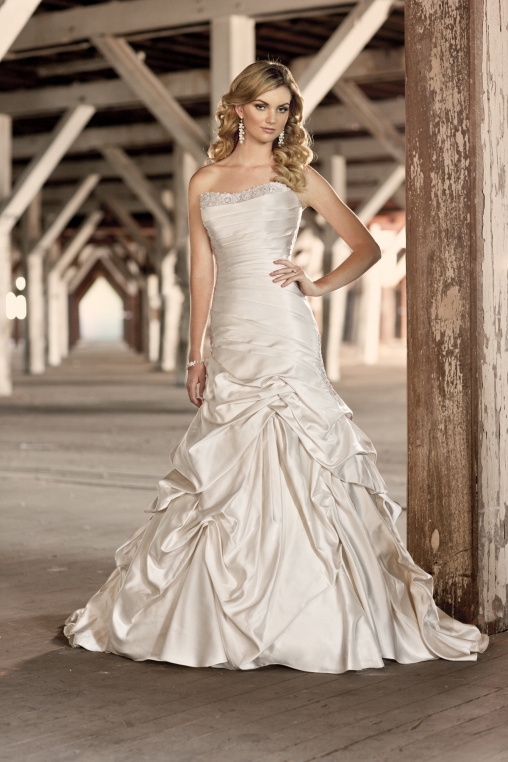 Essense,
Vu's Bridal
However modern you are or metro he is – it's the dress that still demands the greatest consideration. You may be one of the lucky few that is fixated by the first and can smugly tick the biggest box of them all satisfyingly ahead of schedule.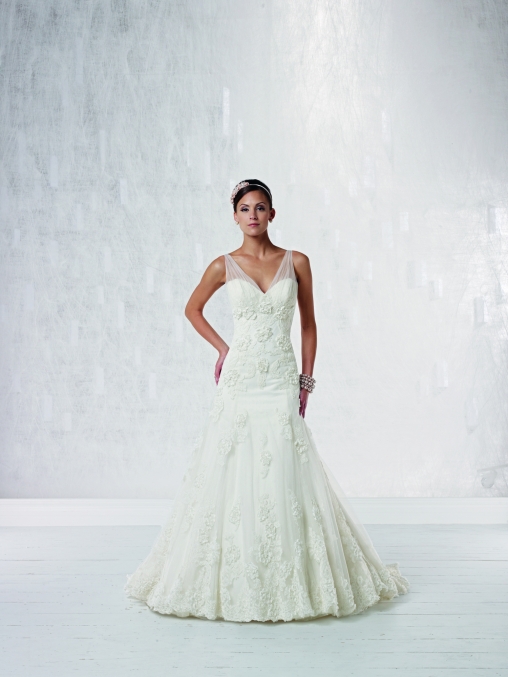 Kathy Ireland 2be,
Lavender Rose
But for many, wedding dress shopping can be a frenzied affair. Engaging issues of style, taste, money, self-perception, desire and body issues – it's rarely a simple case of budget, try and buy.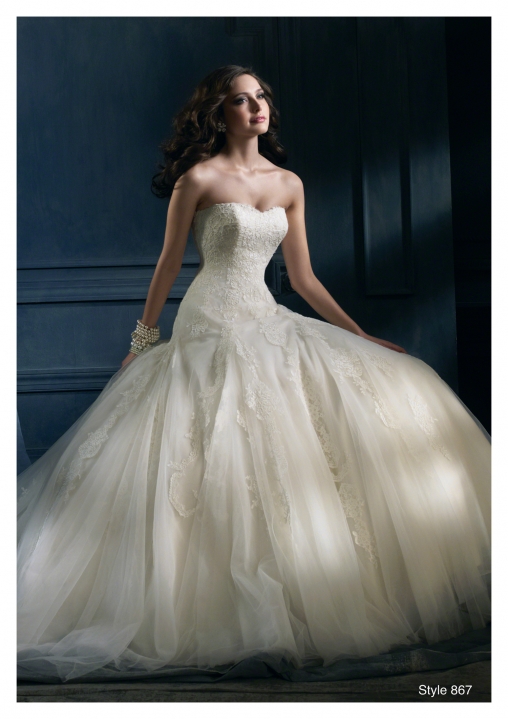 Alfred Angelo,
The Wedding Company
Let Wed guide you through each step of the dress-buying experience with our trend tips and expert advice, ensuring you emerge a savvy and stress-free bridal beauty.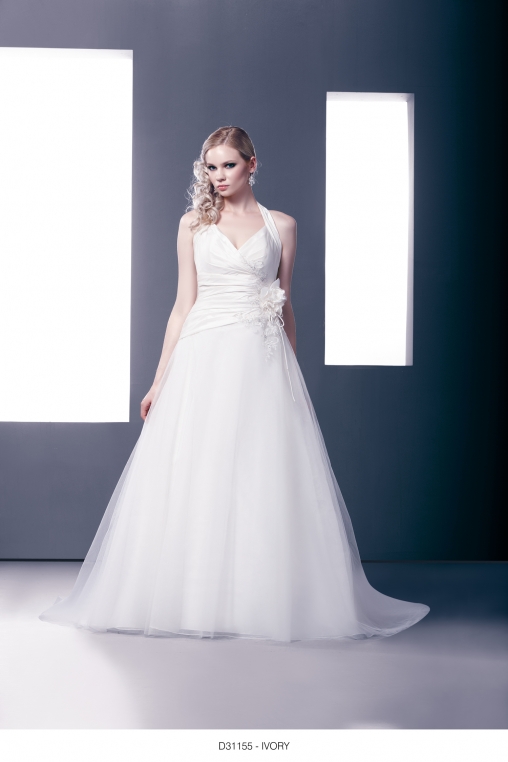 D'Zage,
Little Anne Maids
Time
The first step is to consider the type of dress you would like. Brainstorm, collect picture clippings and try on dozens of different styles to see what realistically suits – remember dresses can look dramatically different on and alter your own perception of self-styling in the process.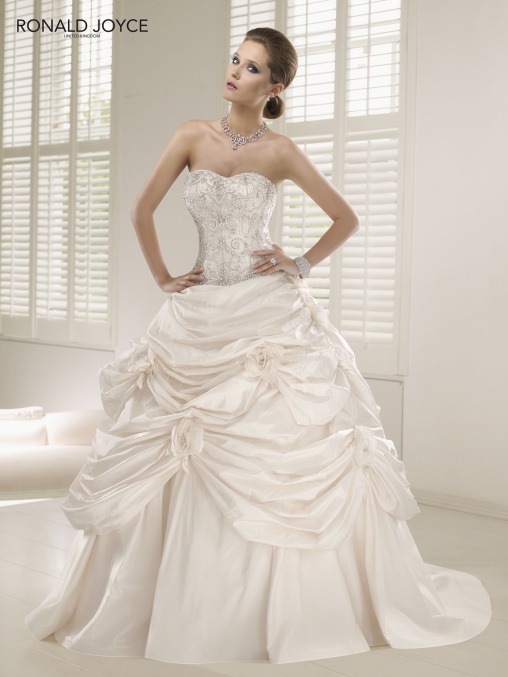 Ronald Joyce
Have a few trusted friends or relatives (note the word 'few' – too many opinions will cloud your vision) accompany you on shopping trips and trust shop owners' expert advice – they've seen it all before and know what works.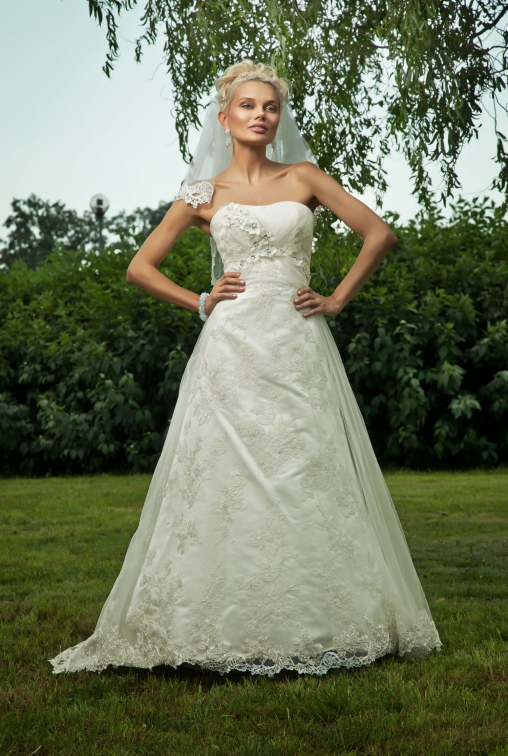 Annais Bridal,
Little Anne Maids
As you develop a more honed idea of your dress type, be receptive to all options and ideas available. Being outright dismissive of alternate suggestions by nurturing childhood fantasies of 20 foot trains and skyscraping silhouettes may simply not be feasible – not to mention fashionable – in real wedding world.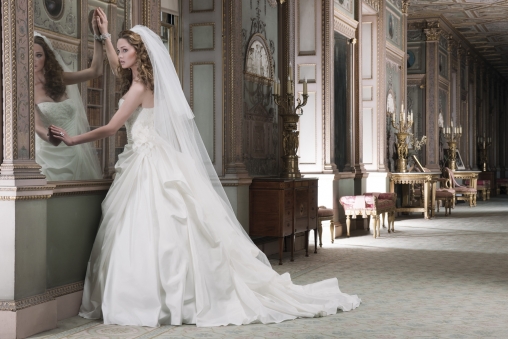 Ellis Bridals,
County Cream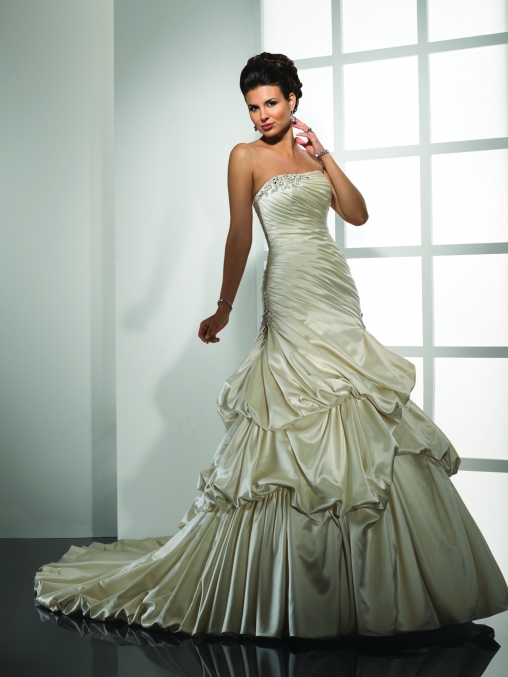 Sottero and Midgley,
Vu's Bridal
Time is an issue, but needn't be a cause of grave panic. Most bridal shop owners agree that the lead-time for delivery can vary and usually takes four months or more. You'll also need to factor in an alteration period, which is recommended you commence between six-eight weeks before the day. Realistically, eight–twelve months before the wedding is the ideal time to start searching for your dress.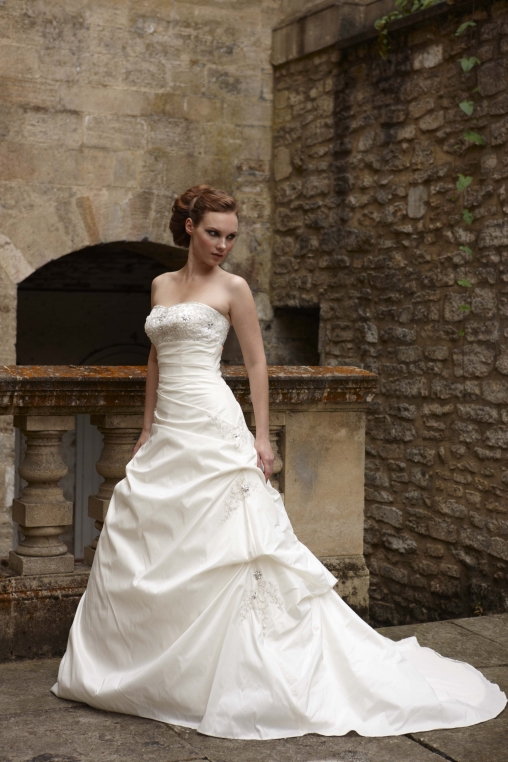 Opulence by Natalie M,
Lavender Rose
If you're planning a whirlwind wedding, fear not. You can fast-track your way via off-the-peg options, sample dresses and express delivery to ensure crucial timing is met, so speak to bridal shop owners who will advise the best course of action.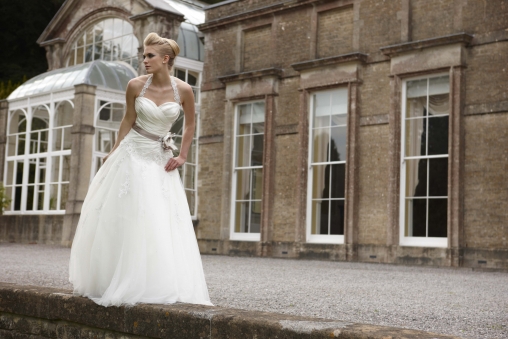 Opulence by Natalie M,
Lavender Rose
Style
This is dependent on any number of factors from budget to body type, time of year to theme. Think of the gown as a distinct entity first. Does it fit and flatter, beautify or perfectly portray you? In short – does it do exactly what you want it to?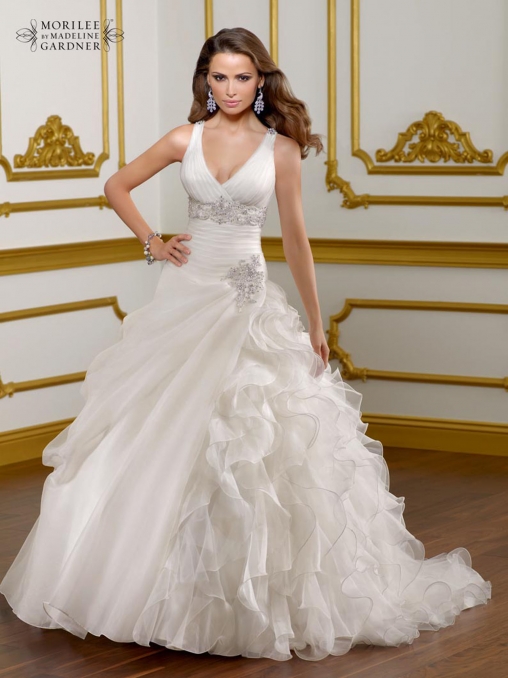 Mori Lee,
Amanda K Bridal
Whether you're seeking standout or subtle, decadent or demure – make sure you feel and look the part. Then think of everything else. Do you want it to match or contrast with your theme, colour scheme, bridesmaids, groomsmen, venue, season…?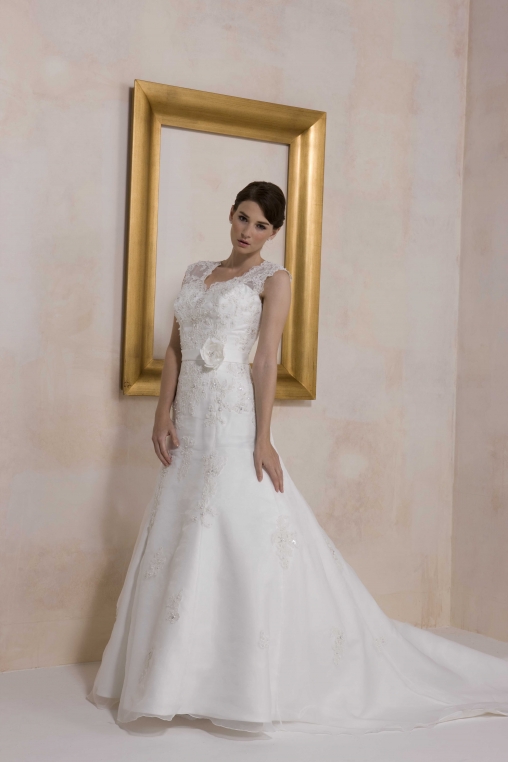 Romantica,
County Cream
A holistic approach will help you to envision your part in the day as a complete picture and feel comfortable throughout, allowing you to shimmy in supreme style for its entirety.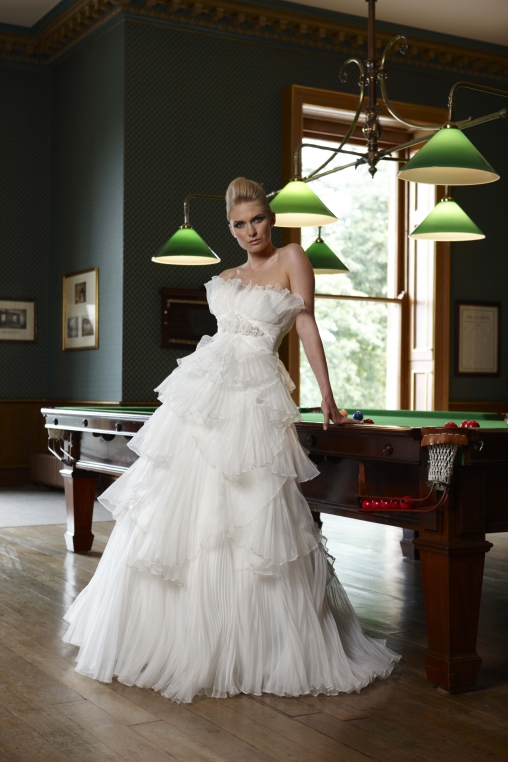 Opulence by Natalie M,
Lavender Rose
As far as fashion goes, a tally of top trends for 2012 continue to reign supreme as new movements start to emerge. New romance is expressed with delicate detailing such as floral embellishments and appliqués, embroidery and patterning with lace overlays and supremely sensuous fabrics – think satin, silk, chiffon and organza.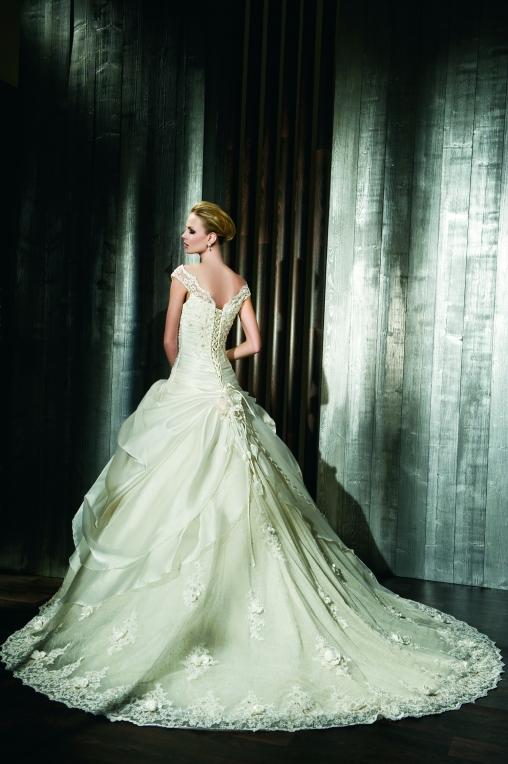 Cosmobella,
Simply Gorgeous
Modern couture continues to redefine itself with multi-dimensional aplomb. Huge puffball skirts and sleeves, giant bows and tiered, architectural style skirts – specifically two-tier or double skirts – all represent towering, volumous and spotlight-stealing high fashion for glamorous brides.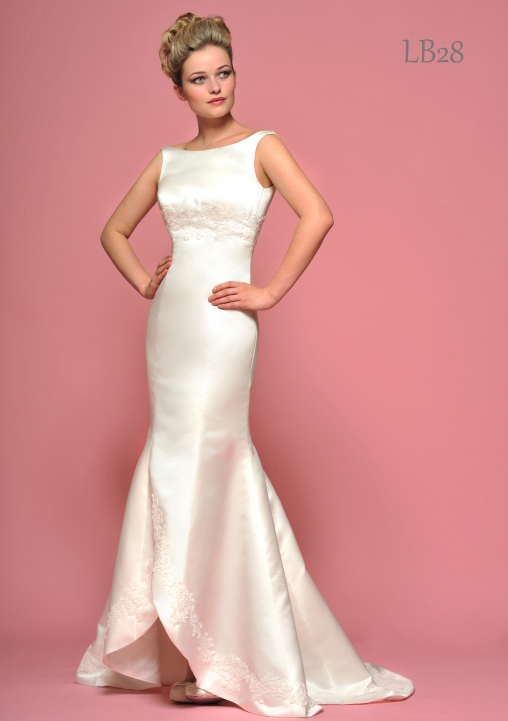 LouLou Bridal,
Simply Gorgeous
Enjoying its renaissance with renewed vigour, vintage is finding new forms. Fusing bygone glamour with contemporary glitz, the wave of retro-inspired dresses becomes even more individual as old gowns are refreshed and new designs ooze old school appeal. In particular, Victorian nostalgia is being made material, with high collars modernised via illusion (sheer) necklines, transparent trains, corsetry and underskirts being reversed as outer skirts.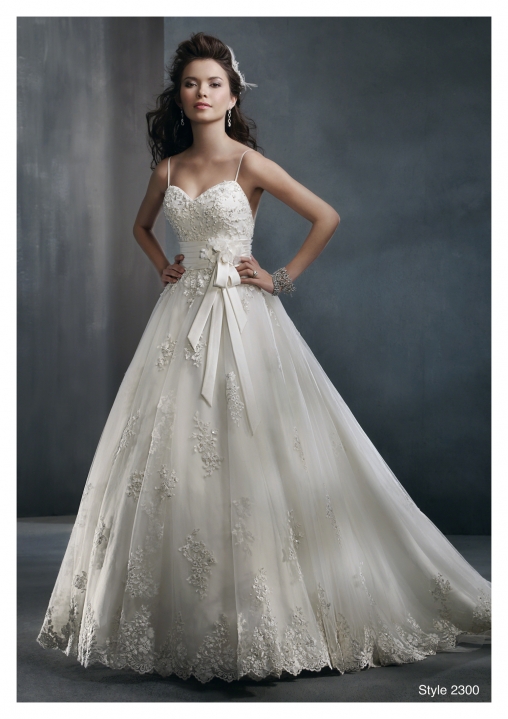 Alfred Angelo,
The Wedding Company
Styles and shapes remain whimsically romantic with a contemporary edge for a sense of fused fashions. Frothy, textural gowns incorporate intricate design with an ethereal look but are comprised of light fabrics for a floaty, airy feel and beautiful ballerina aesthetic. As well as clean white, colour is making its mark with blush and dusty shades of pink.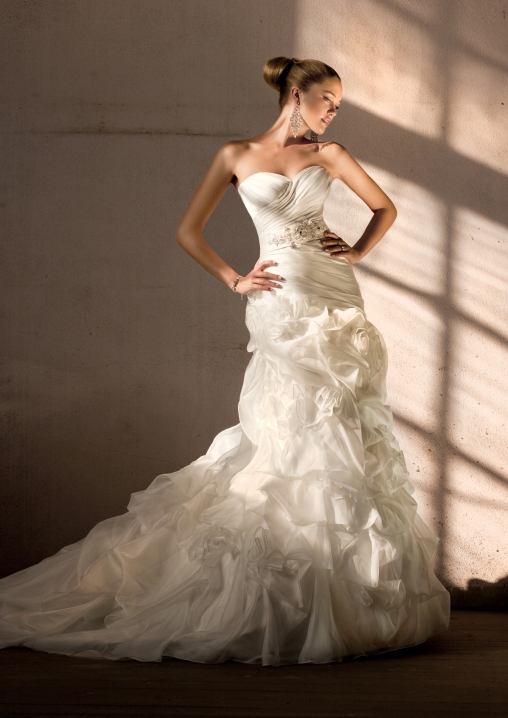 Essense,
Vu's Bridal
Size
Depending on how early you begin the dress shopping process, size can be something of an issue. Many brides decide to shape up a little so may drop a dress size or two. Though it's always advised to lead an active and healthy lifestyle – and look your best for the day itself – do avoid extreme weight loss and drastic dieting. In reality, it won't make you look or feel glamorous if your dress is gaping wide and you have to readjust yourself every two minutes.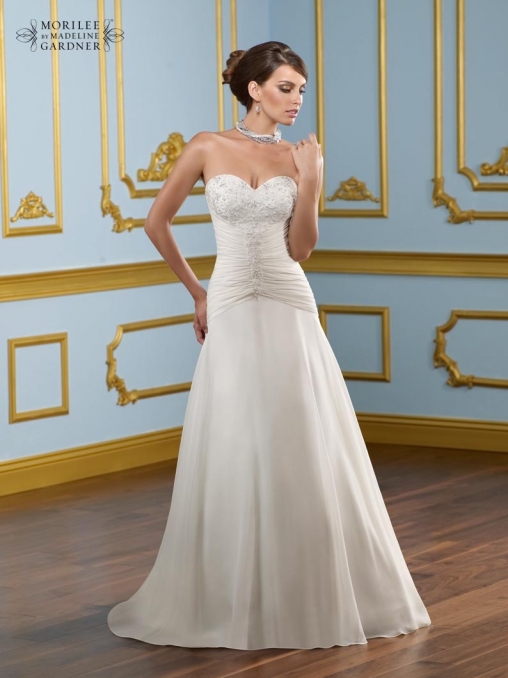 Mori Lee,
Amanda K Bridal
The dress alterations closer to the date will ensure a form-fitting gown, but beware: it's tricky for a once perfectly fitting dress to remain so if it has to be taken in (or out) too much; so set yourself realistic and achievable goals for the way you want to look and sensibly stick with them.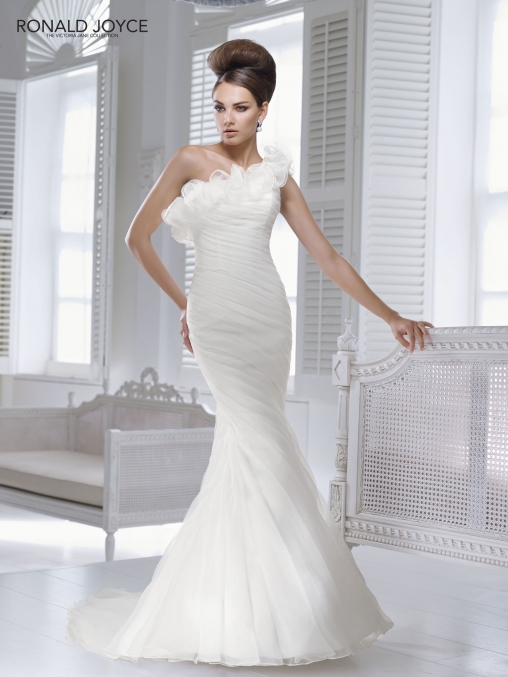 Ronald Joyce
Of course, a number of brides find themselves in (or recently out of) the family way during the pre-wedding period, which, depending on timing, needn't present major issues. Again, discuss all dilemmas and developments with your dress suppliers for the best solution.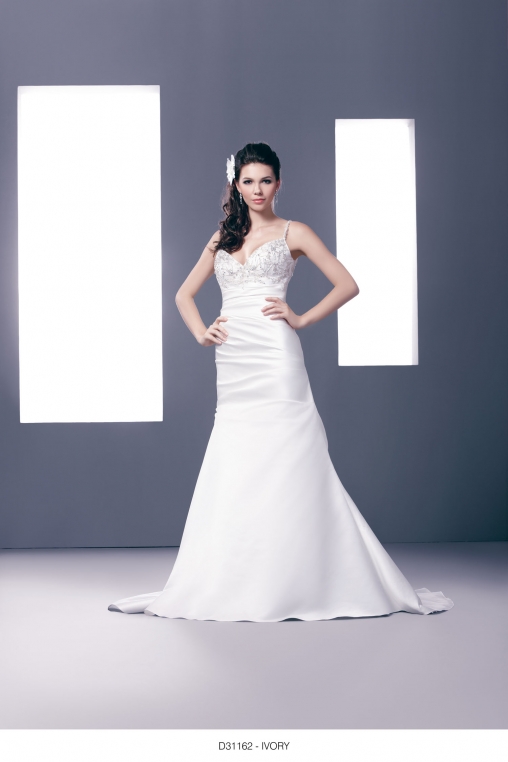 D'Zage,
Little Anne Maids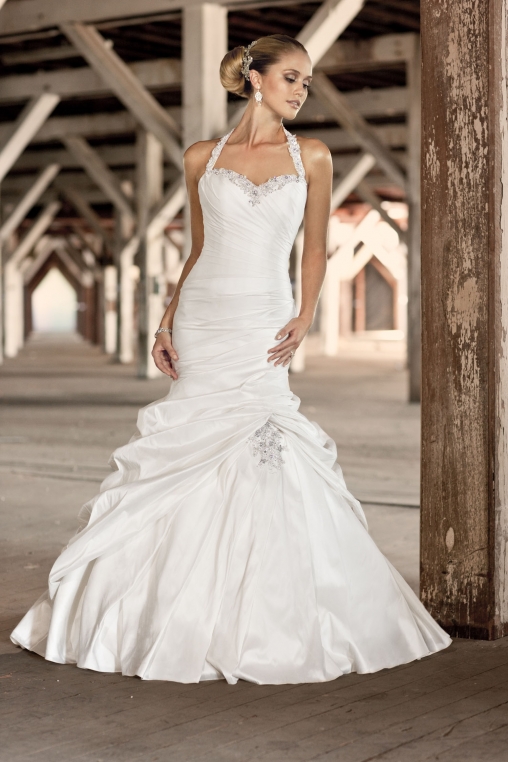 Essense,
Vu's Bridal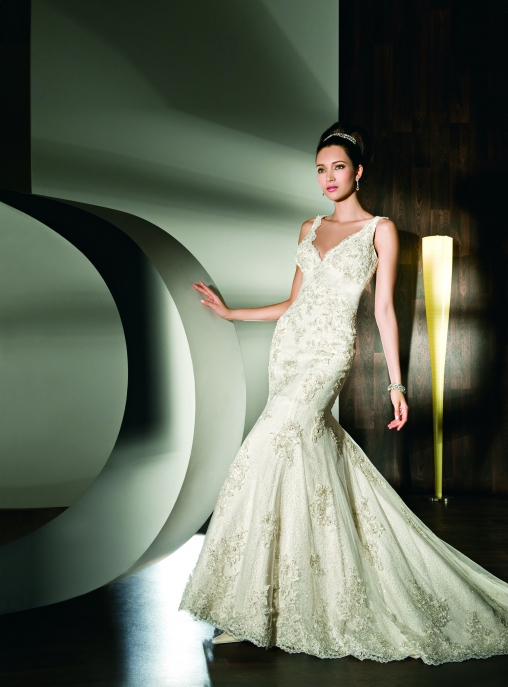 Demetrios,
Simply Gorgeous
Finishes
As you may already realise – strictly speaking – it's not only about the dress. It's about the look, the ensemble, the whole shebang – which means, it's time to accessorise.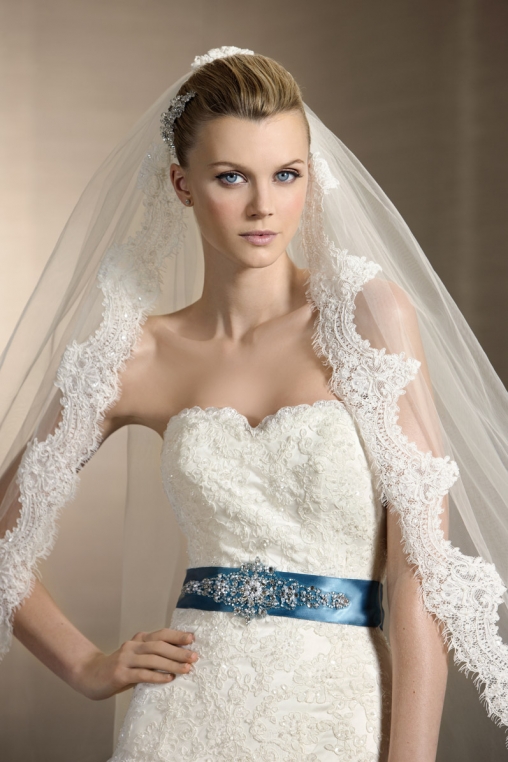 White One Pronovias,
Amanda K Bridal
Shoes are the new statement-makers as they move from something-never-seen to something-to-be-seen-in. With designers creating ranges especially for weddings, there's a spectacular choice available – from jewel-encrusted kitten heels to skyscraping stilettos, weddified wedges and beautiful boots. Brides are dying their favourite pair, incorporating colour and personal style into the mix, and flashing their feet like never before.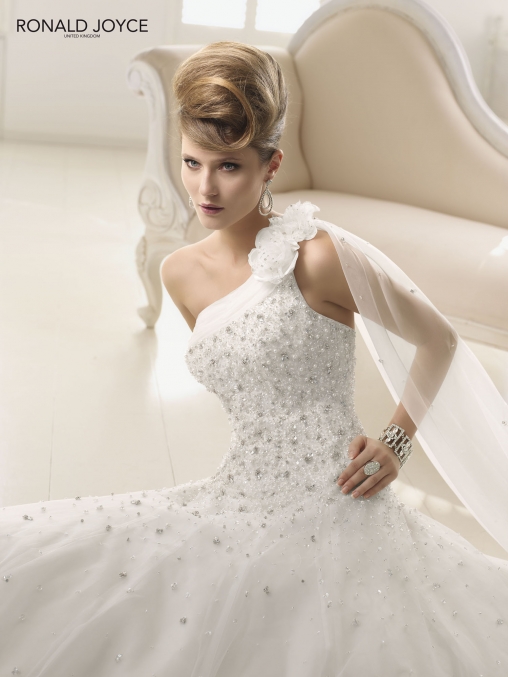 Ronald Joyce
Veils are also a must-have for many a modern bride. Whether vintage birdcage, contemporary mini or a dramatic, floor-sweeping style, they are an integral part of the romantic trend and a classic way of making your look bespoke.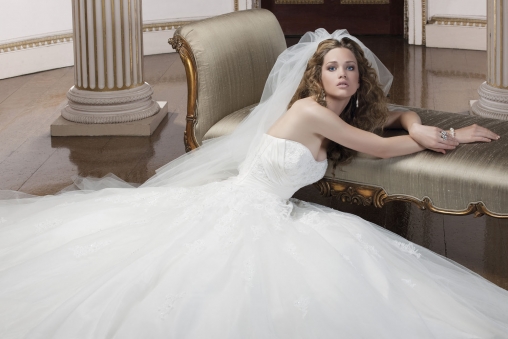 Ellis Bridals,
County Cream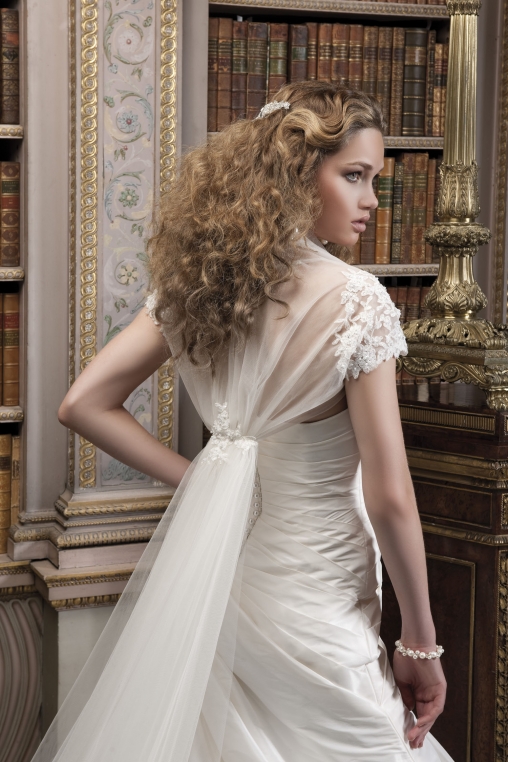 Ellis Bridals,
County Cream
Completing your look is a great excuse to play dress up and add a personal dimension. With a stack of ideas from fur shrugs to velvet capes, bejewelled boleros to feather boas, handbags, hats and headpieces – and even feature umbrellas – the choice is limitless.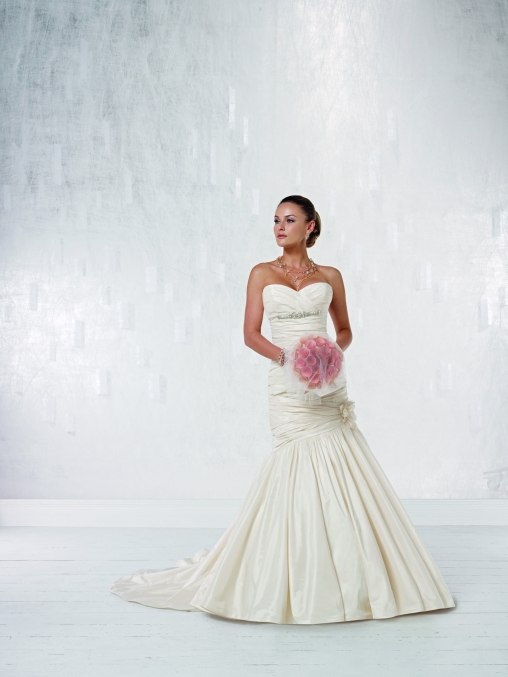 Kathy Ireland 2be,
Lavender Rose
Donning family heirlooms creates a symbolic dialogue between the past and present in a mindful – not to mention – en vogue way. Other prominent jewellery trends this year include art deco, '40s and '70s, as well as big hits of colour – think a rainbow of crystals and host of hues for a vibrant head-to-toe palette.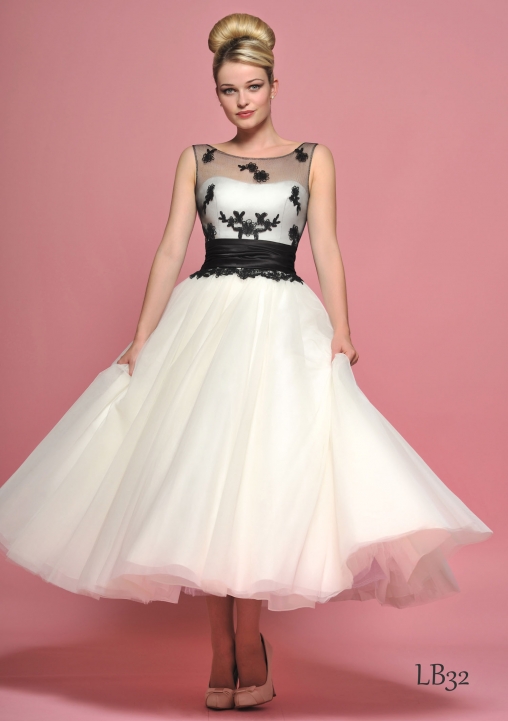 LouLou Bridal,
Simply Gorgeous
Hair and make-up are key elements in achieving your desired look – be it cute and casual, ballerina buns, stylised hive or slick ponytail teamed with vampy red lips, nude make-up and smoky eyes – dress every detail to impress yourself and the swooning crowds will most definitely follow.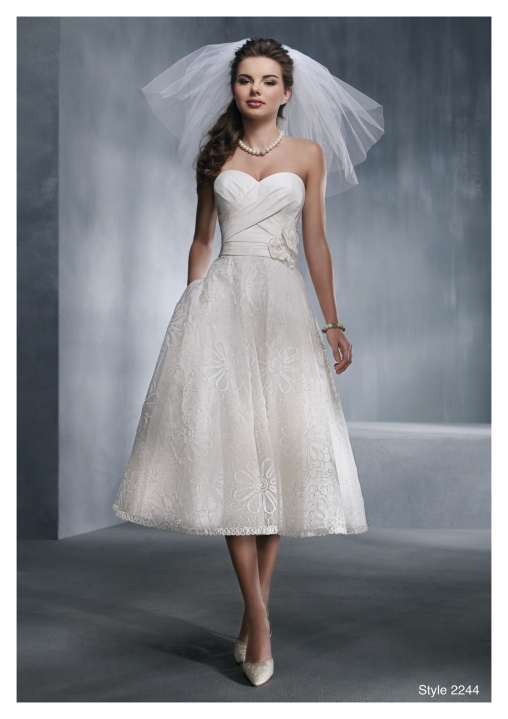 Alfred Angelo,
The Wedding Company
words
Hannah May
Copyright WED Magazine 2012