Holly Young's Hat Report
Article Published: Thursday 3rd November, 2011 - 1:16pm
---
Happy Friday people! Milliner Holly Young is back with another dose of fabulousness and bridal inspiration for your perusal...
Hello head wear lovers! I had such a lovely day on Saturday I just had to tell you about this little gem in London. Kingly Court is hidden away just off Carnaby Street, housing an array of unique independent boutiques. I was there teaching a fascinator workshop at Atelier Millinery and I had a good snoop round once I had finished!
Atelier Millinery
First of all I have to say that Atelier Millinery is like a dream shop to me. It is jam-packed with hats and headpieces for sale and all sorts of wonderful materials to make your own with. I had two ladies on my course who made these classy creations (pictured wearing). I really loved all the vintage supplies such as original velvet flower kits, veiling and berry bunches. They had some bridal veil head bands for sale which you can also learn how to make on one of thier courses (pictured top left).
Natasha, who was working in the shop, gave expert advice to all that came in on how to wear each hat and what styles suited them best. When she wasn't serving she was sewing hats for customer orders. There is something traditional and authentic about that type of service and I loved being part of it for the day.
Atelier offer a bespoke service and run a wide range of millinery courses. To find out more visit
www.atelier-millinery.com
Fur Coat No Knickers
What a great name! This vintage bridal boutique is one floor up from Atelier. Everything in the shop is either hand picked or handmade. It has some exquisite pieces and covers everything you would need for your big day including dresses, shoes, accessories and jewellery, plus a beautiful choice of headpieces, veils and birdcage headbands. The jewelled head piece (pictured top left) took my breath away - it was so elegant.
The friendly staff offer a personalised service and give advice on styles to suit each individual bride. You can either choose from their selection of original 1930s to 1960s dresses or order your own bespoke dress. The owners of the shop used to be costume supervisors in the West End so you can be sure of star treatment!
Visit
www.furcoatnoknickers.co.uk/
to find out more.
The Revival Retro Boutique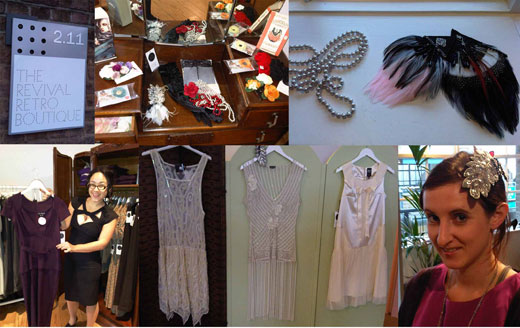 Owner Rowena Howie described herself as the new kid in town. Her home grown business literally grew too big for her house so she opened Revival Retro this summer. Focusing on 1920s to 1940s and swing dancing apparel, the shop is already drawing customers from near and far.
Revival is the exclusive London stockist of Stop Staring, Re-Mix Vintage Footwear, Tara Starlet, Nicole Katherine and Aris Allen. The retro dresses here flatter all figures and are available in plus sizes.
I have always loved Art Deco design and this shop confirms to me that the style is getting the attention it deserves. We shall be seeing its influences in weddings much more in the future I think. Rowena showed me these gorgeous flapper dresses. They are so much fun and great if you don't want to wear a big wedding dress (pictured middle). I tried on a matching sequined head piece which would look the business with some pearls.
To find out more visit
www.revival-retro.com
Sugarlesque
This is where you need to go for your naughty knickers and fun accessories. As the name would sugges, this shop caters for all things burlesque and girly. From pink fluffy robes to corsets, sailors hats and nipple tassels. The tongue-in-cheek shop doesn't compromise on quality and everything in the shop is hand made. Owner Ruka Johnson offers a bespoke service so you can have your own burlesque or bridal lingerie made specially for you.
You can also get your nails done in here by Boom Nails. The ladies pictured have a theatre theme on their nails but they explained that they do all kinds of bespoke nail designs for weddings. Wouldn't it be great to have all your bridesmaids nails done for a fun night out or on the day?
To find out more about the shop and nails visit:
www.sugarlesque.com
and
www.boomnails.blogspot.com
These boutiques are but a few on offer here so you can spend a good couple of hours here browsing round. The spacious seating area in the middle means you can take a break and have a relaxing coffee whilst being surrounded by trees. You wouldn't know you were in central London. Kingly Court really is a one stop shop for a girly visit, especially if you are planning a wedding. A big thumbs up from Holly Young Hats. I think it is really important to support independent businesses. All of the shops I visited were started from scratch by one or two talented individuals. I really respect them for their creativity and effort.
To see other boutiques on offer visit
www.carnaby.co.uk/static_content.cfm?page_id=20
I hope you have enjoyed reading my blog. To find out more about my bespoke millinery service and fascinator workshops please visit
www.hollyyoungboutique.com/blog/
Holly
---