---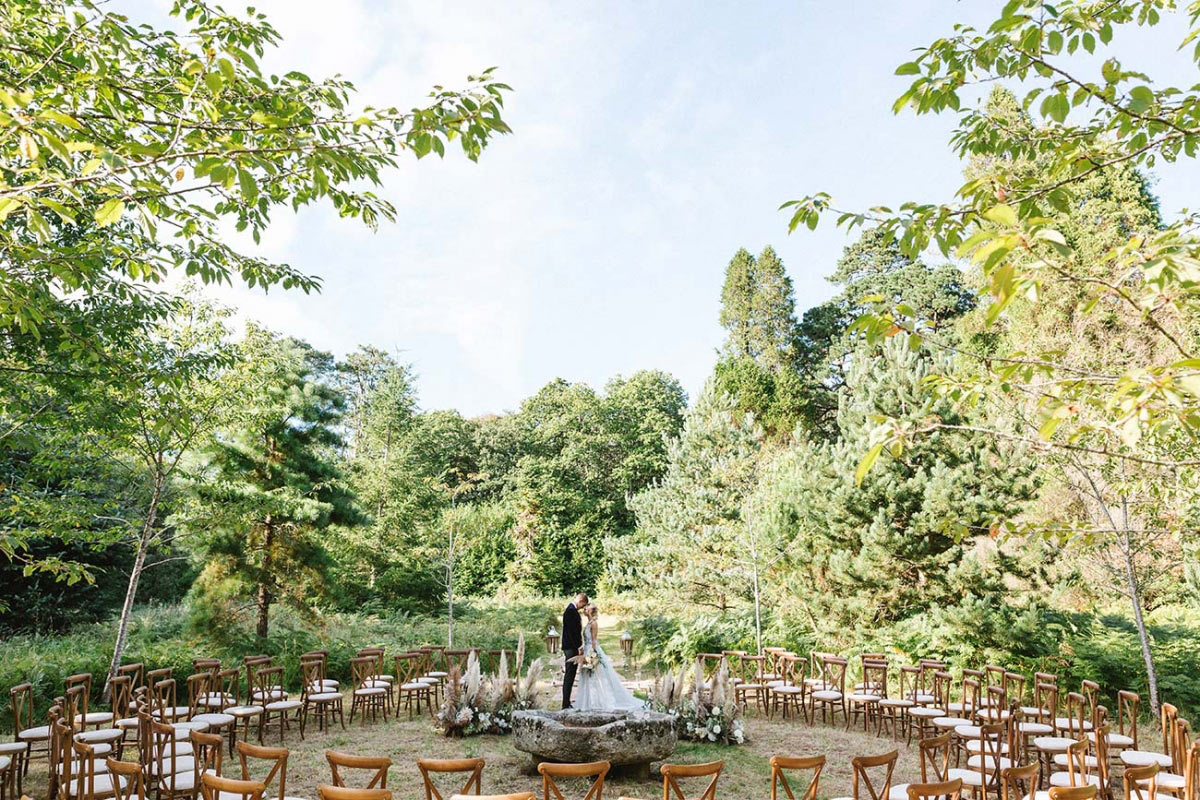 Outdoor Weddings
The Great Outdoors
Our guide to planning the outdoor wedding of your dreams
Wild wedding: the words alone are evocative. The breeze stroking your skin, the sunshine spilling from the skies, being immersed in sea-gazing surrounds or the countryside abloom. It is a pure celebration of love between the two of you, the Cornish landscape, and those you hold most dearly in life.
Though this past year has prompted couples to plan for an al fresco event in line with Covid restrictions, they've always been popular here in the south-west. And as general trends veer toward everything open-air, the surge in outdoor weddings continues.
"We've always been good at outdoor weddings here in Cornwall, because who doesn't want to see the views and experience the wilds of the landscape?" says wedding planner Rebecca Green at Rebel & Anchor (
rebelandanchor.co.uk
).
The main beauty is that every element can be designed and executed for the most bespoke of days, since you're essentially creating your own venue. The only pitfall is that they tend to require more logistical planning, which is why we've called upon the experts to help you organise the most outstanding of outdoor weddings...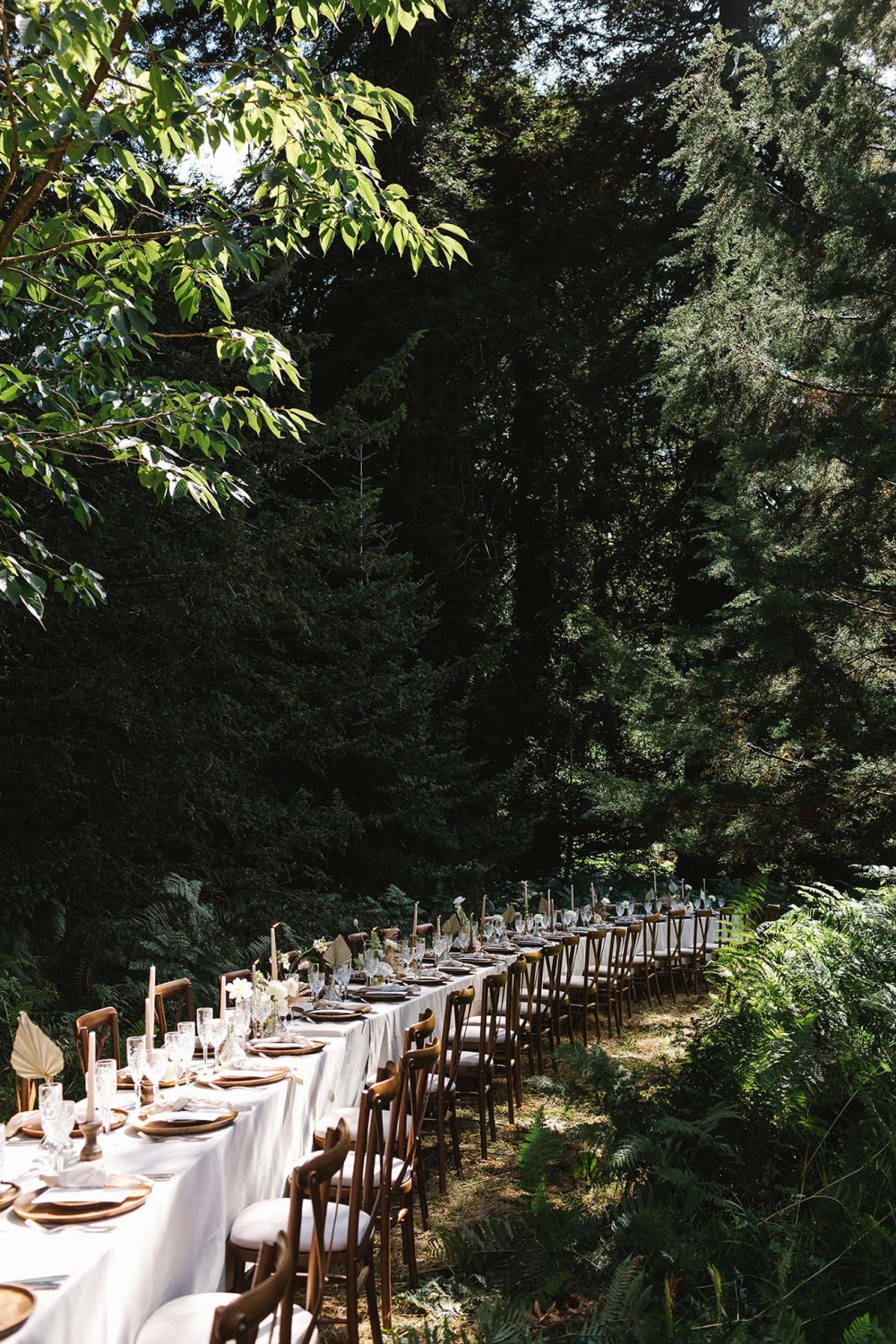 Styling Jenny Wren / Debs Ivelja Photography / Venue Boconnoc
A matter of cost
Budget is a constraint, often proving the deciding factor concerning how outdoors a wedding can actually be. Wedding planner, Jenny Granlund of Jenny Wren Weddings & Events (
jennywrenweddingsandevents.co.uk
) explains why. "Many couples have a pre-conceived idea that an outdoor wedding will be easier and cheaper than going to a venue," she says. "However, this is not usually the case. As you have to build your venue from scratch, you have to think about everything from the toilets to the teaspoons! It is a lot of work, but can be worth it to create a truly unique day that is personal and special to the two of you."
With spreadsheets at the ready, you should start with a firm idea of budget before making each decision, as every element will incur a cost.
Location, location, location
Where will you wed? It could be the place you first met, kissed, or became engaged. Or simply one of your most treasured spaces to spend time together. Create a shortlist before delving into the details.
"Find somewhere that has the right vibe for you and your day," says Rebecca. "But remember, if you do just hire a field you need to consider a few things, like you generally can't legally tie the knot, so you would need to do this prior and either have a celebrant, friend or family member officiate on the day itself."
Are we talking intimate humanist ceremony, outdoor reception only, or festival-style weekend? The size and type of wedding will inform the location choice, with many venues offering al fresco options to suit. "There are some great venues that cater for it but give you the security of having power and toilets!" says Rebecca. "Kilminorth Cottages have a great outdoors space where you can legally marry, as does Porth-en-Alls. They have great views alongside wonderful indoor and outdoor locations, so you can have the best of both worlds."
Or there's another option that's all the rage. "Adventure weddings are becoming more popular, whether that's an elopement or micro wedding for a small number of guests. In Cornwall we have some amazing locations and experiences that are all outdoors, from surfing, kayaking or hiking to wild swimming. All can be incorporated into your big celebration," she says. "Again, you will need to organise a legal ceremony but then you can have a celebrant-led ceremony before you all head into the water to catch some waves."
If you're keen to stake your claim to a piece of land on which to construct your venue, then Sam Moore from Wild Tipi (
wildtipi.co.uk)
has the best advice. "Site visits!" she exclaims. "See if you can meet with your outdoor wedding supplier to ensure that you know exactly where you would like your marquee or tipi set up. It's good for us to see the access, check you are happy with the positioning and layout of the site, and we'd want to check that you're near enough to your electricity and water if that is on-site. You can then discuss where you want to put your catering tent, toilets, walkways, and any outdoor lighting. I always find drawing a sketch of your set-up while you are there useful as it enables you to picture what it might look like on the day and help your supplier to create a floor plan if needed."
Weather warning
The most resounding element to consider is also the most British: weather. Being outdoors in this country, you're never guaranteed blue skies, whatever the weather forecast states. Flash downpours are a common occurrence even during the most seemingly hot and dry days, so a contingency plan – and some kind of sheltered area – is a must-have.
"It seems like it should go without saying, but when planning an outdoor wedding, plan for the worst weather scenario," says Hayley Jones from Sunset Tipis (
sunsettipis.com
). "That way you can be pleasantly surprised when the sun comes out and you're not in a snowstorm! It's wise to choose the typically warmer, drier months but even still, bad weather can strike at any time. If you're planning an outdoor ceremony for example, ensure you have a plan B option fully considered."
"For an outdoor ceremony we always have a plan B up our sleeves, especially with the unpredictable Cornish weather!" echoes Jenny. "We often hire a sailcloth stretch tent. These work so well for outdoor ceremonies, as the sides can be up, so it just gives you a canopy covering. This looks elegant and still gives the feeling of being outside. If the weather turns, the sides can come down to give extra protection from the elements."
Be even more weather-wise by taking full advantage of whatever it brings. "If you know it's likely to rain on your wedding day, stock up on some stylish wet weather gear," suggests Jenny. "You can even have your bridesmaids join you with matching boots or brollies – this would make for some cute photos!"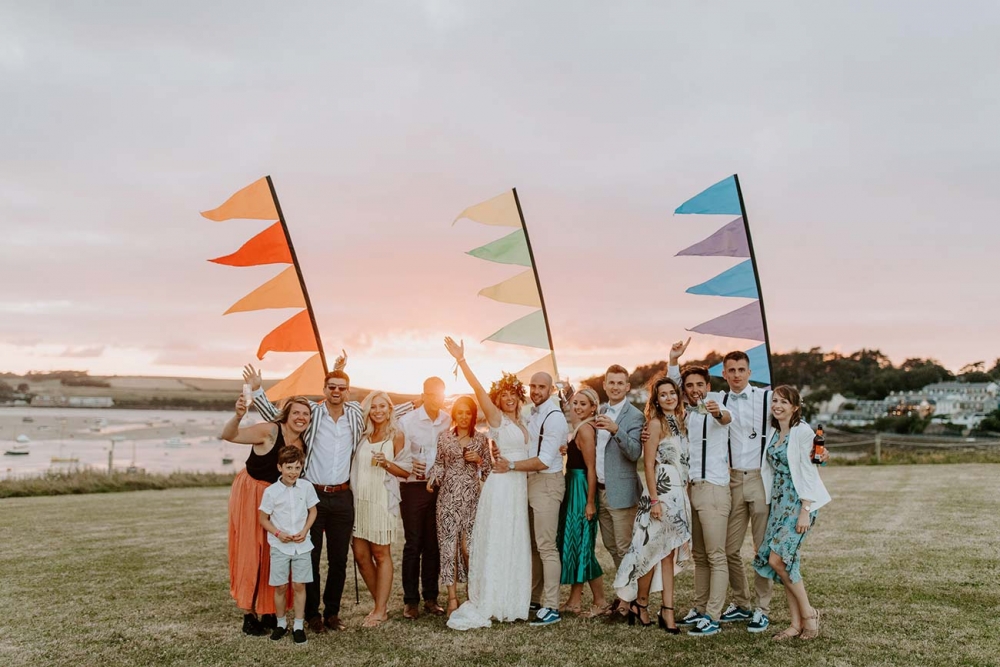 Tom Frost
Party practical
As you may be starting to realise, planning an outdoor wedding involves much more than picking a site and pitching a tent. "You'll need a budget for furniture and possibly toilets and generators as well," says wedding stylist Nikki Sheriff from Knots & Kisses (
knotsandkisses.co.uk
).
Sam reels off the extensive list. "Toilets, showers, water, and electricity: the not-so-glamorous areas, but absolutely essential for ensuring that your day goes without a hitch! Whether you're using your own contacts or booking these through your supplier then you need to know how much power everything needs. Think about who will be using electricity on the day, as you need to ensure that your generator has enough capacity. If you're linking up on-site you need to ensure that there is enough supply to cover catering, bands, lighting, etc. Once a floor plan is established, also have a think about where you will want power points."
"Is the field flat enough to erect a marquee or tipi?" asks Jenny. "If the ground is uneven, some marquee companies can provide a hard wooden floor to level it out instead of coconut matting; however, this can come at a substantial extra cost."
You'll also need to establish whether there's a power and water connection. "If not, both can be brought in but there will be a cost associated with that. Is there good vehicle access for the suppliers and guests? Is there plenty of parking? Is there room for toilets if they need to be hired in? Think about where these will go," she continues.
"Is the field private? If it's on a walking path, it could get busy with passers-by on a summer's day," says Jenny of how minor concerns can become big inconveniences if not afforded their due diligence in advance.
"And how long is the hire period? Often marquee companies will want to set up a few days before the wedding, which gives you time for all the deliveries, such as furniture, kitchen equipment, and time to dress it," she adds of the host of questions you should be asking yourself and your suppliers.
Licence to thrill
Double-check exactly what you are and aren't allowed and licensed to do – including entertainment. "You may need to look into a Temporary Event Notice (TEN) with the council if you are planning your wedding outside," cautions Jenny. "This covers the provision of the sale of alcohol and live music. Check with your bar company and band, however, as they may have experience of this themselves."
If in doubt, Rebecca agrees to err on the side of caution. "It's a grey area with DIY weddings as to whether they're really needed, but they're not expensive and it keeps you covered."
Comfort zones
Consider each of your guests and each stage (and weather scenario) of your day, to create spaces to accommodate them, such as a safe siesta or play tipi for little ones.
"Create outdoor seating spaces," advises Nikki. "This is especially important if you have older guests. Think about creating areas of shade in case it's sunny. Seating areas can have parasols or stretch tents over them, or larger open-sided tents if you want to feel like you are eating outside but with some shelter." A chill-out tent with comfy floor cushions, heaters, fans and sofas should do the trick.
"There are so many incredible suppliers in Cornwall that offer outdoor bars, outdoor catering, photo booths, and outdoor games to keep your guests entertained; it's a good idea to have a few different areas where guests can relax during a long day," says Sam.
"Don't forget the sun cream!" exclaims Jenny. "Have a little basket with both adult and children's sun cream in, and little handheld fans or sunglasses as your wedding favours, which will look pretty and be practical. You could also have mini water mister bottles under the chairs so guests can have a quick spray to cool down."
From day to night
Consider how everything will change throughout the day, from the mood and natural lighting to the air temperature and guest list, and make provisions accordingly.
"Blankets might be welcomed by your scantily-clad guests!" says Hayley. "Also, the short walk back to the car park might now be pitch black and riddled with potholes. Just imagine your space inside and out, from the daytime into the evening and in all kinds of weathers."
"I always think it's a good idea to cover all bases for your wedding, as beautiful hot sunny days can turn into chilly evenings," says Sam. "Firepits can add a touch of magic to your day."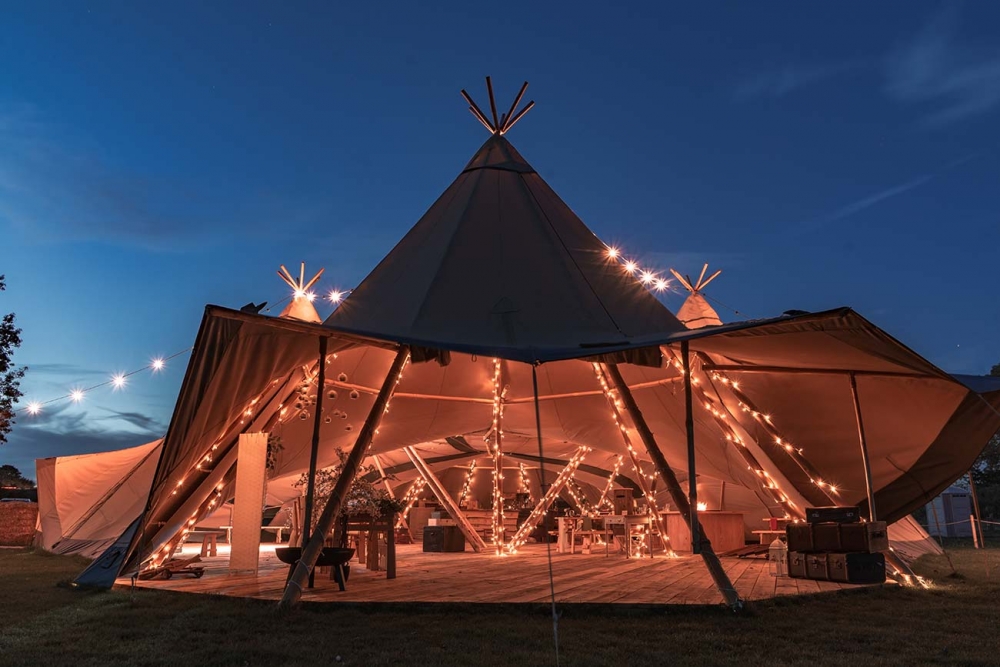 Sunset Tipis
A blank canvas
Once you've secured your location, and created covered and outside seating areas, it's time to consider the look and feel of your celebrations. "There are so many incredible ways that you can make your outdoor space completely yours and the beauty of having something like a giant tipi is that they really lend themselves well to so many different styles and decorations," says Sam. "It sounds like a cliché, but they are a blank canvas and we love to see couples put their own personality into their weddings through their colours and decorations."
The stylistics
From furniture and flowers to flooring, tablescapes and décor, the scope is endless in creating a characterful scene and merging the indoors with the outdoors to enchanting effect.
"Some locations are great at giving you inspiration for your florals; if you have a landscaped garden or a wild flower vibe then work with it," advises Rebecca. "Use your environment to help guide your styling ideas. Work with a florist or stylist who can help you tie it all together or simply ask your creative friends to lend a hand. 'The great outdoors' is a wonderful theme for a wedding."
Using your surrounds and emphasising pre-existing features will help seamlessly blend your personal style with the natural backdrop for a more cohesive look. "If you have a large tree outside, hang balloons (with weights in) from the branches. They will look lovely swaying in the breeze. Ribbons or strips of fabric could also work well. Or you could hang photos in frames from the branches, making it into a family tree," suggests Jenny. "Pretty parasols in different colours and fabrics look lovely on an outside lawn area," she recommends. "If it's a hot day with no cloud cover, guests will be grateful for the shade."
But remember that the weather and schedule will cause people-movement, so flexibility is key. "Make sure you've factored in creating displays and backdrops that can easily be moved inside if necessary," says Nikki. "It's even more important for outdoor spaces that you create focal points, so use frames and ceremony backdrops to create a focal point and rugs to create an aisle."
Stand on ceremony
Speaking of ceremonies, if you'd like your entire day to be outdoors, you'll need to consider every stage from pre-ceremony drinks and the ceremony itself to the drinks reception, dining and evening party. Tap into your location, especially for that all-important ceremony. "With a DIY wedding, you have the luxury of having the ceremony outside at your discretion, which means you can enjoy that beautiful view, have guests on hay bales or play with the environment around you. If you're near a woodland, they make great natural aisles to walk down," enthuses Rebecca.
"I love a round ceremony with the couple in the middle," smiles Jenny. "This usually cannot be done in indoor venues due to size or layout restraints. But outside, it gives a lovely intimate feel to the ceremony. A wedding arch or structure creates a focal point and can be styled with flowers, foliage or fabric. Whether you are having an outdoor ceremony or not, these are still great to define an area for photographs."
Turn the lights down low
Whatever the time of year or day you're getting married, lighting will make a huge impact on the feel, flow and look of your day. "Lighting is so important for an outdoor wedding, especially if you're renting a field, which is likely to have no lighting. Ensure you light up walkways, such as to the toilets or car park. Festoon lighting is good for this, the large bulbs give off lots of light and they look great," suggests Jenny.
"Light up trees with fairy lights wrapped around the trunk and branches," she continues. "We are creating a canopy of festoon lighting crisscrossed over the dining tables for a couple having a pre-ceremony dinner in an outdoor courtyard; it is going to look magical at night! We are also arranging lighting around a lawn where another couple will be doing their first dance under the stars."
"Lighting can really bring everything to life!" declares Sam. "Fairy lights and up-lighters are truly beautiful and our hire options come with fairy lights included. Festoon lights are also available to light up your way and are a great idea to link your marquee or tipi to areas you would like guests to find, such as the bar and toilets! Maybe think about torches if needed."
Wine and dine
From a festival-like smattering of catering vans to village fete-style ice cream trikes and cake stands, there are so many creative options for al fresco catering.
"Think about something that's easy to keep warm – a plated meal may go cold quickly when outside. Something like a street food van works well. We did a wedding with the choice of gourmet burgers, seafood, pizzas and waffles all cooked to order. Guests could have whatever they liked, whenever they liked!" says Jenny.
"Sweet drinks in the sunshine can attract insects, so light some citronella candles around your drinks reception table to keep them away," she advises. "How about ice lollies instead of canapés, which could be handmade with frozen edible flowers? Drinks dispensers are great as they allow people to refill their drinks as much as they like, encouraging them to keep hydrated. Ensure you fill some with water and not just booze!"
After the after-party
Don't forget to plan for the big pack away. "If your outdoor wedding is not at a venue, think about who will take care of the clean-up the day after," implores Jenny. "The last thing you and your partner want to be doing the day after is cleaning up beer bottles, so hire someone in to do this, or if you have a planner they could take care of it. Also speak with your caterer and bar company to check if they take away their rubbish and recycling. If you're having a marquee, the company will expect it empty of rubbish when they come to collect, which includes flower installations too."
So long as you leave no stone unturned and come up with plenty of workable contingencies, your wild wedding should play out in the most wow-worthy of ways.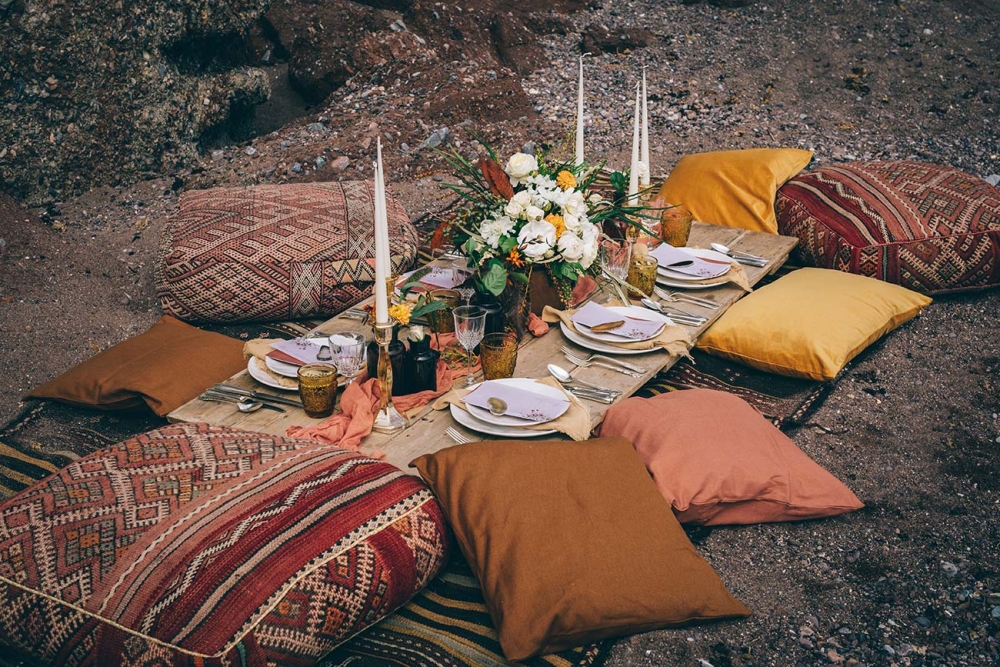 Styling Knots & Kisses / Maxi Photography
Main image: Styling Jenny Wren Weddings & Events / Debs Ivelja Photography / Venue Boconnoc
words Hannah May
Wed

Directory

All you need from the finest wedding suppliers in Cornwall and Devon