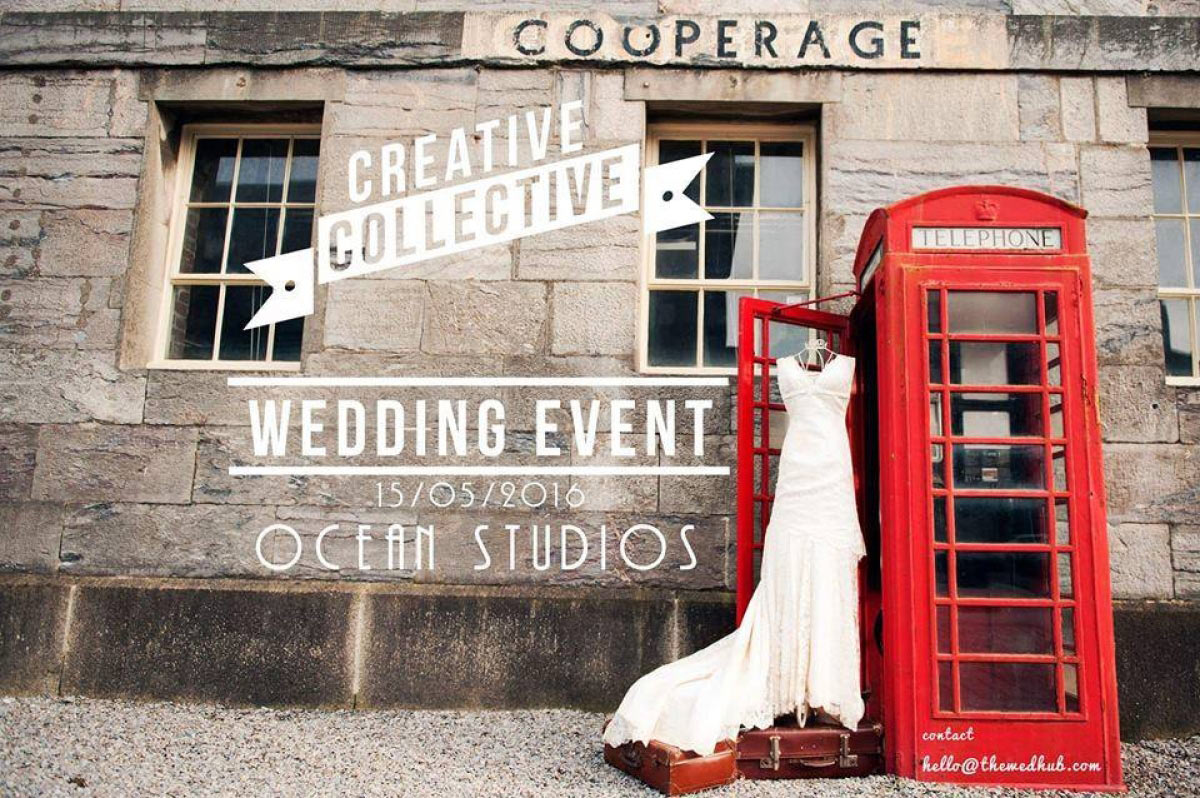 Creative Collective Wedding Fair
Article Published: Saturday 7th May, 2016 - 11:42am
---
Sunday 15th May will see a completely different type of wedding event in Plymouth, thanks to the artistic ingenuity of the team behind the Royal William Yard's Ocean Studios. Founder Leigh Mason has teamed up with wedding specialist Danielle Donnelly, owner of The Wedding Hub, to bring together a truly unique set of designers, artists, makers and service providers, who all share the same philosophy: to be decidedly different in what they provide for couples for their most special and individual day.
The inaugural Creative Collective Wedding Fair connects those designers and service providers with brides and grooms alike looking for a truly imaginative, personal and delectable day of marriage will find those providing the most stunningly bespoke of cool services, accessories, ideas and options. From dress designers to stationery creators, from hat and veil specialists to vintage and designer crockery providers, the unique, styled and expressly individual is all the order of this service.
Across the event, shoppers can expect to discover inspiration in abundance, individual and fresh ideas and items and treasurable gifts for others and, of course, for oneself. Plus the Creative Collective Markets all have the bonus of ensuring an exciting and sustainable trading environment for the artists, designer-makers and service providers. In addition the Markets open up the opportunity for those purchasing to meet the artists themselves, discuss and understand their works and inspirations and also propose commissions for future pieces.
Danielle recently formed the Wedding Creatives to provide a collaboration and support network for all the super talented personalities within the industry, lots of who will be exhibiting at this event.
Current confirmed exhibitors include; Audrey & Rose
brooch, bouquets and accessories providers, wedding poet Alexander Rhodes, dressmaker Ailsa Munro, Mrs. Jutson Photography, videographer Charlotte Dart Photo & Film, Pupflora Paper Creations, Sharon Morgan Millinery, Gin Fusion, Magna Health & Wellbeing, Salty Rims Mobile Cocktail Bar, florist Hannah Burnett, Tegen Jewellery, choreographers of personal dance moves and provider of wedding 'flash mobs' The Dance Shed, wedding stationary provider Anon and The Swing Kings wedding band, who will also be providing entertainment throughout the day.
Leigh Mason says, "As far away as possible from a homogenous high street or shopping mall experience, the Creative Collective Wedding Markets are set to enliven Plymouth's retail scene. We've been so inspired ourselves by the truly artistic and totally different, non-formulaic options that are available out there from providers in Devon."
Leigh continues, "We're currently making final decisions on the curation of the range of exhibitors for our first wedding fair on Sunday 15th May and are still open to applications from bespoke artists and photographers, high end crafters, jewellery and product designers and creators of eclectic and beautiful anything! Both established and newly emerging talents are invited to apply for the positions and we're especially interested in the most creative, original, unique, vintage, quirky, stylish and ahead of trend items and concepts that the industry has to offer."
---